The Montreal Canadiens are just a couple weeks from the start of training camp. Their annual charity golf tournament, which marks the beginning of the Canadiens preseason, was this week. With an overabundance of players eyeing a place on the team, there will be many battles for roster spots: veterans trying to keep their spaces and rookie/sophomore players trying to secure one. Those battles will also be competition for line assignments, especially spots in the top six. With all this in play, it should be an inspiring training camp for the Habs.
Young Canadiens Forwards Will Be Looking for More Ice Time
When the Canadiens traded Mike Hoffman to the San Jose Sharks in the big three-way deal of the summer also involving the Pittsburgh Penguins, it helped clear a roster spot for one of the younger players like Juraj Slafkovsky, Rafael Harvey-Pinard or Jesse Ylonen. The issue is they still need another spot open if all three are to be in the lineup; both Slafkovsky and Harvey-Pinard are waiver-exempt and can quickly go to the Laval Rocket of the American Hockey League (AHL). Ylonen would have to pass through waivers, making it difficult for Montreal management to risk losing him for nothing. It's currently easier to fit them all in with Christian Dvorak's injury, but he may not be out long once the season begins.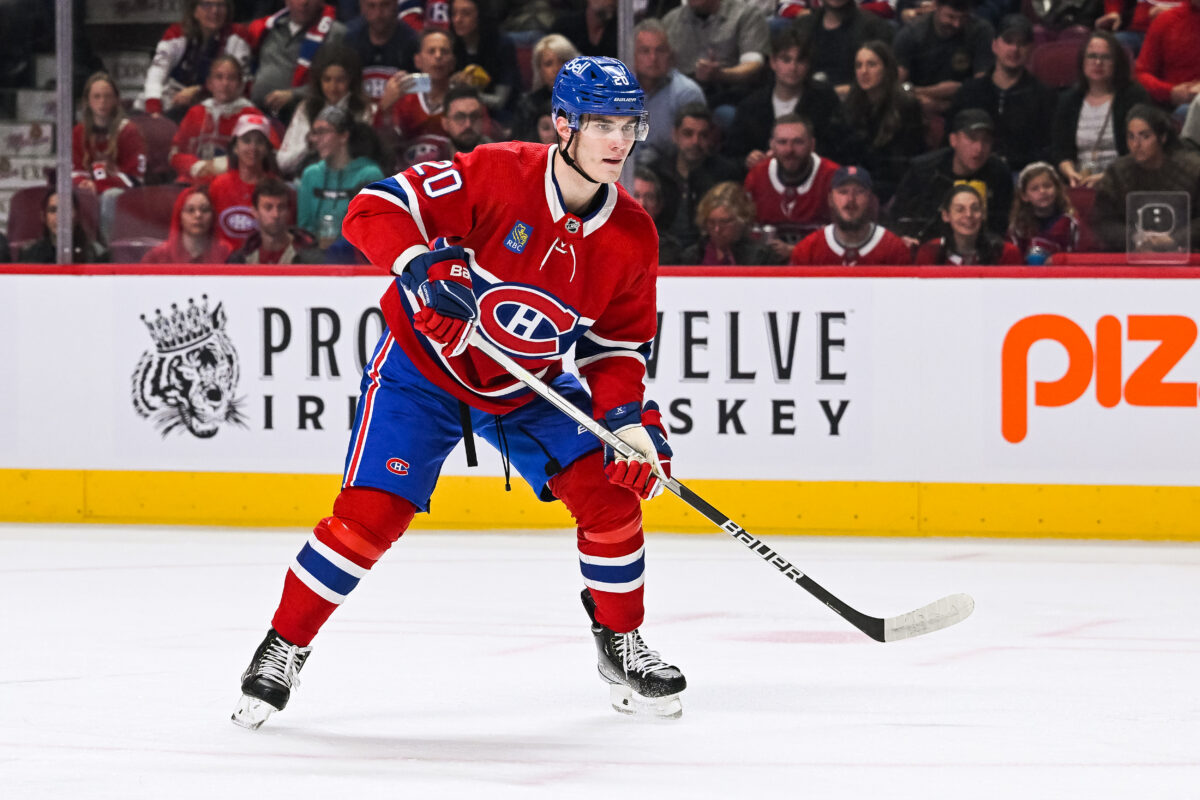 Due to his excellent play when called up from Laval, Harvey-Pinard may have the inside track on one of the positions available. This leaves Ylonen and Slafkovsky to battle for the other one, and Ylonen's waiver status doesn't mean he automatically gets the spot, but it does give him an advantage. Slafkovsky, however, is out to prove he's not a bust and even went so far as to lose weight and work on his endurance and skating in the offseason to improve his game. Montreal will want all their young players to play in the NHL if they are ready. Ylonen and Harvey-Pinard have proved they are ready, and Slafkovsky is determined to do the same. It will be an exciting battle to see who gets the final spot, and it could come down to a veteran being waived or traded to make that room.
Canadiens' Logjam on Defence Could Make for Hard Decisions
If there is one thing for sure, it's that the Canadiens have an abundance of defencemen. With seven left-handed defencemen and eight right-handed defencemen, there are a lot of players for only seven positions. This can be quickly narrowed down to 11 with a high possibility of making the Canadiens; the rest will be in the AHL. Veterans like David Savard and newly minted alternate captain Mike Matheson are shoe-ins for the team; for sophomore players like Kaiden Guhle, Jordan Harris, Arber Xhekaj, Justin Barron and Jonathan Kovacevic, it may be a little more challenging, especially if you add Gustav Lindstrom, Chris Wideman and rookies Logan Mailloux and David Reinbacher to the list.
Related: 3 Canadiens Prospects that Could Steal a Roster Spot
---
Latest News & Highlights
---
The Canadiens will probably carry eight defensemen: Matheson, Savard, Guhle, Kovacevic, Harris, Xhekaj, Barron and Lindstrom. Wideman and Mailloux will most likely be sent to Laval, with Wideman needing to pass through waivers. Wideman could be a perfect option for a team due to his low salary and ability to move the puck. His defensive play is suspect, but contending teams can protect that by limiting his minutes and having him on the third pairing and power play. Mailloux will still need time to develop, having only played 90 games over the past three seasons with the Ontario Hockey League's (OHL) London Knights and SK Lejon of HockeyEttan in Sweden. Wideman and Mailloux will most likely get NHL games through injury call-ups but will also play hard to make the Canadiens roster to start the season.
Reinbacher is an interesting case, being highly touted as a top-pairing defenceman. However, because he and the Canadiens want to develop more than contend, he will likely return to Switzerland to play with EHC Kolten of the Swiss National League. This has all been confirmed by vice president of hockey operations Jeff Gorton at Montreal's golf tournament.
Canadiens Players Will Battle for the Top Six Spots
Besides Suzuki and Caufield probably starting the season together, the rest of the lineup – especially the top six – is wide open. The most considerable battle will be who will get to play with the dynamic duo; Kirby Dach had great chemistry with the two last season but is more in line to play more center this season. Josh Anderson could be a choice, but he only seems to fit for short periods. Slafkovsky could be another choice if all his off-season work pays off and newcomer Alex Newhook is another option. Kent Hughes has said he wants Newhook to play more minutes than he got with the Colorado Avalanche. Harvey-Pinard played well with Suzuki in place of Caufield and will probably get a look there in the preseason.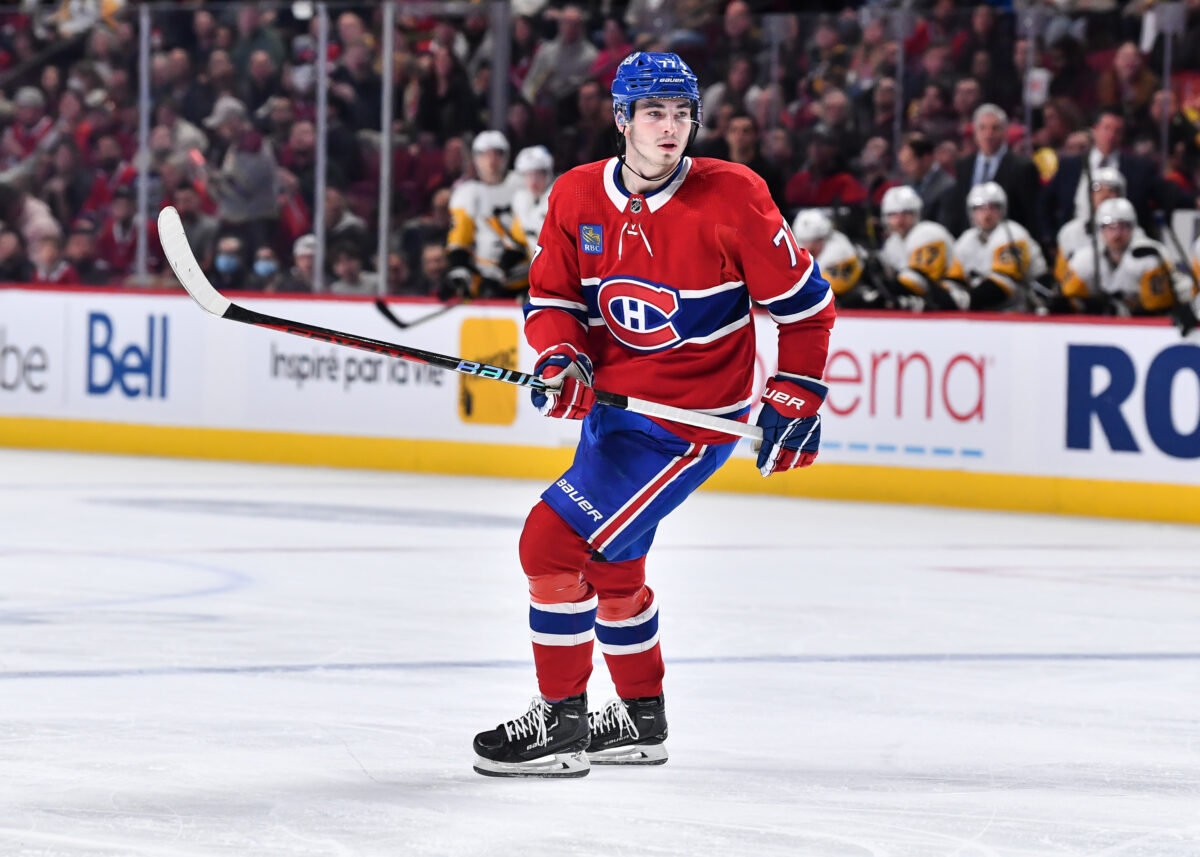 The second line is wide open once the top line is figured out. Dach could play center, and Sean Monahan could be on the wing to guide Dach as he improves at the center position, or Monahan could be the second center with Dach on the top line. Slafkovsky, Newhook, and Harvey-Pinard will battle for the wing positions along with Ylonen and Brendan Gallagher. The fourth line is set with Jake Evans, Micheal Pezzetta, and Joel Armia. The third line will be rounded out after the top two are decided. Dvorak, if healthy, will center the fourth line, but the wingers could be anyone, and there will be a few rookies eyeing a spot like Emil Heineman, Joshua Roy, Sean Farrell and center Owen Beck, who will need to make the team or go back to the OHL.
Any way you look at it, Suzuki on the first line is the only position that is guaranteed; after that, it is anyone's guess who will round out the rest of the lineup. If the team is dedicated to development, Farrell, Roy and Beck won't make the opening night roster, with Mailloux and Reinbacher also playing elsewhere to start. The preseason could be more exciting than the regular season, based on the battles for positions on each line and the young guys trying to make the team.