On Sept. 12, 2023, NHL teams revealed their rosters ahead of their annual rookie tournaments. The Barrie Colts of the Ontario Hockey League (OHL) were more than proud to see that 12 of their current or former players made NHL rookie camp rosters, none of which were invited to the same team's camp.
Ethan Cardwell – San Jose Sharks
Ethan Cardwell seems to be on his way to the NHL this season with the San Jose Sharks. He finished his OHL career with 90 points—43 goals and 47 assists—which was a career-high for him and left him sitting second on the team in scoring. He is now looking for a spot in the rebuilding Sharks lineup, where he can start his NHL career, and hopes to be a key piece in turning things around in San Jose.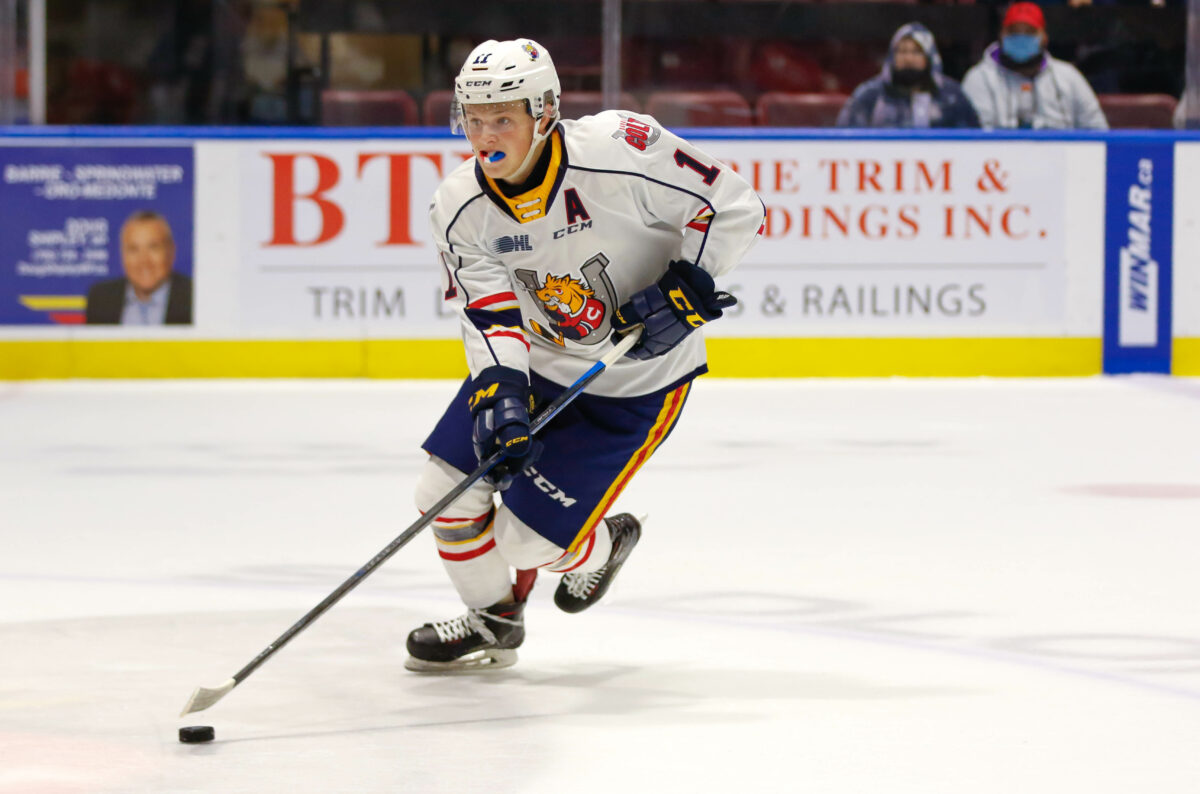 Cardwell signed his entry-level contract (ELC) on April 14, 2023, with the Sharks. If he is unable to impress them at their rookie camp, he will have another chance at their main training camp later this month. If he doesn't make the Sharks roster for opening night, he will most likely report to their American Hockey League affiliate, the San Jose Barracuda. 
Mack Guzda – Florida Panthers
Mack Guzda was a very sought-after goalie when he was looking to sign his ELC with an NHL team. Numerous teams were trying to sign him, including the Toronto Maple Leafs, but ultimately he chose the Florida Panthers. He has a full AHL season under his belt, during which he put up decent numbers. He went 16-9-3 in 29 games played, with a 2.88 goals-against average (GAA) and a .897 save percentage (SV%). He now hopes to make an impact in both rookie and training camp to try and challenge for the backup role with the Panthers.
Jacob Frasca – Toronto Maple Leafs
Jacob Frasca is an undrafted rookie turned free agent who received an invitation to the Maple Leafs rookie camp. The 6-foot-4 forward has great size for today's NHL and will hope to use that at rookie camp. He showed last season with the Colts that he can produce at a fairly high rate. He finished third in scoring on the team with 69 points (27 goals and 42 assists). It is unlikely that the Maple Leafs will offer him an ELC, but he now has a small history with the team after attending their development camp earlier this summer. 
Beau Akey – Edmonton Oilers
Beau Akey was drafted in the second round by the Edmonton Oilers in the 2023 NHL Draft. He attended the Oilers development camp earlier in the summer and now looks to impress them again at their rookie camp. He is going into his third year with the Colts and will be returning to Barrie for the start of their OHL season later this month.
Beau Jelsma – Carolina Hurricanes
Beau Jelsma is another undrafted player who received an invite to an NHL rookie camp. This time with the Carolina Hurricanes, who could want to see what he can bring to the organization over the team's camp. He finished right behind Frasca in scoring for the Colts last season with 61 points. Jelsma had 31 goals and 30 assists for 61 total points in 67 games and will hope to find a home with an NHL organization in the coming years after previously attending the Panthers rookie camp in 2022.
Connor Punnett – Detroit Red Wings
Connor Punnett is a 20-year-old defenceman who is going into his overage season with the Colts. He hasn't had the privilege of hearing his name called at an NHL Draft, so the undrafted rookie is currently a free agent.
Related: Maple Leafs Prospects to Watch at Rookie Tournament
However, it seems that he is building a relationship with the management group in Detroit because he attended their development camp earlier this summer. Punnett is coming off a very good season; he scored 14 goals and 34 assists for 48 points and finished sixth on the team in points and second in scoring by a blueliner. 
Tyson Foerster – Philadelphia Flyers
Tyson Foerster was a first-round pick by the Philadelphia Flyers in 2020. He proved to be a good selection at number 23 because he has already seen time in the NHL. He spent the bulk of last season in the AHL with the Lehigh Valley Phantoms, where he scored 20 goals and 28 assists for 48 points in 66 games.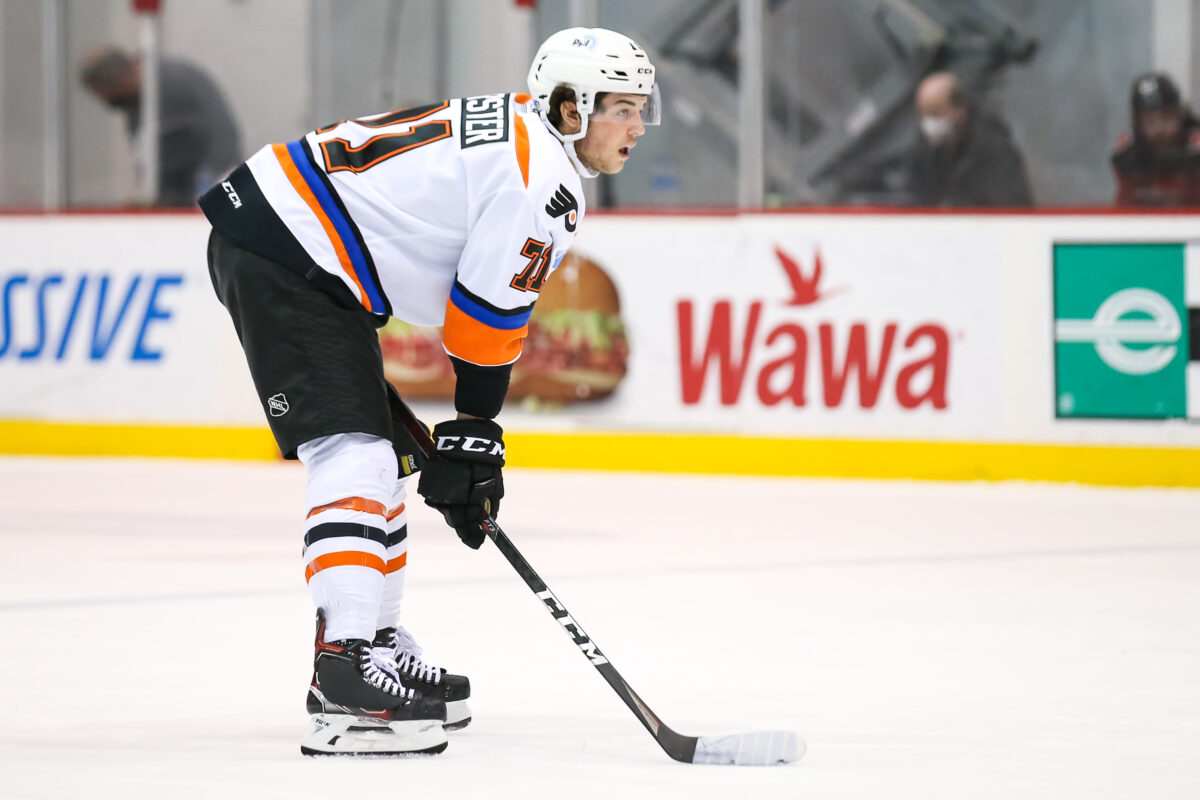 Nearing the end of the season, he was called up by the Flyers, and he showed off his skills in eight games scoring three goals and four assists for seven points. Although the Flyers' season wasn't the best and many don't anticipate a much better one in 2023-24, Foerster is a bright spot for the future for both the fans and the organization.
Anson Thornton – Arizona Coyotes
Anson Thornton is yet another name on this list who went undrafted but still worked his way to an NHL contract. He was signed by the Arizona Coyotes on Oct. 11, 2021, and has worked hard with the Colts. He may finally get the chance to play in the AHL with the Tuscan Roadrunners as soon as this season if he can impress enough at rookie camp. Thornton made history with the Colts by scoring the team's first goalie goal in the first round of the OHL Playoffs against the Hamilton Bulldogs.
Evan Vierling – Pittsburgh Penguins
Originally drafted by the New York Rangers, Evan Vierling took the Colts by storm last season and quickly earned an AHL contract, but not with the Rangers AHL affiliate but with the Pittsburgh Penguins affiliate, Wilkes-Barre/Scranton Penguins. In 60 games, he had 35 goals and 60 assists for 95 points, which led the team. 
Related: Every NHL Team's Top Prospect – 2023-24 Preseason Update
---
Latest News & Highlights
---
He also won the OHL and Canadian Hockey League (CHL) Most Sportsmanlike Awards to round out his OHL career. Vierling now hopes to develop his game more with the Penguins so he can one day play in the NHL. 
Eduard Sale – Seattle Kraken
Eduard Sale recently signed an OHL scholarship and development agreement, therefore committing him to the OHL, where the Colts had his rights. The Seattle Kraken's first-round pick is joining the team for his first OHL season in hopes of winning the Memorial Cup. Previously, he played in Czechia with Brno Kometa, where he had seven goals and seven assists for 14 points in 43 games.
Tyler Savard – Ottawa Senators
Tyler Savard, the son of NHL player Marc Savard, has been invited to rookie camp by the Ottawa Senators. He was also invited to the Senators development camp earlier this summer as a free agent. The undrafted rookie was once invited to the Flyers development camp but now seems to be on the players of interest list for Ottawa. He is only 20 years old, which means he is eligible to play with the Colts this season as an overage player.
Brandt Clarke – Los Angeles Kings
Brandt Clarke, probably the most notable name on this list, is heading to the Los Angeles Kings rookie camp. They drafted him in the first round of the 2021 NHL Draft, and he joined the Colts after he won gold at the 2023 World Junior Championship. He has now finished his OHL career and will either make the Kings' opening night lineup or start the season in the AHL with the Ontario Reign.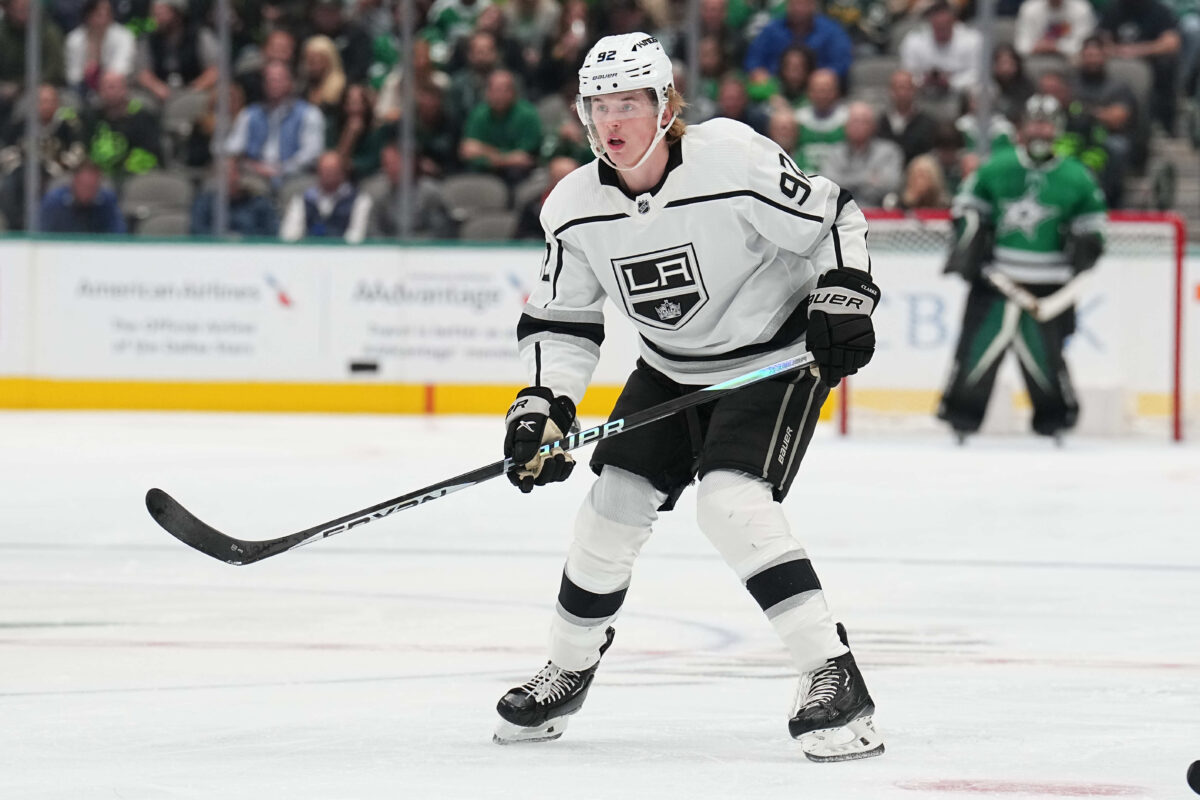 Before leaving the Colts, Clarke made his mark. He scored 61 points in only 31 games last season and led all defencemen in scoring, which may be one of the best seasons a Colts player has had offensively in such a short season. Career-wise, he finished his tenure with 40 goals and 118 assists for 154 points, which makes him the all-time leader in points by a defenceman in franchise history.
The Colts have 12 current and former players who were invited to NHL rookie camp rosters, which just goes to show the type of organization that they are. They truly care about their players and their careers after the OHL, which is very nice to see from such a classy OHL organization. Best of luck to all 12 players on the list.
Sign up for our NHL Prospects & Draft Substack newsletter