The annual Rookie Tournament in Traverse City, Michigan is always a great way for fans to get a look at what the future stars of tomorrow have to offer. The Toronto Maple Leafs are once again attending the tournament to go head-to-head with the likes of top prospects from the Columbus Blue Jackets, Dallas Stars and Detroit Red Wings.

Maple Leafs top prospect Matthew Knies headlines the list of prospects heading to the tournament as all eyes will be on him. The Maple Leafs prospect pool isn't as strong as the teams listed, it's a great way for players to stand out and catch the eye of both management and the coaching staff. With a standout performance they can be key pieces that can play a big part in the NHL. The Maple Leafs will be boasting some strong names as the tournament kicks off this week. Here are a handful of names to keep an eye on during the tournament. 
Matthew Knies
With NHL experience under his belt, the expectation is that Matthew Knies is going to be one of the top players for this squad. He had one assist during the regular season and added another four points in seven playoff games. Knies quickly adapted and became an important player for the Maple Leafs before he sustained a concussion in their second round series against the Florida Panthers. Now that he's healthy, this is just the first step for him as he looks to lock down a roster spot as he could be a potential top-six option for the team this season.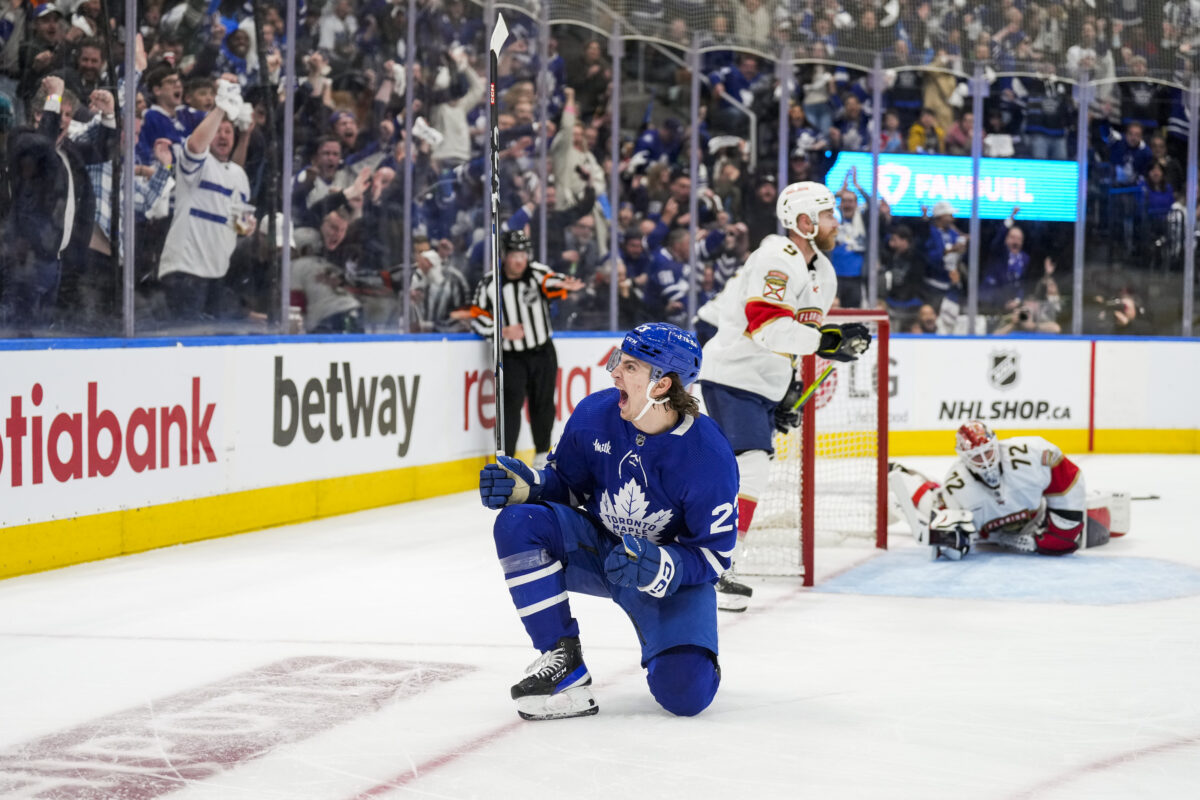 While it's an obvious choice, it's always expected to keep an eye on the top prospect. Expect Knies to get top minutes at five-on-five and on the powerplay throughout the tournament. His power forward game, exceptional puck protection skills and strength to drive hard to the middle of the ice is definitely going to get fans excited as it's a glimpse of what to expect this season. 
Fraser Minten
At the 2022 tournament, Fraser Minten impressed as a result of his physicality, intensity and work ethic alone. While he was quiet offensively, having that mindset will make him a force to be reckoned with as a result of his power forward-like game.  
Related: Maple Leafs' Prospect Report: Grebyonkin, Cowan & Traverse City
Minten is poised for a big season, looking to surpass his 31 goals and 67 points in 2022-23 with the Kamloops Blazers. He has an opportunity to earn more minutes and continue to be a leader for the team heading into the 2023-24 season. His ability to constantly be involved in the play, be relentless on the attack with his tenacity and pressure opponents is what makes him a special talent. In addition, he has a powerful release and great accuracy from far out, showing that he can do a lot of damage offensively.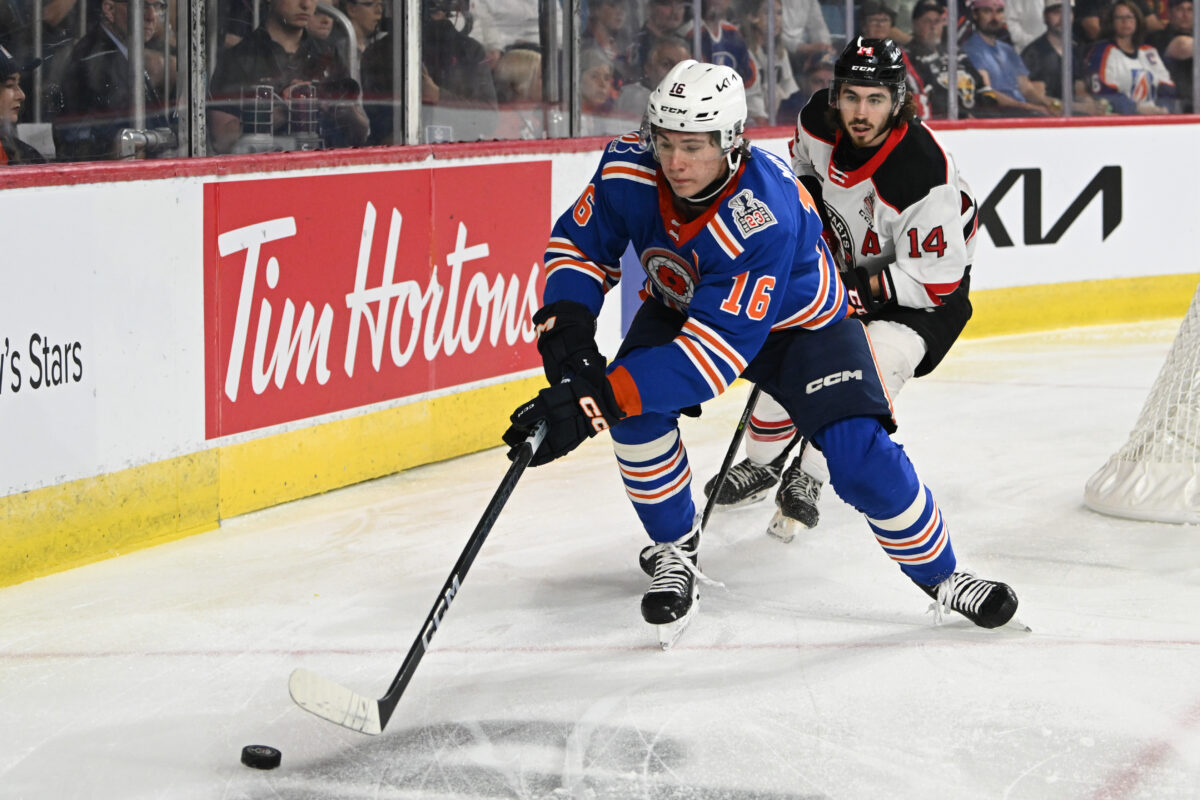 With a number of the Maple Leafs top prospects heading to this tournament, Minten is poised to elevate his play. If his performance at the teams' development camp is any indication, he's definitely going to make more of an impact as he's exactly what the team is looking for.
Dennis Hildeby & Vyacheslav Peksa
The Maple Leafs have struggled to develop goaltenders for the future. This time they have two heading to the tournament as everyone can get to see what Dennis Hildeby and Vyacheslav Peksa have to offer as they have been gaining attention as potential NHL goaltenders for the future. With Hildeby as a fourth-round pick in 2022 and Peksa a sixth-round pick in 2021, they still have a chance to become starters.
---
Latest News & Highlight
---
With Färjestad BK last season, Hildeby had an 11-9-0 record, a .918 save percentage and a 2.26 goals against average before coming to North America and joining the Toronto Marlies in the American Hockey League. He has great size in the crease at 6-foot-6, 234 pounds giving little for his opponents to work with. Peksa was a name that I had as a prospect to keep an eye on back in January. He had a 13-19-6 record, but his numbers showed that he has potential. He finished his season with Bars Kazan of the VHL with a .921 SV% and 2.34 GAA.
Both goalies are athletic and can track the puck very well. The two of them will look to instill the hope for the future as they continue with their development.
Topi Niemelä
Ever since he won best defenseman at the 2021 World Junior Championship, Topi Niemelä has had the making of a strong two-way, mobile defender. The Maple Leafs' top defensive prospect is looking to build off a decent showing in a short stint with the Marlies last season.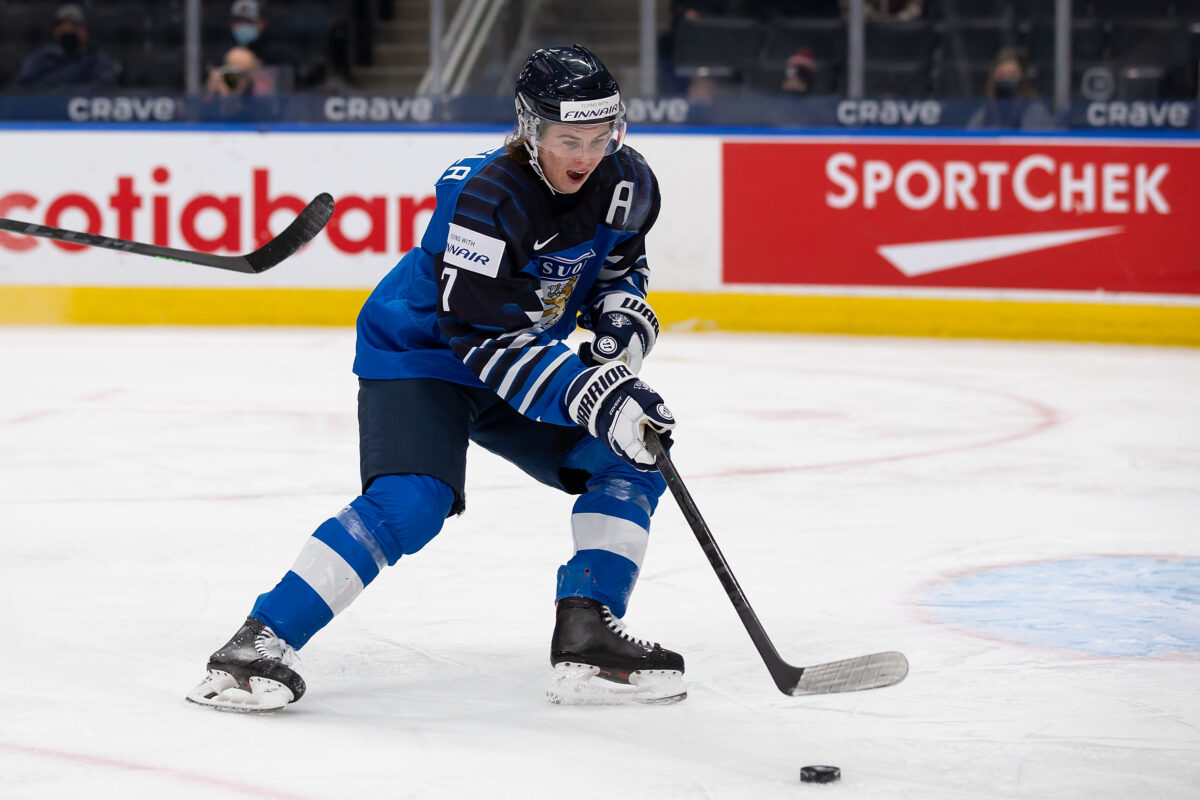 After recording two points in six games in the regular season, Niemelä elevated his play in the playoffs with five points in seven games as well as a goals for percentage of 80% at 5-on-5. When there was an opportunity to take his game to the next level, he did and looked to have thrived as a result of it. He always has a sense of calm to his game when carrying the puck in transition. He's great with his breakouts and is always finding the open ice with his vision.
After he started to show progress with his development late last season, Niemela is looking to continue that at the tournament as he'll lead the defensive unit. He's going to be relied on heavily in tough situations.
William Villeneuve
If there is one prospect that might be flying under the radar heading into this tournament, it's William Villeneuve. After winning the Memorial Cup for the Saint John Sea Dogs in 2022 and being named to the Second QMJHL All-Star team, he had a respectable rookie season in the AHL. 
Villeneuve finished with 25 points in 54 games with the Marlies, decent production as it can be a difficult transition from junior to the pro level.  He's a highly skilled offensive defenseman with great playmaking abilities. He excels on the breakouts and connecting with his teammates with crisp tape-to-tape passes. He's quick in transition as he has great vision and speed to carry the play confidently and attack the offensive zone. He needs to continue taking strides in his defensive game, but there is a lot to like with how he can control the play.
Related: 4 Maple Leafs Bold Player Predictions for 2023-24
Villeneuve will look to be a big offensive contributor from the back end at the tournament and when he enters his second pro season.
Honourable Mention: Mazden Leslie
Mazden Leslie is definitely one name to watch as he was passed over at the 2023 NHL Draft and is attending the tournament on an invite basis. He has a chance to come in and prove his worth to potentially earn a contract. 
Leslie had a strong season with the Vancouver Giants of the Western Hockey League, finishing with 50 points in 66 games. That alone put him fourth in team scoring. He truly excels on the offensive side of the puck, being a strong puck distributor. He's always involved with the play, jumping in and being extremely deceptive with his movements when leading an attack or going one-on-one with opponents.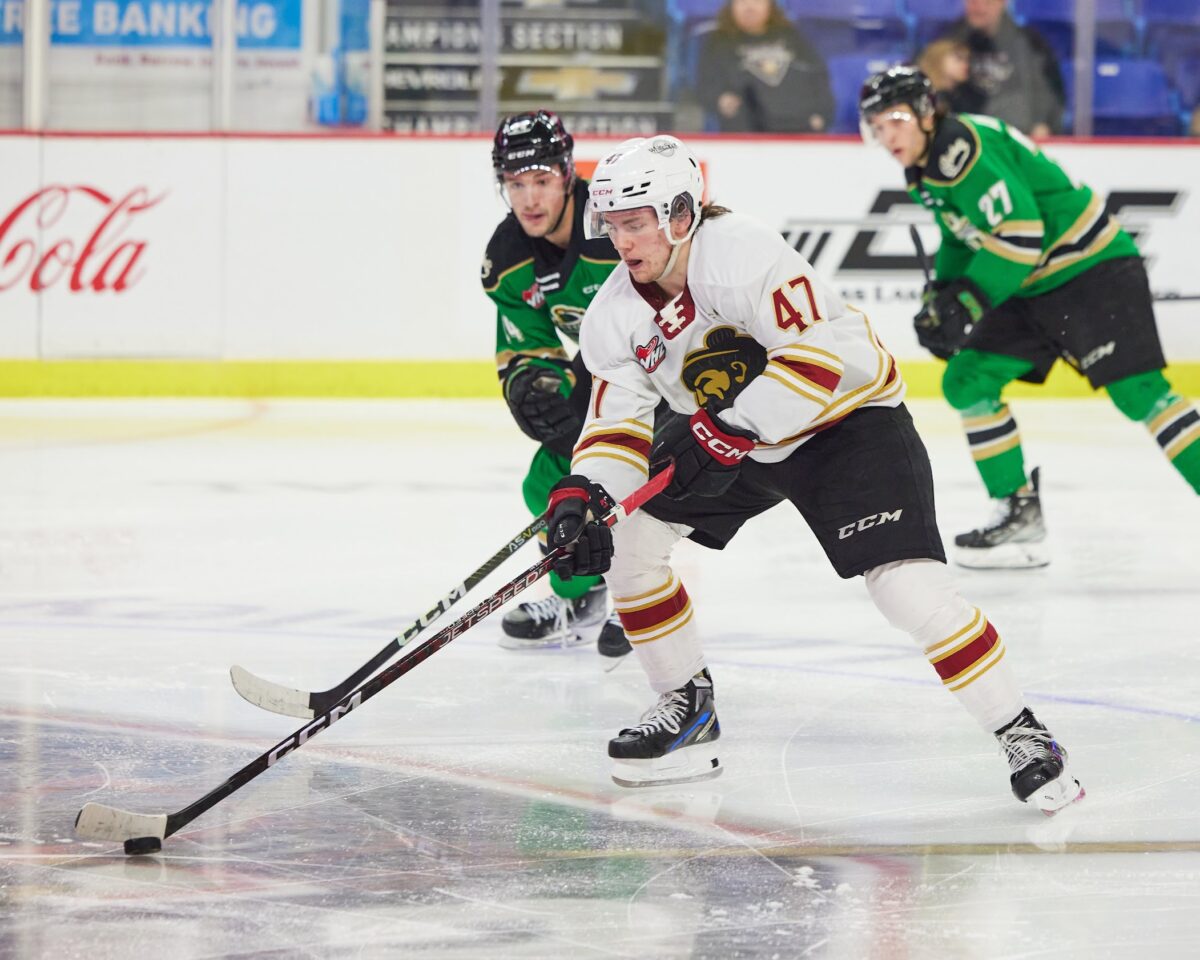 His defensive game and decision making is still a work in progress, but he shows the ability to quickly cut down lanes with his speed. His 6-foot-1, 181-pound frame allows him to engage and mix it up in battles along the boards and in front of the net. He definitely has the work ethic and intensity and if he plays well for the Maple Leafs, it could lead to a contract. 
This tournament is one of many events to happen as we get closer to the start of the regular season. Seeing the top prospects in action is a definitely a great way for everything to start.
Statistics from Elite Prospects and AHL Tracker.