Mazden Leslie
2022-23 Team: Vancouver Giants (WHL)
Date of Birth: April 15, 2005
Place of Birth: Lloydminster, AB
Ht: 6-foot-1 Wt: 181 pounds
Shoots: Right
Position: Defenceman
NHL Draft Eligibility: 2023 first-year eligible
Rankings
Mazden Leslie chose the right year to have career highs across the board. With 12 goals, 38 assists, and 50 points, he smashed his previous season-best of five goals, 14 assists, and 19 points set in 2021-22 and finished 14th amongst defencemen in total points in the Western Hockey League (WHL). Three of those 12 goals were scored via a hat trick on March 1 versus the Prince George Cougars, which is a rarity among defenders.
Despite that, NHL Central Scouting has him ranked 125th and dropped him 45 spots to 80th from their mid-term rankings to their final rankings. Also, across the online scouting community, only THW's own Logan Horn and Draft Prospects Hockey have him ranked. His overall defensive game is probably the reason for this as his strengths clearly reside at the offensive end of the ice.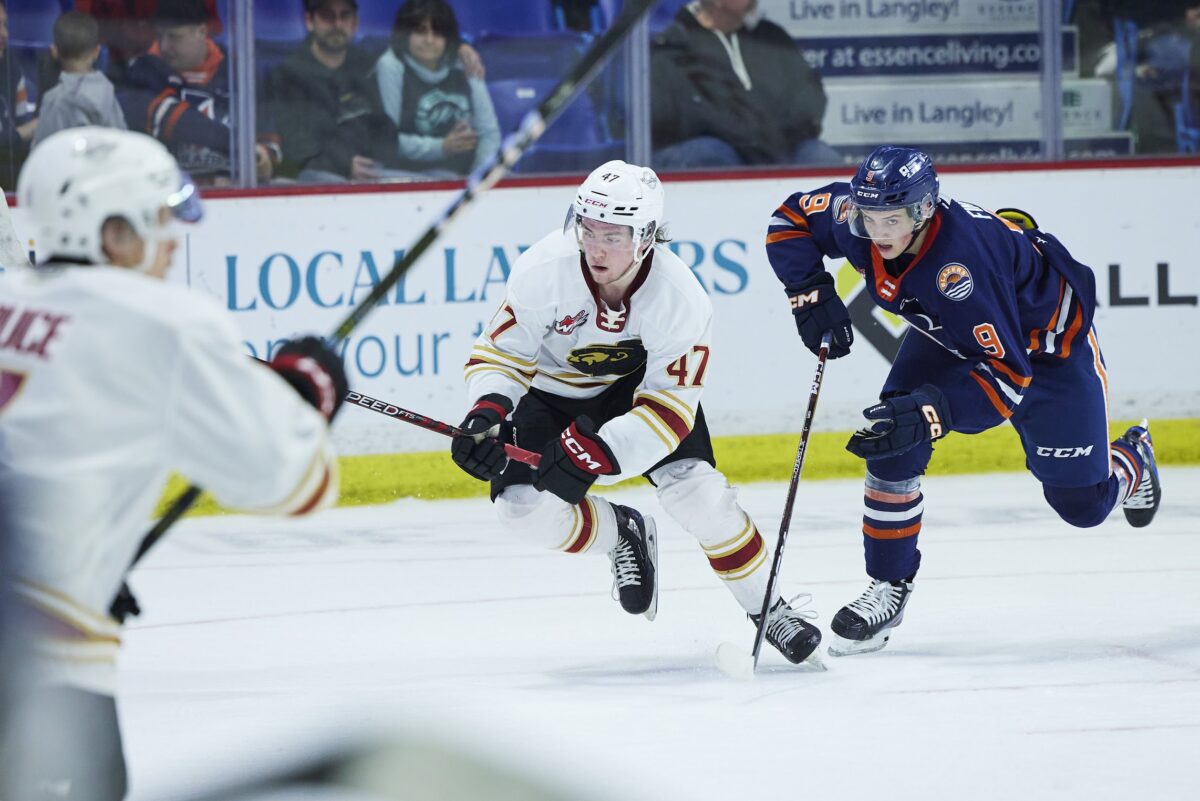 Regardless, Leslie has many attributes that could make him an effective NHL defenceman one day. In a league that is based on speed and skill through the neutral zone, his skating, mobility, vision, and passing abilities might make a team take a chance on him in the later rounds. As I have said multiple times on Prospect Corner, you can't teach offence, but you can definitely teach defence. Pair him with a good coaching staff, and there's a chance he becomes a steal like Gustav Forsling – who was drafted in the fifth round in 2014 and is now playing in the top four with the Florida Panthers.
Leslie also could become a power play specialist, even if his defence doesn't eventually catch up to his offence. With his accurate shot and anticipation to know when to sneak down from the point, he will be a huge asset to a power play unit one day. Unfortunately, unless he can somewhat shore up his defensive shortcomings, a team might not be comfortable having him as a regular in the lineup if the man advantage is the only situation they feel confident having him in. The age of pure offensive defenceman – unless you're Erik Karlsson, I guess – is gone. A defenceman has to be able to defend to have longevity in the league.
Related: THW's 2023 NHL Draft Guide
---
Latest News & Highlights
---
On the bright side, Leslie has the tools to develop that side of his game. With a frame of 6-foot-1 and 181 pounds, he has the size to battle bigger forwards along the boards and come out with the puck. Once he has possession of it, the rest is gravy, so if he can add some physicality to his skillset, get better positionally in his own zone, and limit the turnovers, his defensive game could match something like Quinn Hughes'. He has become a bit more of a two-way defenceman due to his ability to maintain puck possession and either pass or skate his way out of trouble. After all, the other team can't score if they don't have the puck.
Basically, Leslie can make it at the NHL level, it will just take time and patience from a developmental standpoint. He is undoubtedly a project, but a project worth investing in considering his offensive upside. Oh, yes, he's also a right-hand shot, something that is rare in defenders these days. Those things alone should be enough for a team to take a flyer on him at some point in the later rounds.
Other THW Draft Profiles
Mazden Leslie – NHL Draft Projection
The general feeling in the scouting world (thanks to my colleague Adam Kierszenblat for that information) is that Leslie will be drafted in the sixth or seventh round. That jives with most outlets as almost all of them don't have him ranked. Logan (THW's head of prospects coverage) and Draft Prospects Hockey are a bit more optimistic about his fate, having him selected in the late third round. If I was a betting man, I would probably place him between the third and fifth. If he falls into the seventh, he is bordering on steal territory – in my opinion anyway.
Quotables
"At the start, it was a little bit messy. I think I have worked on that in practice a bit, so I think that has gotten a little bit better by boxing people out and not letting them get easy opportunities. I have worked on my defensive game and just keep trying to get better. Excel at gap control, boxing out, all those types of things. Just trying to get better in my own zone." – Mazden Leslie
"Leslie consistently plays as if he's a fourth forward on the ice, always anticipating opportunities to join the attack or step into a passing lane. He operates on the left half wall during power plays and positions himself deeper in the zone for quick-release snap shots. His exceptional vision enables him to make rapid decisions and move the puck swiftly." – Joel Henderson, FC Hockey
"Mazden Leslie is an offensively minded defenceman who likes to jump in the rush whenever he can. He has strong puckhandling skills which allows him to create scoring chances as he activates from the point in the offensive zone. If he can add a physical element to his game, it should help him further develop his defensive game." – Adam Kierszenblat, The Hockey Writers
"There are rough edges that will have to be ironed out before he is considered a true NHL prospect. He often is out of position, and seems to lack quick problem solving skills, at this juncture, like when his preferred option is taken away. He freezes when he doesn't choose his secondary outlet option. He turns pucks over because of this. In the offensive end he shines with his mobility, offensive tools and size." – Bill Płaczek, Lines.com
Strengths
Skating
Strong in transition
Accurate shot
Vision
Offensive hockey IQ
Puckhandling
Under Construction (Improvements to Make)
Defensive game
Lack of physicality
Prone to turnovers
NHL Potential
As I mentioned earlier, Leslie needs to refine his defensive game if he is to have any chance of making it to the NHL and staying there. He is the definition of a high-risk, high-reward prospect. There's a chance he never develops that part of his game and his ceiling is the American Hockey League. On the other hand, there's also the possibility that he becomes a regular 40-50 point defenceman in his prime. To me, that's a risk worth taking, especially in the later rounds.
Risk-Reward Analysis
Risk – 4/5, Reward – 5/5
Fantasy Hockey Potential
Offence – 8/10, Defence – 4/10
Awards/Achievements
Leslie won the Giants' Most Improved Player Award and was the Save-on-Foods Scholastic Player of the Year for 2022-23.
Mazden Leslie Statistics
Videos