Montreal Canadiens general manager (GM) Kent Hughes commented earlier this season that he would like to upgrade his goaltending prospect pool and add one closer to being NHL-ready. This has led to speculation that the Canadiens have lost faith in struggling Cayden Primeau and feel their other prospects, like Fredric Dichow and Jakob Dobes, are not close to being NHL-ready. With Jake Allen and Sam Montembault on short contracts, the need for a solid goalie will be critical when this team is ready to move forward in its rebuild. Here is a look at three young goalies the Habs could target.
Joel Hofer – St. Louis Blues
The St. Louis Blues have Jordan Binnington signed long-term as their top goaltender, and although they do have Thomas Griess as the backup this year, he is an unrestricted free agent (UFA) at the end of the season. This leaves an opening for one of the Blues' young prospects to challenge for the backup role. They currently have four goaltenders signed to entry-level contracts (ELC), with three ending in 2025-26. Joel Hofer is one of the three restricted free agents (RFA) signed until 2025-26 and is currently the starting goaltender of the Blues' American Hockey League (AHL) team, the Springfield Thunderbirds.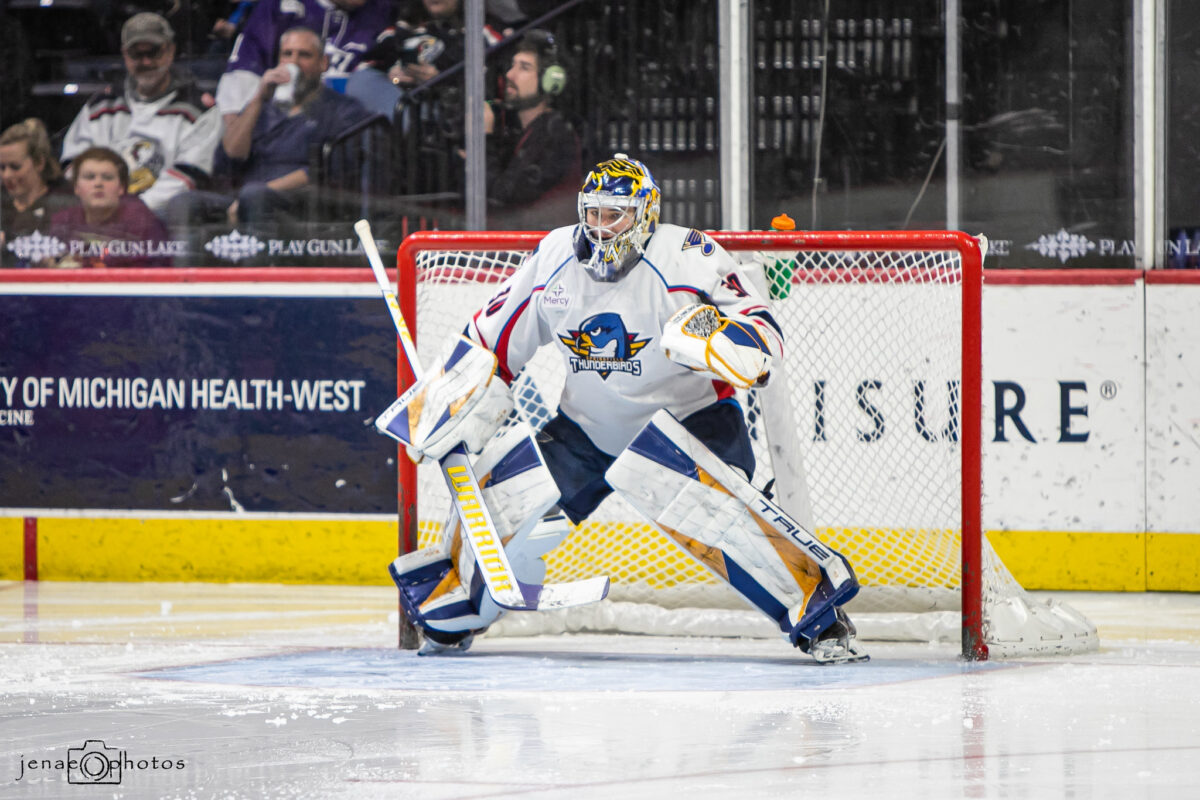 Hofer has a 15-10-4 record with a .918 save percentage (SV%) in Springfield in his second full season with the club. Last year he helped guide the Thunderbirds to the Calder Cup Playoffs with an 18-14-6 record, a 6-4 record in the postseason, and a .934 SV%. Hofer has the pro experience to adjust to playing in the NHL; he is a year younger than Primeau and seems to be developing better and faster than the Canadiens prospect. If Hughes can swing a deal with St.Louis, Hofer may not cost them much, but it will depend on which way the Blues are going with their future. They may be headed for a rebuild and want to hang on to their younger players.
Devon Levi – Buffalo Sabers
Devon Levi could be an easier target to acquire if Hughes is willing to pay the price. The Buffalo Sabres have a bevy of young goaltending talent in their system and signed Eric Comrie to a multi-year contract before the season started. The Sabres are also very high on rookie Ukko-Pekka Luukkonen who they hope will become their future starter; however, in 21 games this season, he is 13-6-2 but with a subpar SV% of .889, all while getting more starts than Comrie and veteran Craig Anderson. Comrie will be in Buffalo until 2024-25, the same year Luukonen becomes an RFA. This will all lead to which NCAA goaltender the Sabres want to join Luukonen in Buffalo: Levi or Erik Portillo.
Related: Canadiens Can Solve Goaltending Depth With Late Draft Steals
---
Latest News & Highlights
---
Levi and Portillo play in the NCAA; Levi is in his second year with Northeastern University, while Portillo is in his third year with the University of Michigan. Although Portillo is closer to turning pro, Levi has the better numbers and projects to be the better player. This could be a wrinkle in any plan the Canadiens have for acquiring Levi, as he could cost more than Hughes would be willing to give. An argument could be made that acquiring Portillo will be easier and cheaper, but would Hughes be upgrading if that's the case? If he is willing to wait for Levi, but Portillo is all Buffalo is offering, then he would be better off waiting for Dobes or Dichow. It would be a factor in getting the best player in a deal or no deal at all.
Dustin Wolf – Calgary Flames
The best goaltender the Canadiens could acquire – probably ready to jump to the NHL now – is 21-year-old Dustin Wolf. In 83 games in the AHL with the Calgary Wranglers – formerly the Stockton Heat – he has a career .924 SV% with a 60-16-6 record. He is tearing up the AHL and could probably be in the NHL if he wasn't tucked behind the Calgary Flames' goaltenders, Jacob Markstrom and Daniel Vlader, who are both signed to long-term contracts, which leaves Wolf in the minors until at least 2025-26.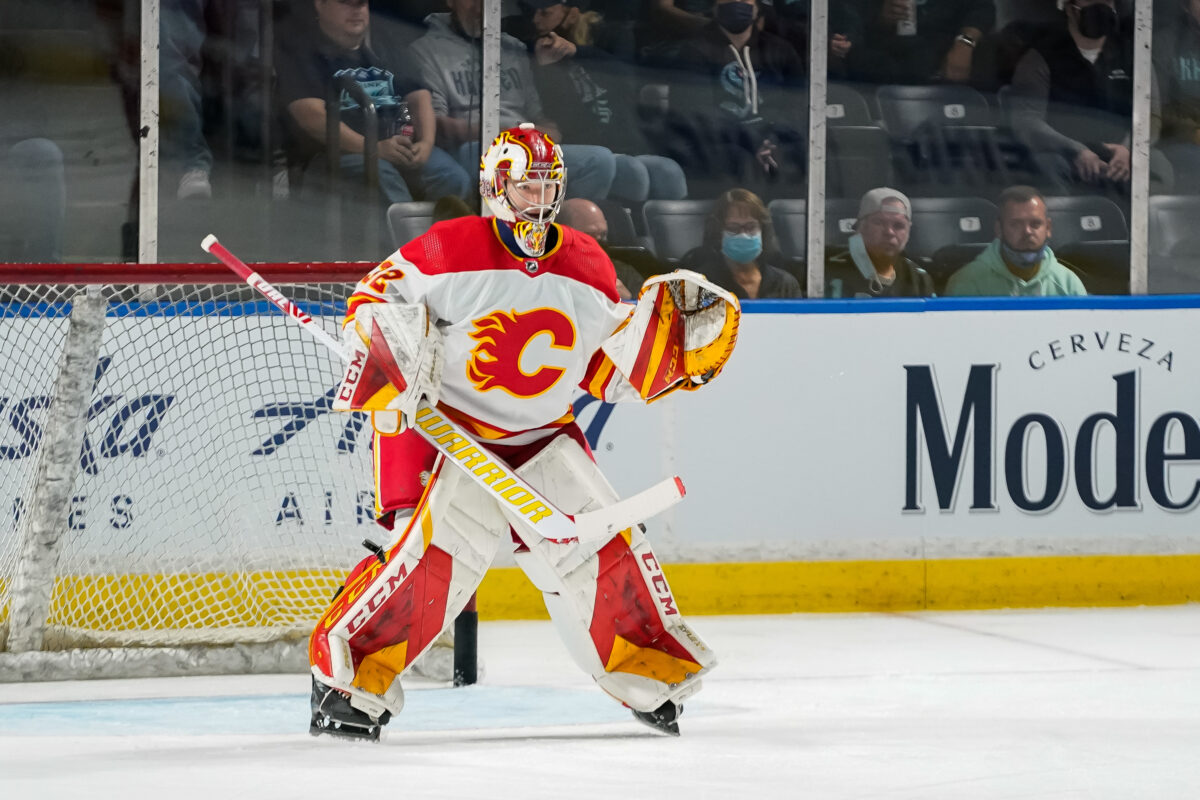 The Flames are interested in Josh Anderson of the Canadiens, which could pave the way for the Habs to acquire Wolf. If Hughes is looking for a first-round pick and a prospect, Calgary could be a good option: they have a 2023 first-round pick available and should have the cap space available at the trade deadline to take on Anderson's $5.5 million contract. The Flames, however, could look for more in return for Wolf, especially if both teams feel he is NHL-ready. If Montreal has a chance to acquire him, then they shouldn't hesitate, even if Hughes is a fan of Anderson; if he is part of the asking price, Hughes would be wise to move him.
Hughes doesn't need to get a goalie at the trade deadline, but if the opportunity is there, he should jump at it, especially if a guy like Wolf is available. The offseason could be another good time to acquire one of these players because teams will have more knowledge of what they will have on their roster going into next season. If the Canadiens' GM truly wants a more NHL-ready goalie prospect, these three could be the ones to get.