A topic that has been of serious concern to Montreal Canadiens fans has been the depth and quality of the goaltending prospect pool. Jakub Dobes has been quietly going about proving that it shouldn't be as much of a concern.
Related: Canadiens Prospect Pyramid: Midseason 2022-23
The Hockey Writers got to sit down with Jakub Dobes in an exclusive interview to get to know more about the Canadiens' 2020 fifth-round selection. When he sat down with me, Jakub was at the end of a long day, but he was still upbeat, polite, and in a good mood. He is a good young man with great character, and it shows in how he approaches the game and also in his interactions.
Who Is Jakub Dobes?
The native of Ostrava, Czechia, was raised in a blue-collar family by a school teacher (his mother Viera) and a road construction manager (his father Zdenek), where he was taught the importance of hard work and education, lessons he has put to use as a student-athlete. He was born to be an athlete. His mother was a figure skater who competed in World Championships, and his father played professionally in Czechia.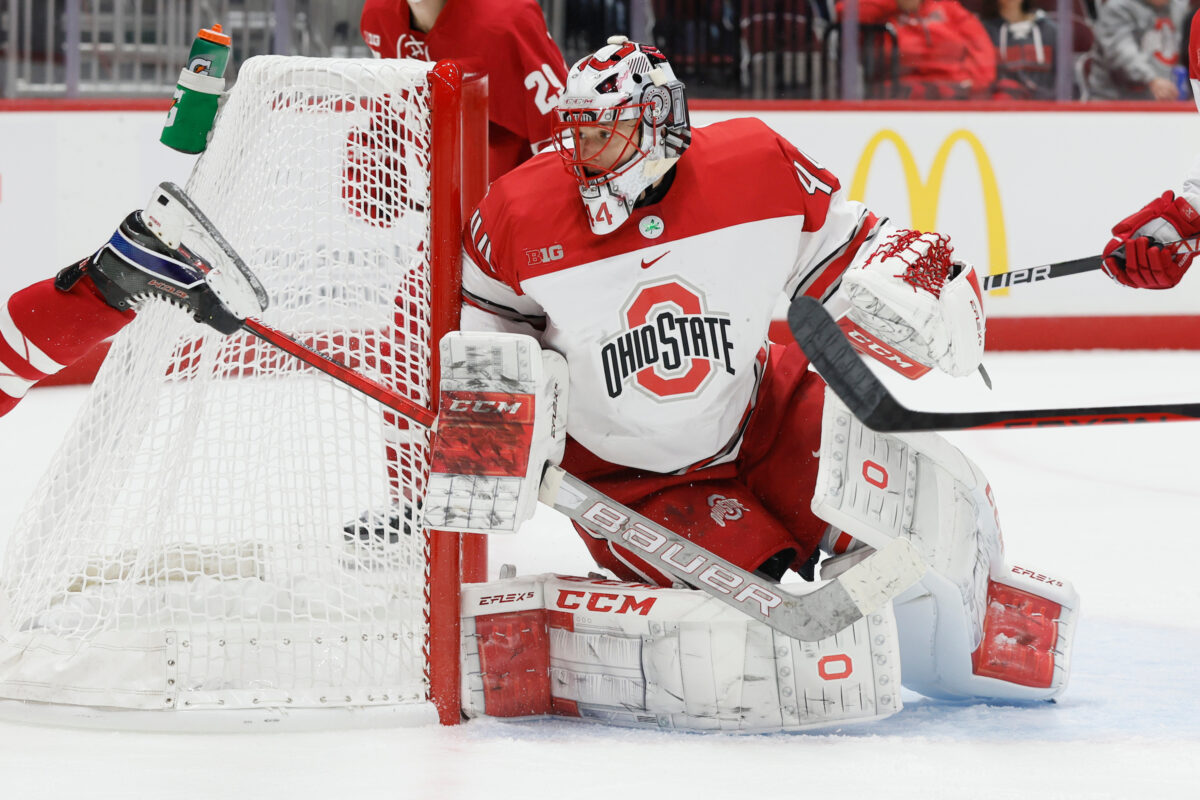 Last season, Dobes leaped onto the radar screens of Habs prospect watchers. During the 2021-22 season, he put up a record of 21-12-2 with 2.26 goals against average (GAA) and a .934 save percentage (SV%), earning him NCAA Big 10 conference goaltender of the year and a nomination for the Mike Richter Award (top goaltender in the NCAA).
So far this season, Dobes, who majors in international business, has started every Ohio State game and has put up stellar numbers. His record after 26 games is 16-9-1, which places him second nationally in wins this year (16), and he ranks in the top 15 in goals-against average (2.18) and save percentage (.921). He is one of three Ohio State candidates for the Hobey Baker Award. These are possibly strong enough to have him in the Mike Richter Award for the 2022-23 season. His goaltending coach at Ohio State University, Dustin Carlson, expects him to leave for the professional game soon stating:
"Its wishful thinking to believe he will play the full four seasons here (Ohio State). If he stays another season that would be fantastic."

–Dustin Carlson  (Guillaume Lefrancois, Développement en accéléré pour Jakub Dobes, La Presse, 23 Nov 2022)
The Canadiens hold his rights until August of 2025. And while his numbers seem slightly lower this season in comparison to last season, his consistent performance provides his team the chance to win in what may be the most competitive conference in the NCAA.
Getting to Know Jakub
The interview began later in the evening after Jakub had just finished an evening economics class. He had also just finished one of his regular calls back home to his parents. The impression he leaves is of a down-to-earth young man with a very humble demeanor. But it's clear that underneath, he is driven, not only to complete his studies but also in his approach to the game. It is clear he has aspirations, but he was very intelligent in his responses and kept those aspirations close to the vest.
---
Latest News & Highlights
---
Q: Do you go home or stay in Ohio in the summer?
A: I haven't been home in almost two years. I haven't been home in a little bit. I will go home this summer."
Q: Did you watch Czechia much or at all at the recent World Junior Championships?
A: "A little bit. Honestly, I watched Canada more. I didn't watch the final game. I watch Canada play Slovakia. I was more impressed by (Connor) Bedard to be honest. That kid is something else."
Q: Why did you choose to come to North America and take the NCAA route?
A: "Canada and America are known to be the best in hockey, and I wanted to come and have more opportunity to play. I chose [this] school because it gave me a good balance of school and hockey. And more schools kept coming to me. I chose Ohio [State] because it was hard to get into with grades. It took a lot of work with LSats and studying. Ohio State is an amazing school, and I'm really excited to be a part of it."
Q: You chose an intense major in International Business Studies, what made you choose that?
A: "It is hard, but I wanted something that would help me after hockey. I've never studied more in my life. I'm just trying to do my best. I'm going to put in the work to get my best results."
Q: What do you do in the offseason for training? Do you play hockey year-round or do you do other athletic activities?
A: "I stayed on campus more and worked with our strength coach and with Jeff (LoVecchio). I just do the workouts in the plan that is built for me and push myself as hard as I can. I don't play hockey. I used to play soccer in the summers, but as I got older, [I] got worried about injuring myself. Lately, I switched to basketball with friends, basketball is big here, there are courts everywhere. I am not really good, but my size helps me a lot."
Q: As a goalie, what is the main focus of your game?
A: "My work ethic, that's one thing a goalie needs to have. Without it, you probably won't be successful."
Q: What about your approach to the game, how do you prepare mentally and how do you recover if you don't play to the level you want on a given night?
A: "My coaches help me a lot with that (mental preparation), especially Dustin (Carlson)."
Q: Have you looked ahead to becoming a professional very soon?
A: "I have to finish the season first, then I'll think about the next step. Whatever I choose will be for my best long-term development. My goal is the NHL. I want to do everything to have the best career possible. "
Q: Who do you look up to, who do you like to study and maybe even emulate?
"I really like Andrei Vasilevskiy from (Tampa Bay) Lightning. I have my own style, though. If I can take things from his game and fit it into my game, I'd be really happy."
Q: What does being nominated for the Hobey Baker mean to you? Does it help to reinforce your hard work?
A: "It's nice. There are at least three others on this team that could easily have been named, but it's not something I think about. For me, I don't care if I am the worst goalie in the league just as long as we win."
Q: When you go to Columbus to watch the Canadiens play, who stands out to you on the team?
A: "(Cole) Caufield jumps out right away. His shot and Guhle with his size and ability to move in his zone. He never looks tired either. There's a lot of good players. I got to sit near the Montreal fans. They're nice and supportive."
Dobes doesn't come right out and say it, but it seems he wants to complete his education. He may choose to do summer school if he does decide to become a professional player, but he doesn't seem to be someone that leaves anything unfinished. He has the on-ice skills, but what comes out when watching him practice or how he interacts with people is he has the intangibles required. With his work ethic, upbeat attitude, and humility to be willing to improve, he will have a real opportunity to fulfill his dream of becoming an NHL player.
---
---