As the Canadian Hockey League (CHL) playoffs are set to begin, here is a look at the Montreal Canadiens prospects participating in the annual springtime event to compete for their league titles before moving on to the Memorial Cup tournament and deciding who is worthy of junior hockey supremacy.
Related: Canadiens Prospects Report: Catching up with Cedrick Guindon
The Canadiens' prospect pool has several CHL prospects who will all play key roles for their clubs. For the Habs, every prospect they assigned to the CHL is on a club that is moving onto the playoffs. The value added to their prospects is that this is the time of year when they can add experience and confidence growth which helps them develop more quickly.
Quebec Major Junior Hockey League
Riley Kidney
The Gatineau Olympiques finished tied at 105 with the Sherbrooke Phoenix, who holds the tiebreaker, which means that the Gatineau team finishes second in the Western Conference and first in the Western Division.
Since being acquired at the trade deadline, Riley Kidney has been the deciding factor in their push for the playoffs. His 45 points in 31 games with Acadie-Bathurst Titans were impressive. Yet since arriving in Gatineau, he has had an offensive explosion with 65 points in 29 games. This gives him 110 points in only 60 games, putting him fifth in league scoring. Impressively, his offensive output in only 29 games places him fourth in team scoring. His puck-handling and offensive habits, all performed at a high pace, were exactly what the Olympiques were hoping for.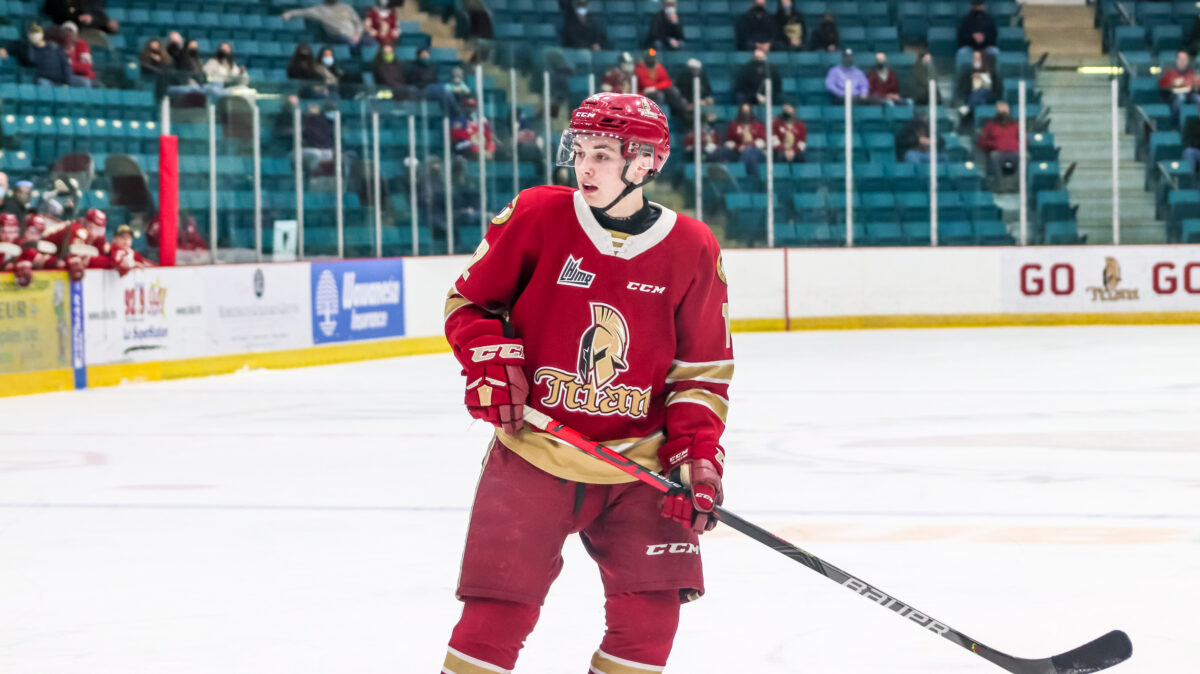 He has shown some progress in his game, becoming a player coaches in the Quebec Major Junior Hockey League (QMJHL) could rely on not just for offence but also for some solid play on the penalty kill (PK). However, he will need to continue his development in that area before it will translate into the professional game. Offensively, he has seen increased offensive output over last season. He has only two fewer goals but 10 more points, which demonstrates his improved playmaking skills.
At 20 years old, he still has one year of junior eligibility remaining. However, he's already been signed. Therefore, it's likely he will move to the American Hockey League's (AHL) Laval Rocket after his QMJHL season is completed.
Joshua Roy
The Sherbrooke Phoenix went onto a 50-win season in 2022-23, earning the top seed in the QMJHL Western Conference, and that outcome had a lot to do with the performance and leadership of Joshua Roy. His point total slid 20 points from last season to 46 goals and 99 points in 55 games, but that is in 11 fewer games, and his points-per-game (PPG) average remained the same at 1.8 PPG. More importantly, he improved his play away from the puck, and everything in his game is trending upwards. Evolving from an offense-only shooter when drafted in the fifth round of the 2021 NHL Entry Draft, who relied on his teammates to generate opportunities, into a Swiss army knife type of player.
---
Latest News & Highlights
---
He plays a physical two-way style as a possession style player, who now also blocks shots and is relied upon in every situation. His play in the last two World Junior Championships (WJC) demonstrates his progression. Playing a key role in back-to-back gold medal wins with Team Canada, the most recent one where he scored 11 points in 7 games. While skating on the top line with Logan Stankoven and hockey phenom Connor Bedard, he played the role of puck retrieval specialist and provided the line with a responsible defensive player.
Ontario Hockey League (OHL)
Filip Mesar
Filip Mesar's arrival to the Kitchener Rangers turned that team from a cellar dweller to a playoff team, earning a first-round matchup with the top-seeded Windsor Spitfires. He has been a difference-maker, especially offensively, as he uses his excellent foot speed to attack off the rush where he can beat defenders in transition or coming off the boards.
Offensively, he is nearly a PPG player, scoring 51 points in 52 games. At the WJC, he was the offensive catalyst that led team Slovakia to the quarter-finals, with six points in five games. In that tournament, he played a two-way game and demonstrated that he is not outmatched in any one-on-one battle but was only able to provide that consistently during the WJC. Being one of the best transitional players in the Ontario Hockey League (OHL) is one thing, but the consistency in his defensive game still leaves something to be desired.
Owen Beck
Owen Beck used his excellent skating to his advantage more consistently this season. Using it to attack off the rush. However, his best attribute is his hockey IQ which he uses to read developing plays in all three zones. His positioning and anticipation are second to none, and his foot speed allows him to provide puck support in the defensive zone. His play in transition is a strength as well, providing his team with controlled zone exits and offensive zone entries.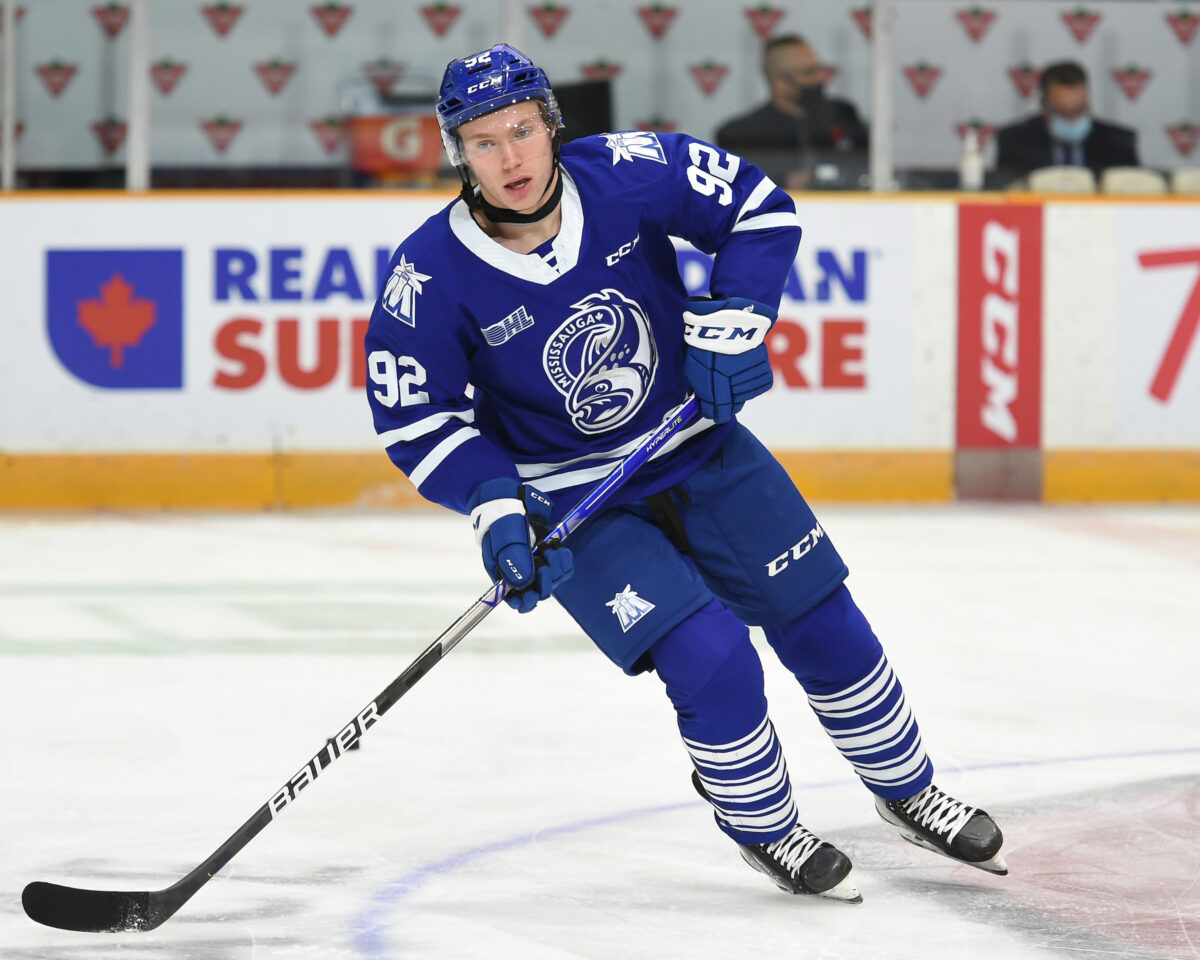 Beck is another gold medal winner, having taken advantage of his opportunities after being called up to Team Canada at this past WJC and an emergency call-up to the Canadiens for one game. Most recently, he was traded to the Peterborough Petes at the OHL trade deadline, where he slotted into a second-line role. After putting up 41 points in 30 games for the Mississauga Steelheads, he scored 25 points in 30 games with the Petes, who will kick off the playoffs with a home-ice advantage in the first round against the Sudbury Wolves.
Daniil Sobolev
Daniil Sobolev, a 6-foot, 209-pound, right-handed defenseman finished last season with only two goals and 15 assists. This season, he scored nine points in 48 games, which breaks down to essentially the same PPG pace as last season. His offensive game isn't an area his club or the Canadiens value him. His game is all about defense and physicality, and his engagement in his own zone makes him an ideal stay-at-home defender for the Windsor Spitfires, who enter the OHL playoffs as the top seed.
Logan Mailloux
The Canadiens' controversial 2021 first-round pick, Logan Mailloux, has finally played a full season for the first time in three seasons after missing time due to a combination of injuries, suspensions, and the Covid-19 pandemic. He finished the 2022-23 regular season with 25 goals and 53 points in 59 games.
His offensive output was good for fourth in scoring on the London Knights and made him the top goal scorer among defensemen in the OHL and tenth in points. He is a weapon on the power play for the Knights, an area that will become much more important as they get set to begin their first-round matchup against the Owen Sound Attack. Physicality isn't a problem for the 6-foot-3, 212-pound defender as he relishes contact. Defensively, he still has work to do, as he has problems with his positioning in the defensive zone. At 19 years old, he has another season of junior eligibility, but he may be ready to make the leap to the AHL as soon as next season.
Cedrick Guindon
Cedrick Guindon, the Canadiens' 2022 fourth-round selection is still without an entry-level contract (ELC), giving him added motivation to become one of the top performers in the OHL. Last season, he finished second in Owen Sound Attack scoring, with 59 points in 68 games. This season, he finished second in team scoring behind his linemate Colby Barlow, with 69 points in 68 games. His points have increased because he has developed his playmaking skills. While his shot remains a threat, he has learned to use his shot to keep defenses from cheating to cover the pass, which helps it to help him to generate more scoring opportunities.
Defensively, he remains Owen Sound's top two-way center. After losing in seven games to the Saginaw Spirit in 2022, their goal is to get past London in the first round this season. To make that a reality, Guindon will be relied on to put his gritty two-way style overdrive to allow him to shut down London's top offensive line.
Vinzenz Roher
Vinzenz Rohrer enters the 2023 OHL Playoffs as a member of the Ottawa 67's, the OHL's top seed, facing off against the Oshawa Generals in the first round. The two-way winger finished the season with 49 points in 54 games after missing time due to a concussion.
That does it for this week's edition of the Canadiens Prospects Report. Stay tuned, as each week, we will provide updates on some of the young prospects making their way up the Habs' depth chart.     
---
---