It's odd to say, but the Montreal Canadiens have dodged a bullet, with news forward Tomas Plekanec will be out several weeks. That's because, if he hadn't come down with a back injury, the Habs would be faced with a hard decision as to whether or not to expose Nikita Scherbak to waivers. They can now keep the 22-year-old up with the big club in the injured Plekanec's place.
Scherbak vs. De La Rose
Indeed, mere days after the Habs had done the same with Jacob De La Rose, only to lose him to the Detroit Red Wings, they were almost faced with much the same dilemma. This time, though, losing Scherbak would have hurt a hell of a lot more and not just because he's a former first-round pick, whereas De La Rose was a second rounder.
The simple truth is their individual upsides are vastly different. By all accounts, De La Rose will top out as a bottom-six grinder. Scherbak, who's also one year younger, was meanwhile drafted to play top-six minutes.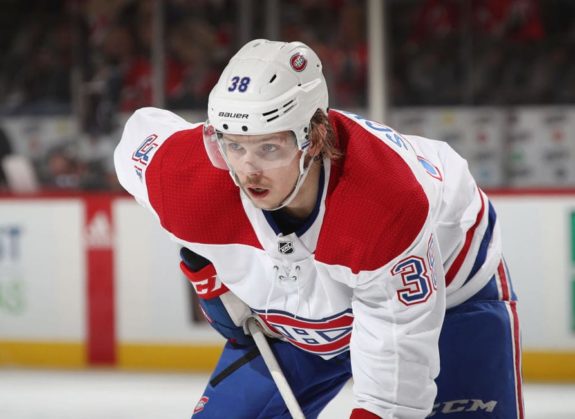 De La Rose never dominated in the American Hockey League the way Scherbak did, albeit through just 26 games last season (30 points). The best De La Rose could muster in the minors was a half-point-per-game clip a few seasons back, making him the obvious choice to be sent down first when it became necessary to get the roster back down to the maximum 23 healthy bodies.
Ultimately, De La Rose could use more seasoning, while Scherbak has developed into a tweener at this stage of his career due to his inability to consistently break into the Canadiens' lineup. Like De La Rose, he may have made the team out of training camp, but, also like De La Rose, he has failed to get in an NHL game this season. That has to change.
Deslauriers Set to Return
The sentiment is Nicolas Deslauriers will return next game against the Ottawa Senators on Saturday after a stint on the shelf. Andrew Shaw, who had been sick, was also seen skating on the fourth line alongside Matthew Peca, meaning Charles Hudon is probably set to take his turn in the press box with Scherbak.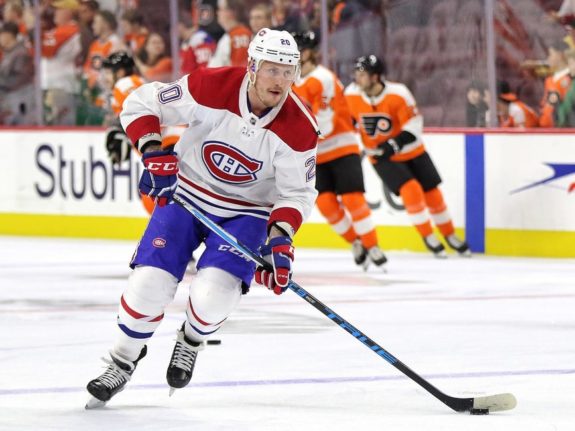 The absurdity of the decision to sit Hudon, who has been far from a disappointment so far this season, notwithstanding, Scherbak has to play. Otherwise, there's little point keeping him up, as it's only delaying the inevitable: to expose him to waivers. Plekanec has to come back at some point.
If you can sit Hudon to make room for Deslauriers and Shaw, you can sit other players in a rotation to make room for Scherbak. It's not rocket science. It's a matter of exposing him to waivers and then demoting him the Laval Rocket posthaste instead if you're not willing to do what's necessary… what's downright logical.
Sure, it makes little sense not to maintain the roster maximum in case of additional injuries. However, the argument why Deslauriers (and Shaw) are getting in while Scherbak continues to sit is that the respective skillsets of the former two are more in line with what's expected of fourth liners. If that's the case, wouldn't it make sense to demote Scherbak to the minors where he would undeniably get top-line minutes? Then promote someone whose career expectations aren't as lofty to replace him?
The Case to Demote Scherbak
Demoting Scherbak before you absolutely have to would not be bad asset management in this instance. Not playing him, either to help him along or even to showcase him for the purposes of a trade, has been the bad asset management, here.
Some may argue it makes sense to keep Scherbak up as long as possible so general manager Marc Bergevin can work out a trade. If you're another team though, how much would you give up for Scherbak, when a) you haven't seen him play and b) the team you'd be dealing with didn't think highly enough of him to play him? It's almost De La Rose all over again, with one key difference. No one ever said Scherbak should be limited to fourth-line minutes a la Deslauriers or Shaw.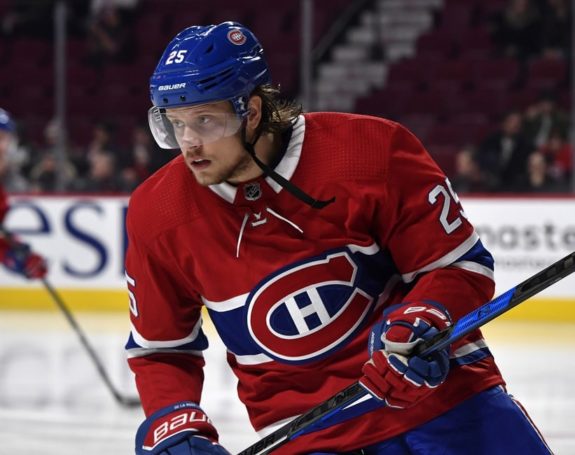 Admittedly, the decision to scratch Karl Alzner and Tomas Plekanec earlier this season was applauded as ice time should be merited. While Scherbak hasn't really done anything to warrant a look either based on a so-so training camp, it's a catch-22. He can't earn the confidence of the coaching staff if he's not given a chance to succeed.
Alzner and Plekanec are at the points in their careers where you know their limitations and you can't teach an old dog new tricks. Scherbak still needs to be nurtured as he will only be 23 by the end of the year. If Alzner and Plekanec, who have since gotten in games, aren't lost causes, how can Scherbak be? More to the point, how can he still be sitting?
The Habs just lost De La Rose for nothing. That hurt, even if it was their only option. They're in the midst of losing Scherbak for no good reason. That's going to hurt more. This time everyone sees the bullet coming. They can only try to outrun it for so long. Sometimes it's a matter of biting it instead. Biting it or jumping out of the way. Nothing's preventing the Habs from so doing, except for the fact that the gun is in their hands, aimed directly at their collective foot.