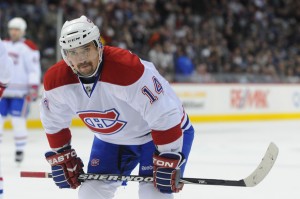 Tomorrow night the Habs will host the Maple Leafs as the shortened season gets underway, but it looks like the Montreal Canadiens still have a key scoring position open in the roster. While it's pretty clear the top line of Erik Cole, David Desharnais and Max Pacioretty will remain intact, Michel Therrien also made it clear this Wednesday that the second line has space left to fill.
Tomas Plekanec can expect more stability this season in the form of a healthy Brian Gionta, which Therrien believes will help both players bounce back from a disappointing season last year. The coach believes that "Last year [Plekanec] was missing stability on his line. This year to be able to have a healthy Brian Gionta will help Plekanec as much as Plekanec will help Gionta."
The interesting part of that statement is that there's no mention of who will be skating on Plekanec's left.
The Canadiens suddenly have an overload of depth at center. Desharnais, Plekanec, Lars Eller, Ryan White, Petteri Nokelainen as well as Alex Galchenyuk and Gabriel Dumont are all able to fill that role. That depth had Marc Bergevin feeling comfortable enough to leave Scott Gomez at home for the year and buy out his 7.36 million cap hit as soon as he gets the chance.
So how is it that the team is missing scoring talent on the wings? and who are the likely candidates to earn the coveted position?
Plekanec's most consistent linemate for the past couple of seasons, Mike Cammalleri, was hustled out of town in the middle of a tight game against the Bruins last January. In return the Habs got Rene Bourque who put in a lackluster effort during his time with the team. Bourque will surely be auditioning for the second line spot but he will need a spectacular showing to overcome last year's lack of output and his -16 rating in 38 games as a Canadien.
Andrei Kostitsyn was another former constant on Plekanec's wing but Pierre Gauthier traded him to Nashville in a deadline deal last season before Kostitsyn entered unrestricted free agency. The Belorussian winger is still unsigned but the Canadiens haven't expressed any interest in him, choosing instead to look to the future.
Canadiens Have Plenty of Prospects
For the Canadiens, the future does look bright. Last year's third overall draft pick, Alex Galchenyuk has earned a place at training camp, and will be hoping to earn a spot in some NHL games next. Galchenyuk is a natural center but has experience playing the wing so he could be a match for Plekanec and Gionta. Therrien confirmed Thursday that Galchenyuk will indeed start the season with the big club which will have Habs fans drooling at the prospect of finally seeing a power forward in a Habs uniform.
Another top prospect, Louis Leblanc, might have to take things slow for now. He injured his ankle at the start of this year's AHL season and was not invited to the Canadiens training camp this week, despite playing 42 games with the team last year. Even though Leblanc only picked up 5 goals and 5 assists last season, he did so with limited minutes and managed to hold his own in the big leagues, finishing the season with a +3 rating.
While Leblanc wasn't in training camp, he did participate in Thursday's intra-squad game and will likely be wearing a Habs jersey again in the near future, the only question is when.
Brendan Gallagher was one of four Bulldogs invited to this year's training camp. The 20-year old impressed a lot of people during preseason last year but he still spent all of last season in the WHL. He'll be hoping to crack the Habs' line-up this year, but his size may work against him. The Canadiens are not as small as they were last season, but at 5'9", 163 lbs, Gallagher wouldn't be an ideal fit on a line with the diminutive Brian Gionta.
Michaël Bournival is another Bulldog taking part in training camp and could be a good fit on a line with Plekanec and Gionta. But Bournival, also 20, is playing his first season in the AHL and will likely need another year or two to develop before he's ready for the big leagues.
Therrien's other options include Lars Eller and Travis Moen. Eller is a natural center but spent time on the wing last season, although he never did look comfortable at the position. Moen is not a noted scorer but did have some success on a line with Gionta and Gomez at the start of last season. While he finished last year with just 9 goals, four of them came in the first 7 games of the season.
Therrien will have his work cut out for him finding the right player to skate alongside Plekanec and Gionta, but at least he'll have plenty of options to choose from.