To be clear, center Phillip Danault is far from holding the Montreal Canadiens hostage. However, the Habs run a very real risk of holding themselves back, if they opt to delay the inevitable and still play him above Nick Suzuki in the lineup next season.
Danault Emerges as Top-Liner
At this point, Danault's feelings on the subject are crystal. After a postseason in which Suzuki and Jesperi Kotkaniemi emerged as offensive threats at center, Danault expressed in the media the possibility that he will pursue other options when he becomes an unrestricted free agent in 2021. He wants to continue to play an offensive role on this team.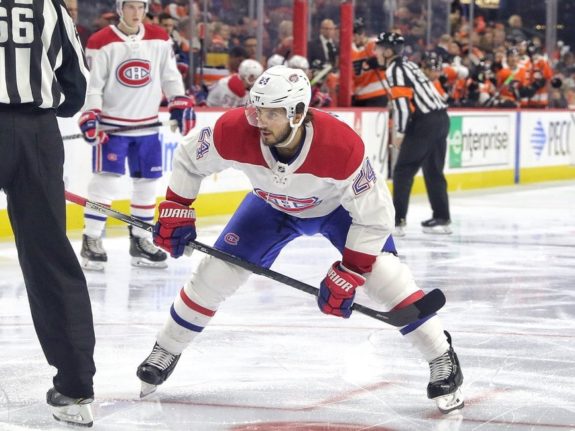 Leaving would of course be entirely within his rights. There's no debate about that, as Danault's more than earned the opportunity to play where he wants after what will be eight seasons as a professional. What also isn't up for debate is how much the Habs should still want to keep him in bleu, blanc, et rouge.
After all, in his four-plus seasons with the Canadiens, Danault transformed from a bottom-six forward with the Chicago Blackhawks to, effectively, the Habs' No. 1 center, on one of the best lines in the league, no exaggeration.
On top of that, Danault's finished in the top 10 in Selke Trophy voting for two straight seasons, evidencing his prowess in both zones. Nevertheless, considering the success the Habs have had overall with him in that role has been limited, it's time to consider alternatives. Because, that is up for debate, with members of The Hockey Writers projecting the Canadiens opening-night line-up recently with some resulting discrepancy.
Habs Need Danault Deeper in Lineup
Since Danault began being deployed between Max Pacioretty and Alexander Radulov in 2016-17, the Habs as a whole have really only played well enough to reach the playoffs under normal circumstances that one season. Then, as the regular-season Atlantic Division champions, they promptly got upset in embarrassing fashion by the wild-card New York Rangers, during a series in which they scored 11 goals in six games.
Of course, that lack of success isn't Danault's fault. He's just doing his job, admirably to the best of his ability by all appearances. However, it's become readily apparent that, not only do the Canadiens have trouble winning with him as that top-line center, but they see it themselves.
Yes, the Canadiens officially made the playoffs this year, technically with Danault continuing to serve as the team's top-line center. However, in the playoffs, his role shifted. Not only did Suzuki play more time between Danault's usual linemates in Tomas Tatar and Brendan Gallagher, but the line of Danault between Artturi Lehkonen and Paul Byron was actually deployed the most through the 10 games.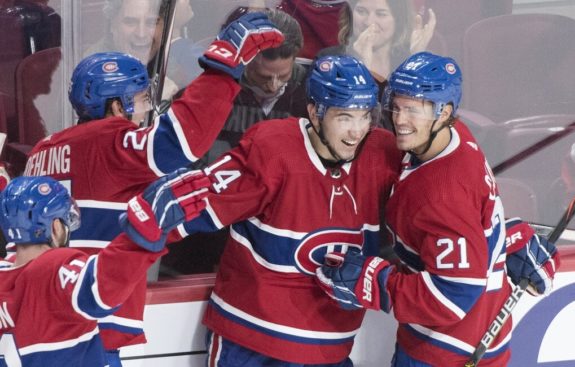 Granted, Suzuki also played a fair bit between Jonathan Drouin and Joel Armia these past playoffs. However, the fact that, after a successful 41-point rookie season in which he played both center and wing, Suzuki emerged as the team's co-leading playoff scorer deployed exclusively down the middle shows he's ready for it.
Suzuki Deserves a Shot
After literally decades of searching for a No. 1 center, including nearly a full one under general manager Marc Bergevin, the Canadiens now finally have the depth that they can afford to spread the wealth throughout the lineup. Considering the sixth-ranked 2:10 Suzuki averaged on the power play (tied with Shea Weber) and the co-team-leading 14 points he scored thereon, he's simply more of an offensive threat than Danault.
More to the point, Suzuki is therefore worthy of the increase in ice time that comes with playing on the No. 1 line, as it will realistically result in more offense on a team that finished No. 19 in the league in that category. Danault, who in contrast played just 1:34 per game on the power-play (four points; Jordan Weal had five), is simply better-suited to a less-prominent role, not because he deserves to be demoted, but because it's best for the team's chances.
Granted, production on the power-play is not always the best indicator of playing ability, with Brendan Gallagher having scored just five points on the man advantage himself. However, Gallagher is obviously a special case and arguably the engine the drives that first line at five-on-five. If he's the secret to its success, the Habs can afford to take a chance on Suzuki helping to take that line to new heights from a production standpoint, because, as good as that line is, Tatar's team-leading 61 points only ranked No. 35 in a 31-team league.
Of course Danault has a role to play on this team. Ideally, it would be as a third-line center, because, based on his defensive pedigree and two-way game, he fits the profile of one on a legitimate contender. For the Canadiens to become one, he has to at the very least give up his spot on the first line to Suzuki. For the Canadiens to keep an extremely valuable player in the fold though, it may come down to pushing Danault only as far down as the second line as a compromise.
Of course, considering the Canadiens' newfound depth up front, the Habs will be able to theoretically roll three lines at least. So, it shouldn't really matter whether Danault centers Line 2A or 2B. He should still get his looks in the offensive zone and help drive the offense. Instead of the Habs holding themselves back, they'd be taking a chance to push it to new heights overall.
---
---