The Montreal Canadiens' prospect pool is teaming with talent. Many of the 28 draft picks since the 2020 NHL Entry Draft have provided performances that gathered significant attention from the Montreal fanbase, while some others have not received much attention. This list of Habs' prospects have all flown under the radar and deserve some attention due to their performance, or due to another noteworthy reason.
---
---
Jared Davidson – C, Seattle Thunderbirds (WHL) 
Who? That's the response gotten when the name Jared Davidson is mentioned.  He was a Canadiens' fifth-round pick in 2022, selected in his second pass as entry-draft eligible. Davidson is torching the Western Hockey League (WHL) with 21 goals and 54 points in 34 games played, putting him in the top 10 in scoring in the league. He leads his team in goals and points and plays a top-line role on the Western Conference-leading Seattle Thunderbirds, who are also at the top of the Canadian Hockey League (CHL) Power Ranking list. 
Related: Montreal Canadiens' 2023 Trade Deadline Preview
---
Latest News & Highlights
---
One-dimensional players torching the junior leagues are always there. But what sets Davidson apart is his gritty style and non-stop work ethic; he attacks the game like a junkyard dog. Canadiens fans may recognize that approach, as Brendan Gallagher has played a similar style for a decade in the Bleu, Blanc et Rouge. Fans can look forward to an aggressive forechecker with an excellent shot, who can play a physical style and brings some toughness.  
Despite having a cannon for a one-timer and some determined physical play, he does have deficiencies in his game. There is a reason he was passed over one draft entirely and then slid to the fifth round in the next. The 5-foot-11, 175-pound centreman has a heavy stride and lacks top-end speed. He also needs to improve his ability to play at a fast pace to play at higher levels. All that being said, he is a player who will need several years to develop his game before he gets an NHL opportunity.
Daniil Sobolev – Defense, Windsor Spitfires (OHL) 
Daniil Sobolev was the Canadiens' 2021 fifth-round pick. His offensive game wasn't a reason for his selection. The 6-foot-0, 210-pound, right-handed defenseman finished last season with only two goals and 15 assists. He is on pace to match that output again this season with one goal and eight points in 38 games played. A paperwork issue had prevented him from crossing the Canada/USA border so far this season, but that issue has now been cleared up.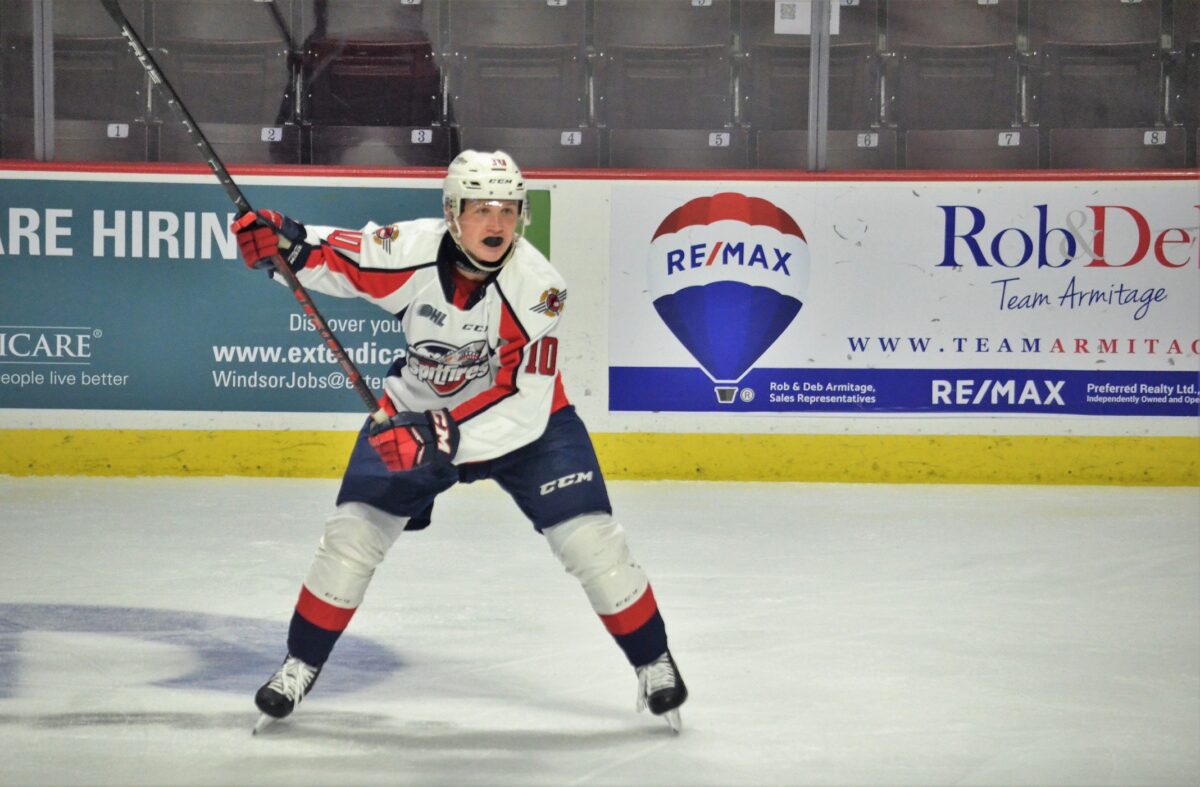 Offensively, he is very limited. He cannot play the transitional style NHL teams are demanding more of from their defenses. His first pass isn't as accurate as he would need, and he is uncomfortable with the puck when in possession, looking to get rid of it quickly, but safely. Another aspect he will need improvement on to have an NHL opportunity is his skating. His mobility and speed are limited by his lack of comfort using his edges, as well as his first step lacking explosiveness. When he does jump into the play, he can be effective, but he will need to build his confidence to try this more often. 
Sobolev's defensive game is the major reason he was selected. He plays an "old-school" style. He excels at boxing out forwards from the crease, closing gaps on the puck carrier and stripping pucks with an active stick, and playing a physical game that includes being willing to defend a teammate with his fists if required. With Shane Wright joining his club, there will be far more attention paid to the Spitfires and Sobolev.
Ty Smilanic – Left Wing, Wisconsin University (NCAA) 
Ty Smilanic, a 2020 third-round pick of the Florida Panthers, joined the Canadiens in the Ben Chiarot trade at the 2022 Trade Deadline. He enters the NCAA for his Junior season, but instead of remaining with a hockey program that he was having some success with, the 20-year-old decided to leave Quinnipiac University this past summer to join the Wisconsin University Badgers program he had been looking for offensive help with this season. The 6-foot-1, 175-pound winger provides head coach Tony Granato with a player that has excellent skating, adds speed, and can play at a high pace with skill.  
So far, his season has been disappointing, scoring only one goal and playing in only seven games, missing several games due to undisclosed personal reasons (Wisconsin State Journal, Pace of shots, goals have been slowing for Wisconsin men's hockey, Todd D. Milewski, 3 Nov 2022 ). After missing 12 games, he has returned to the ice with the team for practices, however, the timeline for his return to the lineup is unknown. 
"He's been doing things on his own to stay in shape and get himself in a position to be back,"

– Tony Granato (Kenosha News, A second forward has left the Wisconsin men's hockey team during the holiday break, Todd D Milewski, 27 Dec 2022 )
Smilanic is an offensively skilled forward with the ability to play a transitional game with speed, paired with above-average defensive awareness. He has the potential to become a solid middle-six NHL forward. That being said, there are many unknowns to his game, and needs to work on his development, which means he will need to play as often as possible this season, and find a way to play a full season in his senior year.  
That does it for this week's edition of the Canadiens Prospects Report. Stay tuned, as each week we will provide updates on some of the young prospects making their way up the Habs' depth chart.   
---
---