It could always be worse for the Montreal Canadiens, looking at their position in the standings. At 20-27-4 heading into the All-Star break, they've got only 44 points in 51 games, but there are six teams below them, with the Chicago Blackhawks and Columbus Blue Jackets pulling up the rear with 34 each.
Related: Impressive Canadiens Have Competition at Bottom of Standings
Hell, considering the Canadiens finished in last place overall in 2021-22, at one point on pace for one of the worst seasons in franchise history, the Canadiens are doing pretty well, relatively speaking. However, with a few projected franchise-altering talents ready for the taking at the top of the 2023 NHL Entry Draft, some may say the Canadiens aren't doing badly enough.
---
---
Who's to blame, looking at it that way? Or, more accurately, who would they blame, hopefully tongue firmly in cheek? Here are the top five Canadiens who are arguably over-performing, doing their best to wreck the Canadiens' rebuild in 2022-23:
5. Rafael Harvey-Pinard
Rafael Harvey-Pinard has only been with the Canadiens seven games since getting called up from the Laval Rocket in the American Hockey League to help them with their injury situation. However, he's already had a hand in directly earning the Canadiens three points in the standings (at least).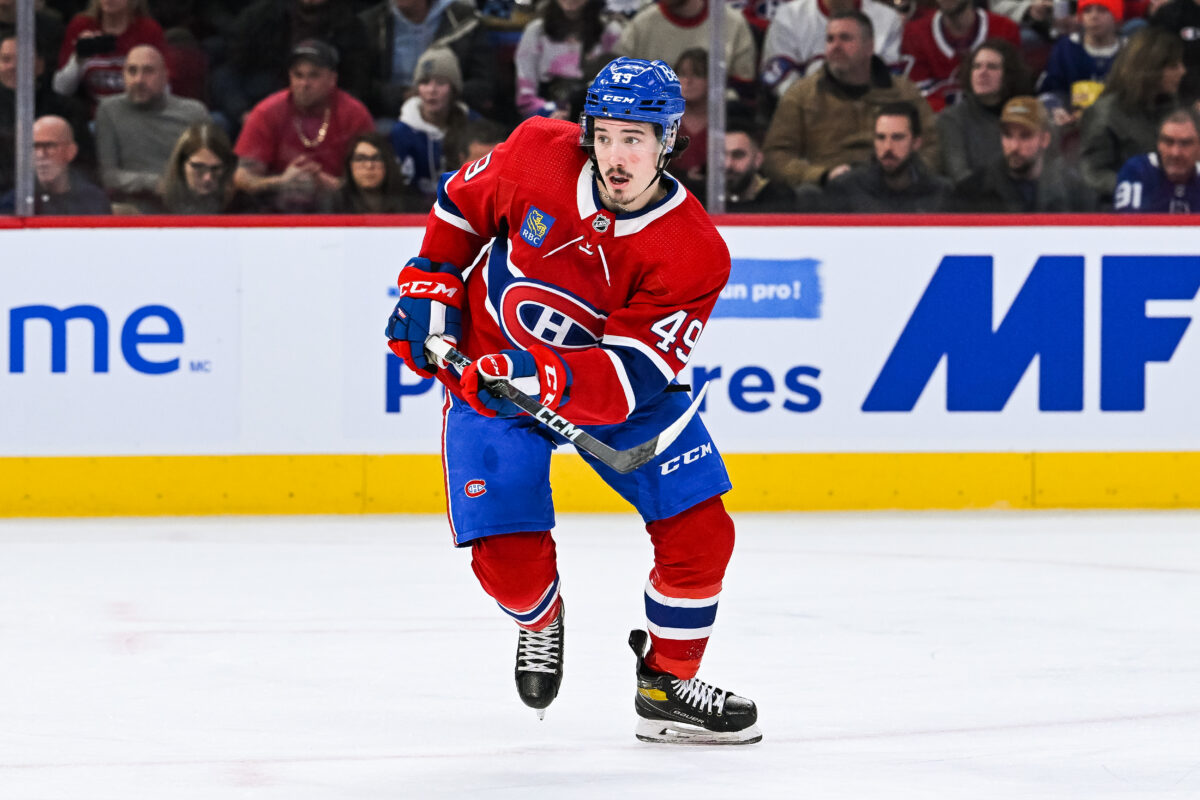 Harvey-Pinard scored a goal in a 3-2 overtime win over the Toronto Maple Leafs on Jan. 21 and two goals (and an assist) in a 4-3 overtime loss to the Detroit Red Wings on Jan. 26. Then on Jan. 31, Harvey-Pinard was at it again, twice tying it up late against the Ottawa Senators in a game the Habs ultimately lost 5-4 ("thankfully" in regulation).
---
Latest News & Highlights
---
Altogether, Harvey-Pinard has five goals and six points in the seven games he's played so far, effectively earning himself a longer look. Truth be told, he hasn't come completely out of nowhere, as the 24-year-old led the Rocket in scoring last season, at one point drawing comparisons to a young Brendan Gallagher. One gets the sense Harvey-Pinard will eventually emerge as a similar fan favorite. All he needs is a chance. He appears to be in the midst of getting his (and making the most of it).
4. Sean Monahan
At one point, the Canadiens had many believing they were a playoff contender, having earned an 8-6-1 record in early November. By the point December rolled around, the Habs were still in the mix, largely because of the secondary scoring Sean Monahan, with 17 points in 25 games, was providing as insulation down the middle for both Nick Suzuki as the team's No. 1 center and Kirby Dach, as the team's projected No. 2 center of the future.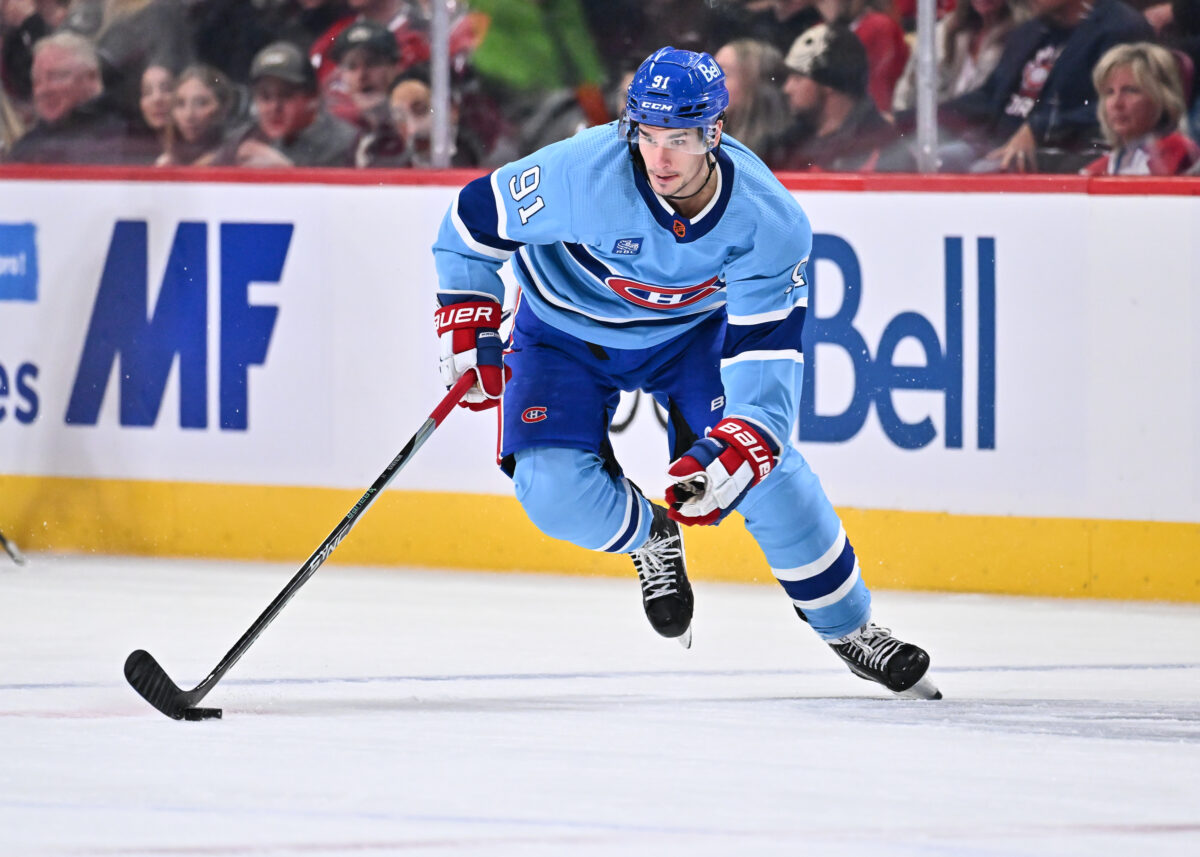 Monahan's obviously since gotten injured and you don't need to look far and wide for the negative impact on the roster as a whole. For example, in the game he got injured, against the Vancouver Canucks on Dec. 5, the Canadiens gave up a four-goal lead once he left, eventually losing 7-6 in overtime.
The offense also dried up soon thereafter, with the Canadiens only scoring 12 goals over the course of an especially bad seven-game losing streak, during which they got scored on 36 times. The ship has since been righted to a degree, even with Monahan out, in that the Canadiens are a mediocre 5-6-1 since, having beaten the likes of Maple Leafs, Winning Jets and New York Rangers.
Still, the downward spiral into which the Canadiens temporarily makes one wonder where they might be if they never bothered to trade for Monahan in the first place. Remember, he didn't exactly fill a need down the middle at the time, as they had already acquired Dach.
3. Kirby Dach
To his credit, Dach has delivered, especially recently, in that role as the team's No. 2 center (in Monahan's absence). There had been doubts, based on his career faceoff percentage of 34.6% entering this season. In fact, there were theories his lack of success in the faceoff circle was the reason the Blackhawks moved him to the wing last season.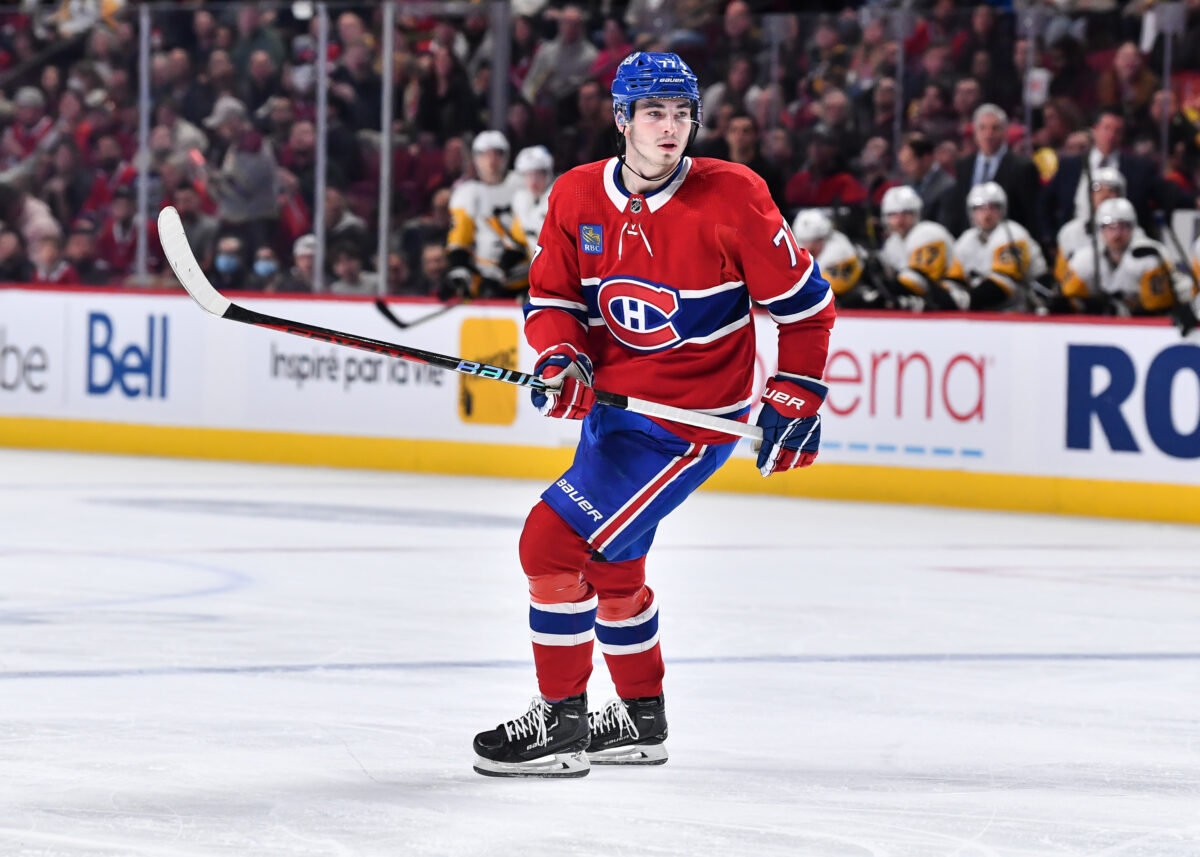 Regardless, Dach's improved at taking faceoffs recently, with a 42.1% success rate overall this season, which is at least better than the 41.8% of Jonathan Drouin, in whom the Habs initially had No. 1 center hopes. Most importantly though, Dach is producing, with a career-high 33 points in 51 games so far.
Since the team's seven-game losing streak ended, he's really come on though, with six goals and 10 points in 12 games. So, it's more a case of not knowing where the Habs would be without Dach (instead of Monahan). Maybe no one should want to find out.
2. Cole Caufield
In some respects, Cole Caufield had more of a case to represent the Canadiens at the All-Star Game than Nick Suzuki, with 26 goals in 46 games this season, a 46-goal pace. While Suzuki led the Canadiens in scoring when Caufield got shut down for the season, it was only by a single point and Caufield had been much more consistent, even putting up points when the Canadiens were at their lowest point this season.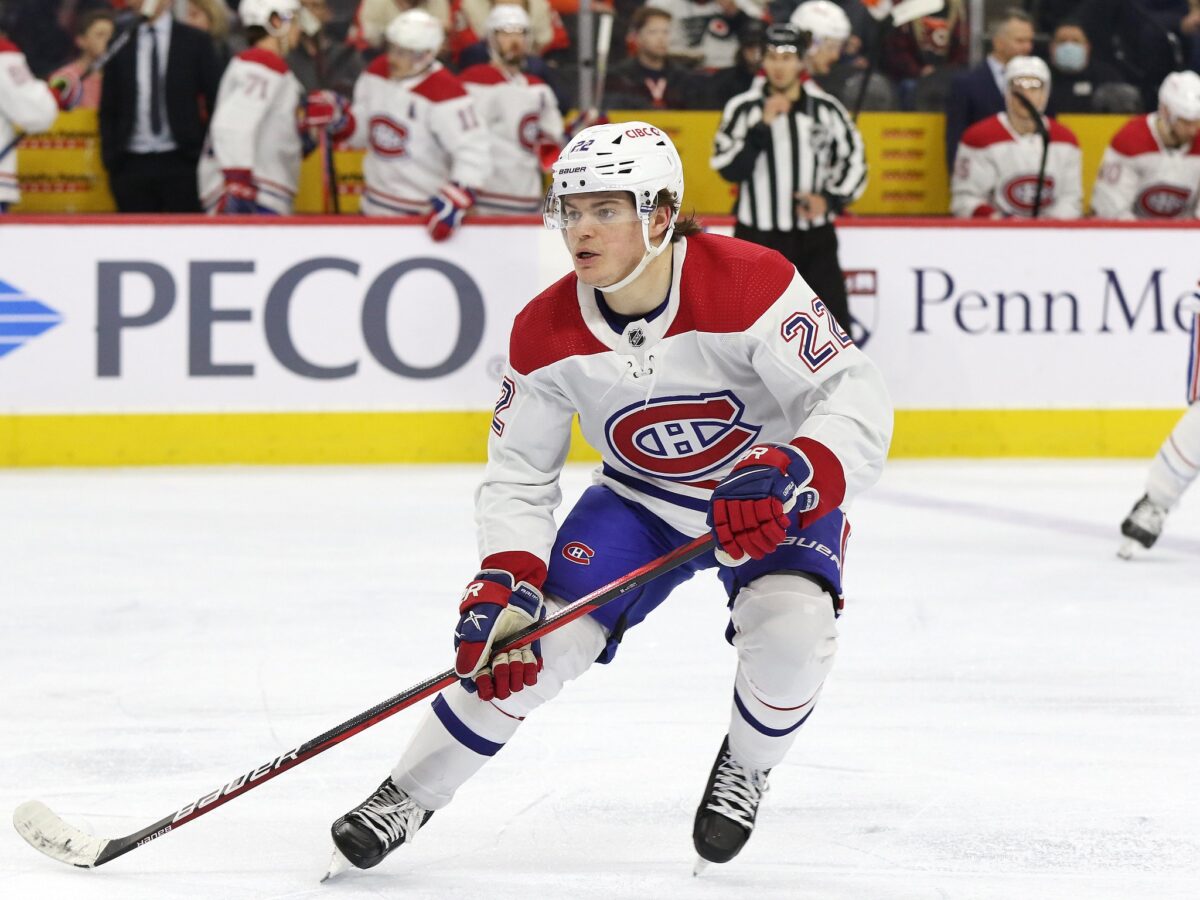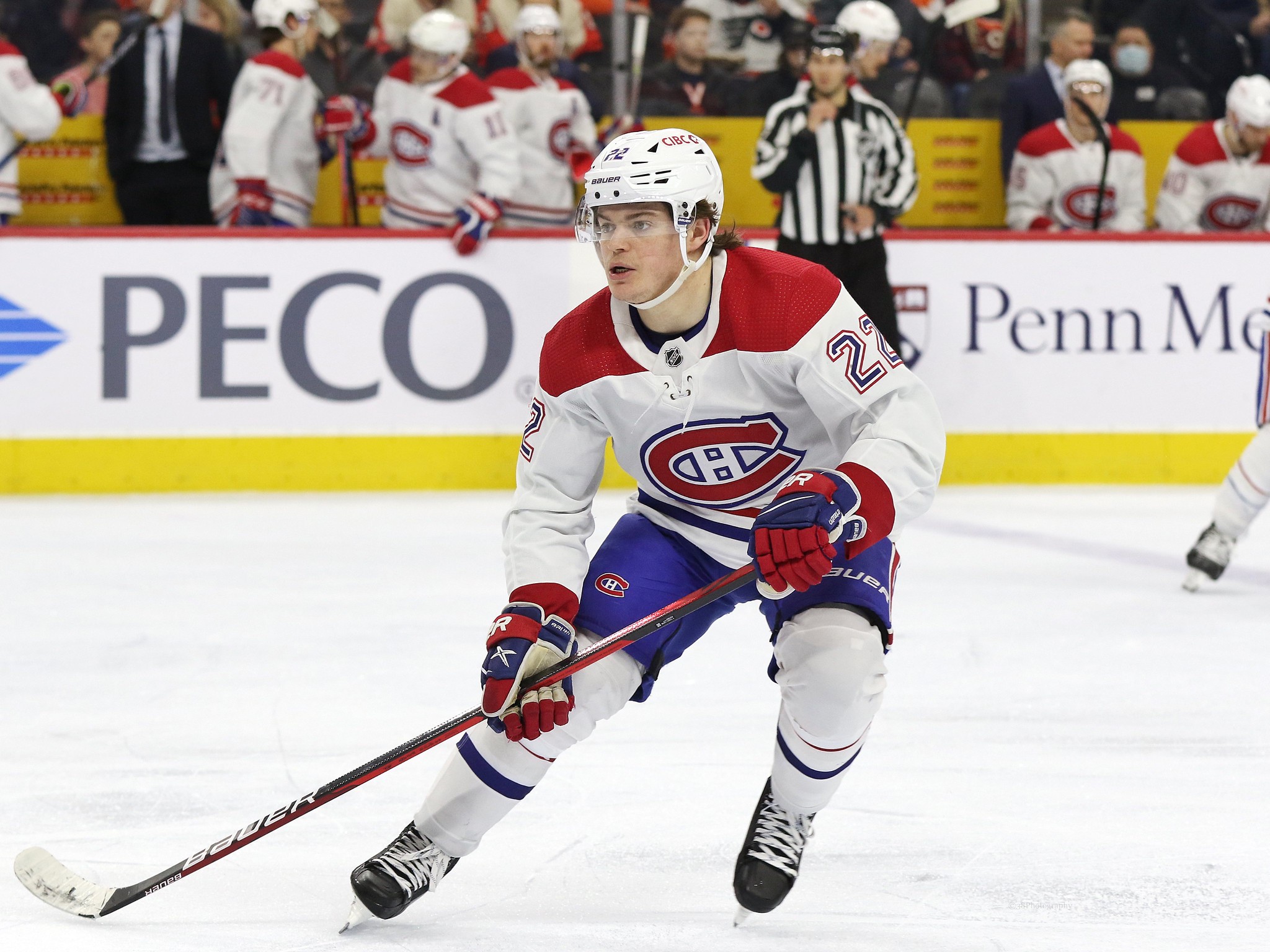 When things took a turn for the worse in December, when the Habs went 4-9-2, Caufield still put up nine goals. In some ways, he was the only reason the Canadiens were even watchable. He only gets the No. 2 spot on this list, because six of those markers came in losses. So, Caufield wasn't exactly putting the Canadiens on his shoulders. There's a case the No. 1 player on this list has to a greater degree.
1. Samuel Montembeault
It's no secret the Canadiens' defense is a work in progress. Even when the team was relatively healthy, it comprised rookies Kaiden Guhle, Jordan Harris, Arber Xhekaj and Johnathan Kovacevic. Due to the inexperience factor, with a 28th-ranked 34.0 shots against per game, it hasn't exactly been stingy. So, goalie Samuel Montembeault's .909 save percentage (SV%) (and .500 record at 10-10-2)? All the more impressive.
Consider Montembeault was a third-string goalie at best to start 2021-22, when he got claimed off waivers by the Canadiens. The .891 SV% he put up in the 38 games he played last season due to injury (8-18-6) far from instilled confidence in the notion he had higher to go in his career trajectory.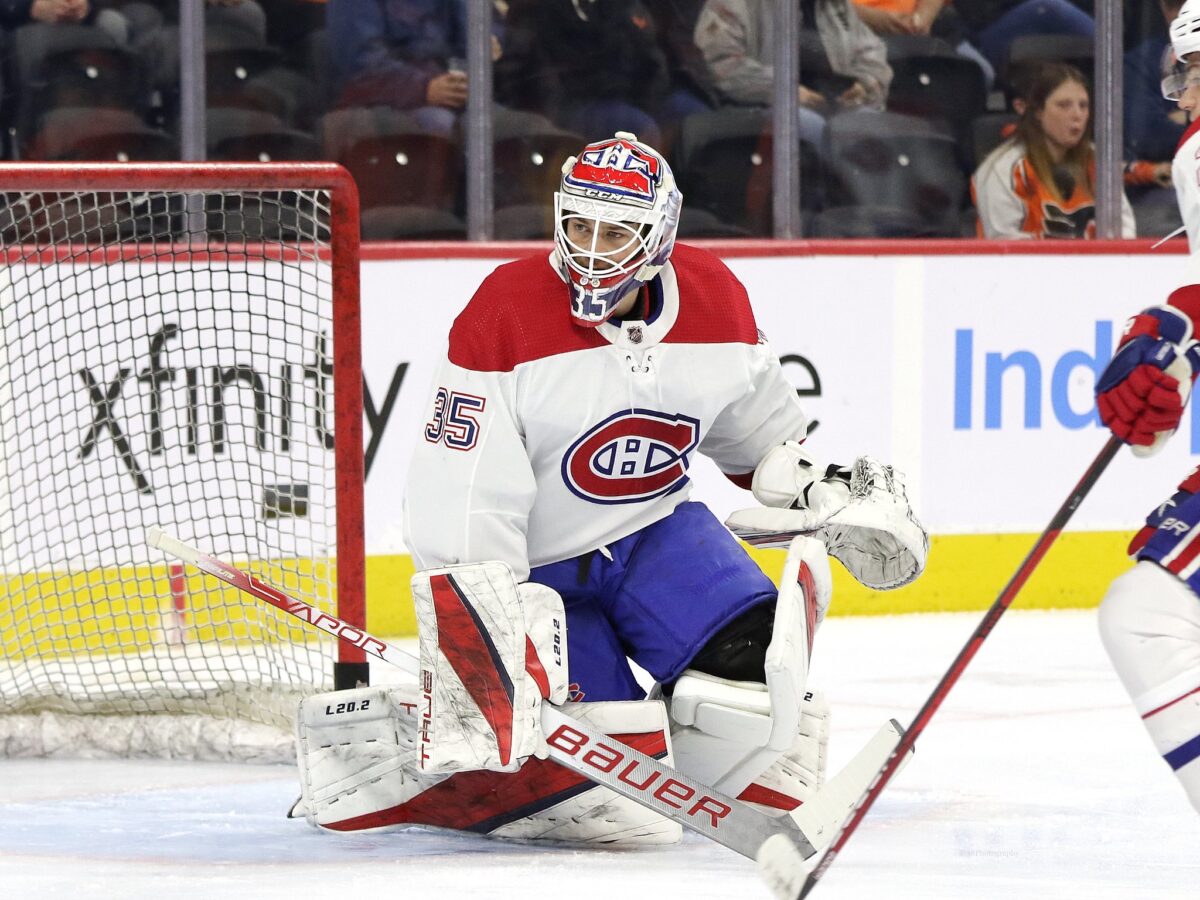 However, he's proven doubters wrong, at least to an extent, oftentimes stealing games outright this season. It may not have been evident during the aforementioned seven-game losing streak through which the Canadiens suffered. In the two games he got, he allowed 13 goals on 75 shots. However, Montembeault is the primary reason the Canadiens have been respectable since that point.
In January, Montembeault has a .915 SV%.  Over the course of the five games he played from Jan. 9 – 17, he had one of .946. It would be one thing if it were just one stretch, but, early in the season, over seven games from Oct. 17 – Nov. 25, he had one of .927. Not bad for someone initially seen as little more than fodder for the rebuild.
In fact, general manager Kent Hughes went on record stating he didn't see anyone in the organization who had proven capable of being a No. 1 in the past. Montembeault has at least given fans pause as to whether or not there could a future starter right in their midst. It's not entirely justified at this juncture, as he still has a lot to prove, but, at the very least, Montembeault is providing exceptional value for the two-year, $2 million extension he signed this past summer, justifying his spot on the roster and making the case to keep one well into the long term, even as just a backup.
It's important to acknowledge that last point. It's "not nothing" in the grand scheme of things considering how Montembeault was seen at the start of the season. However, in the context of a rebuild, we are talking about a No. 2. We're also talking about a young call-up in Rafael Harvey-Pinard and two players who are currently injured in Caufield and Monahan. The former is a star in the making and the latter could conceivably earn the Habs a huge piece at the trade deadline.
In actuality, Dach is the only player on this list consistently "conspiring" against Hughes' rebuild efforts. And, at the end of the day, seeing as Dach is critical to the rebuild as the No. 2 center the Canadiens need, it's increasingly difficult to see him playing the way he has as anything other than a positive development.
All that to say, no one should really worry about the Canadiens and their rebuild. They're still in line for at least a shot at a high 2023 draft pick, all the while doing better than expected in the standings. Most importantly, when you really stop to think about it, they're doing better than expected looking at their rebuild efforts as a whole. A healthy and productive Dach alone isn't hurting anything. He's a teaser of things to come in the hopefully near future.
[Note: Sincere thanks to long-time commenter Pierre B. for suggesting the idea for this piece.]