For most of the first half of the 2022-23 season, the Boston Bruins have avoided any long-term injuries to their forwards. That all changed in a span of two weeks. First Jake DeBrusk went down with a fractured foot on Jan. 2, then Tomas Nosek, who was playing through an injury for a bit, before he was knocked out of the lineup with the same injury as DeBrusk.
The Bruins were able to survive the DeBrusk injury without having to pull up players from the Providence Bruins in the American Hockey League (AHL), but when Nosek went down, they needed reinforcements. That came with some of their prospects who have earned the call-up. With their three AHLers in the lineup, the Black and Gold struggled on their five-game road trip, but it was not for the lack of effort from their call-ups.
Koppanen & McLaughlin Play Well in Nosek's Spot
Joona Koppanen and Marc McLaughlin were the first two called up to fill in for Nosek. Koppanen, selected 135th overall in the fifth round of the 2016 Entry Draft, has played in five games this season, and the 6-foot-5 center did what he has been doing for the P-Bruins this season, winning faceoffs and killing penalties.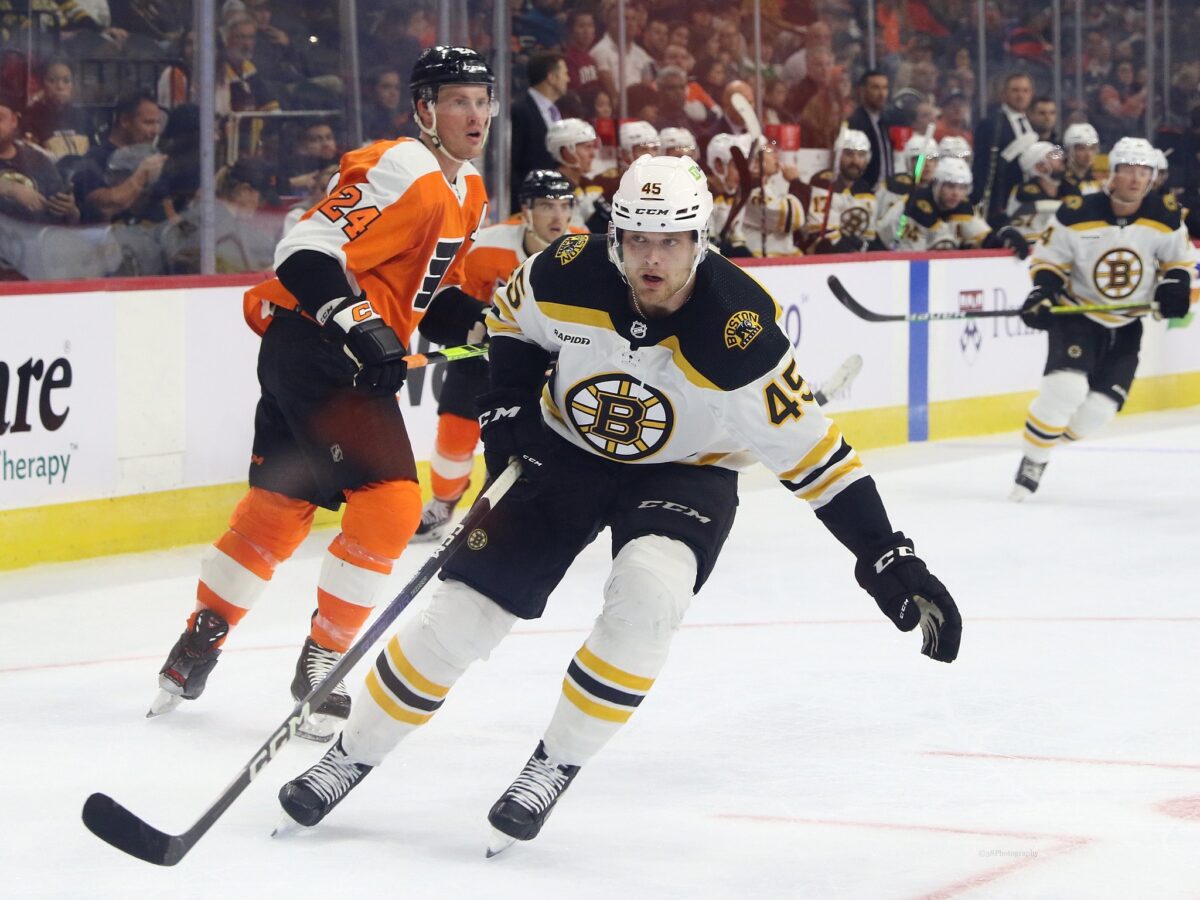 In 36 games for Providence this season, he has six goals and 14 assists, but it was his stuff that doesn't always show up on the scoresheet that got him called up and he fit in fine with his veteran teammates. He picked up his first NHL point with an assist in the Bruins' 4-0 win over the San Jose Sharks on Jan. 22. In five games this season in Boston, he's averaged 10:50 a night in time on ice, but he's won 57% of his faceoffs, and logged some key penalty-killing shifts. He was sent back to Providence on Jan. 30, but it would not be surprising to see him back in the NHL this season.
Related: Bruins Weekly: 5 Takeaways From Up & Down 5-Game Road Trip
---
Latest News & Highlights
---
McLaughlin, who had an outstanding preseason and training camp, was sent down at the beginning of the season to Providence as he fell victim to a numbers game and several veteran forwards ahead of him on the depth chart. He went down to the AHL and had seven goals and 17 points in 39 games before getting called up for the recent five-game road trip. He only appeared in two games, but the undrafted free agent out of Boston College made his presence felt with his hard-grinding shifts on the fourth line. 
Last season after signing with the Bruins, he played well in eight games, scoring three goals and playing in the bottom six on the wing and at center. Like Koppanen, there is no room on this current Boston roster when they are healthy and he's not going to bump Nosek or Nick Foligno out of a roster spot, but should another injury occur, he's earned the right to be called up. Koppanen and McLaughlin came up, did what they were asked to do, fill in on the fourth line and supply solid forechecking and energy shifts.
Lauko Impressed Against Toronto
Yes, it was only one game and yes, it's hard to get a good read off of one game, however, Jakub Lauko made his presence felt in the 5-2 win over the Toronto Maple Leafs on Feb. 1. He played on the wing beside Trent Frederic and Foligno and used his speed to create offensive chances, as well as being physical and getting to the dirty areas of the ice and making an impact despite playing just 7:11 in the game. He picked up an assist on A.J. Greer's third-period goal that turned out to be the game-winner. In eight games this season, he has a goal and three points in Boston.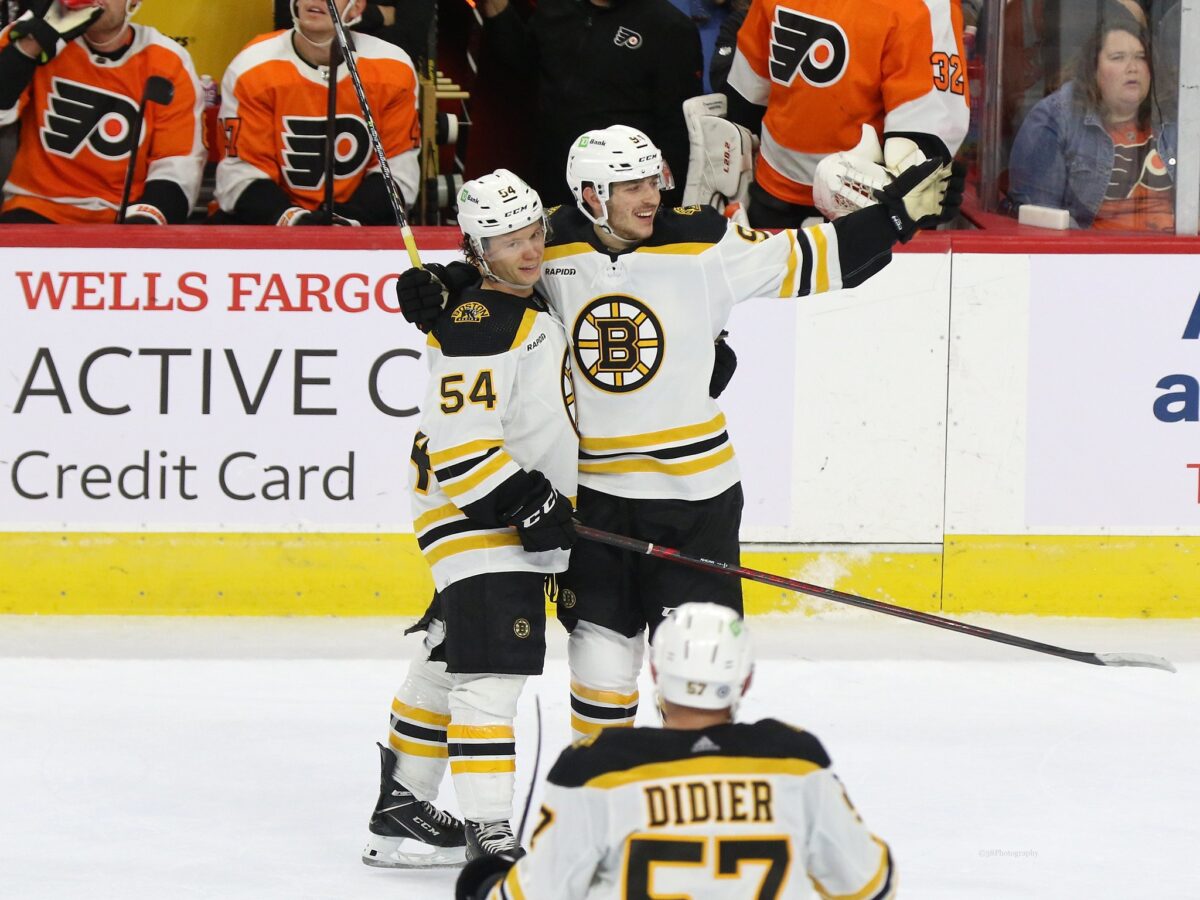 Prior to the game in Toronto, the Bruins recalled Lauko and Vinni Lettieri from Providence and planned to bring both to Canada, but Lettieri suffered a lower-body injury in practice on Jan. 31, which opened the door for Lauko. This season in Providence, Lauko had eight goals and six assists in 29 games, but he had been playing his best hockey of late with five goals and five assists in his last 12 AHL games. 
"I think the last month, [my game's] in a place that I want it to be," said Lauko. "I'm playing by my standard now and hopefully I'll transfer that here and do my best."
He took advantage of his opportunity against a very good Toronto team and he was able to transfer his AHL game to the NHL. There is a lot to like about Lauko's game with his skill, his energy, and his speed. Selected 77th overall and in the third round of the 2018 Draft, he has made a case for himself this season that he's ready to be a full-time bottom-six NHL forward. Who knows, with the trade deadline a month away, was this a showcase for him for other teams? It's not that crazy.
This season, the Bruins have developed depth not only in Boston, but in the AHL as well. Making a move to bring a prospect to fill a roster has not created much of a drop-off from a regular on the roster. Building depth for this season and beyond is a good situation for coach Jim Montgomery to be in, especially with his track history of the development of younger players under him.
---
---