Welcome to the Vancouver Canucks 2022-23 report card series. In this series, we at The Hockey Writers look back at each Canucks player from the past season, break down how their campaign went and assign a letter grade reflective of their overall performance. This edition will focus on winger Brock Boeser.
Boeser's Up and Down Season
After signing a three-year, $19.95 million contract extension and being healthy going into training camp, expectations were high for Boeser. That all changed just a few days into training camp, however, as it was announced that he would need surgery on his hand and would potentially miss the start of the season. While he recovered in time to make the Canucks' opening night roster, he didn't look 100 percent and played just six games before it was revealed the surgical scar on his hand had opened up, and he would have to miss more time. In total, he missed six games, adding to the long list of games he has missed throughout his career with injury.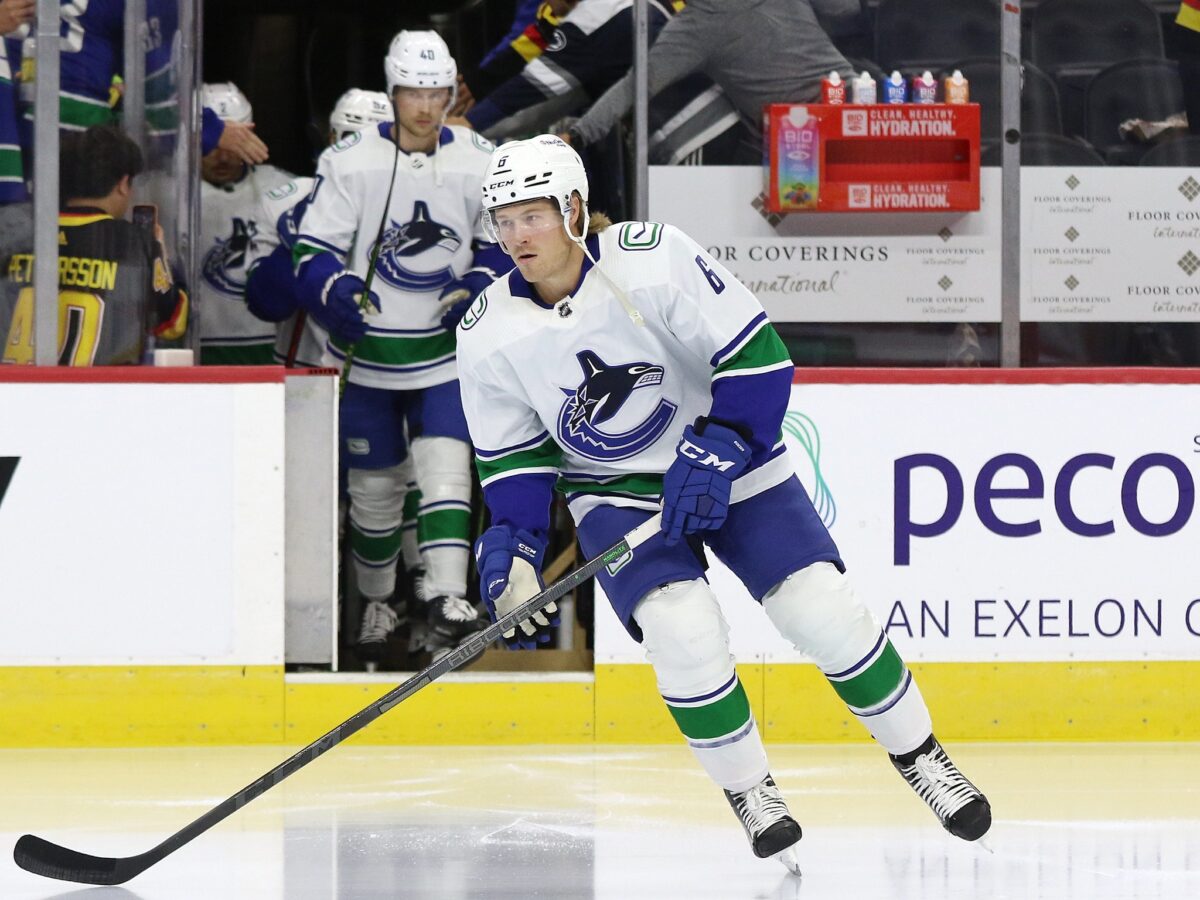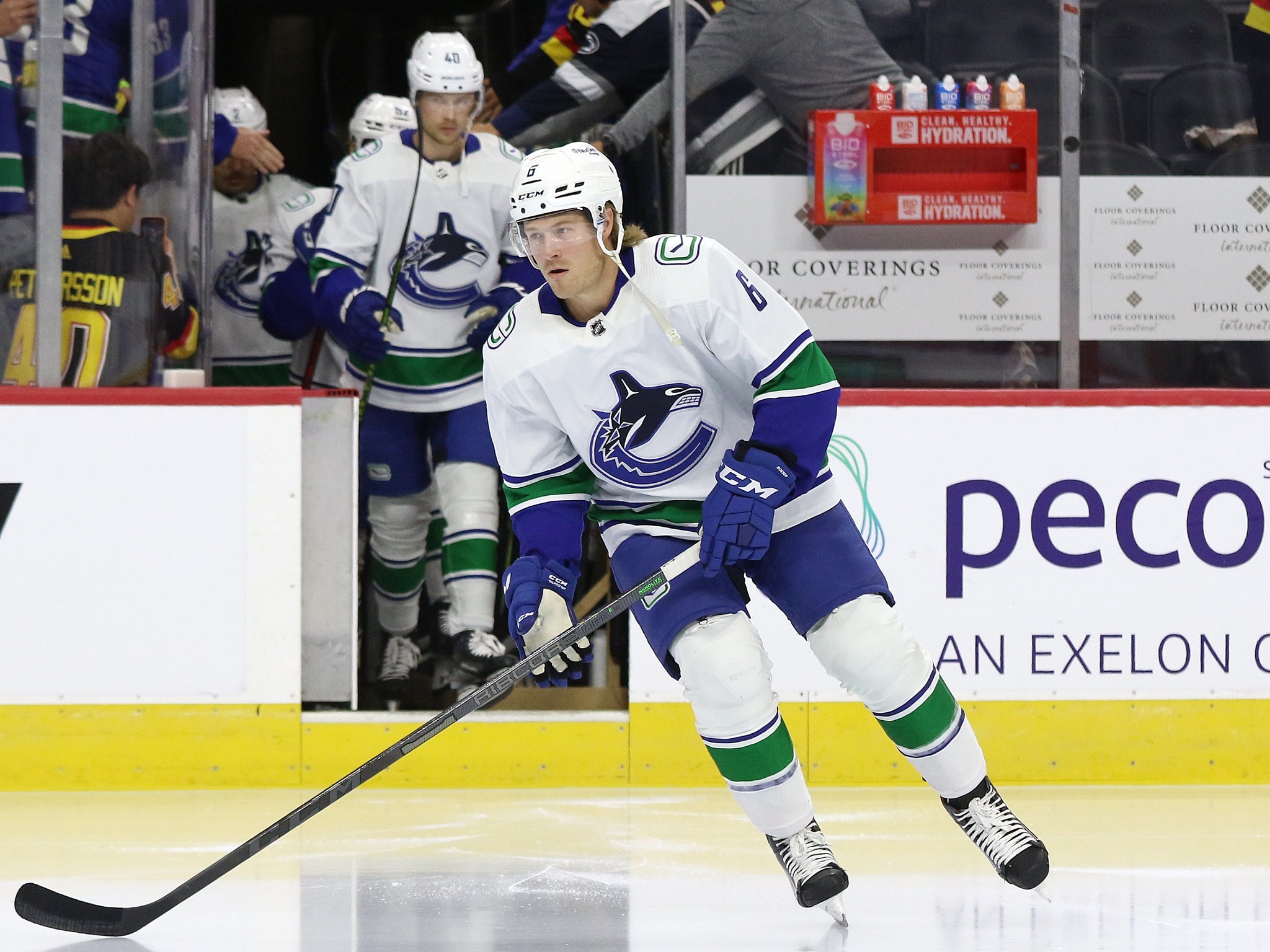 After the injury, Boeser looked very confident, recording points in nine straight, which included a two-goal night against the L.A. Kings in mid-November. While seven of his ten points during that span were assists, it looked like the Canucks winger was on pace for a career season and was showing off that he could be an elite playmaker at the NHL level. Unfortunately, this was not the case, as he recorded just six goals and 13 points in his next 23 games and now had to deal with his third coaching change in the past two seasons, as Vancouver fired Bruce Boudreau and brought in Rick Tocchet.
Related: 5 Reasons the Canucks Missed the 2023 Stanley Cup Playoffs
While it took some time, Boeser proved to be slightly more efficient under Tocchet compared to Boudreau. He saw his points per game jump from 0.71 in 38 games to 0.78 in 36 games while also recording an addition ten shots on goal. His ice time also increased by over a minute, and he saw an increase from six to ten points on the power play. It is clear that he was one of the players that benefited from the coaching change, which is a positive heading into next season.
In total, Boeser finished with a career-high 37 assists to go along with 55 points, which is the most points he has produced since the 2018-19 season. The problem is that while his raw numbers look decent, it was one of his worst seasons from a production point of view, as his 0.74 points per game were the second worst in a year where he played more than ten games. He also produced a career low in goals per game and shots per game, while his plus/minus of -20 was second worst on the team, only behind Oliver Ekman-Larsson. While there were positives, like recording a career-high in assists per game, it was a disappointing season based on what he has done in the past and what fans expected from him coming into the season.
Trade Talks This Season
One other element that may have played a factor in Boeser's season is what seems to be never-ending trade talks. In February, it was revealed that his agent, Ben Hankinson, and Vancouver were working on a potential trade and even went as far as Hankinson saying on the record that he had conversations with Minnesota Wild general manager Bill Guerin about how perfectly his client would fit on the Wild's roster. Despite the conversations, a trade never materialized, leaving many to speculate if a deal could get done in the summer when both teams had more cap flexibility and time to work on a trade.
To make this situation even more complicated, Boeser stated that he doesn't want to be traded, citing that he loves the city and that he wants to be part of the system Tocchet and his coaching staff are trying to implement. As mentioned, he did show improvements since the coaching change occurred, but he needs to prove that he can be consistent and, more importantly, healthy for an entire season. Unfortunately, with the Canucks in a cap crunch and having too many wingers on the roster already, he may not get that chance, as it is possible Vancouver moves him this offseason in order to give themselves more flexibility going into next season.
Boeser's Analytics
From an analytics perspective, this was a tough year for Boeser. His 49.77 percent Corsi was the third lowest of his career, and his 3.34 expected goals against per 60 was the highest amongst any Canucks who played more than 15 games this season. Overall, he finished below 50 percent in every analytic category except shots for percentage and, from an analytical perspective, was one of Vancouver's worst defensive players all season.
Related: Canucks 2022-23 Report Cards: Dakota Joshua
---
Latest News & Highlights
---
Another trend that appeared over the season is that the Canucks top players had worse analytics with the Canucks winger playing beside them. When breaking down expected goals for percentage, J.T. Miller saw a bump from 43.53 with Boeser to 48.46 percent without, while Elias Pettersson went from 46.75 percent to 55.04 percent when he wasn't on the ice. Moving forward, this poses an issue as he needs to be able to play efficiently with at least one of these two players. While analytics only tell a portion of the overall story, they do paint a frightening picture, especially if he continues this trend while playing with the Canucks projected top two centers next season.
Final Grade For Brock Boeser: C+
While this was a difficult season for Boeser, there were positives that came out of the 2022-23 campaign. As mentioned, he set a career-high with 37 points while also finishing fifth on Vancouver's roster with 55 points. He also played in more games than he ever had in an NHL season and sits 17th all-time in career goals by a Canucks with 139. If he is back with the organization in 2023-24, he will need to keep up the strong play he exhibited at the end of the season. Otherwise, more trade talk and distractions could be on the horizon.