Welcome to the Vancouver Canucks 2022-23 report card series. In this series, we at The Hockey Writers look back at each Canucks player from the past season, break down how their campaign went, and assign a letter grade reflective of their overall performance. This edition will focus on Jack Studnicka.
Canucks Acquire Studnicka From Bruins
The Canucks acquired Studnicka on Oct. 27, 2022, in exchange for goaltender Michael DiPietro and defensive prospect Jonathan Myrenberg. Studnicka only played one game for the Bruins this season before the trade, scoring no points and having four penalty minutes. The acquisition of Studnicka was not a high price as DiPietro's development has somewhat stagnated; however, parting from Myrenberg, a fifth-round pick from the 2021 NHL Draft, could come back to bite them. 
Related: Canucks 2022-23 Report Cards: Sheldon Dries
---
Latest News & Highlights
---
Studnicka did not need to play exceptionally to make this a fair transaction. A productive fourth-line forward is what it would have taken. Unfortunately for the Canucks, Studnicka, despite the low cost and expectations, did not perform well. The Bruins' former second-round pick suffered a lower-body injury while playing his old team. While injuries soften the criticism of the forward, his play through 47 games was discouraging. 
Studnicka's Performance With Canucks
Studnicka's offensive performance will leave the Canucks desperately searching for more bottom-six depth. In 47 games, he scored only four goals and four assists for eight points while having a plus/minus of minus-11. He did not drive play well, his skating is not exceptional, and he does not have a booming shot where he can score from range. Only one of his four assists was primary, showing he can sometimes fall into a passenger role on the ice. He is more or less average in every hockey skill department, which by no stretch is terrible, but his awful counting stats make him seem worse than average.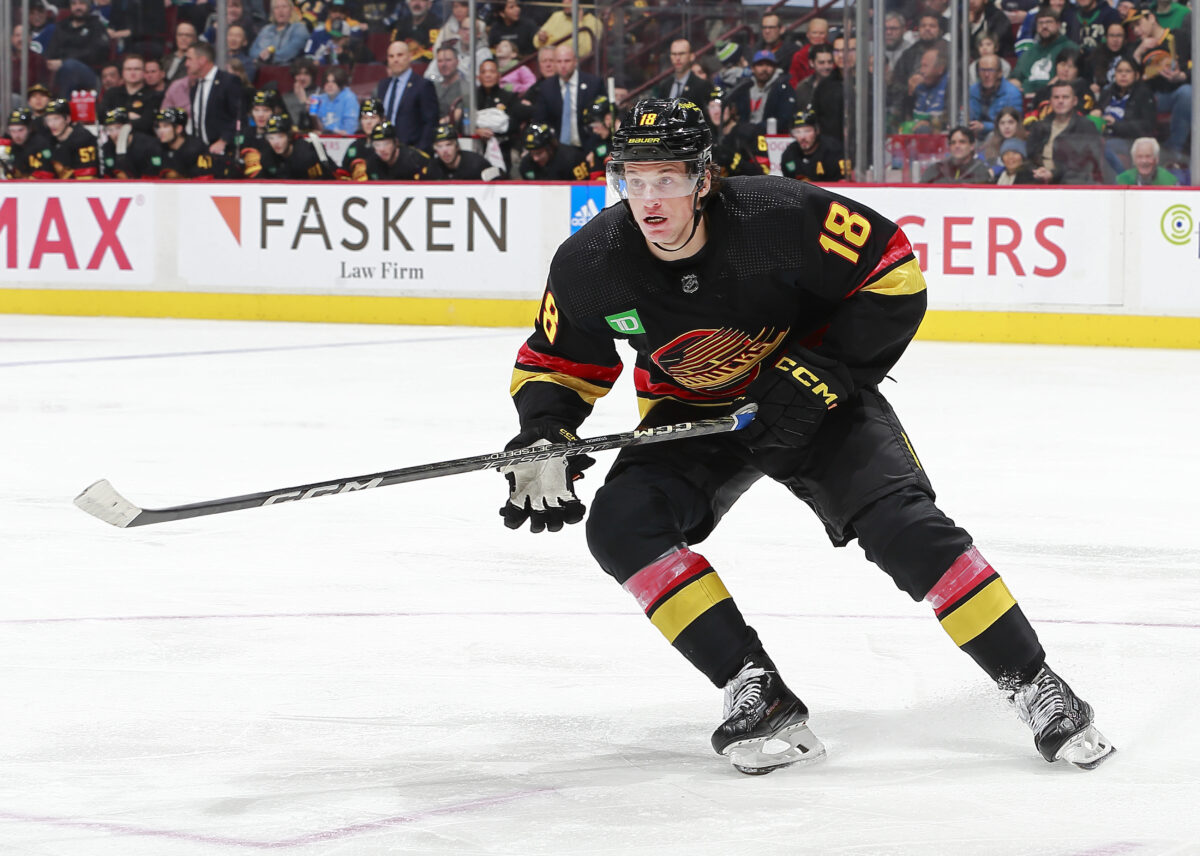 Studnicka had a Corsi For of 42 percent. He took more penalties than he drew, 16-14, and did not have a positive influence on team defense. His saving grace is his takeaway-to-giveaway ratio. Studnicka accumulated 17 takeaways to just six giveaways, showing he is responsible when possessing the puck; however, due to the noted statistics and lack of play-driving ability, the excellent ratio implies he plays timider with the puck rather than having elite on-puck strength and skill.
Studnicka's Future With Canucks
The Canucks have Studnicka signed through the 2023-24 NHL season, becoming a restricted free agent (RFA) in the summer of 2024. His cap hit, only $762,500, makes him easily buriable if he is sent to the American Hockey League (AHL) next year. The Canucks have complete control over their decision with him. If they make trades, he is useful as a roster-filler, or maybe a team is willing to give up an asset, such as a fifth- or sixth-round draft pick, to give him a shot in their lineup. If the Canucks choose to keep him for next season and further qualify him once he reaches RFA status or not is entirely up to them, which is a great position regardless of the player.
Despite Studnicka's various deficiencies, his low cap hit makes him a worthwhile depth option on a team prone to injuries. He should not play any higher in the Canucks lineup than the fourth line, and if he does, it will likely result from the thin offensive depth in the organization than Studnicka forcing his way into more minutes. The safe and most probable bet is Studnicka starting as the Canucks' fourth-line center next season due to the organization's weakness at the position.
Final Grade For Jack Studnicka: D
Studnicka can still develop into a valuable bottom-six player for the Canucks. At 6-foot-1, he has the frame to become a serviceable player, although this season's results, paired with his time with the Bruins, only supply a little hope. The Canucks likely bring back Studnicka as depth for when injuries hit during the season, but it is hard to imagine they will tenure him a qualifying offer next summer.
Advanced stats were taken from Money Puck