Welcome to the Vancouver Canucks 2022-23 report card series. In this series, we at The Hockey Writers look back at each Canucks player from the past season, break down how their campaign went and assign a letter grade reflective of their overall performance. This edition will focus on center Sheldon Dries.
Dries Added Depth Scoring to the Canucks' Bottom-Six
The Canucks signed Dries on July 28, 2021, to bolster their scoring depth in the event of injuries. Injuries played a large part in him earning ice time, as the Canucks are notoriously a beaten and battered team. During the 2022-23 season, he was a mainstay as the fourth-line center, playing in 63 of the team's 82 games. In those 63 contests, he scored 11 goals and six assists for 17 points, all of which are career highs. This season proved to be the first full season he played the majority of games in the NHL, and his scoring acumen, despite low totals, is what helped him become a mainstay in a competitive bottom six with young bucks and grizzled veterans all battling for ice time.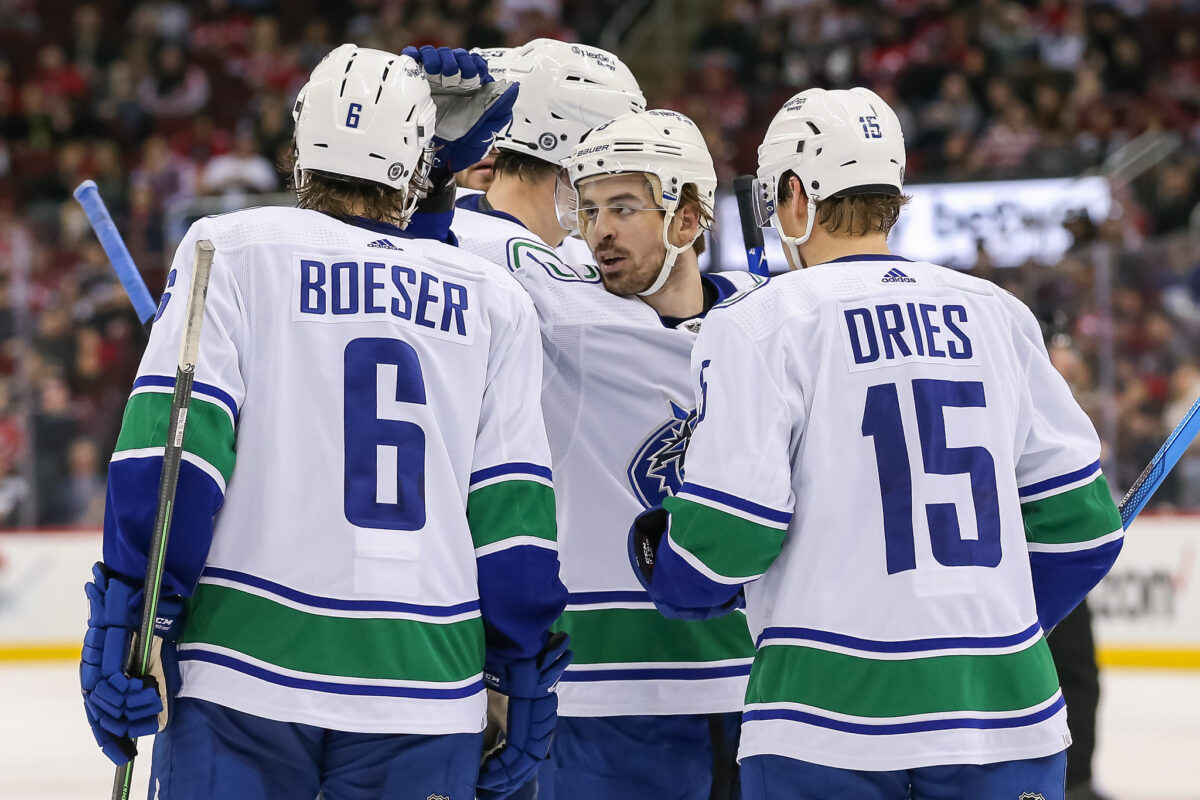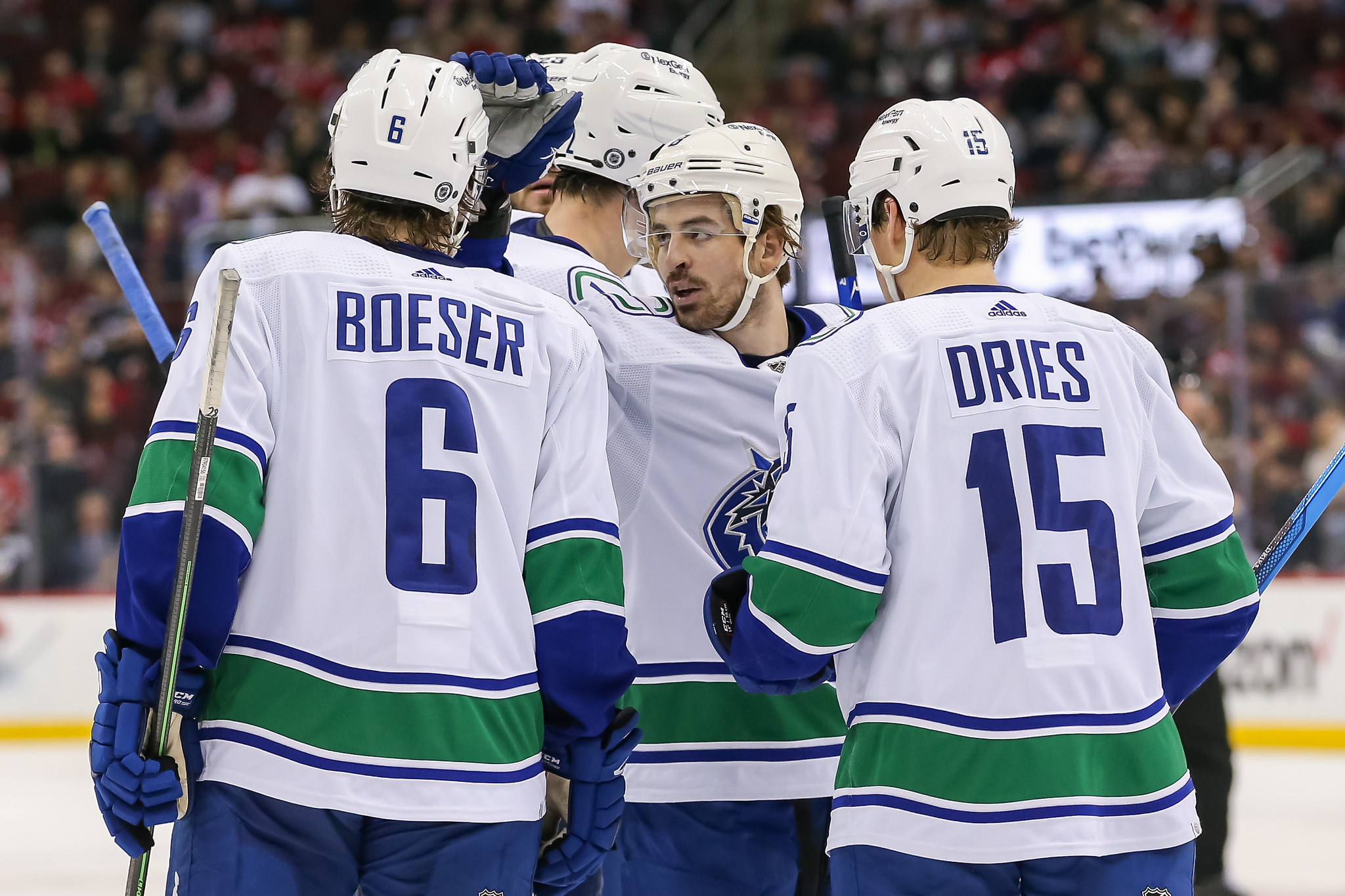 Dries is different from the conventional bottom-six, let alone fourth-line forward. Standing at 5-foot-9, 180 pounds, the centerman, while hefty for his size, is significantly shorter than most NHL players. Despite this, he managed to throw 84 hits and was not afraid to fight. He knows how to play big with his small frame. He began his career with the Colorado Avalanche, spending three years with their organization. This season with the Canucks marked the first time in his career that his expected goals per 60 minutes fell above one, finishing at 1.04. His offensive output was an undisputed highlight of his season, and his shocking talent to throw hits was a comforting touch; however, the defensive side of his game presents a bleaker story. 
Dries Defensive Game Hindered Canuck Bottom-Six
As talented as Dries is on the offensive end of the ice, his defensive struggles hurt the Canucks this season, even in his minuscule role. He began only 7.7 percent of his shifts in the defensive zone. Despite the awareness from the coaching staff to avoid deploying him in these situations, he still managed to disappoint. He had 18 giveaways, including nine in the defensive zone, to only four takeaways, a bleak 49 percent Corsi For, a plus/minus of minus-9, and finished in the 25th percentile of defense in five-on-five play (from JFresh's subscription-based Patreon). 
---
Latest News & Highlights
---
Dissecting these numbers further explains why Dries proved to be a negative for the Canucks defensively. A Corsi For of 49 percent is typically not considered awful, especially for the traditional bottom-six forward. He does not fit that description, as mentioned earlier. Instead, his sub-50 Corsi For, paired with the low deployment in the defensive zone, articulates how his line would often get dominated more than it would dominate. A giveaway-takeaway ratio of minus-16 is flat-out bad. No deeper diving is needed. Finally, finishing in the 25th percentile of defense means 75 percent of the NHL, analytically speaking, was better than him on defense in five-on-five play. In layman's terms, those numbers are not good enough for a bottom-six forward on a team that struggles defensively.
Final Grade For Sheldon Dries: C
The Canucks have Dries signed through the 2023-24 season at a reasonable cap hit of $762,500. Considering he has practically no trade value unless a team is willing to part with a low draft pick for cheap depth, he will likely be battling for his spot in the bottom six next year. In all likelihood, he will continue to be the team's fourth-line center through next season while spending the odd game with the Abbotsford Canucks, the big club's American Hockey League affiliate, as long as he clears waivers.
Related: Canucks Can Use 11th Pick as Foundation of a Lafrenière Trade
His offensive game, as dynamic as it can be, is significantly hindered by his poor defensive play. When constructing a bottom-six, gritty, hard-nosed, and defensively sound are terms that come to mind – not undersized and defensive liability. While Dries does add a much-needed element of scoring to the Canucks, his staggering defensive numbers reduce what would be a relatively high grade to a serviceable one.
Advanced stats were taken from Money Puck