Last offseason, Matthew Tkachuk notified the Calgary Flames that he had no intention of signing a long-term deal to stay in Calgary. Rather than keeping Tkachuk for the last year of his contract, then-Flames' general manager (GM) Brad Treliving traded him and a fourth-round pick to the Florida Panthers in exchange for Jonathan Huberdeau, MacKenzie Weegar, and a conditional first-round pick. It was the first time in NHL history that two players coming off 100-point seasons were traded for one another. Ten months later, the Panthers are in the midst of a deep playoff run that has seen them knock off the record-setting Boston Bruins and the Toronto Maple Leafs. The Flames, on the other hand, missed the playoffs. It is becoming apparent that the Panthers won this trade.
Winner: Matthew Tkachuk
Tkachuk had the best year of his young career this season. The 25-year-old scored 40 goals and set career highs in both assists and points. He was named a finalist for the Hart Trophy along with David Pastrnak and Connor McDavid, and he is leading the Panthers on a deep playoff run. He is currently leading the Eastern Conference with 16 points in 12 playoff games thus far this postseason.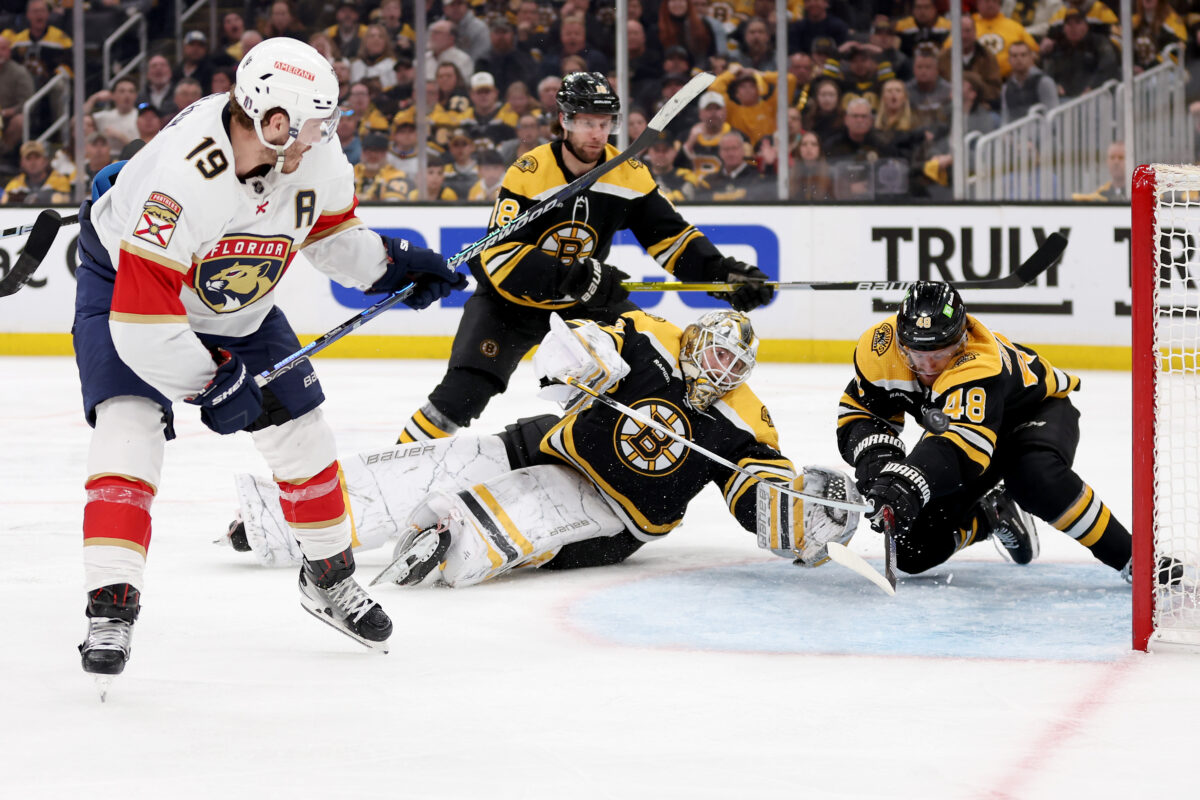 Whether the measuring stick is individual or team success, Tkachuk is having an amazing year in his new home. On top of that, he did not want to stay in Calgary long-term, and this trade allowed him to sign a long-term contract elsewhere before the season. He is a clear winner in this situation.
Winner: Florida Panthers
Coming off a regular season in which they won the Presidents' Trophy but lost to the Tampa Bay Lightning in the second round, the Panthers had high hopes coming into 2022-23. The regular season turned out to be somewhat of a letdown for the team from South Florida, however, they were able to heat up down the stretch and grab the final playoff spot in the Eastern Conference. They continued their stellar play into the postseason, erasing a 3-1 series deficit against the Bruins and beating them in seven games, then going on to knock off the Maple Leafs in five games. The Panthers seem to have locked down the centerpiece of their team for the foreseeable future, and are currently one of the last four teams remaining in the Stanley Cup Playoffs, making it evident that they won this trade.
Loser: Jonathan Huberdeau
Huberdeau had a career year in 2021-22. He tied his career high with 30 goals and smashed his career high in points, putting up 115 (his previous high was 93). Before he played a minute of hockey for the Flames, the team inked him to an eight-year contract worth $84 million. After his first season in Calgary, this deal appears concerning at best for the Flames. Huberdeau had the largest decline in points year-over-year of any player in NHL history, putting up 60 fewer points in 2022-23 than he did in 2021-22.
Related: Flames' Stars Did Not Shine in 2022-23
---
Latest News & Highlights
---
Rumors also swirled that Huberdeau was dissatisfied with the Flames' management. After missing the playoffs, he expressed that he felt as if he was not put in a position to succeed this season. Hopefully, for Flames fans he will be able to get back to his former self next season with a new head coach, but as of right now, it seems that he is one of the losers of this trade, as he simply has not been able to flourish in his new home.
Loser: Calgary Flames
The Flames went from division winners to missing the playoffs after swapping Tkachuk for Huberdeau and Weegar. While Huberdeau was not the only weak spot on the 2022-23 Flames, his inability to step up and replace the production they lost with Tkachuk's departure was certainly a reason that the Flames missed the playoffs this year. Calgary ended the season two points out of a playoff spot; had Huberdeau put up 50 fewer points than a season ago rather than 60 fewer, the team would likely have made the playoffs. Things change every season, especially when a team gets a new head coach, and it may be too early to say definitively that the Flames lost this deal in the long term, but as of right now, it looks like the Panthers have won this trade.