Now that the Vancouver Canucks officially hold the 11th overall pick at the 2023 NHL Draft, we can really dive into who they could be targeting in the first round on June 28. The only other time they held the 11th pick was way back in 1982 when they drafted Michel Petit. He went on to have a long and winding NHL career suiting up for 10 teams and playing 827 games. Historically, the 11th pick has been known to produce a few stars too, like Jarome Iginla and Anze Kopitar. So, hopefully, the Canucks can get lucky and grab someone like that in 2023.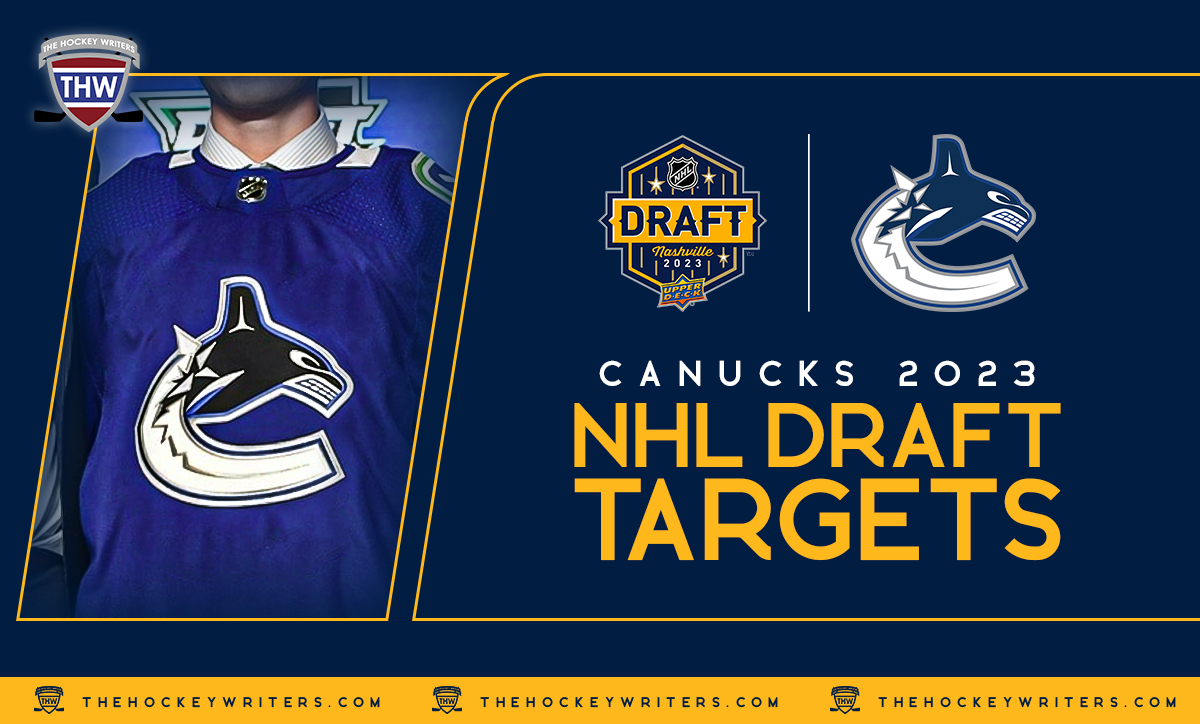 Before the clock starts ticking on the draft in June, the Canucks coverage team here at The Hockey Writers will be profiling potential targets at 11th overall. After profiling Swedish right-handed defenceman Axel Sandin Pellikka, I am going to shift gears to a forward and talk about Matthew Wood from the University of Connecticut.
Player Overview – Matthew Wood
2022-23 Player Stats:
University of Connecticut (NCAA): 35 GP – 11 G – 23 A – 34 PTS
Canada (U18 WC): 7 GP – 7 G – 6 A – 13 PTS
Wood has been a favorite of mine all season long (and not just because he has the same first name as me – although that's a bonus). From his dominance as an 18-year-old in college hockey to leading Team Canada to a bronze medal at the 2023 U18s, he has been one of the more exciting prospects to watch this year. While he was no Adam Fantilli who led the NCAA with an insane 30 goals and 65 points in 36 games, he held his own to the tune of 34 points in 35 games – which isn't bad by any means.

Without a doubt, the most impressive part of Wood's game is his lethal shot and how often he uses it. Registering at least a shot on goal in all but two games this season and hitting five or more in six of them, he doesn't seem averse to shooting the puck. He was also remarkably consistent, never going more than two games without a point – and that only happened twice. That's pretty good for an 18-year-old in a league dominated by players over 20.
Related: Matthew Wood – 2023 NHL Draft Prospect Profile
---
Latest News & Highlight
---
Wood also has size, quick hands in front of the net, and great hockey IQ. His skating is probably his biggest weakness as he lacks acceleration. Once he gets to top speed, he appears to be fast, but he takes a while to get there. He also has to work on his two-way game and learn how to use his size more effectively in the defensive zone. At this point, despite being 6-foot-3 and 193 pounds, he loses puck battles he should be winning just because of his size alone.
All in all, Wood will be an intriguing prospect to watch develop, even if the Canucks don't ultimately select him. He already has an NHL-caliber wrist shot that would probably beat most goaltenders and his maturity is surprisingly at a professional level despite the age on his driver's license. The fact that he decided to take his services to the NCAA rather than take the easier route and play in the United States Hockey League or the Western Hockey League speaks volumes about his desire to challenge himself and improve his game.
NHL Readiness
Wood is a bit of a raw prospect at this point in his development. He will probably require another few years in the NCAA to hone his physical game and learn how to use his big frame to his advantage. Having said that, his maturity, hockey IQ, and shot might accelerate that plan and get him to the NHL far sooner. But realistically, he will probably follow a similar path to Tage Thompson. Just hopefully it doesn't take a trade and four seasons of mediocre production to get Wood to hit that 35-50 goal potential that Thompson is showing right now at the age of 25.
Wood's Fit With the Canucks
The Canucks' biggest needs are right-defence and centermen. Wood is not a natural center, although he has shown the ability to play the position. In the NCAA, he played left wing most of the time, so that's probably where he will stay once he makes it to the NHL. Unless he smooths out his two-way game, coaches likely won't feel comfortable deploying him down the middle.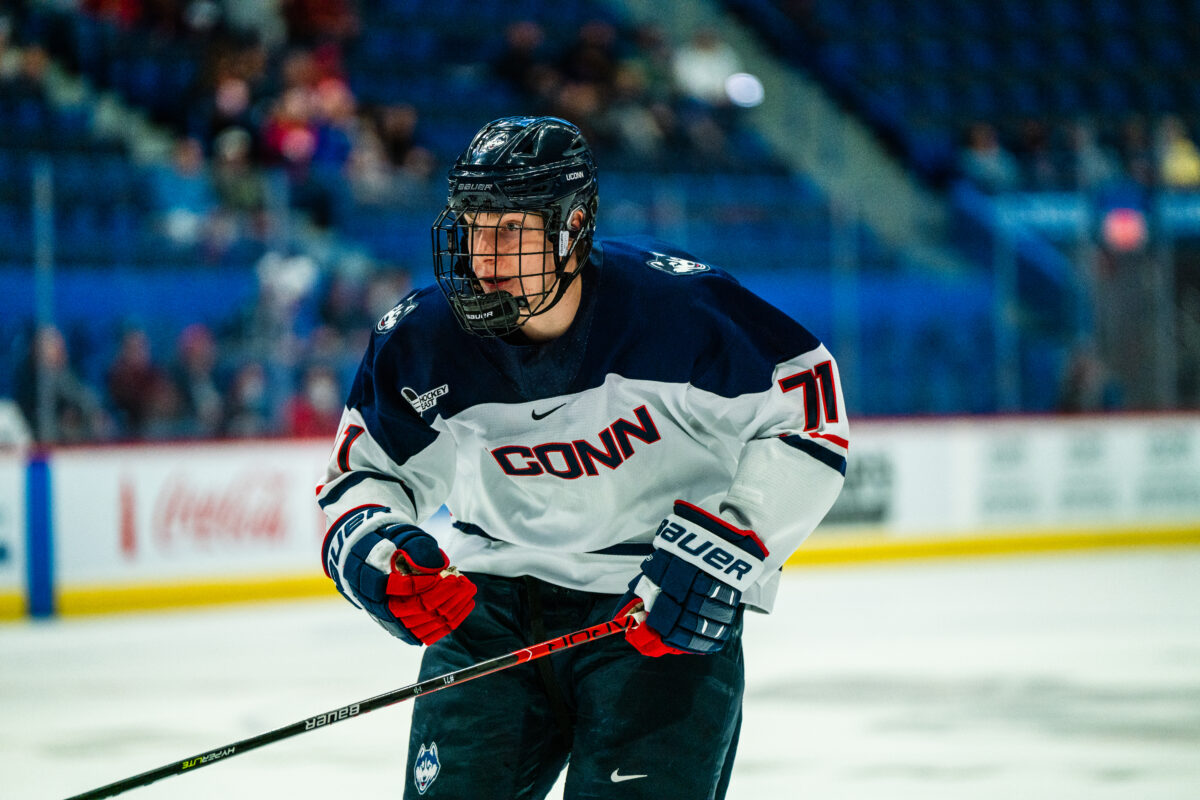 So, positionally, Wood doesn't really fit the needs of the Canucks at this point. However, he does fill another need, and that's natural goalscorers. Does the pipeline have any? Not really. Jonathan Lekkerimaki probably can be described as a goalscorer, but I wouldn't call him a lethal one-shot threat – not like Wood anyway. Looking at the prospect depth chart on Elite Prospects, the Canucks have Aidan McDonough, Josh Bloom, Arshdeep Bains and Lucas Forsell listed as left-wingers. I would argue Wood will turn into a better scorer than all of them. I foresee maybe two of them – McDonough and Bloom- hitting 20 goals in the NHL one day, but never upwards of 40 or 50, which is what I see Wood eclipsing at some point in his career.
What Others Are Saying
"Wood is 6-foot-3 so his ability to make plays in tight to his skates at speed while maintaining control is very impressive for his size. However, his real calling card is his shot which ranks near the top of the draft class in terms of deception and power. He could use a bit more speed (who couldn't), but he has shown that his timing and puck protection skills are strong enough for him to succeed in college. Only time will tell if they can do the same for him as a pro, though I think he'll be a great pro." – Logan Horn, The Hockey Writers
"Wood is a very gifted offensive player. He has excellent one-on-one skills and offensive IQ. He has the ability to hold onto pucks for an extra second and knows how to beat defenders with skill. He also has an excellent wrist shot and one-timer, making him a major asset on the power play. Wood is a big winger as well, so the size/skill combo has a lot of upside" – Corey Pronman, The Athletic (from '2023 NHL Draft ranking: Connor Bedard leads Corey Pronman's tiers of the top 142 prospects', The Athletic, 5/30/23).
"Wood's skating isn't pro level yet, but the improvement over the past two years has been noticeable. He's good in bursts, but doesn't have the true game-changing, separating speed that'll allow him to stand out in the NHL." – Steven Ellis, Daily Faceoff
Should the Canucks Draft Wood?
If the Canucks keep their 11th overall pick and Sandin-Pellikka and David Reinbacher are off the board, they should look long and hard at selecting Wood. In my mind, even though there will be other prospects available at that point in Nate Danielsson, Riley Heidt, Oliver Moore, and others, there likely won't be another one-shot natural goalscorer like Wood there for the taking.
Related: THW's 2023 NHL Draft Guide
And speaking of the Canucks trading their 11th pick, even if they do end up moving down and swapping selections with a team like the Chicago Blackhawks or Detroit Red Wings, Wood could still be available later on between 15-20. With the depth of talent in this draft, it could definitely happen. No matter the case, the Canucks should have Wood in their sights when they walk up to the podium on June 28.
Other Canucks 2023 NHL Draft Targets