Now that the Vancouver Canucks officially hold the 11th overall pick at the 2023 NHL Draft, we can really dive into who they could be targeting in the first round on June 28. The only other time they held the 11th pick was way back in 1982 when they drafted Michel Petit. He went on to have a long and winding NHL career suiting up for 10 teams and playing 827 games. Historically, the 11th pick has been known to produce a few stars too, like Jarome Iginla and Anze Kopitar. So, hopefully, the Canucks can get lucky and grab someone like that in 2023.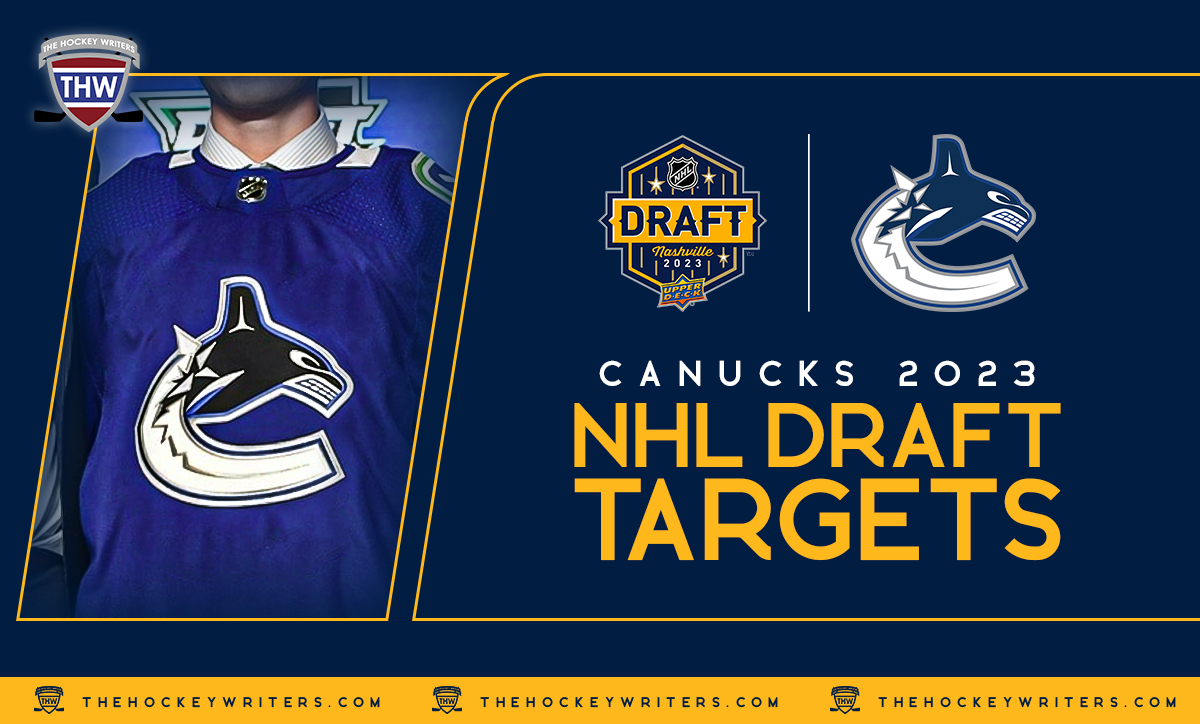 Before the clock starts ticking on the draft in June, the Canucks coverage team here at The Hockey Writers will be profiling potential targets at 11th overall. Next up, is Swedish defensive sensation Axel Sandin Pellikka.
Sandin Pellikka's Scouting Report
Sandin Pellikka burst onto the scene at the 2023 World Junior Championship where he was one of the youngest defenders on the team. While his defensive game was at times suspect, his coach trusted him with more and more minutes as the tournament went along, and by the end of it he was one of the team's top blueliners when it came to ice time. While he only finished with one assist in seven games, he looked comfortable playing with and against players two or even three years older than him.
Sandin Pellikka parlayed that positive experience into a solid draft year where he dominated the J20 Nationell landscape to the tune of 16 goals and 36 points in 31 games and even got into 22 games in the Swedish Hockey League scoring two goals and five points. That's not all, he also made hay at the 2023 World U18 Championship leading Team Sweden to a silver medal with an impressive two goals and 11 points in seven games.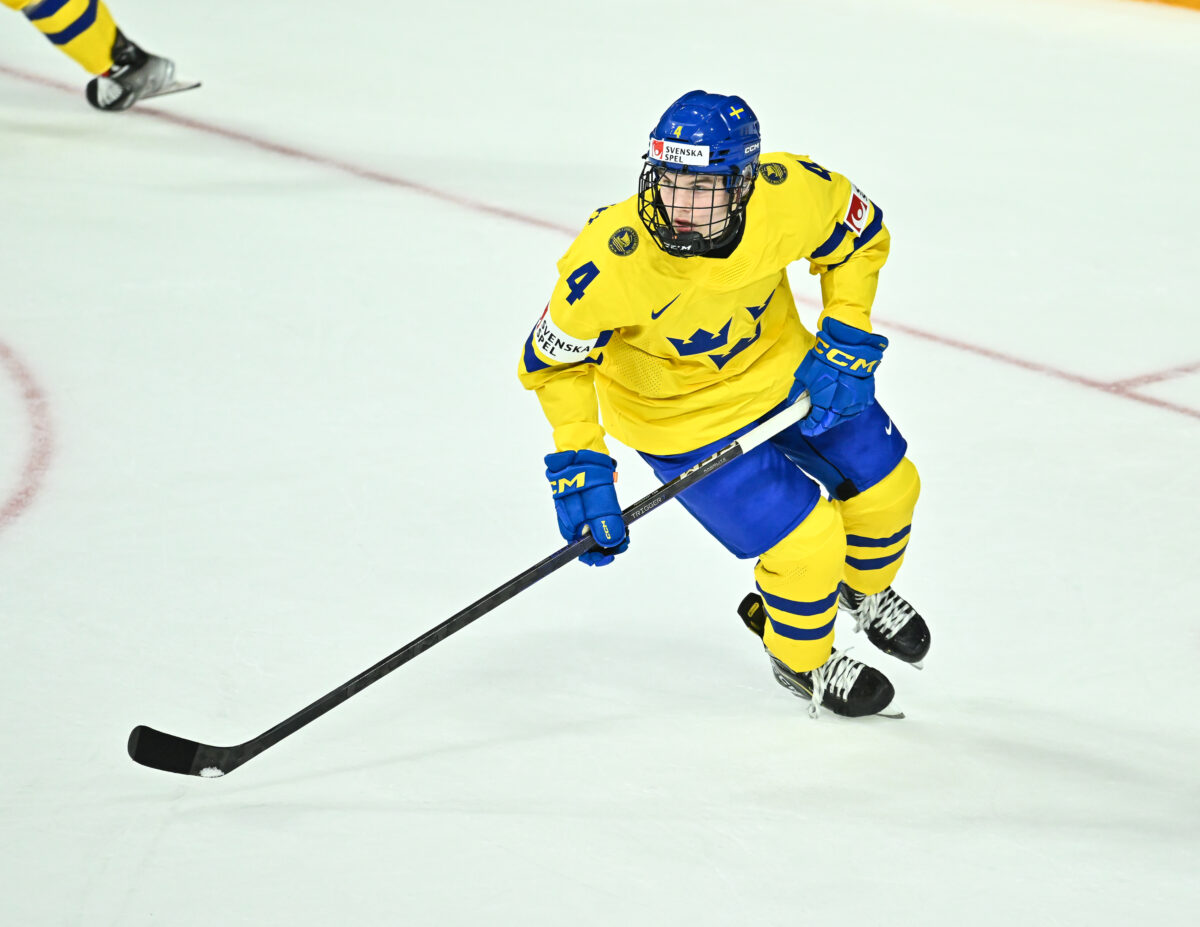 Known more for his offence and ability to drive the play, the right-handed Swede has everything you want in a modern blueliner. A little undersized at 5-foot-11, he makes up for it with superb skating, mobility, and offensive hockey IQ. He has high-end escapability in his own zone and can transition the puck quickly and efficiently either with a well-placed pass or by skating it out himself. If all that sounds familiar, it's because that's exactly what current Canucks defenceman Quinn Hughes has in his toolbox – a toolbox he uses regularly to put up a gaudy 241 points in the NHL at the ripe age of 23.
I mention Hughes because I believe Sandin Pellikka can reach those similar heights in the NHL. He is basically a right-handed Hughes, just an inch taller. Just imagine those two together zipping up and down the ice in Canucks colours. Yes, he has defensive deficiencies and is often out of position looking for offence. But so did Hughes before he was drafted and early on in his NHL career, and look where he is now. I have always been of the belief that you can teach defence and discipline in your own zone. Offence and the package Sandin Pellikka and Hughes bring to the table, on the other hand, you either have it or you don't.
Other Quotes
"In the beginning of the season, I barely had any defense, but now I have more strength and can position myself very well in the D-zone…That's something I'll still be working on. After practices, my coach brings in a forward, and we go on 1-on-1, with me trying to push him to the boards and try to hold him to the outside." – Axel Sandin Pellikka
"Sandin-Pellikka can rip slapshots and wrist shots from anywhere in the offensive zone. I would say Axel prefers to shoot first time with his booming slapshot but when the one-timer isn't available he has the ability to take his time and shoot which is just as effective." – Joe Maciag, Recruit Scouting
Related: THW's 2023 NHL Draft Guide
---
Latest News & Highlights
---
"Sandin Pellikka is confident and smooth as they come when it comes to his transitional play and puck moving abilities. He's a fantastic and effortless skater when leading a rush and he can distribute the puck efficiently with his passing. He can attack with force in the offensive zone, but can also defend well against the rush showing some strong two-way abilities. He's got an active stick to break plays up and the speed to close gaps on attacking forwards." – Peter Baracchini, The Hockey Writers
"Sandin-Pellikka is primarily a puck-moving defenseman who makes solid breakout passes under pressure and even likes to join in on the rush when possible. His defensive game is slightly above average for his age which gives me hope that he could blossom into a true top-four defenseman at the NHL level one day." – Logan Horn, The Hockey Writers
Sandin Pellikka's Fit on the Canucks
The best right-handed defensive prospect the Canucks have in their system right now is Jett Woo, and while he's showing signs of breaking out, he's unfortunately never going to become an elite top-pairing defender. There is hope that NCAA free agent signing Cole McWard can become a serviceable defenceman in the NHL, but again, he likely won't be a top option. Enter Sandin Pellikka. As I mentioned earlier, he checks every box as a potentially elite defenceman and might actually step into the league sooner rather than later.
The Canucks love their Swedish defencemen, so I am sure general manager Patrik Allvin already has Sandin Pellikka's name ranked high on his draft board. Heck, he might have him circled, highlighted, and underlined. He would instantly become the Canucks' top defensive prospect and help shore up a right side that hasn't had a promising youngster since Chris Tanev was calmly patrolling the blue line back in the 2011 Playoffs.
Chances the Canucks Draft Sandin Pellikka
Without a doubt, the Canucks will be looking at defencemen in the 2023 Draft. Having said that, with the plethora of talented centermen that will be available when they step up to the podium like Nate Danielson, Oliver Moore, Riley Heidt, Dalibor Dvorsky, and numerous others, they might choose to go that direction instead. Unfortunately, the organization does not have a strong pipeline to draw from, so they need everything. The two biggest needs are right-handed defencemen and right-handed centermen – both of which can be had with the 11th pick.
It will be interesting to see where the Canucks go. All I know is if Sandin Pellikka is still sitting on the board when Allvin comes up to make his selection, it would be a mistake to go the forward route. Just like it would have been a mistake to pick Filip Zadina instead of Hughes back in 2018. Interestingly enough, the Detroit Red Wings are slated to pick ahead of them again. Will history repeat itself? We will just have to tune in to find out.
Speaking of tuning in, take a look at the other Canucks 2023 Draft targets in our continuing series: