When Joseph Woll was drafted by the Toronto Maple Leafs in 2016, there were high hopes for him. While only a third-round pick, he was the first goalie to be selected by the team since Antoine Bibeau in 2013, and with some impressive stats with the U.S. National Team Development Program (and later Boston College), there was hope that he might be able to be the Maple Leafs' first true homegrown goaltender in a long time.
Related: With Joseph Woll in Goal, Maple Leafs' Future is Now
I'm sure Woll had these thoughts himself when he was drafted. Every kid who grew up playing hockey dreams of getting drafted and making an impact for an NHL team someday, hopefully in the playoffs. But, I can't imagine he thought he would be making his first playoff start down 3-0 in a second round series with the team playing for their lives. And yet, he stepped up and was a massive reason the Maple Leafs were able to stay alive in the playoffs.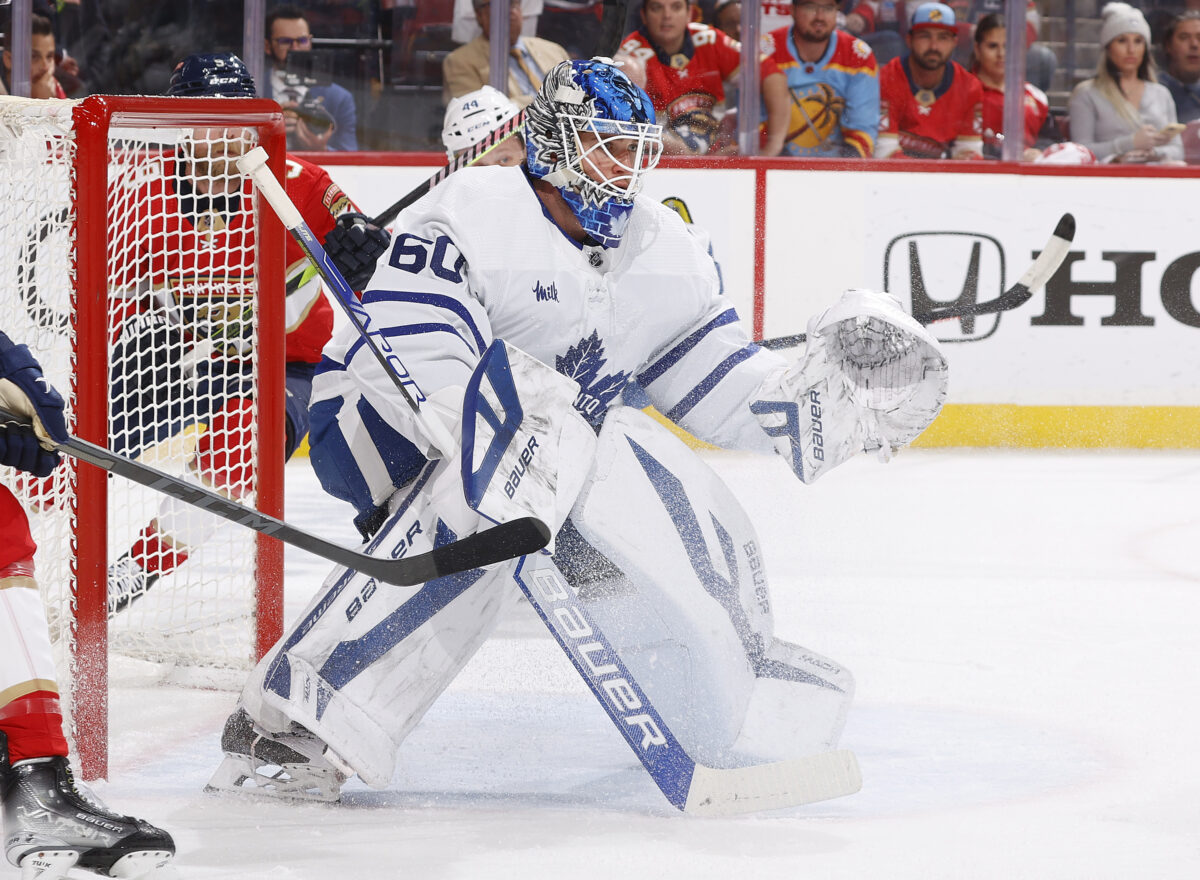 Matt Murray and Ilya Samsonov made up the Maple Leafs' tandem heading into the season, and with the acquisition of Murray came the expectation that he might not be healthy for a full season. Such ended up being the case, and Woll got more looks between the pipes than he did the previous year. He largely impressed in the games he did get into, and stepped up under the biggest spotlight he's had this season on Wednesday night. There have only been four other teams in NHL history to mount a series comeback down 3-0, the most recent being the 2014 Los Angeles Kings, and he's earned the shot to try and make the Maple Leafs the fifth.
Maple Leafs' Woll Steps Up in Wake of Samsonov Injury 
Things went from bad to worse early in the second round for the Maple Leafs. After losing young Matthew Knies to an injury in Game 2, Samsonov was forced to leave Game 3 following a collision with a teammate less than 30 seconds into the second period. In came Woll to relieve him, and subsequently, the Panthers turned it on a little bit. The game ended in a 3-2 overtime win for Florida, with Woll allowing three goals on 24 shots. 
---
Latest News & Highlights
---
It wasn't a great performance for Woll, but you can't blame him considering the circumstances. Besides, his track record from the season along with what he did in Game 3 left head coach Sheldon Keefe with the confidence to start him in Game 4. It may not have seemed like a hard decision, but to start him over Murray, whose main selling point is his playoff pedigree, spoke volumes about how the team felt about him. And, as we saw on Wednesday night, the decision paid off.
Woll was sturdy between the pipes in his first-ever playoff start, stopping 24 of 25 shots for a .960 save percentage (SV%). Credit to the team in front of him, because they probably had their best defensive effort of the playoffs so far, but in a way, a strong defensive effort almost puts more pressure on the goalie to make those routine saves. And, that's exactly what he did. Maple Leafs fans have seen firsthand how much a bad goal can break the back of the team in front of him, so for him to stand tall in a game the team needed a strong goaltending performance more than ever should be a massive vote of confidence for the coaching staff.
Woll Impresses in Small Sample Size From 2022-23
Called upon for the first time on Feb. 11, Woll coincidentally had his worst start of the season in his debut. And the fact that his worst start still featured a .900 SV% and 36 saves on 40 shots speaks volumes about how his season finished after that. 
He went undefeated for the rest of the season, racking up six wins in his final six games of the season, and finishing the year with a goals-against average (GAA) of 2.16 and a SV% of .932. His lowest single-game SV% in those six games was .917, so he was earning his wins along the way. 
Perhaps the most impressive of those six games came on April 11 in Tampa Bay, when he stopped 45 of 48 shots for a .938 SV% in a 4-3 regulation win. And, when you watch him play, it's not just the stats on paper that make him appealing for a playoff series. Woll plays an incredibly calm, composed game, and doesn't get rattled easily. He's evidently reliable enough for Keefe to start him over an older, more experienced goalie in Murray in the team's most important game of the season, and he's certainly made a compelling case to start Game 5. 
Maple Leafs Should Ride Hot Hand Even When Samsonov is Healthy 
No disrespect here to Samsonov, I want to make that clear. Although his stats haven't been encouraging on paper, he's generally stood tall in the right moments, and being the first goalie to take the Maple Leafs to the second round since 2004 has to mean something. That being said, he hasn't been good enough to justify getting him back into the net as soon as possible, and if Woll starts Game 5 and they win, I'd be running with him for the time being, especially if they can figure out a way to pull off this comeback.
You May Also Like
If, and only if (because it's a massive if), the Maple Leafs pull it off, maybe you can revisit the conversation in the Eastern Conference Final. But, we can't look that far ahead since they have to win three more games in a row to get there. As it stands right now, Woll (along with a strong team defensive game) saved the season for the team, and if they lose in any of Game 5, 6, or 7, nobody should fault Keefe for running with the hot hand. That being said, it's something they have to take one game at a time, and even on a game-by-game basis, Woll has earned the next start.