The New Jersey Devils have had a great 2022-23 season, but it's on the line tonight in Game 5, with the Carolina Hurricanes having a 3-1 series lead. New Jersey has shown resiliency all season long and already came back from a two-game deficit against the New York Rangers in Round 1. They have a much more difficult task in the Hurricanes, especially since they have to win three in a row, but it can be done. Here's what to watch in Game 5. 
Devils Need to Get North-South
The Devils got off to a solid start in Game 4, scoring a goal less than two minutes in and controlling play through the first ten minutes. But things quickly went south from that point on, as they got away from their game and started forcing plays that weren't there, which played into the Hurricanes' hands. That allowed Carolina to establish their forecheck, which led to sloppy puck management from the Devils. Eventually, they capitalized with a five-goal second period, and that was that. 
If the Devils want to extend their season for at least another game, they'll have to be much smarter with the puck. They can't go rogue, as head coach Lindy Ruff described in his post-game press conference after Game 4. They have to get north-south on the rush to dictate play and not allow the Hurricanes to establish their grit-and-grind style of play.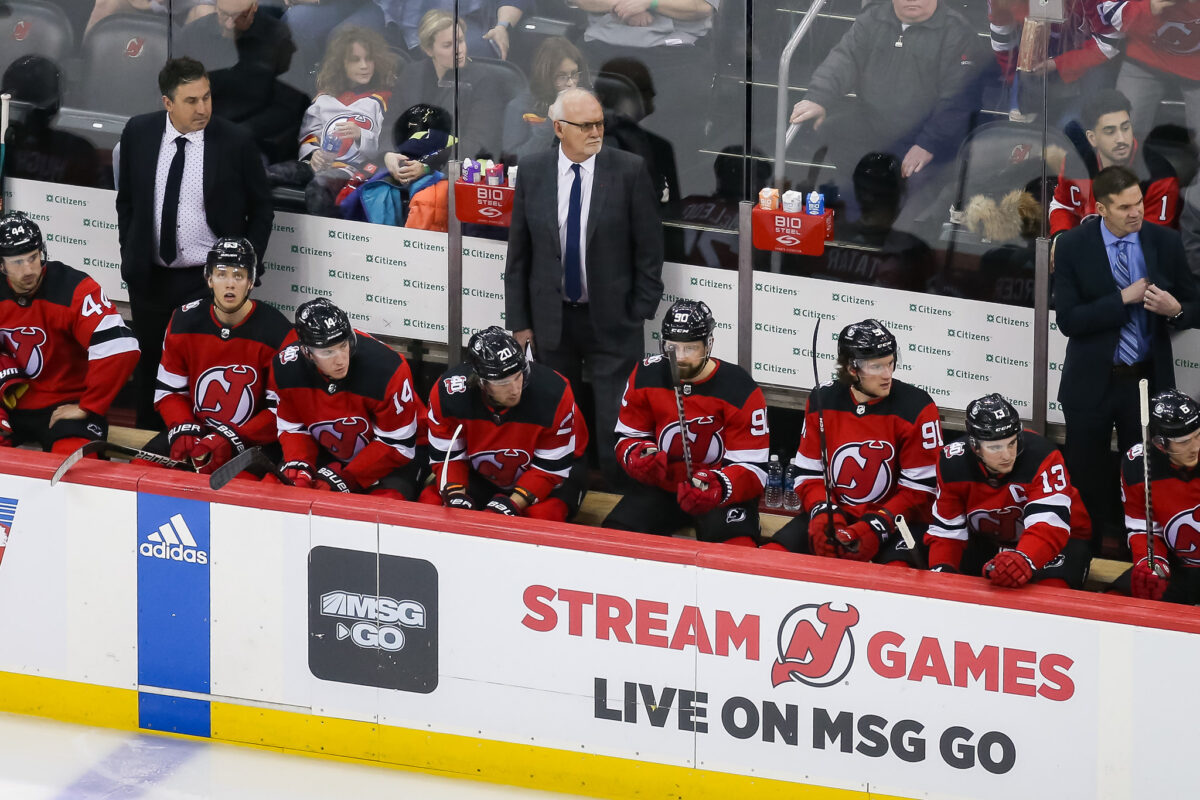 That becomes all the more important on the road because Hurricanes head coach Rod Brind'Amour will use last change to his advantage. You can bet Jack Hughes will see a heavy dose of Jordan Staal's line as he did in the first two games of this series. Likewise, Nico Hischier will probably see plenty of Jesperi Kotkaniemi, another one of the Hurricanes' top defensive forwards, just as he did in Games 1 and 2. That makes puck management crucial because Carolina won't make it easy for the Devils' top scorers. 
Lineup Changes Coming
After a humbling 6-1 loss in Game 4, there's no doubt Ruff will throw his lines in a blender. Having gone with 11 forwards and seven defensemen in the last two games, it's all but certain the team returns to a traditional 12/6 setup. The Devils aren't holding a morning skate today, so we won't know what the line combos look like until warmups. But there are a couple of ways Ruff could go. 
First off, what should Ruff do with his top line? Though Timo Meier, Nico Hischier and Jesper Bratt haven't been on the ice for a goal in the postseason, they have played well. They've posted a 73.23 expected goals percentage (xG%) in 28 minutes, with most of that coming in the Rangers series. You need a line that can control possession at five-on-five against the Hurricanes, and this trio may be their best option. 
Related: 3 Devils Takeaways From Game 4 Loss to Hurricanes
---
Latest News & Highlights
---
I also wouldn't be surprised if Yegor Sharangovich and Jesper Boqvist both check into the lineup for Game 5. It's hard to say where either forward will slot in if they play, but one option for Sharangovich is with Hughes and Dawson Mercer. 
It might seem nuts, given Sharangovich's struggles this season, but his best minutes have always come alongside Hughes. The Devils need to find ways to score goals, and he has the shooting ability. Sharangovich, Hughes and Mercer played well in a small sample this season (73:38), posting a 56.02 xG% while controlling 60 percent of the scoring chances. Sharangovich and Mercer found success with Meier in Game 7 against the Rangers, so it could work with Hughes centering them.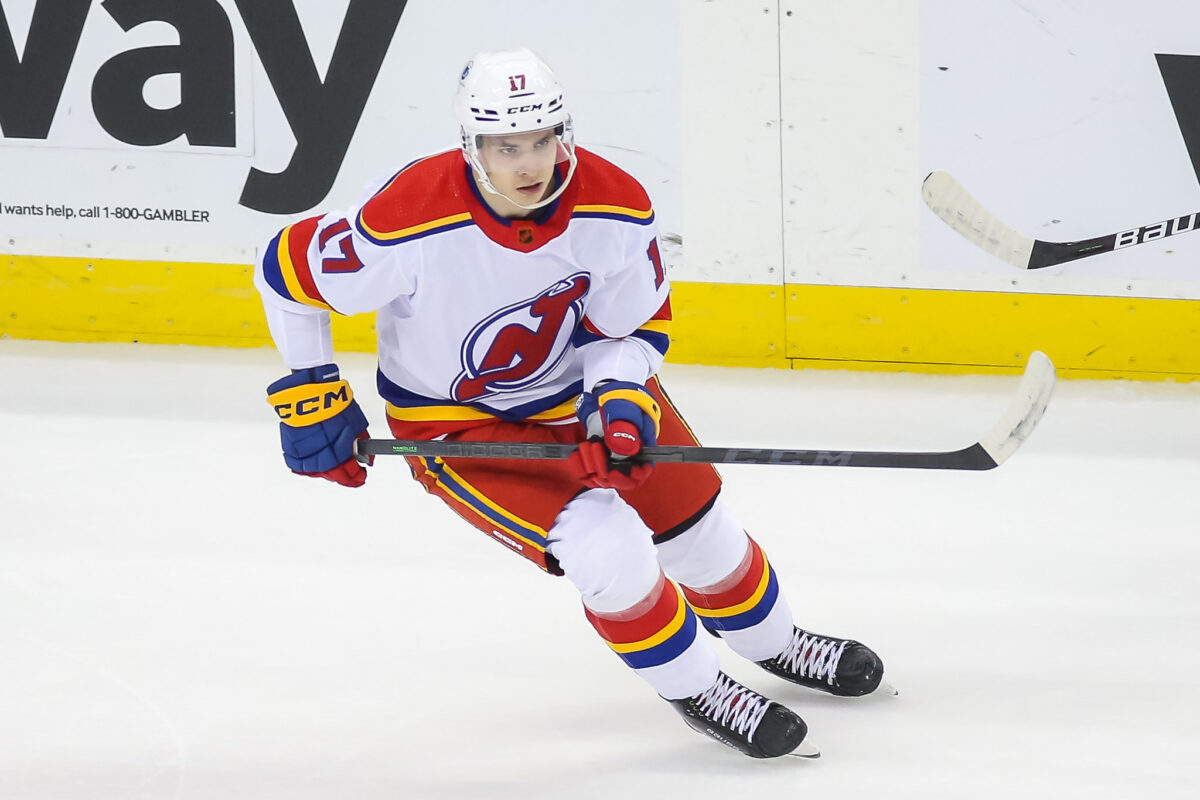 That'd leave Ondrej Palát and Erik Haula with Boqvist, one of the best third lines the Devils have used this season (maybe the best?), with Miles Wood, Michael McLeod and Nathan Bastian on line four. That leaves Tomáš Tatar as the odd man out. But he's struggled in the playoffs, with one goal and no assists in 11 games. His average game score of minus-0.03 ranks in the bottom five among Devils skaters this postseason, so it wouldn't be a surprise if he were a healthy scratch. 
Will the lines up front look like this at puck drop? Probably not even remotely close, but the defense pairs should be easier to figure out. If Ryan Graves is healthy enough to play, I'd expect him back with John Marino. I'd also anticipate Luke Hughes coming out, with Kevin Bahl going back alongside Damon Severson. Jonas Siegenthaler likely remains with Dougie Hamilton. 
Meier – Hischier – Bratt
Sharangovich – Hughes – Mercer
Palát – Haula – Boqvist 
Wood – McLeod – Bastian
Siegenthaler – Hamilton
Graves* – Marino
Bahl – Severson
Schmid Should Start
It's clear that after Vitek Vanecek's performance in Game 4, there will be a different netminder for the Devils tonight. Mackenzie Blackwood is an option, but he hasn't played in a game since April 13, the Devils' regular-season finale. It'd be tough to ask him to come in and start his first game in a month with the season on the line. 
That means the net should be Akira Schmid's again, and it shouldn't be a difficult decision. Even though Blackwood has a .932 save percentage against the Hurricanes for his career, it's only in a four-game sample. Schmid has changed a series once these playoffs already, and while it's unfair to expect him to do it again, he offers the Devils the best chance to extend their season for at least one more game. 
Schmid came up clutch multiple times in Round 1 against the Rangers, including stealing Game 3 and a 31-save shutout in Game 7. He has a .921 save percentage and has saved 3.3 goals above expected in the postseason. The team has to play well in front of him, certainly much better than they did for Vanecek in Game 4. But he's gotten them to this point, so it shouldn't be a tough call. 
Devils Quick Hits
On a separate goaltending note, don't be surprised if Blackwood backs up Schmid if the latter is the starter. Vanecek's confidence is shot at this point, and if he has to come into the game in relief or due to injury, it likely won't go well. It's best if the Devils don't dress him and allow him to reset mentally after a tough postseason.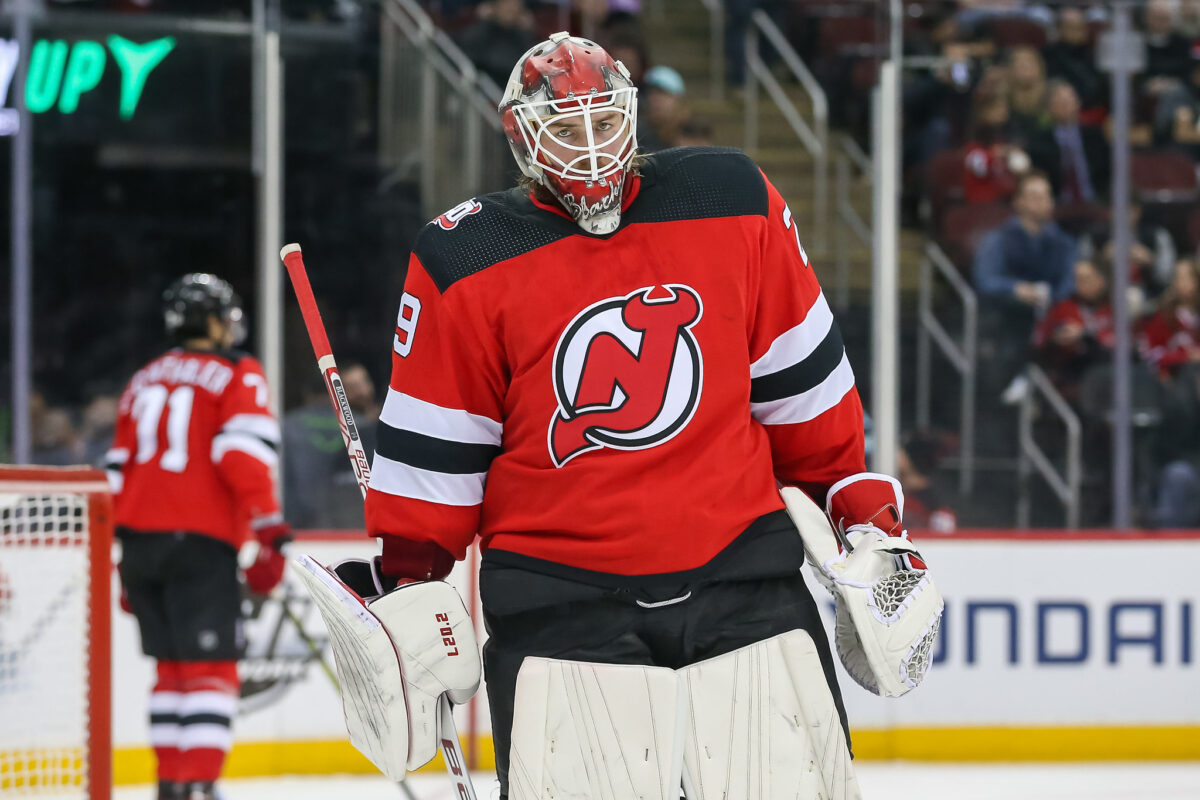 One thing I'd like to see the Devils do much more of is test Freddie Andersen. He only gave up one goal in Game 4, but he did not look comfortable at all. He got pulled in favor of Pyotr Kochetkov in Game 3, so his confidence could be wavering a bit. The Devils can't pass up on an opportunity to put a puck on net because if Andersen is still looking shaky, you never know what finds the back of the net. A couple of early goals would go a long way in establishing a presence and making the Hurricanes chase the game, which can become difficult with their grit-and-grind style of play. 
Tonight's game begins at 7 PM and can be seen on TNT. There will be pregame and post-game coverage on MSGSN in the New York metro area.
* * *
Advanced stats from Natural Stat Trick, Hockey Stat Cards