The Edmonton Oilers needed to come out and win Game 4 to prevent going down 3-1. Playing an away game while down 3-1 in a series would have made things hard on them in the next game. But in Game 4 the Oilers came out in a big way en route to a 4-1 victory over the Vegas Golden Knights.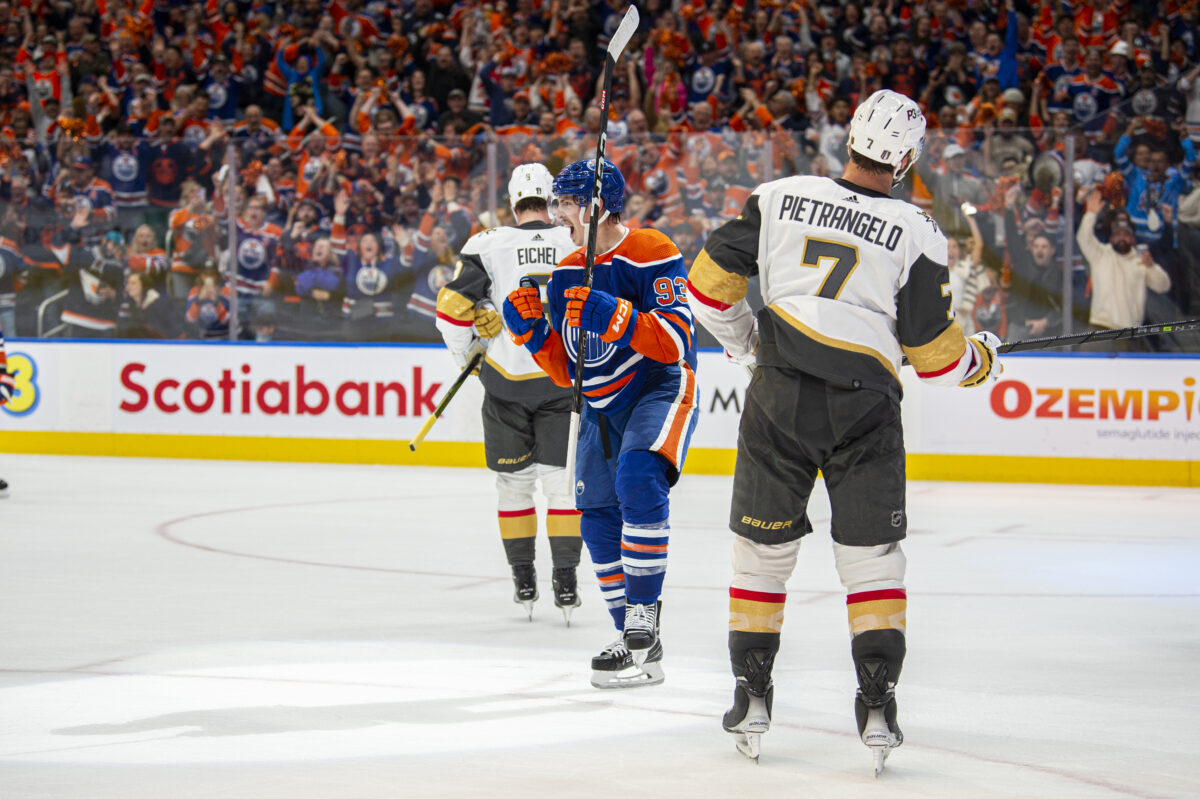 The Oilers flew out of the gate, scoring two goals in the first eight minutes of Game 4. They found a way to beat Adin Hill, who shut the door against the Oilers in Game 3. It was a game that featured a couple of Oilers scoring their first goal of the playoffs, boiling over tensions and an egregious penalty on behalf of the Golden Knights.
A Game Of Firsts
The biggest deadline acquisition for the Oilers in recent memory was the addition of two-way stalwart defender, Mattias Ekholm. The price may have felt steep at the time, but they have been reaping the benefits ever since. He scored his first goal of the postseason on an absolute bomb from the faceoff circle that cleanly beat Hill.
Another first in the game came off of the stick of the longest-serving current Oilers player, Ryan Nugent-Hopkins. He slid in between the faceoff circles, received a pass from Connor McDavid, and then sniped it home with his hallmark sneaky wrist shot. That was his first goal on a total of 19 shots this postseason. After Game 4 his point total crept up to eight in 10 games played. The Oilers will need to continue to get contributions from up and down their lineup to go deeper into the 2023 Stanley Cup Playoffs.
Tensions Boil Over
The first four games of this series have featured some intense scrums after the whistles. This game alone featured 82 hits from both teams combined. Nicolas Hague and Darnell Nurse have been chirping at each other for most of the previous three games. Nurse had tried to convince Hague to fight him last game off of a third-period faceoff. There was a scrum behind the Golden Knights net, and Nurse instigated a fight leading to five-minute penalties to each player. With this fight out of the way, perhaps more focus can be put on winning the next two games and not finding another person to fight.
Related: Maple Leafs vs. Oilers Stanley Cup Final Might Actually Happen
---
Latest News & Highlights
---
The Hague and Nurse major penalties were not the only infractions received by both teams in Game 4. There were a total of 14 penalties in the third period alone. Of those 14, seven were misconduct penalties. Nurse, Chandler Stephenson, Kailer Yamamoto, Jonathan Marchessault, Brett Howden, and Alex Pietrangelo all received misconducts for their various penalties.
Pietrangelo The Wood Chopper
Perhaps the most egregious penalty in this game came at the hands of Pietrangelo. With his team down 4-1 and a net empty to generate an end-game push, Leon Draisaitl threw the puck at the empty net. Long after the puck had left his stick and he was just reaching the goal line of the Golden Knights zone, Pietrangelo came over and took a two-handed whack at Draisaitl's left wrist right in front of the referee.
Pietrangelo has taken a lot of hits in this Round 2 series against the Oilers. A penalty like this was reckless and there looked to be intent to injure. The Department of Player Safety should hand out supplemental discipline for a dangerous play like this. He should get a one-game suspension, but I also wouldn't be surprised if he was only handed a fine.
Interesting Statistics
Every single Golden Knights forward except two registered multiple hits.
Only one power-play goal was scored the entire game.
Oilers were outshooting the Golden Knights 27-15 after the first 40 minutes.
Evan Bouchard led the Oilers' defence with five hits, and Nick Bjugstad with nine to lead the forwards.
Nurse led all Oilers skaters in ice time with 23:07.
Game 5 is slated for Friday in Vegas. The Oilers will need a repeat effort of Game 4 to put the Golden Knights' backs against the wall.