The Toronto Maple Leafs live to fight another day. They got a full team effort against the Florida Panthers and end up with a 2-1 win. Every game left in Round 2 is a must-win. The odds are still not in their favor, but they get another opportunity to keep their Cinderella story postseason alive.
A lot of things went right for the Maple Leafs in this Game 4 win. Their best players came to play, Joseph Woll tallied a win, and Matthew Tkachuk was a non-factor. All three things will need to continue for the Maple Leafs to continue their postseason run.
Maple Leafs' Best Players Were Their Best Players
William Nylander opened the scoring on a power play in the second period. Getting out to an early lead was a key to their success in this matchup. Nylander came to play and was rewarded with his third of the postseason. He drove hard to the net and didn't give up on the play. He hasn't been playing poorly by any stretch but it was good for his confidence to get a point in a second straight contest after being held off the scoresheet for the four previous games.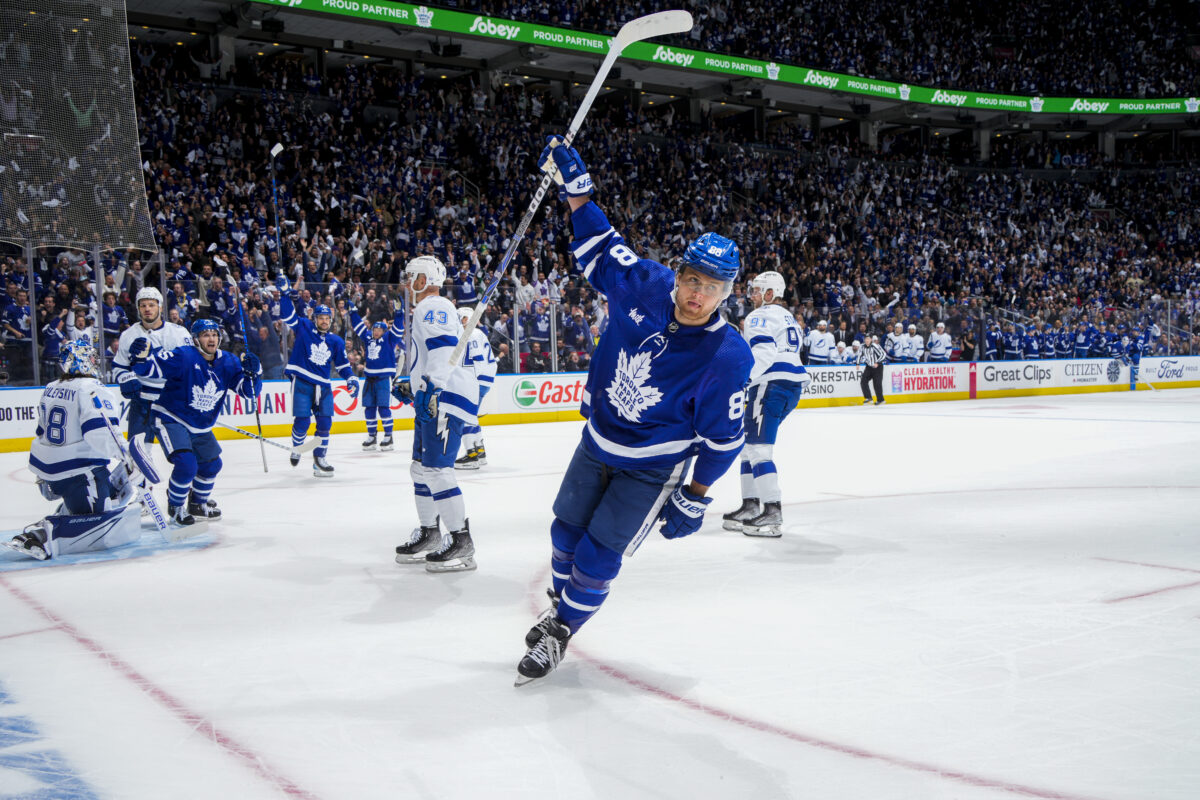 Mitch Marner netted the game-winner on a wicked wrist shot from the point. He was also feeling it in Game 4. He threw his weight around and was credited with four hits. He also assisted on Nylander's power play marker, bringing his playoff point total to 14 points in 10 games. With only two goals in the playoffs before this game, it was good to see him get rewarded for playing fantastic and keeping this postseason run going.
Joseph Woll's Most Important Win of His Career
One of the most notable coaching decisions was the choice to start Woll in net. With Ilya Samsonov still injured it was Matt Murray who served as the backup. Murray has been injured off and on all season and was just inserted back into the lineup for this game. Game 4 was the first playoff start of Woll's young playing career. He stood tall when given the full 60 minutes, as both of his other appearances were in relief.
Related: Maple Leafs vs. Oilers Stanley Cup Final Could Actually Happen
---
Latest News & Highlights
---
Turning aside 24 of 25 shots gave Woll a stellar .960 save percentage (SV%) and a quality start for his efforts. He was named the second star of the game behind his teammate Marner. He definitely pulled his weight and contributed hugely to this win. He also got some help from his teammates to the tune of 21 blocked shots.
Matthew Tkachuk Neutralized
One of the biggest thorns in the Maple Leafs' side this series has been the Panthers' superstar offseason acquisition, Tkachuk. In Game 4 he had zero shots for the first time in the 2023 Stanley Cup Playoffs. He had a power play assist on the Sam Reinhart goal and two hits. In Game 3 he had no points and the Maple Leafs were narrowly close to winning that one. Locking down and limiting him is the biggest thing that the Maple Leafs need to achieve to come back and win this series.
Interesting Statistics From Game 4
Maple Leafs' faceoff percentage was 62%
Auston Matthews and Noel Acciari both led the Maple Leafs in blocked shots with three each.
Noel Acciari had seven hits.
The Panthers only had eight high-danger chances at even strength.
Maple Leafs had 11 giveaways to the Panthers' five.
Marner led all Maple Leafs in time on ice with 21:23.
Game 5 is on Friday, May 12th, as these two teams play every other day until the series concludes. The Maple Leafs will need another effort similar to this one in Toronto on Friday or else they will be practicing their golf swing until the 2023-24 season.