The Vancouver Canucks enter the 2023 NHL Entry Draft holding the 11th overall selection. Historically, this pick has produced some strong NHL talent, including Filip Forsberg, Kevin Fiala, Gabriel Vilardi and Lawson Crouse.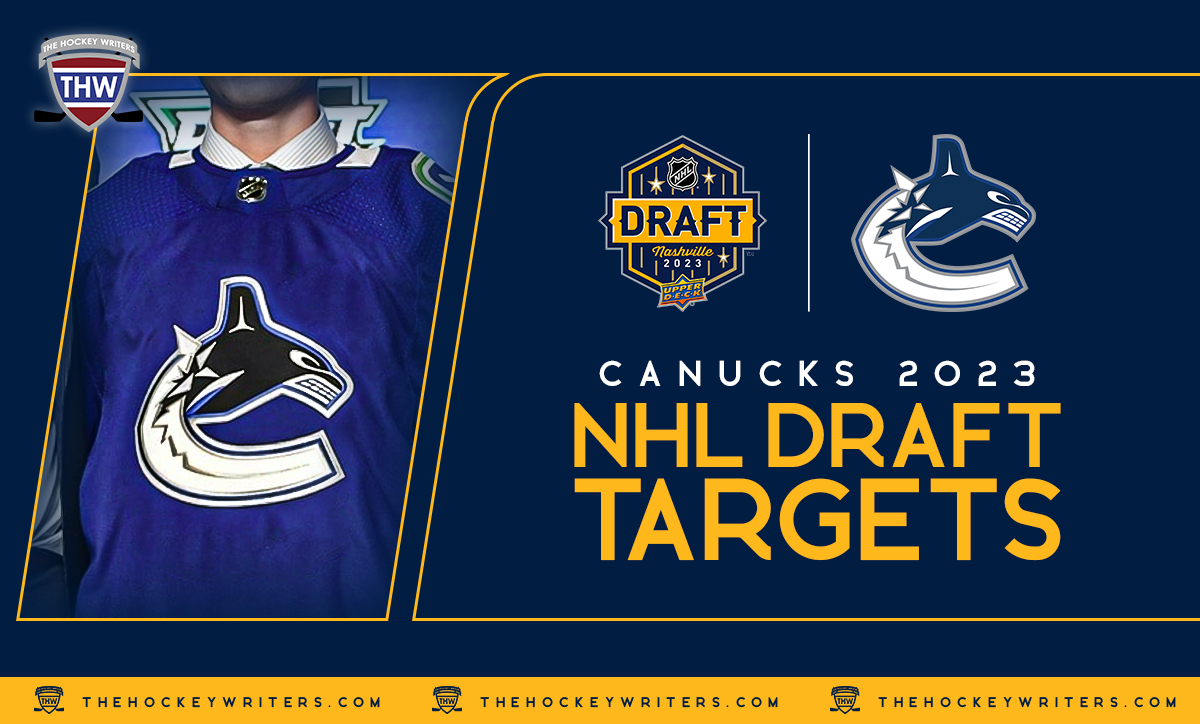 The hope is whoever Vancouver selects can become an impact player for the foreseeable future, with one of those possibilities being center Oliver Moore.
Moore's Scouting Report
Moore is a can't-miss prospect who could jump into the Canucks middle-six as early as the 2024-25 season. He has developed into one of the top offensive talents available in this year's draft, as he put up 31 goals and 75 points in 61 games for the US National Development U18 team this season. These numbers are impressive and show that he was able to make the most of his opportunities, as he played on the team's second line this season.
Related: Oliver Moore – 2023 NHL Draft Prospect Profile
---
Latest News & Highlights
---
During the recent U18 Championships, Moore helped Team USA capture Gold for the first time since 2017. He was also part of the leadership group for the Americans, wearing an "A" alongside fellow top prospect Will Smith. Throughout the seven games, he was one of the most impressive and consistent players for Team USA. He had a point in every single game, finishing with four goals and five assists, with one of those assists coming in overtime of the Golde Medal Game.
Moore also recorded at least two shots per game and was able to demonstrate how dangerous he was with the puck on his stick in the transition game. His performance not only reinforced just how dynamic he is but showed that he could take his game to another level and thrive against some of the best 2005-born players from around the world.
Moore's biggest asset is his skating. He is arguably the fastest skater available in the draft and uses it to his advantage not just in the transition game but without the puck, as he can scoop up loose pucks or lose defenders in the offensive zone. It's clear that he's also in very good shape, as he rarely looks tired on the ice and gives 100 percent every shift. In any other year, there would be no chance he falls out of the top ten, but with this year's draft being one of the deepest since 2005, he could be available when the Canucks head to the podium and pick at 11th overall.
Moore's Statistics
Why the Canucks Should Be Interested
The Canucks should be interested in Moore because of his speed and offensive ability. Not only can he get to loose pucks in the defensive zone, which was a problem for Vancouver all season, but he is also confident with the puck on his stick and can transition the play out of his own zone without giving the puck away or throwing it down the ice for icing. He is also not a stagnant player, meaning when the puck is not on his stick, he is trying to find open spots on the ice rather than standing still and waiting to see if his teammates will pass him the puck. From a stylistic standpoint, he fits with what the Canucks are trying to do and would look great feeding Elias Pettersson passes from below the goal line on the power play.
Related: 2023 NHL Draft Guide
From an organizational perspective, Vancouver needs to add high-end talent at the center position to their prospect pipeline. Currently, the only center prospect under 21 that projects to be an everyday NHL player is Aatu Räty, and there are questions on whether or not he will be a center moving forward. Drafting Moore would help not only make the Canucks' prospect pool deeper but provide them with a player who, there is little doubt, will play center at the NHL level.
Why the Canucks May Stay Away
While Moore has the potential to be a star at the NHL level, there are some questions as to how successful he is going to be at the NHL level. Yes, he is fast, but will he be able to create the same opportunities knowing he will be going up against players who can actually keep up with him? He has a high ceiling but needs to round out his game and become a better all-around player.
The other reason is the Canucks choosing to fix their defence core rather than their center depth with their first-round selection. This year's draft has some decent defenders available, like Axel Sandin Pellikka, David Reinbacher and Tom Willander, who may be available for selection at 11th overall. While Vancouver does need centers, they also desperately need to add young defenders who have a high chance of contributing at the NHL level.
Verdict on Moore
If Moore is available, selecting him would be a smart move by the Canucks. They have no one in their prospect system like him and may regret passing on him in the future. If developed properly, this is a prospect that could be a top-six center in Vancouver for a long time. If he falls outside the top 10, Vancouver should consider drafting him with the 11th overall selection.
---
---