Okay, so there was a previous Final Edition of Canucks Corner that ended long before the 2014 Stanley Cup Playoffs started. It seemed like eons ago that the Canucks management was headed by some incapable personnel that some critics would say have overstayed their welcome in Vancouver, including perhaps one person who should never have been hired in the first place. Whether you pick Mike Gillis or John Tortorella or both for putting the Canucks in this predicament, that will be put into the history books to be talked about for another day.
This Final Final Edition will delve into what the Canucks should learn from their shortcomings this season. Before 2013-14 began no one gave Vancouver a chance to be Stanley Cup contenders in the strong Western Conference. While Anaheim, Chicago, Los Angeles, San Jose and St, Louis beefed up their rosters with different combinations of skilled players and capable management & coaching staff, the Canucks remained stagnant, having bungled some key trades that saw two veteran goaltenders leave Vancouver within two seasons, and dealing with a handful of veteran players unable to score or just wanting out.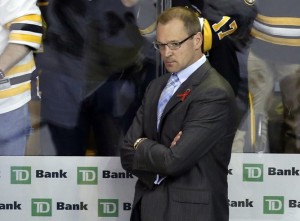 What's next for President Trevor Linden and GM Jim Benning? Well, getting the right coach is going to be key. After the LA Kings won their second Stanley Cup in three seasons, they may not have to go far to pick from their coaching staff. John Stevens has been pegged as a serious front runner for head coach in Vancouver. While experienced coaches Dan Bylsma, Adam Oates, and perhaps Todd McLellan may be available, there's also the possibility that minor leaguers Willy Desjardins from the Dallas Stars' farm team and Mike Johnston of the WHL's Portland Winterhawks may have a shot as well.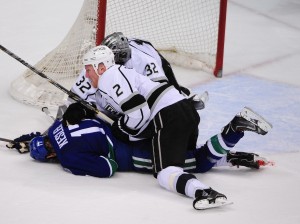 After a meeting with Benning, it remains clear that forward Ryan Kesler wants out of Vancouver. Compared with other available players like Jason Spezza and Joe Thornton, Kesler is the better trade-able draw. He could go to either Anaheim, Pittsburgh or Philadelphia. What Benning should do is get as much as he can from the other teams seriously seeking his talents.
What about Kesler's teammates? Like it or not, Henrik and Daniel Sedin will be around for a little while longer. They're already legends in Vancouver but it is clear now that they're well past their primes. Unless, another club is serious about acquiring those two, the Sedins appear to finish their entire careers with the Canucks, and so they should. Alexander Edler's not available but again that may change if there's a right offer out there. That leaves others like Alex Burrows, David Booth and Jannick Hansen vulnerable for trade-away or even waivers.
And what about free agency? Take your pick, but Benning will have to be cautious about which free agent could be the best fit for him. It was great to see Marian Gaborik (finally) win a Stanley Cup with the Kings. Being the kind of player & reputation he brings, he could be better suited to stick with LA. Tomas Vanek? He did well helping the Montreal Canadiens get far to the Eastern Conference Final but ran out of gas. Paul Stastny or Ryan Callahan could be interesting, but other clubs with deep pockets will want to go after them. Marty Brodeur? Justifiable compensation for losing Cory Schneider perhaps! But would the future Hall of Famer want to leave New Jersey?
So Benning will have his work cut out for him all summer. What will he do with the sixth overall draft pick? Pick someone for the long term, or trade it off for an immediate quick fix? Hard to tell when it's hard to figure out what kind of team Linden & Benning are envisioning.
PS1> Only one former Canuck remains standing. Congratulations to Port McNeill's Willie Mitchell on winning his second Stanley Cup with the Kings.
PS2> Alain Vigneault is now 0-2 postseason against Darryl Sutter. Better luck next time, if there is going to be a next time. With the exception of Mike Keenan, Marc Crawford and John Tortorella, no other Vancouver Canucks coach has ever won the Stanley Cup. Mike, Marc and Torts were brought in after winning it in New York, Denver and Tampa respectively but they couldn't duplicate their success on the West Coast. Lesson for Benning: Maybe don't hire Bylsma.
Vigneault has the unfortunate distinction of being the second coach in Canucks history to lose the Stanley Cup Final with two different teams (Vancouver 2011 and New York 2014.) The other guy? Pat Quinn in 1980 with the Philadelphia Flyers and 1994 with the Canucks. Both coaches also have the unique distinction of coaching the season's top club (Philly 1980, Vancouver 2011) to the Final.