With the Los Angeles' Kings hard work having earned them their second Stanley Cup in three years, they get to some well-deserved time off.   Not so for long-time Stanley Cup engraver Louise St. Jacques. With the Kings' victory, it's time for her to get to work.
Cup Requirements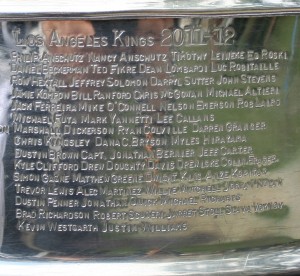 Not everyone who pulled on a black-and-silver jersey gets to make it to the Cup.  There's a maximum of 52 names that can be etched into its' sterling silver surface.
Players must have played in at least 41 regular season games or one game in the Stanley Cup Final to automatically have their names emblazoned on the Cup.  The Kings will need to petition the league for inclusion of any others.
In 2012, we saw Kings players Davis Drewiske and Kevin Westgarth fall short of the requirements. The Kings succesfully petitioned the league to get their names included on the Cup. Not so lucky were Trent Hunter, Scott Parse, and Andrei Loktionov.
Making the Cup
Seventeen returning players from that 2012 Stanley Cup Championship team already have their names on the Cup.  In order of their appearance, they are: Dustin Brown, Jeff Carter, Kyle Clifford, Drew Doughty, Colin Fraser, Matt Greene, Dwight King, Anze Kopitar, Trevor Lewis, Alec Martinez, Willie Mitchell, Jordan Nolan, Jonathan Quick, Mike Richards, Jarret Stoll, Slava Voynov, and Justin Williams.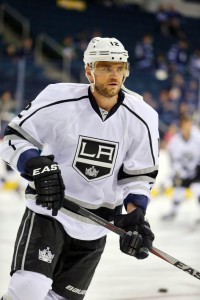 Six players will be making their first appearance on Lord Stanley's chalice.  First-timers include Marian Gaborik, Martin Jones, Jake Muzzin, Tanner Pearson, Robyn Regehr, and Tyler Toffoli.
Despite not seeing any Stanley Cup Final action, Regehr (79 games) and Nolan (64 games) saw enough time to guarantee their place on the Cup.
Players Who've Got a Shot
Some other current players suited up for the team, but didn't qualify to have their names immortalized in the chalice's silver bands:
Colin Fraser
Regular Season: 33 gp, 0g, 2a, 2pts. Playoffs: 0 gp, 0g, 0a, 0pts.
Fraser already has name on the Cup twice – once with the Blackhawks, once with the Kings.  He's got a shot at making it this year.  Fraser suited up for 33 of the Kings' first 59 games, posting just two assists. Prior to the Olympic break, he was sent down to the AHL where he scored three goals and three assists in ten games with the Manchester Monarchs.  While in Manchester, Fraser suffered a broken hand blocking a shot, which sidelined him for nearly two months.
 "Being sent to the minors, I can say I had a lot of fun down there," said Fraser. "It was nice to play a regular shift and play on the power play and just kind of have a bigger role. I certainly want to make it back to the NHL going forward and I want to play as long as I can."
He didn't see any action in the Monarchs' four-game playoff loss to the Norfolk Admirals, and he likely won't see any icetime in the Cup Final.  Based on his injury and the percentage of games he'd played (55% at time he was sent down), the NHL may be open to having him included on the Stanley Cup
Players Who'll Likely Miss The Cut
Jeff Schultz
Regular Season: 0 gp, 0g, 0a, 0pts. Playoffs: 7 gp, 0g, 0a, 0pts.
After spending seven season with the Washington Capitals, defenseman Jeff Schultz was signed to a one-year deal with the Kings as insurance.  Fortunately for the Kings, their blueline was healthy. Unfortunately for Schultz, that meand he saw no NHL action in the regular season.  They sent him down to Manchester, where he managed two goals and 11 assists in 67 games.
Injuries to Willie Mitchell and Robyn Regehr helped him find his way into seven playoff games.  Schultz filled in admirably for Mitchell in Games 2-7 againt the Ducks and took Matt Greene's spot in the Kings' Game 1 loss to the Chicago Blackhawks.  "I'm sure when those two guys went down, a lot of people were counting us out," Schultz said via NHL.com. "[Drew Doughty] and [Jake Muzzin] really stepped up, and then as a whole everyone knew we were going to be focused on and I thought everyone on the back end did a great job coming together. The forwards picked up some of the load too."  With Mitchell and Greene both back in the lineup for Game 2 against the Blackhawks, Schultz once again found himself a healthy scratch.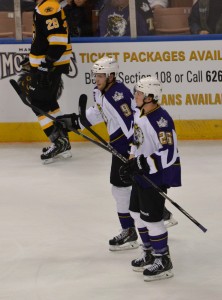 Despite his lack of playing time, Schultz has remained positive.  "It's a good feeling knowing that you helped contribute to get the team where we are today. It's a good feeling, and hopefully it caught someone's eye and there is something for me next year," said Schultz. "I never thought I would be sitting here and skating guys during the Stanley Cup Final. It's something to always remember. You definitely think, 'Will this be the only time I ever get here?' So I've definitely been trying to soak it all in and enjoy it while I can."
Linden Vey
Regular Season: 18 gp, 0g, 5a, 5pts. Playoffs: 0 gp, 0g, 0a, 0pts.
Vey spent the majority of the season in the AHL, though he was called up for a few stints with the big club.  In 18 games with the Kings, Vey assisted on five goals, scoring none of his own.  He did better with the Monarchs, scoring at over a point-per-game pace. In 43 games with the club, he racked up 14 goals and 34 assists for 48 points. He also tacked on two assists in four playoff games.   Unfortunately for Vey, he'll likely be left off the list this time around.
Andrew Campbell
Regular Season: 3gp, 0g, 0a, 0pts. Playoffs: 0 gp, 0g, 0a, 0pts.
Defenseman Andrew Campbell spent the bulk of the season in Manchester.  He scored three goals and added 13 assists in 69 games.   He was held scoreless in his three NHL appearances. An NHL total of 38 minutes on ice won't get you on the cup, but it just might get you a ring from the team.