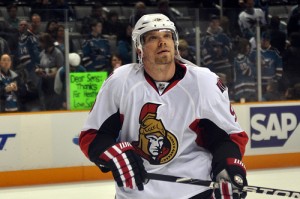 With it being clear that the Ottawa Senators are moving towards a rebuild with younger payers, and the pending Jason Spezza trade, should Bryan Murray resign Milan Michalek?
In five seasons with the Senators he has 96 goals and 84 assists in 314 games with a minus 37 rating. That is an average of 63 games, 19 goals and 17 assists or 0.57 points per game. During much of that time he played alongside elite players in Jason Spezza and Daniel Alfredsson.
Over the past three seasons his top line mates with the Ottawa Senators were Jason Spezza, Kyle Turris, Mika Zibanejad, Daniel Alfredsson, Marc Methot and Erik Karlsson.
Clearly a lack of quality running mates has not been an issue for Michalek during his last three seasons in Ottawa. Although a large concern is the drop off in his point production in the past three seasons.
Drop in production
He went from 0.77 points per game and 0.45 goals per game in 2011-12, to 0.61 points per game and 0.17 goals per game in 2012-13, and then finally down to 0.48 points per game and 0.21 goals per game this past season.
This drop off in production with quality line mates and the fact that he will be 30 in December of this year indicate this trend is likely to either level off or continue. This past season he was paid $6 million however his cap hit was $4.33 million, while he can provide value I believe Bryan Murray would only resign him at a discounted rate.
His career average shooting percentage is 12.2%, however was only 6.9% in 2012-13 and 10.1% last season. That is down from a career high of 16.5% in 2011-12. There are a couple of interesting factors when it comes to his shooting.
Numbers to be wary of
When looking at his average shot distance the past three seasons it is alarming to see it slowing moving higher. It has moved from 26.7 feet in 2011-12 to 29.4 feet this past season. For reference that is the difference between shooting from the high slot area to near the top of the face off circles. A definite change in the quality of shots he is putting on net.
The second number of interest is his shooting percentage broken down by shot type. During his 35 goal season in 2011-12 he scored on 21.6% of his snap shots, while taking 37 snap shots.
This past season he only used the snap shot 17 times and had no goals with it. This could be an indication that his hands are "aging" to the point where this release is no longer beating goalies with it's quickness.
He has also consistently been well above 50% in terms of icings drawn as opposed to icings taken while he is on the ice. This past year that number declined to 42.9%, which means that the Senators took an icing call 76 times while Milan Michalek was on the ice, as opposed to the other team taking only 57 icing calls.
This indicates that the opposing team in general sustaining more pressure in the Senators defensive zone when Milan Michalek in on the ice. This can be supported by the amount of goals he was on ice for and against the Senators. His goals for percentage were -10% relative to his teammates at 41.9% this past season.
Possession without scoring
All these numbers combined with the fact that Milan Michalek was the only top six forward to have less than 50% controlled offensive zone entries at five on five play.
As discussed previously in this article when crossing the offensive blue line with possession players are getting shots around 74% of the time and spending just over 10 seconds in the offensive zone.
While players that dump the puck in get shots around 26% of the time, although they spend roughly the same amount of time in the offensive zone.
To those that value CORSI Milan Michalek has been a consistently good CORSI rating over the past three seasons (52.7%, 56.1% and 51.9%).
However possession without scoring chances does nothing more than result in a draw between teams. It keeps the opposition from scoring but it does not help your own team score enough.
These players should be on the bench in offensive situations. The Dallas Stars were much obliged to help Milan Michalek with that this season.
Where does he fit?
To my eye Milan Michalek could settle in very nicely to a valuable third line role where he could drive possession and provide secondary scoring. Will that chance come with the Ottawa Senators next season. I do not believe he will be retained by the team.
The  Senators will most likely let Milan Michalek leave as a free agent and fill his current top six role with a player that better suits it at this point in their career.If there is interest Bryan Murray may be able to trade his negotiating right to get a marginal asset in return. Potentially a fifth round draft pick.
While Milan Michalek has been one of the faces of the last half decade in Senators history it is time for both sides to move on to new horizons.
Covering the Florida Panthers for The Hockey Writers. Women's Hockey news and statistics for Outlook Hockey.