Washington Capitals defenseman Mike Green is one of the best offensive puck movers in the game of hockey. He's an under-appreciated asset mostly due to his tenure in Washington and the lack of support on the blue line in the nation's capital, giving the picture that the Capitals' defense is incongruent and inept as a whole unit. Green has one year left on his three year deal heading into the 2014-15 season and could be dealt prior to or during the NHL draft in Philadelphia, he shouldn't be and it shouldn't even be considered baring a sizable return with value both in the short-term and long-term.
"I can see the Tampa Bay Lightning, who are badly in need of a puck-mover, taking a shot at him," wrote the Edmonton Journal's Jim Matheson. "Maybe Florida, which has salary-cap room, or even the Detroit Red Wings, who do not have any right-handed shooting D-men. The Philadelphia Flyers certainly need an offensive defenceman, too, although would Washington trade with a division rival?"
[Related: Mike Green, Enigma or Misused?]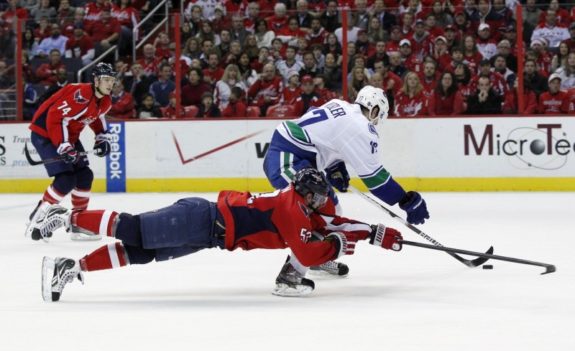 The 28 year defenseman is one of the top quarterbacks in the league on the power play, helping Washington continually sit in the top five on the man advantage year in and year out. Former Washington bench boss Adam Oates decided to limit Green's minutes on the penalty kill which was a smart decision. Green isn't a strong defender, but controls the play when he's on the ice and provides sustained offensive pressure which every team wants and needs.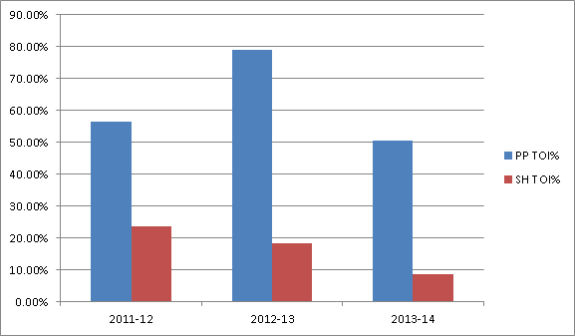 Green was healthy this past season for the first time since the 2009-10 campaign, where he was once in the running for the Norris trophy, awarded to the top blue liner in the NHL each year. He found success during even strength play as well, finally finding a strong partner that compliments his game in Russian born defender Dmitry Orlov.
The duo has played 606:05 together during even strength play according to Hockey Analysis, producing an amazing 54.5 corsi-for percentage while on the ice. Through the 2011-14 seasons, Green only totaled a 49.8 corsi percentage when Orlov wasn't on the ice with him.
In terms of his comparison to other players in driving the play, Green is up there and it's not an accident. He's a strong skater for his age and who can start still the breakout effectively during five-on-five play. Along with that skill, Green strengths include keeping the puck in the offensive zone, especially near the blue line. His defensive positioning and puck retrieval are not a strong part of his game and whether Barry Trotz can help improve that is an unanswered question, but the Capitals are better with him than without him.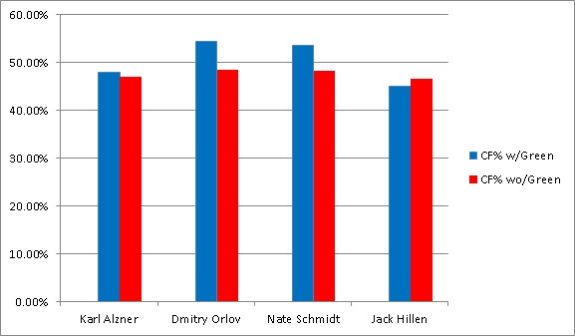 When the score was tied during five-on-five play this season, Green was on the ice for 400 shots for and 385 against according to Extra Skater. His corsi-for percentage is also strong in that situation as well, at 52.4%, 42nd in comparison to all defensemen that played at least 62 games this past season. That statistic ranked Green higher than defensemen Dan Boyle, Seth Jones,  Olli Maata, Jared Spurgeon, Dan Girardi and Ryan McDonagh.
While Green is an experienced veteran, he's still just at the ripe age of 28. Although he's experienced injuries that kept him out a while in two of his past three seasons, Green should be re-signed if he can stay healthy and produce similarly to his 2013-14 season. The Capitals don't have many top four options on the blue line coming up from the minors with the exception of Madison Bowey (WHL-Kelowna Rockets) and potentially their first round pick from the draft if they choose a defenseman. Green might not be a number one defenseman anymore, but he's still a legit top four option.
His next deal could be similar to the one he holds now, a three year pact paying him around six million per season. With the salary cap set to rise over the next few seasons and beyond, Green is a solid player to have around and Washington can't afford to let him go.
Matthew Speck covers the Washington Capitals organization for The Hockey Writers. He provides coverage of both Washington at the NHL level and prospect related content. Matthew also covers local sports for the Lebanon Daily News in Central Pennsylvania. You can email him at mspeck21@yahoo.com with any questions or comments.