You know the stars of the 2014 Los Angeles Kings' Stanley Cup-winning turn: Justin Williams. Marian Gaborik. Anze Kopitar. Jeff Carter. Drew Doughty. Alec Martinez.
They will play on in our memories for years to come. But a championship crown is made up of more than just the jewels:
Jonathan Quick
Some, including yours truly, have knocked Quick down a peg because of his inconsistency over the last two regular seasons and this postseason. So it's fair, small sample size and all, to acknowledge his statistical superiority over consensus "best goalie in the world" Henrik Lundqvist in the Finals:

Of course, Lundqvist went out of his mind in Games Four and Five, but Quick staked LA to a 3-0 series lead by outplaying his counterpart earlier in the series, highlighted by a spectacular Game Three shutout.
And win or lose against the San Jose Sharks, one of the indelible moments from this playoff run was Quick exhorting his teammates as they were being routed 7-2 in Game Two:
Jake Muzzin
Despite Los Angeles's league-leading defense, some pundits thought Doughty needed a better partner. While I liked Muzzin, I was one of them (I once suggested a Tyler Toffoli for Dan Girardi swap on Twitter). Notably, he was protected from shorthanded minutes in the regular season:

Like many, I was also concerned with his skittishness in last year's postseason. But when Willie Mitchell and Robyn Regehr went down, somebody had to step up. Muzz did:

The LA PK wasn't necessarily as good as final results indicated—as you can see by the 4v5 shot volume allowed and where it would've ranked in the regular season. Did anybody feel secure when they were out there?

(Corsi Against/60 mins measures blocked + unblocked shot attempts against when a player or team is on the ice per 60 minutes of ice time. Fenwick Against/60 mins measures unblocked shot attempts against when a player or team is on the ice per 60 minutes of ice time.)
But Muzzin has proven that he's a more than adequate partner for one of the league's best defensemen—and proven this kid a genius!
Anyone remember that kid from Stadium Series gm who said Muzzin was his fav player? I laughed, but that kid's going to #LAKings GM in 20 yrs

— Sheng Peng (@Sheng_Peng) June 14, 2014
How about an extension, Deano?
Slava Voynov & Willie Mitchell
Much maligned, especially Voynov, it should be noted that the pair had the toughest zone starts on the team: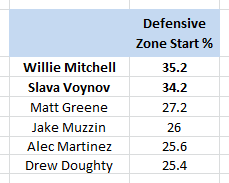 (Defensive Zone Start % is calculated by taking the number of player's defensive zone faceoffs taken divided by his total number of faceoffs taken.)
Voynov's play did improve when he wasn't saddled with Regehr or Jeff Schultz. And his Corsi Relative to Quality of Competition was actually pretty good: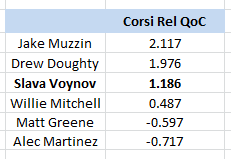 (Corsi Relative Quality of Competition compares 5v5 Even Strength all shots attempted versus shots against when a player is on the ice, relative to teammates and opposition.)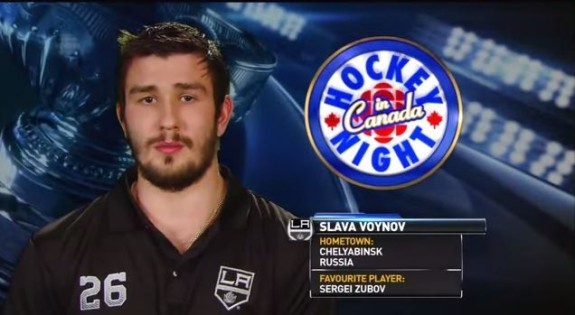 Matt Greene
While I think Greene is virtually the same player he's always been, judging by Time on Ice per Game, the coaching staff seemed to disagree:
Of course, Greene deserves a lot of credit for stepping up when Mitchell and Regehr were banged up; he was a luxury spare defender that management should be commended for keeping around. Also, let's not forget it was his shot that deflected off of Dwight King in that pivotal, controversial Game Two against New York.
Tyler Toffoli & Tanner Pearson
While Toffoli and Pearson's offensive contributions are well documented here, Darryl Sutter still managed their minutes throughout the playoffs. Essentially, Sutter avoided using Toffoli for defensive zone starts, while Pearson gained more trust: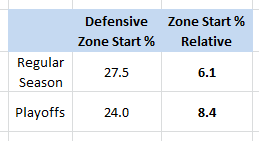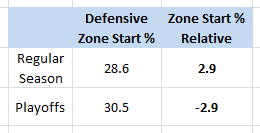 (A positive Zone Start % Relative number means softer defensive minutes relative to the team; a negative means tougher minutes. Zone Start % Relative to team's Zone Start % with player not on ice.)
Not to take away from either youngster's emergence, but it's just a reminder that they're still kids. But perhaps, like Muzzin, they just need to be given more responsibility.
And here's a good time to chomp on more crow! Before Pearson's late-season rise, I compared him to Sebastian Collberg in terms of trade value (they were drafted two spots apart in 2012; I was referring to why Lombardi chose Gaborik over Thomas Vanek).
I also felt queasy about having rookies surround a Carter-led second line in the postseason spotlight. A lot of credit goes to the coach for putting That 70's Line in a position to succeed!
All the Kings' Men
There's Dustin Brown's OT goal in the game Los Angeles should've lost to the Rangers.
Jarret Stoll's playoff team-leading Defensive Zone Starts among forwards (34.2%).
King and a 2014 Game Two make-up for McSorley's stick (Kings also won three OTs in the Finals after losing three in '93).
Mike Richards silencing the Garden; Trevor Lewis silencing Mrs. Selanne.
Kyle Clifford channeling Adam Deadmarsh in the Cup-clincher.
Regehr with a team-leading 7.2 SH TOI in Game Seven against the Sharks; Schultz with a team-leading 5.2 SH TOI in Game Six versus the Anaheim Ducks.
Even Jordan Nolan contributed gorgeous hair. And Martin Jones was an inspiration from behind bars:
Poor Martin Jones pic.twitter.com/iYZEHZaO7Z

— Sheng Peng (@Sheng_Peng) May 22, 2014
What can a Kings fan say, but…
Odds & Ends
Coaches, keep reminding Kopitar to shoot! After averaging 2.44 shots/game in the regular season, the two-way marvel dropped to 1.77 shots/game in the playoffs, which helps to explain one goal in his last 19 playoff games.
When Williams's contract is up after next year, Lombardi might want to take note of his off-the-charts PDO this postseason:
(Individually, PDO is the combination of a player's even strength shooting percentage and the team's even strength save percentage when he's on the ice. The numbers should add up to roughly 100. So if "a player has a PDO of over [102] and producing well or playing with a PDO of below [98] and struggling, there's a large, large chance that the struggles or the production is unsustainable, and it will normalize over the next handful of games.")
LA is the first Stanley Cup-winning squad that endured three four-game or more pointless streaks in a season. They're among three champions that suffered two four-game or more pointless streaks in a season (1986 Montreal Canadiens, 1938 Chicago Blackhawks). And they're among nine Cup winners which went through a five-game or more pointless streak (2012 Los Angeles Kings, 2009 Pittsburgh Penguins, 1986 Montreal Canadiens, 1984 Edmonton Oilers, 1967 Toronto Maple Leafs, 1965 Montreal Canadiens, 1938 Chicago Blackhawks, 1921 Ottawa Senators).