The Los Angeles Kings have gone 4-12 in Matt Greene's last 16 appearances.
He's taken 11 minor penalties in that time. As Bob Miller has been so fond of repeating, the veteran's been a healthy scratch in 16 of LA's last 19 games (they've gone 13-3 without him). Clocking in at a $2.95 million cap hit, he's the league's most expensive seventh defenseman.
But Matt Greene is the same player he always was.
Sure, I've read the criticism. What's faster: Paint drying, grass growing, or Greene skating? I've watched the games, and honestly, I don't see a difference: He's always been slow.
Short of timing Greener with a stopwatch, let's discuss his skating in another context: Is he covering the same defensive ground as before? While hockey sabermetrics lacks baseball's Range Runs, which demonstrates if fielders "get to more balls than average or not," perhaps possession metrics (as of 4/6/14) will be insightful.
I'm ignoring Greene's 2012-13 because the sample size was too small.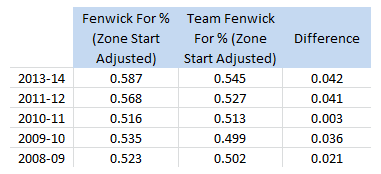 (Fenwick For % compares 5v5 Even Strength unblocked shots attempted versus shots against when a player is on the ice. Generally, better than 50% is good; it means you have the puck more than your opponents.)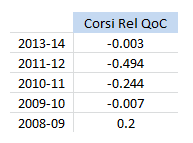 (Corsi Relative Quality of Competition compares 5v5 Even Strength all shots attempted versus shots against when a player is on the ice, relative to teammates and opposition.)
Looks about the same. So perhaps his regular defensive partners are covering for him this season?
(Corsi For % compares 5v5 Even Strength all shots attempted versus shots against when a player is on the ice. Generally, better than 50% is good; it means you have the puck more than your opponents.)
Nope. Muzzin and Martinez aren't hurt by him, while pairing a slow Mitchell with a slower Greene was a bad idea to start. For what it's worth, he has been receiving more offensive zone starts: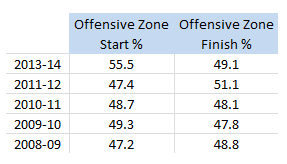 But all said, his possession numbers look fine. These stats, of course, don't measure his footspeed or agility; nonetheless, he appears as effective as ever.
Moving on to the next common complaint: Greene takes too many penalties. As noted, he's been slapped with many minor infractions recently. So how does this recent crime spree compare with his usual skullduggery?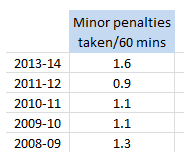 This is somewhat worse, but not alarmingly so for the rough-and-tumble defender. Let's take a closer look: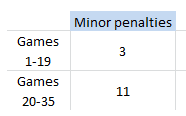 Greene is clearly not the bookish presence of Games 1-19 (projecting to 26 minor PIMS/82 GP), but nothing really explains the "Hulk smash" transformation over his last 16 appearances (projecting to 114 minor PIMS/82 GP). Some poor play? You bet. Bad luck? Quite possible. But the overall numbers aren't the mark of a stay-at-home defenseman who's lost it.
So how about penalty killing? Greener's supposed to be good at that. And Los Angeles's 4v5 short handed play, despite a decent PK ranking—buoyed by Ben Scrivens's .923 PK Save % as a King—has been below-average for Fenwick Against/60 (18th in the NHL). So how does the defender fare against the rest of his team?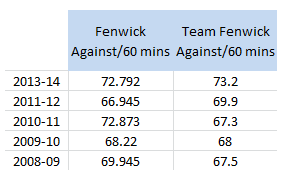 (Fenwick Against/60 mins measures unblocked shots against when a player is on the ice per 60 minutes of ice time.)
Again, there isn't an appreciable difference to see here.
Finally, and I think everyone agrees on this: Greene's as physical as ever. Even in limited playing time this year, he's continued his streak from 2008-09 of ranking first or second on the team in Hits per Game.
So why has a perennial NHL regular become a seventh defenseman?
If Matt Greene is roughly the same player, why is he playing much less?
M&M's.
Simply, Martinez and Muzzin's stronger all-around play has pushed Greene out of a nightly job. While LA's current top-four may not be better than 2012's Cup winner, 2014 Martinez and Muzzin have been an upgrade over 2012 Martinez and Greene.
So instead of focusing on Greene's negatives, let's shine a spotlight on his positives: He's still a championship-level defender, who would be a regular on almost any other team in the league. In case of playoff injury, can you think of a more reliable seventh defenseman? He's a luxury for a management team who should be commended for being able to afford it.
I haven't even touched on the assistant captain's famous intangibles. He's a winner, who's proven worthy of his leadership mantle by not bucking at his diminished ice time: "Guys who are in the lineup are there for a reason. They're winning games, and they're playing well. First and foremost, I'm part of this team. I want to see us win, and we're doing that right now, so it's good times."
The free agent to-be has also dismissed questions about his future with an "eyes on the prize" approach: "[It's] something that we can handle at the end of the year. Right now I'm strictly worried about the season and winning games and trying to get to another Cup."
And of course, you may have been horrified by recent footage of Greene battling on a bloody skate without a care in the world:
He finished the game and commented, "It's just a pressure cut. It's fine. It happens."
Matt Greene ain't got time to bleed. Matt Greene ain't got time to complain. He's only got time to win.