What an ugly week it was for the Vancouver Canucks.
Why does Vancouver travel to the dreaded State of California twice in January, within the first two and half weeks? Who drew up this lopsided schedule anyway?
On the latest California road trip, the Canucks were once again blanked in Los Angeles & Anaheim. The Canucks lost by a combined score of 10-1. The 1-0 loss against LA was considered by the Canucks as a "moral victory." But it was still a loss…And the 9-1 embarrassment at the hands of the top team in the NHL lately should be enough for the Canucks to realize this:
The Canucks simply can't compete like they used to.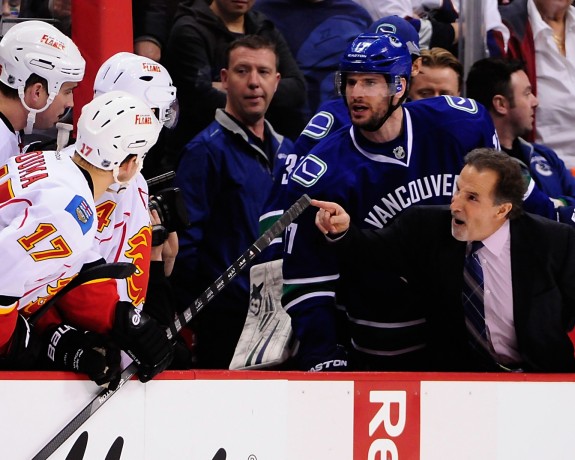 Canucks Can't Beef Up, Can't Score
Since 2011, the Canucks should have realized that almost every Western team have beefed up their rosters to be as competitive, if not better, than the 2011 Canucks core. One way that they've done that was to get some rough & tumble 2nd and 3rd liners that may not score, but could intimidate their opponents top scorers. After the Bruins beat down the Sedin Twins in the Cup Final thanks to the likes of  Milan Lucic, Greg Campbell and Brad Marchand, other Western teams started stacking up their rosters similar to Boston's championship traits. The Kings who traded for grinders Mike Richards and Jeff Carter easily defeated the Canucks handily in the 2012 playoff first round.
[Keep FanXChange in mind for your Canucks Tickets needs]
Other Western teams were able to beat Vancouver was by getting proven secondary scoring via smart drafting and trades. Case in point, the San Jose Sharks developed key young players such as Logan Couture and Tomas Hertl that could outscore their static Canuck opponents. Another case in point, Anaheim also brought in good developing talent like Nick Bonino, Cam Fowler or Daniel Winnik to compliment veterans Corey Perry and Ryan Getzlaf with secondary scoring. On top of that, Ducks GM Bob Murray gave former Oilers Andrew Cogliano and Dustin Penner (an original Ducks draft) a great opportunity to bolster the Anaheim offense.
The Last Straw?
Saturday night's late game against the Calgary Flames had everything: hatred, intimidation, physicality, and above all else, goonery. Flames coach Bob Hartley saw fit to put his fourth line goon squad to start the game, forcing Torts' hand. As a result of the full line brawl, eight players were ejected, shortening the benches. Was this Flames President Brian Burke's idea to introduce "truculence" to Calgary? Whatever the case may have been, it didn't sit well with Torts.
As a result of the first period antics, Tortorella has an in-person meeting with the NHL disciplinarians. While he said he was only trying to defend his team and criticize , many pundits and social media bloggers have been critical of him.
Sidney Crosby named captain of Canada's Olympic team. John Tortorella named head bouncer for Team U.S.A.

— Adam Proteau (@Proteautype) January 19, 2014
John Tortorella deserves suspension over outburst – The Desert Sun http://t.co/A0f6yFzGfv

— dead__last (@dead__last) January 19, 2014p
What's Next?
After the Canucks' tough win over Calgary (they won by the skin of their teeth via shootout), when can fans expect a turnaround to the Canucks' mediocre season thus far? They may have to keep looking. With the way things stand now, the Canucks still don't have the right personnel to compete against the favorites that sit high above them in the Western Conference.
What should the Canucks do to get themselves out of this hole? Moving or acquiring players that could provide some toughness and secondary scoring would be nice for starters. If they can't, then they'll need a new general manager that could do that. Tortorella is running out of options with the lack of storing and mental toughness he needs to grind against teams like LA, Anaheim or Chicago. Should Torts be suspended, then without him on the bench the Canucks will be in a much deeper hole to turn their season around without help from a coach that will do all that he can to protect his team.