Slowly the Vancouver Canucks are getting healthier up front, which will lead to some interesting roster decisions in the coming weeks. Brock Boeser's return to Vancouver's lineup Tuesday night was just the start of a trend of good news for Canucks forwards recovering from injuries.
Boeser's appearance in the 2-1 loss to the Los Angeles Kings was his first in 12 games and provided a much-needed boost to a club that has now lost nine of its past 10 games (1-7-2).
To make room for Boeser, the Canucks reassigned forward Reid Boucher to their AHL affiliate in Utica, N.Y. Boucher had 10 goals in 12 games for Utica before being recalled last week, but he went pointless in limited duty in his lone game Saturday night at Los Angeles.
It's no surprise a spare-part such as Boucher (currently in the last year of a $725,000 contract) didn't stick around, but some of Vancouver's depth forwards have to be wondering about their grip on roster spots.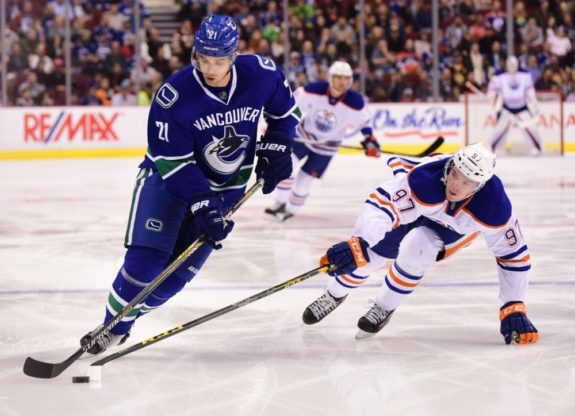 Center Jay Beagle, 33, is reportedly on schedule to return as early as Sunday and center Brandon Sutter is due back later in December. Sven Baertschi's slow recovery from his fifth concussion is a reason for concern, but he might be back in the new year.
"He's going to be a while," Canucks general manager Jim Benning told The Province (from "Canucks injuries: Baertschi to see a concussion specialist" 11/23/2018).
Beagle, an offseason free agent acquisition from the Stanley Cup champion Washington Capitals, has been out since he broke his arm Oct. 13 against Florida. To show what a team player Beagle is, he was hawking 50/50 tickets Tuesday night at Rogers Arena.
Sutter separated his shoulder Oct. 29 against Minnesota and was expected to be out of action for four to six weeks. That would put the 29-year-old center on track to return by the week of Dec. 10, but Benning indicated to The Province that Sutter might be delayed a bit in his recovery.
Just as Boeser's return brings hope for an offensive spark by reuniting with Elias Pettersson and Nikolay Goldobin, the return of Beagle and eventually Sutter significantly strengthens the team at center. Vancouver's weakness at faceoffs has been no secret as Bo Horvat has been pressed into extra duties on the dot.
If that rare occurrence finds the planets aligned and the Canucks get all of their forwards healthy at once, the more versatile and productive players will get to stay put. Those who can't find any chemistry with their linemates or slot into a specific role will soon be playing in Utica or elsewhere.
Changes Coming Soon to the Canucks Lineup
Here's a look at the Canucks forwards who are in danger of losing their NHL roster spots, in order of likely demotion: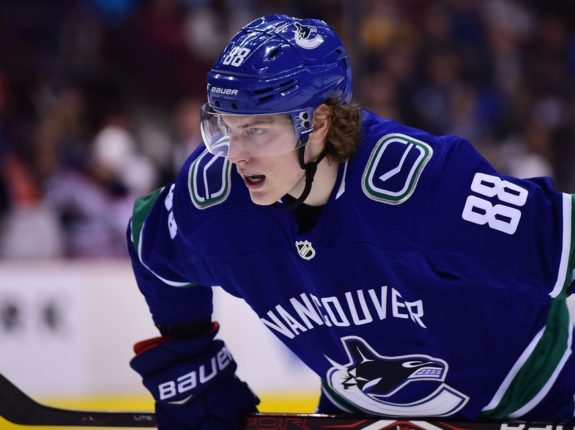 Adam Gaudette
The 22-year-old rookie center has made solid contributions with a goal, three assists and a minus-three rating since getting recalled from Utica early in the season, but the writing is on the wall after Tuesday's loss.
Gaudette had been averaging 11:13 in his first 20 games of the season and even had some second-team power-play deployment (38:29 through 20 games), but he was limited to just 3:52 in the loss to the Kings and was a minus-one.
Boeser's return pushed Gaudette down to the fourth line, so the 2018 Hobey Baker winner's prime ice time is drying up and it's not good for his development to be getting single digit minutes. He should go back down to Utica where he can get top-line minutes, work on his weaknesses and gain confidence.
In the second year of his entry-level contract, Gaudette is also the most logical candidate because he's exempt from waivers if he's sent down.
Brendan Leipsic
The 5-foot-10, 179-pound left-winger can be a decent bottom-six energy player, but his inconsistency has him on the bubble for remaining on the Canucks' 23-man roster.
Leipsic has two goals, five points and is a minus-seven in 16 games. He's also had 37:10 in power play time because of the rash of injuries, but he has notched just two assists with the man advantage.
In the last year of a contract that pays him $650,000 this season, another team might claim the 24-year-old on waivers if it needs a depth player. But after getting good opportunities through more than a quarter of this season, it's possible the results we've seen are the best anyone should expect out of Leipsic.
Sam Gagner
Gagner was a surprise cut after training camp, so it wouldn't be as shocking if he's dropped for a second time. In that event, the question will be: Has Gagner convinced another team that he's worth picking up what's remaining on his expensive contract (he's due to make $3.15 million this season and $3.15 million next season)?
Except for two avoidable minor penalties that led to power-play goals against in San Jose and Los Angeles, Gagner has served himself and the Canucks well with offensive creativity and a goal and an assist in five games since being recalled from the AHL's Toronto Marlies.
The 5-foot-11, 200-pounder brings different skills to the table than Beagle and Sutter, so he should be safe for at least a month as long as he keeps up his strong play. He'll need to continue to play with urgency and find a way to click with Horvat before head coach Travis Green finds someone else to play on the right side. If not, a third-line spot with less-skilled linemates will not provide Gagner with chances to succeed, ultimately leading to another departure that might be his last.
Tim Schaller
Schaller is the only Canucks forward on the current active roster who hasn't scored a goal this season. But what he does have is size (6-foot-2 and 219 pounds) and that gives him one advantage over some smaller Canucks forwards competing to stay in the bottom six.
After setting career highs with 12 goals and 22 points last season with Boston, Schaller hasn't produced the type of numbers the Canucks were hoping for when they gave him a two-year, $3.8 million contract in the offseason. Schaller, who plays on the penalty kill, has three assists and is a minus-3 in 23 games this season despite occasionally lining up with Horvat.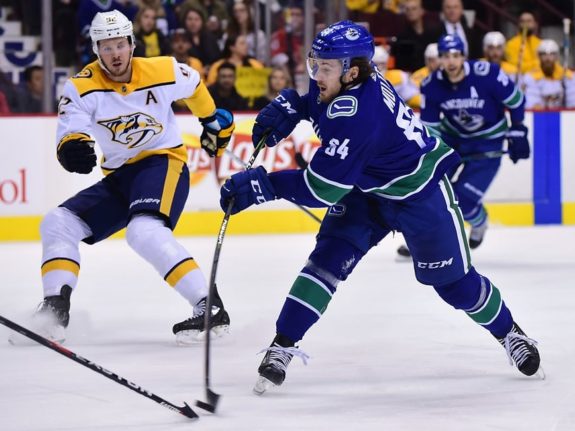 Tyler Motte
Motte doesn't have the offensive upside as Gaudette, Leipsic or Gagner, but his effectiveness as a penalty killer will be what keeps him on the Canucks' roster. Of the 5-foot-10, 192-pound forward's three goals this season, two were short-handed (one of them an empty-netter).
His 73:23 of time on the ice while short-handed is third on the team behind defenseman Chris Tanev and Markus Granlund. What makes that more significant is Vancouver's inability to stay out of the box. As of Wednesday, the Canucks led the NHL with 168:45 in penalty killing time, 13 minutes more than second-place Colorado.
Motte, who has six points and is a minus-5 in 25 games, is in the last year of a contract that pays him $925,000 this season. Cementing his role as a checker and a penalty killer who occasionally chips in some points will go a long way in giving Motte job security.