The Edmonton Oilers have built a healthy stable of prospects that could become solid NHL players. It's too early to predict when or how many of them will make it to the highest level, but the productiveness of their junior and minor pro prospects should have fans in Oil Country excited about the future.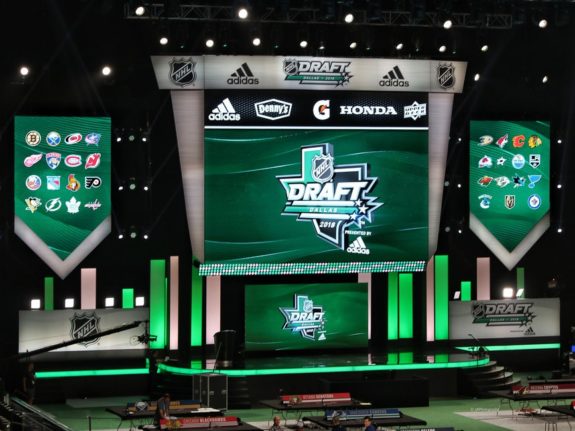 Related: Oilers 2018 NHL Draft Review
Looking specifically at the Oilers' 2018 draft haul, there's a real chance that Evan Bouchard and Ryan McLeod, selected in the first and second rounds respectively, could be on the main roster as early as next season. Bouchard earned a seven-game audition with the big club this season and McLeod was a late cut in camp. Olivier Rodrigue, who they traded up to take in the third round, could be the Oilers' goalie of the future, but he's years away from NHL work.
Evan Bouchard, RD
Drafted: 10th Overall, 2018 | Team: London Knights (OHL) | Stats: 9 GP – 4 G – 8 A – 12 PTS
Since the Oilers returned top prospect Evan Bouchard to the London Knights on Nov. 2, he has picked up right where he left off last season, dominating the OHL. Bouchard, who led the CHL in goals by a defenceman with 25 in 2017-18, rejoined a talented Knights squad that should contend for OHL and Memorial Cup titles this year. The 6-foot-3, 194-pound defenceman has recorded five multi-point games and a plus-16 rating to help the Knights stay undefeated at 9-0-0-0 with him in the lineup.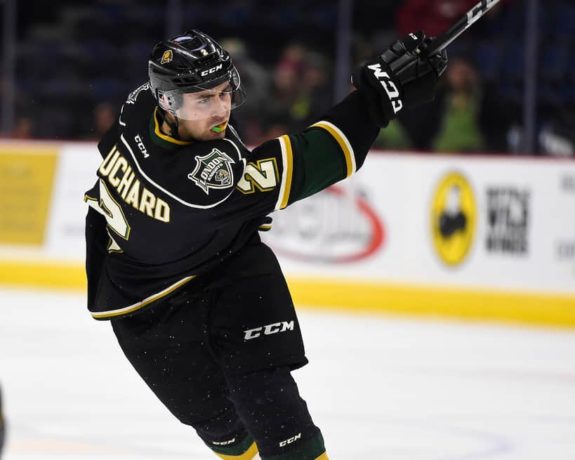 Bouchard recently played for Team OHL in the 2018 Canada-Russia Series, where he was arguably the most talented defender on the ice. The 19-year-old Oakville, Ontario native should be a lock to make Team Canada at the 2019 IIHF World Junior Championships and has the experience and leadership ability to wear a letter. I expect Bouchard will likely play a top pairing role for the host Canadians and see a ton of minutes on the power play, which will be great for his development. He would also be the first Oilers prospect to play for Canada at the World Juniors since Darnell Nurse in 2015.
Ryan McLeod, C
Drafted: 40th Overall, 2018 | Team: Mississauga Steelheads (OHL) | Stats: 21 GP – 6 G – 18 A – 24 PTS
Ryan McLeod, who stuck around longer than expected in his first NHL camp, has continued his strong play with the Mississauga Steelheads in the OHL. McLeod leads the team in assists and ranks third in points and has registered a point in 17 of the 21 games he's played in this season. There was some concern that McLeod would have to do a lot of heavy lifting offensively in Mississauga this season. However, he formed a dangerous duo with undrafted 20-year-old Cole Carter, who is having a career year.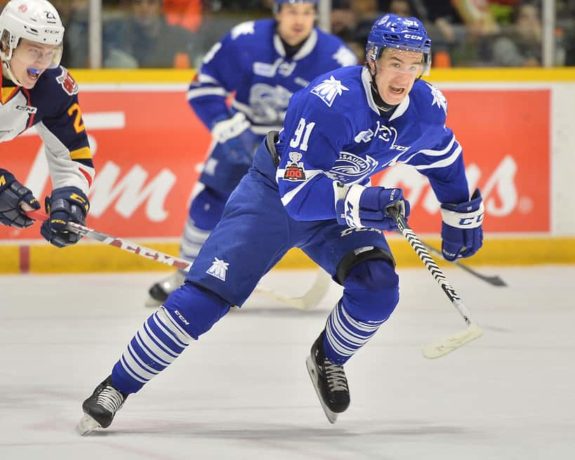 The 19-year-old Mississauga, Ontario native played for Team OHL in the 2018 Canada-Russia Series earlier this month, where he showcased his exceptional speed and passing skills to the Hockey Canada brass. Like Evan Bouchard, McLeod has a strong chance to play for Team Canada at the World Juniors in his final year of tournament eligibility.
Olivier Rodrigue, G
Drafted: 62nd Overall, 2018 | Team: Drummondville Voltigeurs (QMJHL) | Stats: 19 GP – 14 W – 2.30 GAA – .909 SV%
While some didn't love the selection of Olivier Rodrigue in this past summer's draft, because he's the son of Oilers development goalie consultant Sylvain Rodrigue, he merited his draft position. Rodrigue, the No. 1 ranked North American goalie in the draft per NHL Central Scouting, was tied for second in the QMJHL in wins (31) and fourth in goals-against average (2.54) as a 17-year-old with the Drummondville Voltigeurs in 2017-18.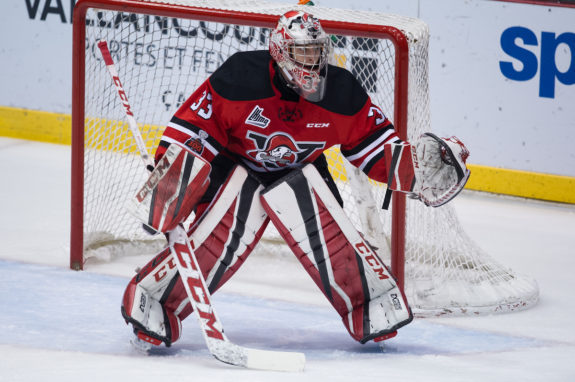 Related: Olivier Rodrigue – 2018 NHL Draft Prospect Profile
After an up-and-down start to this season, Rodrigue has won eight consecutive games and 11 of his last 12 with an outstanding 1.60 goals-against average. The 18-year-old Chicoutimi, Quebec native has an outside chance to be one of Canada's goalies at the World Juniors this year, but it's more likely he makes the 2020 squad instead.