At some point late last season, it seemed a no-brainer that the Calgary Flames would ship out TJ Brodie during the offseason. While Mark Giordano and Dougie Hamilton were having another stellar season as the team's top pairing defensemen, Brodie and Travis Hamonic were struggling. Things have changed quickly during the 2018-19 campaign.
Hamonic – for whom the Flames traded three draft picks – showed signs of improvement late in the 2017-18 season but Brodie did not, so it made more sense that the latter would be the one traded for a forward instead of more valuable investments such as Hamilton or Hamonic.
But by not trading Brodie, general manager Brad Treliving and the Flames were betting – against evidence – that he could be a top-pairing defenseman again. After a shaky start through the first 10 games of this season, Brodie has worked his way up and has played as such.
Glad You're Back, TJ
Analytics determine how a player is likely to succeed, or not, based on his production. Through 10 games, it definitely seemed that the Flames had lost the Dougie Hamilton trade as Brodie kept struggling, despite being paired with Giordano.
Head coach Bill Peters moved Brodie off the top pairing several times during the early stretch, as his on-ice totals on five-on-five were concerning. Looking solely at the percentage of high-danger chances generated while he was on the ice, Brodie's numbers went from 41.7 percent through the first 10 games to 48.52 percent after 25 matchups.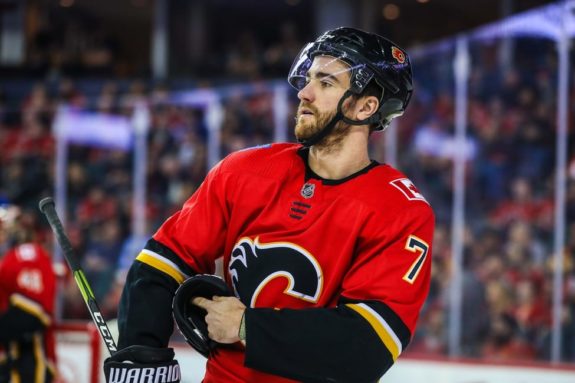 Likewise, his pace for allowing high danger chances decreased. Ten games into 2018-19, Brodie was accounted for 42 high-danger shots. Twenty-five games in, the number sits at 87.
Furthermore, he looks more confident. The defenseman is on his best stretch of the season, posting five points in four of the last five games (2 goals, 3 assists). More importantly, he has zeroed his miscues under pressure.
On Friday night against the Vegas Golden Knights, a good example. Brodie was seen jumping into the play multiple times while also hustling back to break up plays. Watch as he breaks up this two-on-one sequence. The Flames were shutout that evening, but he was their best player.
TJ Brodie with a great play to break up the 2-on-1 #Flames #CGYvsVGK pic.twitter.com/JForzGtJUG

— Sportsnet 960 (@Sportsnet960) November 24, 2018
Two days later, a shorthanded goal and an assist against the Arizona Coyotes tied him for the NHL lead in plus/minus with plus-16 (as of Nov. 26), better than the minus-16 he had in the previous two seasons.
When a Star Is Reborn
When Calgary had its worst home loss in 18 years – a 9-1 defeat to the Pittsburgh Penguins on Oct. 25 – no one got more heat than Brodie. Mike Smith is getting a lot of criticism for having a rough year between the pipes, but at that stage, 10 games in, some questioned if Smith's struggles were a consequence of the defense not doing him any favors. Brodie didn't deny his struggles.
"So far it hasn't been to my expectations so I've got to find a way to turn it around," Brodie told Sportsnet's Eric Francis following the 9-1 loss. "I think just simplifying, playing smart defensively, trying to shut the other teams down. When there are times to go you go, but don't force things."
Simplifying, playing smart defensively and shutting other teams down; that is exactly what he has been doing throughout the month of November. A few wondered if playing with Giordano was the explanation – as Gio has been undoubtedly Calgary's best defenseman for years and Brodie thrived when paired with the Flames captain in 2014-15 – but Brodie deserves credit for elevating his game, given the fact this year's reunion with Giordano did not start the way he planned.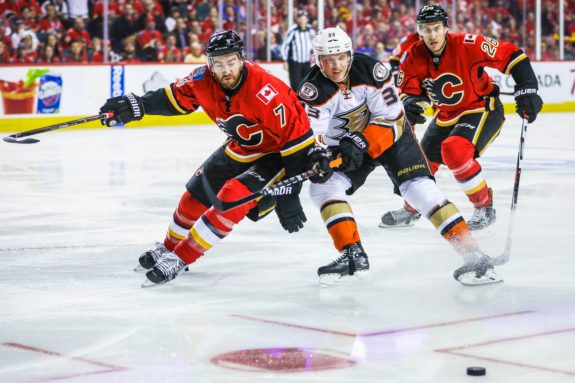 TJ Brodie's success is paramount for the development of the Flames. He is once again a top-pairing blue-liner and faces the opposition's toughest weapons. During this positive stretch, combined with solid goaltending from David Rittich, Calgary has made its way back to the top of the Pacific and as long as Brodie keeps playing at this level, the team is likely to stay there or at least close by.
*All stats came from Natural Stat Trick
Leonardo Coelho started writing about the Calgary Flames for The Hockey Writers in 2018. After a few years covering the UBC Thunderbirds for his alma mater, he has now joined THW to generate meaningful content for anyone willing to know more about the C of Red. And, before someone asks, he's not related to Paulo Coelho.