After weeks of speculation and seemingly every team having been interested in Bo Horvat, the Vancouver Canucks traded their captain to the New York Islanders in exchange for Anthony Beauvillier, Aatu Räty and a conditional 2023 first-round pick. This is not the first big trade between the two organizations, as it comes a week shy of the 25th-anniversary of the deal that sent Trevor Linden to the Islanders for Todd Bertuzzi, Bryan McCabe and a 1998 third-round pick that would turn into Jarkko Ruutu. Here is a look at what Canuck fans can expect from the 2023 blockbuster.
---
---
Anthony Beauvillier
Beauvillier is the player Canucks fans will get to see first as the 25-year-old joins the active roster. Drafted 28th overall in the 2015 NHL Entry Draft, the former Shawinigan Cataractes captain had 209 points in 457 games with the Islanders before making his way to the West Coast. In the playoffs is where he really shined, posting 29 points in 49 games and helping the Islanders to back-to-back Eastern Conference Finals.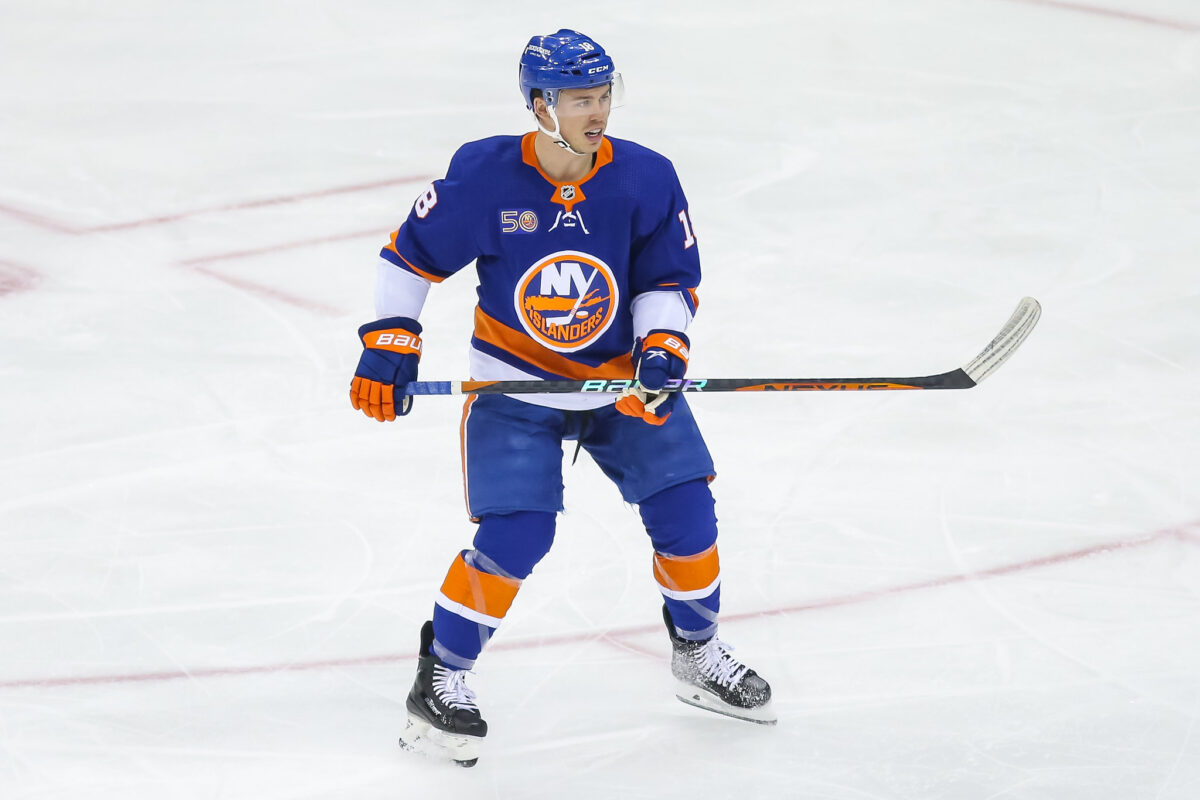 As for Beauvillier's scouting report, he is a speedy forward that can play center but is at his best on the left wing. He thrives in the offensive zone but does need to work on his overall defensive game. One impressive part of his season so far is that 18 of his 20 points have come at even strength. That places him seventh on the Canucks ahead of players like Conor Garland and J.T Miller, who both have more overall points than he does. While he isn't a top-line forward, he can play in the top-six and will hopefully be able to show off his offensive skill more in Vancouver, playing on a team with better offensive weapons.
Related: Islanders Need to Make a Decision on Beauvillier
---
Latest News & Highlights
---
The good news about Beauvillier is that the Canucks have options and aren't tied down to a long-term deal. He carries a $4.15 million cap hit for this season and next before becoming a free agent in the summer of 2024. This allows some flexibility for Vancouver, as they could flip him at next year's trade deadline if he has a decent start to the season. There is also the option that he could re-sign at the end of the 2023-24 season if he meshes well with the team as he does fit the age range that general manager Patrick Allvin and president of hockey operations Jim Rutherford want to build this team around. In the end, bringing in the former 2015 first-rounder is a low-risk, high-reward move and one fans should at least be intrigued by.
Aatu Räty
Arguably, the biggest part of this trade is the acquisition of Räty. Once looked at as a potential first-overall pick for the 2021 NHL Entry Draft, he fell all the way to 52nd overall due to inconsistent play during his draft year. There were also flaws to his game, specifically on the skating and awareness side, which saw him fall in the draft despite finishing third among international skaters on Central Scouting's final rankings.
Since his draft season, Räty has continued to work on his game and is showing why he was considered a top prospect back in 2021. While his skating still needs some work, his playmaking has improved, and he has adapted his game nicely to the North American ice surface. So far this season, he has played well and earned two call-ups from the American Hockey League (AHL). In total, he has played 12 games and scored two goals, including one against the Canucks on Jan. 3, 2023, at Rogers Arena. Despite playing further down the lineup, he hasn't been afraid to shoot the puck, recording 16 shots total and only failing to get a shot on goal in three of his games. He has also thrown 17 hits and won over 50 percent of his faceoffs. While it has only been 12 games, his play at the NHL level has looked promising, with a potential full-time spot looking likely for next season.
Related: Islanders' Raty & Dufour Can Join NHL Roster Soon
Räty will start his Canucks career in the AHL, which is not a bad thing. He will have the chance to play with Nils Höglander and Vasily Podkolzin, who are both expected to be back in the NHL next season. Playing him in Abbotsford also allows the 20-year-old to work on his game and learn the system away from the pressure and environment that follows the Canucks. As for his skating, this is something that Horvat went through when he was first drafted but with the right training and development, could be fixed with time. He is arguably now Vancouver's best prospect, so the team must ensure they do whatever it takes to develop him properly into the second-line center he has the potential to become.
2023 Conditional First-Round Pick
The conditions behind the first-round pick are simple. If the Islanders are slated to pick anywhere from first to 12th, they keep the pick, and the Canucks get an unprotected first-rounder in 2024. If the pick is 13th or higher, it transfers over to Vancouver. At the time of the trade, based on point percentage, the Islanders would hold the 13th pick which means it would be transferred over to Vancouver unless New York won the draft lottery.
The 2023 Draft is loaded with top-end talent throughout the first round. If Vancouver does get a second first-round pick, it will probably fall somewhere between 13-18. This is, of course, barring an unpredicted run to the Cup by the Islanders. Some of the prospects that could be available include Riley Heidt of the Prince Geroge Cougars, Samuel Honzek of the Vancouver Giants, Axel Sandin Pellikka of Skellefteå AIK and David Reinbacher of EHC Kloten. All four play a position of need for the Canucks, whether that be center or right-shot defence. In short, Vancouver is in a really good position to not only improve their prospect pool but add a difference-maker that could help turn the franchise around.
Canuck Fans Should Be Excited
In the end, the Canucks' got a good return for Horvat. All three pieces have the potential to make a positive impact on the franchise for years to come. While it will be tough to see the now-former Canucks captain in different colours, he can now go out and get the money he has earned while leaving a lasting legacy in Vancouver that won't soon be forgotten.