It's only been one day since the end of the shortened 2012-13 season in which the Vancouver Canucks' Western Conference nemesis, the Chicago Blackhawks, defeated the Canucks' much hated 2011 Eastern Conference opponent, the Boston Bruins, in very dramatic fashion. With only two minutes left in Game Six of the Cup Final, the Blackhawks pulled the most improbable ending against Boston, who now know how the Toronto Maple Leafs feel when they blew the third period against the same Bruins in the first round. Just to recap:
So what now for Vancouver?
If you haven't heard yet, John Tortorella who was fired by the New York Rangers in late May, has been hired as the new bench boss for the Canucks. The move has certainly struck a nerve/chord with Canuck fans. The hiring has become so controversial, that there are now two divided camps that follow two opposing beliefs:
Hiring John Tortorella was a big mistake
Some Canuck fans and haters alike are having a field day with this hiring. Many feel that adding a fiery coach to an underachieving club smells of Mike Gillis' final desperation. Some questions will certainly come up from this hiring:
Will the players buy into Coach Torts' system? Will he make the players play a more defensive style and start blocking shots? Will Torts strip the Henrik Sedin of the captaincy and give it to his fellow American Ryan Kesler, when he's really healthy? Will Torts' "baggage" as he calls it carry over from his fiery relationship with the New York and Tampa sports media? Will that same "baggage" carry over towards the Canuck team who saw how Marian Gaborik, Brad Richards and Henrik Lunqvist were treated? How will the Vancouver media deal with him who has promised that he's changing his ways? Only time will tell…
But already there have been some curt responses to his hiring via social media.
I wonder how soon before the #Canucks players start crying when Torts yells at them?

— Mr.️X (@DeeMented2) June 26, 2013
— TORTORELLA'S COIN (@TORTsCOIN) June 23, 2013
Here's how TSN interpreted the hiring:
As the naysayers go, you do the math:
Fiery Coach (w/ fiery reputation) + underachieving, unmotivated roster = recipe for disaster + Gillis gone
Hiring John Tortorella could be what the Canucks need
At the press conference on June 25, he appeared "unlike" himself. Torts wasn't short, lippy, or predictably abrasive. Rather, he was honest with his own self assessment after his firing from New York. He admits he made mistakes and looks to "cultivate" a relationship with Vancouver players, fans and the media. He even called coaching in Canada one of his dream jobs. Let's hope he knows what he's getting into, having been hired in Canada's third hockey hotbed behind Toronto and Montreal. Unlike those cities however, Vancouver has nothing to show for in terms of championship pride.
Maybe this hiring will stir up this roster whose been accused of being too complacent since the 2011 upset. While other teams having gotten better, the Canucks floundered and were royally trounced in the first round by L.A. and San Jose. Former coach Alain Vigneault (who was "traded" to the New York Rangers for Torts) couldn't motivate the Canucks when they were behind the eight-ball. Torts can.
People forget that he's a player's coach. Already he's received accolades from former players including former Canucks Markus Naslund and Dixon Ward. Some fans are supporting the hiring and have fired some choice responses to all the naysayers:
Don't give a crap if #Tortorella is favored by #Canucks fans and/ or media–I care that he impacts the players effectively.

— Hip Czech (@hip_Czech) June 26, 2013
After the interviews today I'm optimistic about Tortorella. #changedmymind #Canucks #nhl

— Ryan Kingston (@RyanKingston) June 26, 2013
For those who support Torts, here's how the Canucks see his value. (There's already a chart!)
Player's Coach (w/ calm demeanor)  + Players' buy-in = Happy fans + A chance for greatness + Gillis is a genius
It hasn't been twenty-four hours and already (but as predicted) there are two camps who see this hiring as a blessing or a death knell for the Canucks. What many people forget is that the season just ended yesterday and it's not October yet. Getting back to what the Canucks had been in 2011 will take time and patience. Torts seems committed to bring this team back to that prominence and he will do so on his terms.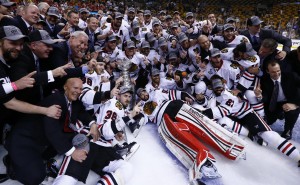 Only time will tell how the Canucks will be cultivated by a new kind of coach in the form a calmer & "benevolent" John Tortorella. Enjoy this short summer, because come October, the Canucks need to be where the Blackhawks are today.
A former novice/atom player, timekeeper and fan of the game, Peter has lived and breathed hockey throughout his life, covering hockey happenings in Edmonton, Vancouver, and currently in Saskatchewan. He is now a contributing writer for the Hockey Writers.