The glorious day is finally upon us. Teams all around the league can make good on a bad signing or two and reinvigorate their long-term plan under the salary cap regulated guidelines all NHL franchises must abide by.
The candidates are many and few all at once. If you look around the league you can pin-point at least one guy on every team that could be a bought out. However, you won't see every team exercise the amnesty/compliance buyout option because 1) it's a lot of money to spend in one shot, and 2) they can bide their time and wait until next summer, when they will have another two week window to make such a decision.
According to various reports, there are four compliance buyouts about to transpire. The Philadelphia Flyers have announced they will part ways with high-priced goaltender Ilya Bryzgalov and veteran forward Danny Briere. Plus, it has been highly speculated that the Toronto Maple Leafs will buyout Mike Komisarek, while the Montreal Canadiens will apparently buyout aging defenceman Tomas Kaberle.
Compliance Buyout Candidates Are: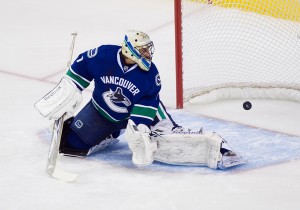 Canucks goaltender Roberto Luongo is one possible candidate for buyout. Vancouver GM Mike Gillis has spent a calendar year trying to trade the established starting goalie with no success. Having two great net minders is a luxury, however, when you consider Luongo's price and term while understanding the younger more affordable Cory Schneider needs to be the guy to progress any further, it makes sense the Canucks buyout Luongo this summer if no trade can be made.
Ville Leino, Tyler Myers and Christian Ehrhoff. You know what I mean? Quite simply, the Buffalo Sabres have a lot of money invested in three players that have not produced at a level anywhere near the expected output required from guys who make that much money. It won't be easy for the Sabres to make buyout decisions on these guys. Knowing they're all talented players, the good thing is the Sabres don't have to make a decision this summer. Leino has suffered injury problems, Ehrhoff could come around, and Myers is way too young to give up on already. Still, it is at least worth considering for a second or two, or maybe more.
As of right now the Sabres have tons of cap space so there really is no rush to panic and buy anyone out until next summer, if at all.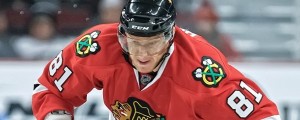 Wouldn't it be weird if the day old crowned Cup champion Chicago Blackhawks bought out Marian Hossa? Hey, it's not impossible. I know Hossa is still very good, but he's making a lot of money for a very long time. Hossa will be forty-two years of age when his contract ends in 2021. Keep in mind, Hossa has only played more than 70 games once in the last five seasons. In a perfect world, no team wants to say goodbye to Marian Hossa's presence and production. Unfortunately, this could simply be a numbers thing. Hossa's cap hit is 5.27 million/year for the next 8 seasons. What is great value right now will most likely become a big burden on payroll for the last half of the remainder of Marian's contract.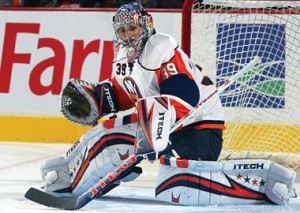 Much like Hossa, Rick Dipietro is also locked up until 2021. However, unlike Hossa, Dipietro is not a key contributing member of his team. In fact, he finished the 2012-13 regular season playing in the minors. All indications suggest he'll return there going into next season if he cannot be traded or is not bought out.
I feel for Dipietro. He's battled a lot of injuries and kind of lost his way over the last few years. He could be a guy that proves himself again with a lot of hard work and dedication to his craft. As of right now, he does have a lot to prove though. Dipietro hasn't played a full season since 2007-08 – five years ago. It would be a great story if he managed to regain the form he showed early in his career.
It seems crazy to think the Tampa Bay Lightning would dare buyout a franchise 1st overall pick, Cup winner, 100 point scorer and their current captain. But, Vincent Lecavalier's production has declined drastically in recent years and he's on the books until 2020. So what do you do? Buyout the greatest player in the history of your franchise or bite the bullet on this one. Lightning GM Steve Yzerman is lucky on many accounts regarding this decision. Firstly, it's probably not his decision at all. Ownership will have to make a call on such a large buyout. Secondly, there is no right or wrong answer here. If they buyout Vinny, it's because they simply could not afford to continue paying his 7.7 mil a season cap hit for the next 7 seasons. And if they don't buy him out, well, it's because he's Vinny Lecavalier and he's earned his right to stay on the Lightning.
Those are some of the more popular potential buyouts we could see over the next two weeks. Of course, there are many other possibilities as well. With the draft approaching, followed by the beginning of free agency on July 5th, expect some players to be bought out, some to be traded, and others to be traded then bought out.