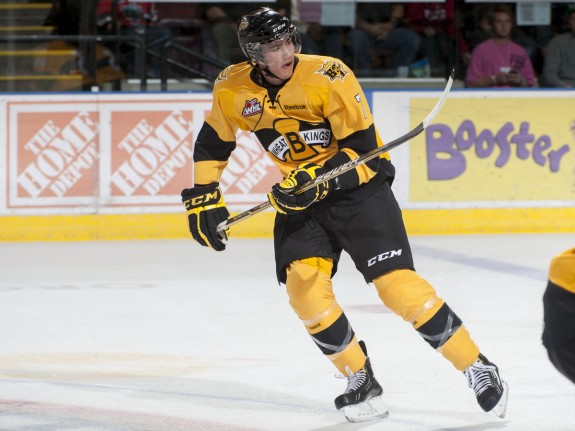 Eric Roy THW Close-Up:
Date of birth: 10/24/1994
Place of birth: Beauval, SASK
Ht: 6'3″     Wt: 190 lbs
Shoots: Left
Position: D
NHL Draft Eligibility: 2013 1st year eligible
Twitter: @Royzy07 

THW The Next Ones Rankings (Final Top 210): 53
Other Rankings:
ISS: 73

NHL CS (N.A. skaters): 41

NHL CS (Overall): 55

McKeen's: 58

Bob McKenzie: 70

The Hockey News: 54
* * *
[NHL 2013 Draft Guide – The Next Ones Draft Headquarters: Your quintessential draft resource]
* * *
Roy: Long Road Awaits This Well-Traveled Prospect
Brandon Wheat Kings defensemen Eric Roy didn't grow up with a rink in his backyard. In fact, contrary to the Canadian mythology circulating in America that assumes a rink on every block like a chicken in every pot, he didn't even have a rink in his hometown. The nearest rink was some 90 miles away. That should have been enough to discourage anyone from wanting to play hockey. Not Roy, whose family repeatedly made the 180 mile (300 km) round trip so that he could attend both practices and games.
In 2009 Brandon took Roy #18 overall in the Bantam draft. Roy then spent his Midget season playing for the Prince Albert Mintos of the SMHL. The following year he joined a good Brandon team, putting up 4-15-19 in 49 games and a +11 rating as a rookie.
Ideally, Roy would have been coming into the draft after last season, not this past one. Yes, he put up good offensive numbers for a blue-liner, with 17-22-39 in 72 games for Brandon, but his 39 points not only ranked 4th on the team but they were also just six points short of the team's points leader.  The Wheat Kings finished dead last in the Eastern Conference and 20th out of 22 in the Western Hockey League. Roy has said in interviews that his -32 rating on the season marks the 'lowlight' of his young career in hockey. Still, his point totals this past season speak to something special about Roy, as noted by Ben Kerr at Last Word on Sports:
"[Roy's] contributions on offence can not be overlooked as they were often driving the bus when it came to the Wheat Kings offence, even if they had to drive from a back seat."
Put another way, his point totals this past season speak to what he can do on a bad team. Meanwhile his 11-42-53 points in 69 games from the season prior, for a much better Brandon team, speak to what he can do when on a better team.
Roy's offensive prowess is not in doubt. Neither is his shot, a cannon in the making.
Brandon gets a slapshot bomb with 52 seconds remaining from #2013NHLDraft prospect Eric Roy to tie up their game in Medicine Hat. Off to OT.

— Cody Nickolet (@WHLFromAbove) December 3, 2012
But while Roy regards himself as a two-way defenseman and has benefited enormously by playing the Brandon blue line with fellow draft prospect Ryan Pulock, the aspects of his game that remain most in doubt are his ability to be consistent from shift to shift, and most glaringly, his fundamental skills as a defenseman.
In addition to being Canadian, Roy is of Métis Nation ancestry. The Métis Nation is one of the three recognized Aboriginal peoples in Canada (along with First Nations and Inuit), and their population nears 400,000. Although Roy was born and raised in the far reaches of Saskatchewan, Métis communities can also be found in parts of Manitoba, Alberta, Ontario, British Columbia, and the Northwest Territories, as well as areas in the Northern United States. Despite this, Roy is not only the first Métis to play in the WHL, he will also (very, very likely) be the first drafted into the National Hockey League.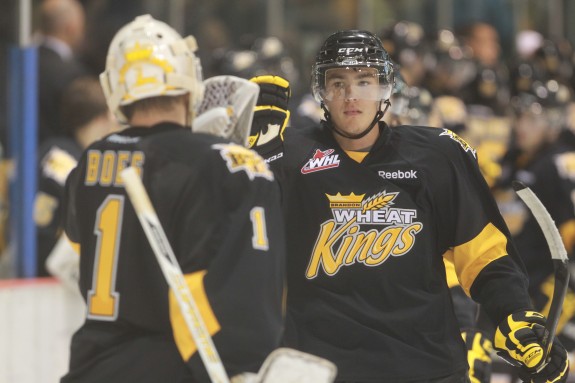 Where Will He End Up In June:
As with so many players entering the draft, this depends on whether teams see in Roy a player today with enough raw material to develop into a pro. The team that sees the glass half full might be rewarded with something along the lines of Red Line Report's Kirk Luedeke's tweet back in May:
Reading Eric Roy's scouting report. Wheaties' d-man sounds a lot like Johnny Boychuk in 2002: Good tools, ? hockey sense, inconsistent

— Kirk Luedeke (@kluedeke29) May 23, 2013
Scout's Honor:
"… [Roy] has some abilities with which to work, but there are a number of areas that he needs to address if he is to succeed as a pro. The good: Roy is an above-average skater who is mobile in every direction, and he skates well for a bigger player. He has significant offensive upside … The bad: his defense, his decision making with the puck, and his physical game … These issues and consequential risks make Roy a long-term prospect, should he pan out."
Corey Pronman – Hockey Prospectus
* * *
" … An impressive mix of menacing size and fluid skating ability that is impossible to miss when he is on the ice. [Roy] is a strong puck handler that is able to corral tough passes and make solid outlets up to his teammates … He also plays with a bit of an edge and has shown he can throw a hard check and isn't afraid to engage after the whistle. The biggest thing working against Roy is his lack of defensive refinement … too often Roy runs around and misses an assignment or takes a bad route to the puck. His defensive awareness gets exposed far too often on the rush."
Zenon Herasymiuk – Future Considerations
* * *
 " …  A big defender with good offensive ability and a solid work ethic. Has the size and willingness to play with physicality besides displaying good offensive skills, soft hands and great patience … needs plenty of improvement on his defensive game … Plenty to like in this emerging longer term project."
Statistics:
Bio/Interview/Links:
ETA:
5 years
Risk/Reward Analysis:
Risk: 4/5   Reward: 5/5
NHL Potential:
The consensus seems to be that Roy is a long range project. He could spend the next two seasons in Brandon and another few plugging away in the minors before getting a taste of the NHL … Or, he could have a monumental summer, the kind reserved only for youth, followed by a sensational season with the Wheat Kings and, depending upon the team and the opportunity, find himself fighting for a pro roster spot just sixteen months from now.
Strengths:
Size
Shot
Power play prowess
Offensive potential
Flaws/Aspects He Needs To Work On:
Defensive awareness
Consistency
Focus
Physicality
Fantasy Potential:
Offensive: 8/10   Defensive: 4/10
NHL Player Comparison:
Roy takes inspiration from both Nick Lidstrom and Niklas Kronwall, although his style has been compared to Sheldon Souray.
Video(s):
A brief highlights clip of Roy:

An episode of Royal LePage Billet Cribs featuring Eric Roy:

THW's The Next Ones prospect profile template design architect: Chris Ralph