If the preseason was a flawless indicator of how the regular season would go, I'd say that Canucks fans would be in for a long year. But the great thing is that it really isn't. Regardless, the Canucks' performances thus far have been alarming at best and they will need to spend the next three games of their preseason schedule making sure they knock off the rest of that rust.
The team has won just twice in their first five preseason games and have struggled to create offense. Six goals in six games simply isn't going to cut it. At that scoring rate the team doesn't have much chance at winning unless Ryan Miller is Vezina Trophy material and the Canucks defense stays perfect all year long. But besides the obvious woes that the Canucks are facing in their preseason campaign, their camp is in full swing and some surprising players are sticking around and making a case.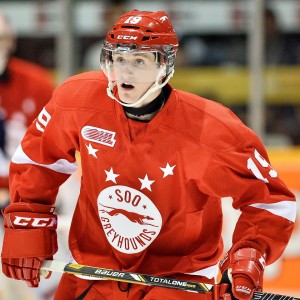 Just 31 names remain on Vancouver's preseason roster and with only four games remaining before the team finalizes their roster there are some intense battles ensuing. Included in the names battling for an opening night roster spot are highly coveted prospects Jake Virtanen and Jared McCann. Unfortunately for them are the continuing presences of 23-year-old Alexandre Grenier and 30-year-old journeyman Adam Cracknell.
It seems unlikely that Cracknell will…well…crack the Canucks lineup for opening night. Grenier on the other hand is coming off two consecutive 17-goal years in the American Hockey League and played alongside the Sedin twins during the club's September 26th game vs. the Calgary Flames. Even though Grenier hasn't gotten on the board yet this year he's still with the club, which means that Canucks brass see him as a legitimate option.
No longer are youngsters Hunter Shinkaruk, Cole Cassels or Nicklas Jensen. They will return to Utica for another year of determined development. But for Jake Virtanen and Jared McCann – both Canucks first-round picks – a tangible chance has become reality. Virtanen has been a physical force on the ice, forcing plays by taking the body and Jared McCann has been the lone offensive generator in the most recent games.
On the backend the 7th defenseman spot was all-but-certain to be Frank Corrado but with the quick rise of NCAA product Ben Hutton, Corrado might be feeling the heat. Hutton has four assists in four preseason games and has looked poised with the puck while Corrado hasn't done much to differentiate himself from his play last year.
What Higgins' Injury Means for the Team
When you are a professional athlete job security is little to none, no matter who you are. So when Canucks veteran winger Chris Higgins went down with a fractured foot during one of the team's preseason bouts, an opportunity arose for a youngster, and a frightening truth was unearthed for Higgins.
After netting twelve goals and 36 points last year, Higgins was slotted in the roster at the third-line left wing spot. He would more than likely spent time with Bo Horvat and Jannik Hansen to begin the year in what could have been a top-notch third unit. Now that Higgins return is indefinite, with a reevaluation to be done after three weeks, is it possible that Higgins has seen his last day in a Canucks uniform?
"If guys deserve it we have to get them in"  -Willie Desjardin after the Canucks 1-0 win over Arizona
The pros of moving Higgins might just outweigh the cons. The Canucks would shed nearly $1.5 million in cap-space (assuming Virtanen or McCann were to fill his spot on the roster) and would be continuing forward with their declared youth movement after a summer of confusingly contradictive roster moves.
Say the Canucks do let Higgins go via trade (he'd be a much desired commodity for a playoff contending team looking for veteran leadership and secondary scoring). They would more than likely get back a long-term prospect and late round draft pick, meanwhile they would open up a spot for a younger and cheaper option to stick with the team. Likely – Jake Virtanen.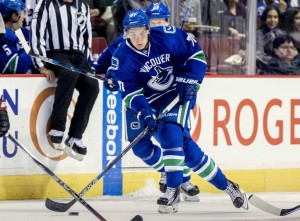 After Virtanen had offseason shoulder surgery in the summer of 2014, he came back strong in his 50 Western Hockey League games and came into development camp glowing. He has had a solid showing so far in the preseason, although nothing that cements his spot on the team. But the recent news of Higgins extended absence might have ignited a little spark in Virtanen's mind and after being featured on the first line with the Sedin's in last night's 1-0 victory over the Arizona Coyotes, he got a real taste of what the big league was like.
Of course it would be hard to let go of Higgins who was a crucial part of the 2011 Stanley Cup Final run and the following President's Trophy year. He has been a consistent player for most of his time with the club and has produced solid secondary numbers. However there seems to be a logjam in Vancouver with some promising prospects that are beating down the door to get their shot.
Still with the Canucks are potential rookie forwards Brendan Gaunce, Jake Virtanen, Jared McCann, Alexandre Grenier and second year forward Ronalds Kenins. Does Higgins really have enough to deny one of these players a chance at NHL action this year? Unfortunately for him, no. But Higgins might not be the guy that the Canucks send out.
Linden Vey's Struggles, Grenier's Immediate Upside and Realistic Expectations for Sven Baertschi
In 75 games with the Canucks last year Vey notched 25 points. Decent production for the potential fourth line center, but to think about his development over the last 12 months is a bit frightening. At the outset of the 2014-15 season Vey was given every opportunity to succeed in the NHL. He was centering the second unit and often times quarterbacking the powerplay unit from the point. He had some very successful moments in those positions and then the inevitable happened – nothing.
Vey's consistency dropped off the face of the earth and by the end of the season he was competing for a spot in the lineup let alone getting powerplay time. Let bygones be bygones and the Canucks resigned Vey during the offseason on a one-way, one-year deal worth $1 million. At 24-years-old Vey is being faced with a make it or break it season and so far his preseason presence has been mediocre.
If Vey can't get his feet by the end of the preseason schedule he might find himself on heading to Utica on waivers and Brendan Gaunce or Jared McCann will be thrust into opening night duty. The scary thought is thinking about McCann facing off against the fourth lines of Calgary or Los Angeles, physically he just doesn't seem there.
On that note, what kinds of players is Benning trying to keep around for this year, especially to come out of the game with a bang? Bringing in Prust, re-upping Dorsett and the new contract for Kenins is proof that Benning and co. are trying to get tougher this year, so is slipping Virtanen into the lineup the way to do that?
Sure, Virtanen was throwing his weight around against the Coyotes and definitely displayed that he is a physically mature player, but coming off of shoulder surgery might give Virtanen a shorter leash to work with in terms of how sustainable that play is. Keeping him around is a high risk-high reward proposition for the Canucks.
Say Sven Baertschi has trouble producing on the second line and Virtanen is with the team in a third line role, his raw skill would give the Canucks a viable option to recharge the second unit but Virtanen is also facing the issue of age. It takes a special kind of 19-year-old to be able to compete at a second line level in the NHL and although Virtanen clearly possesses the toolset to become a top-six player for the Canucks, his time for that might not be this year. A premature entry into that position could have lasting negative impacts on his development.
Okay, then who do the Canucks stick with your asking?
Alexandre Grenier has continued to develop completely off the radar of mainstream analysts but his play so far this preseason has been impressively efficient. Without a doubt he won't put up the same numbers as Virtanen and Grenier's developmental ceiling is exceptionally lower than Virtanen's, but at 6-foot-5 Grenier could be a physical force in front of the net and in the corners.
He's not the most skilled player in the game but he has put up 17 goals for two years running in the AHL. His presence on the ice glows with professionalism and at just 23-years-old he has some serious room for growth – both physical and mental.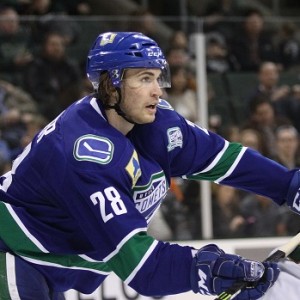 If Grenier does stay with the team he would have to play on the left side despite his natural right wing position but a third line of Grenier/Horvat/Hansen would have some serious punch both physically and offensively.
Getting back to Baertschi, he should have Canucks fans excited. He hasn't cracked his scoring code yet and according to Desjardins will need to ease into his role as a top-six point producer but Baertschi has already had his offensive awareness on display this preseason and as soon as he becomes comfortable in his NHL skin the kid is going to explode for points.
Of course with inexperience comes some deficiencies and Baetschi's is in his positioning away from the puck. When the puck is on his stick, he's golden, as good as any in the league, but when he doesn't have control he can sometimes seem lost on the ice. Playing with his projected linemates of Sutter/Vrbata should help him since both of those guys have such solid positional play and as soon as Baertschi breaks open his scoring ability the confidence to play smart hockey will quickly follow.
Has Ben Hutton Pressed the Right Button?
Who is Ben Hutton? – a question many would have asked before the NHL preseason began, but now Hutton has become a serious contender to make the Canucks opening night roster and if he doesn't pull that feat off he is the absolute top defensive prospect in Utica.
He's got four points in four preseason games. He's been impressively patient with the puck. He's making a name for himself in Vancouver.
He's 6-foot-2 and 183 pounds which would make him the third biggest defender on the Canucks roster, one that lacks defensive size. But even with his size Hutton has presented crisp puck control and dizzying patience. His puck movement and position on the Canucks powerplay during the preseason has been strikingly useful and his time on the ice in those situations has seen the benefits of that.
It's probably not a sound investment to bet on Hutton's name being there by opening night but if it happens that he does earn a spot it should be of no surprise.
The Likeliest Next Cuts
The Canucks will probably narrow their roster down by four or five names after game six of the preseason. Going into their final home-and-home against Edmonton before the regular season commences the club will want to be as close as possible to their opening night roster. More than likely the following names will be shipped out to Utica or sent back to their junior teams during the next wave of cuts:
Jared McCann
Although McCann has been surprisingly impressive after being considered multiple years away from NHL duty, he has struggled physically at times and his positional play away from the offensive zone has been questionable. However his two-game goal streak might save him another day. The questions remaining are whether or not McCann is better served on the Canucks' fourth line or playing first line minutes in the OHL? And is he more deserving than Brendan Gaunce?
Adam Cracknell
At 30-years-old and a career NHL journeyman, Cracknell's chances of making the Canucks opening night roster were long to begin with. After strong showings in the preseason by Alexandre Grenier and Ronalds Kenins it seems unlikely that Cracknell will be needed come October 7th. To give credit where its due, Cracknell has been solid. He's gotten a ton of ice over the first six preseason games which indicates Vancouver's interest in having him for depth reasons.
Alex Biega
Biega is a tough one, he played seven games for the Canucks last year and has some upside. He's been crisp in the offensive zone and has shown his well-rounded skill-set but did Biega do enough to out-show both Corrado and Hutton?
Taylor Fedun
The Fedun signing seemed like a great depth addition by the Canucks management but after five preseason games Fedun has been underwhelming. His skating is slow, puck handling is rough and his vision is very straightforward. Fedun might have dropped down the Canucks depth chart during this preseason.
The Post-Cut Depth Chart
Last but not least in this Canucks Training Camp Update is the depth chart based from the above projected cuts. Going into the final weekend of preseason action the Canucks chart should look like this:
| | | |
| --- | --- | --- |
| LW | C | RW |
| D. Sedin | H. Sedin | A. Burrows |
| S. Baertschi | B. Sutter | R. Vrbata |
| R. Kenins | B. Horvat | J. Hansen |
| B. Prust | L. Vey | D. Dorsett |
| A. Grenier | B. Gaunce | J. Virtanen |
D

D

Hamhuis

Weber

Edler

Tanev

Sbisa

Bartkowski

 

Corrado

Hutton
And of course the goalie battle ensues in Vancouver. Miller has looked shaky at times during his preseason games and Markstrom has looked considerably more solid than he did last year, especially in his 32-save shutout against the Arizona Coyotes. Vancouver, winter is coming, so prepare yourselves for another goalie battle.