The Winnipeg Jets head into the 2015-16 season trying to build on their best season in Winnipeg so far. Last year the Jets surprised most by making it to the playoffs, and despite being defeated by the Anaheim Ducks before winning a game, the season was considered a success for most.
The challenge for Coach Paul Maurice, who enters his second full season as Jets bench boss, will be building on what the team established last year. Though the Jets were not big participants during free agency this summer, they will have a fair amount of turnover from the team that finished eighth in the West last season.
After key trades around the deadline last season, this team really found its identity. Moving Evander Kane and Zach Bogosian to Buffalo in exchange for Drew Stafford and Tyler Myers jump started this teams' push to the playoffs. Management continued their moves, acquiring some forward depth and this team really came together. This team is quite different from the team that started last season, and even from the squad that finished last year, but management is hoping that the youth movement will pay off.
The Jets biggest additions this season will be youth and experience. Already one of the youngest teams in the league, the Jets have added some more young players who they will expect to play big parts on this team. With one of the highest ranked prospect pools in the NHL, Jets fans are ready to see some of that talent take over and help this team take the next step. The young players who were on this team last season gained some valuable experience with the race to the playoffs and the subsequent playoff series.
Winnipeg seems poised to take the next step, however, relying heavily on young talent is a risky strategy. Some teams have thrived using this approach, while others have taken a step backwards by going young. the Jets have strong leadership in place and Maurice has proven he can get the most out of his current crop of players.
2014-2015 RESULTS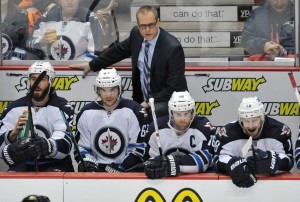 Record: 43-26-13 (99 points)
NHL: 14th
Conference: 7th
Division: 5th
GF: 15th (230)
GA: 9th (210)
PP: 17th (17.8%)
PK: 13th (81.8%)
KEY ADDITIONS
F Alex Burmistrov
KEY LOSSES
F Michael Frolik
F Jiri Tlusty
F Lee Stempniak
FORWARDS
Andrew Ladd – The captain of this team since their move to Winnipeg, Ladd is the undisputed leader both on and off the ice. He is the perfect representative of this team as his style of game mirrors the style that the Jets want as a whole. While Ladd may not be the most skilled player on the ice, he's going to outwork you, he's going to hit you, and you are not going to have any fun playing against him.
The talk surrounding Ladd heading into the season however will not be his goal scoring or his checking, but rather his contract. Ladd heads into this season playing the last year of his contract, and despite both sides wanting an extension done, the off-season came and went without an agreement. This story will develop as the year goes on but the Jets cannot let this become a distraction.
Blake Wheeler – Wheeler has been the Jets best scorer in Winnipeg. The American winger has continued to raise his game while in the Manitoba capital and is now a dangerous scorer whenever he touches the puck. Adding to that will be some stable linemates. While in the past Wheeler has been a guy who has shuffled around a little bit, this season he has been paired with Mark Scheifele and Drew Stafford since day one, and that familiarity is sure to pay off. Wheeler possess a rare gift of speed and size, look for him to benefit from the new 3-on-3 overtime format.
Mark Scheifele – Scheifele was a bit of a head scratcher when the Jets made him their first round pick in 2011 with the 7th overall pick. Each year however, the Jets forward has improved. Whether it be his size, faceoff ability, or offensive presence, Scheifele has done everything the team has asked. He is now at the age where he will be counted on every night to be one of the Jets best offensive players. By all accounts this is a guy who lives and breathes hockey, and if the Jets want to succeed they need his development to continue.
Adam Lowry – Lowry was the Jets biggest pleasant surprise last season. As a 21 year-old, Lowry was able to play a big part on this team as a third line center who saw a lot of minutes. His defensive skills are already developed long beyond his years, but this season the Jets look to put him in more of an offensive role. He has skated with the top line along side Ladd and Bryan Little and also seen some time between Mathieu Perreault and Nikolaj Ehlers. Either way Lowry will be expected to score more this season and if he can the Jets will get a big boost.
Projected Jets Forward Lineup
| | | |
| --- | --- | --- |
| Ladd | Little | Burmistrov |
| Stafford | Scheifele | Wheeler |
| Perreault | Lowry | Ehlers |
| Thorburn | Copp | Petan |
*New additions bolded
DEFENSE
Dustin Byfuglien – The big man is the second big name for the Jets who comes into this season without a contract beyond this year. There has been near no news on a possible extension and the American defenseman is all about what is happening on the ice. Byfuglien was a big part of the team's success last season, especially when injuries plagued the Jets blue line. He will once again be counted on to bring his mixture of hard-hitting defensive play, and explosive offensive talent to the table. While Byfuglien focuses on his on-ice game however, you can bet talks and rumors will surround Big Buff all season.
#NHLJets Dustin Byfuglien on his contract status: "I just come to work. I have people to take care of that. They're talking." #bn

— Ed Tait (@EdTaitWFC) September 18, 2015
Jacob Trouba – Trouba is one of the best young defenseman in the NHL and the Jets are ready for him to take the next step. It seems like he is ready to become one of the best in the league, but injuries have held Trouba back. The Jets will be looking to get a full season out of him this year, a feat he has not been able to accomplish in his young career. If Trouba can continue his progression and continue to move up on the depth chart he has the skill to be a top pairing guy. The Jets need him to improve and he will likely get the chance even strength, as well as on both sides of special teams.
Projected Jets Defensive Lineup
| | |
| --- | --- |
| Enstrom | Myers |
| Byfuglien | Chiarot |
| Trouba | Stuart |
GOALTENDING
The Jets goaltending has been their biggest bright spot so far this season. Both Ondrej Pavelec and Michael Hutchinson have played great in the pre season, and Connor Hellebuyck and Eric Comrie have been right there with them. Comrie will likely return for his last year of junior, so although he is the goaltender of the future, he will have to wait at least a couple more years. Pavelec likely will remain the starter this season. Despite faltering at times, Pavelec was great when it counted and appears to have carried it over to this season. At those times of struggle for Pavelec, Michael Hutchinson has also proven he is a very capable NHL goaltender and his spot should be assured as the back-up. Making the situation interesting is Hellebuyck. Hellebuyck played with the AHL team in St. John's last season and made a splash at the World Championships with the American team. Hellebuyck will be pressing all season long for his shot with the big club but for now he will join the AHL affiliate who now plays in the very same building.
BREAKOUT PLAYER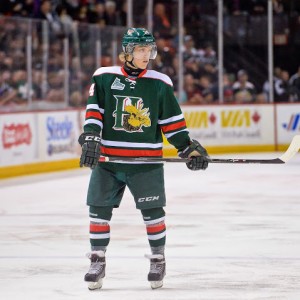 Nikolaj Ehlers – The Jets rookie is the top prospect in their system and Winnipeg is expecting a lot from him. Ehlers has put up some incredible numbers in the QMJHL the last couple seasons and will be looking to make the jump straight to the NHL. Few players are able to make the jump from junior, straight to the NHL. Most players, especially in this organization, spend some time with the AHL affiliate to get the feel of professional hockey before getting right into the big league.
Ehlers will get a great chance, whether it be alongside Ladd and Little, or with Perreault and Lowry, who he has been practicing with most recently. The young Danish forward has immense offensive skill, and with some great talent around him he should be able to produce. The questions will be about his defensive game and if he can keep up in his own end against NHL level skill.
 PLAYER WITH MOST TO PROVE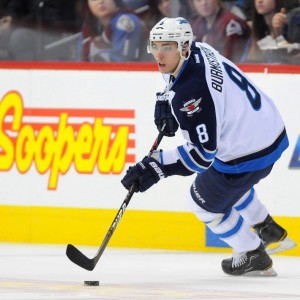 Alexander Burmistrov – Burmistrov was a draft pick in the Atlanta Thrashers days of this franchise. He came to Winnipeg but almost immediately clashed with then Head Coach Claude Noel. Burmistrov spent a couple of years in the KHL but is now ready to return to North America, and the Winnipeg Jets.
It appears he is poised to get his chance as well, he has been practicing on the top line with Ladd and Little. Burmistrov appears to have all the talent necessary to be an NHL success, he just needs to put it all together. In his first NHL stint, Burmistrov showed he has some great hands, and was very good with the puck. While in Russia he played a role on a lower line, more of a checking role and showed that he has the skill to do that. Burmistrov has proved he can fit in many roles, but he has never done it in the NHL. The Jets and Paul Maurice gave him the opportunity this season and he needs to prove to himself, the club, and the league that he is an NHL player.
SEASON OUTLOOK
Last year the Winnipeg Jets over achieved for much of the season on their way to a playoff berth. They were then swept by the Anaheim Ducks, but the season was considered a success.
This year, a mere playoff spot will not be enough to make the season a success. The Jets need to make it back to the post season and they need to be competitive. Though the Jets top lines all look very similar, the supporting cast has seen a lot of turnover. The Jets have gone young, with three or four rookies in the lineup, the Jets are counting on some young players to be able to jump right into the NHL game.
Winnipeg needs all their players to progress, should their be any regression this team will be in tough to make the playoffs. This year will not be easy in Winnipeg, expect them to be much in the same spot as last season. They will compete for anywhere between 7th-10th in the Western Conference. In the hardest division in the NHL anything could happen. The Jets are hoping to emerge as contenders, not just this year, but for years to come.