The Vancouver Canucks have only two prospects participating in the 2021 World Junior Championship (WJC) in Vasili Podkolzin and Arvid Costmar. Podkolzin will be playing in his third straight tournament while Costmar will be making his debut.
Related: THW 2021 World Juniors Coverage
Podkolzin is arguably the Canucks top prospect right now, and he will be looking to further solidify that status during the 2021 WJC. He was officially named to Team Russia's final roster on Dec 12 and anointed as their captain by head coach Igor Larionov shortly after.
There's no doubt in my mind that he's a team leader, he's a guy that can handle the pressure, who can do a lot of good little things for his team…To me, Vasily coming back in year three of the World Juniors, I expect him to be a top guy and a guy to go and lead the way for the Russian Junior team.

Igor Larionov, Team Russia head coach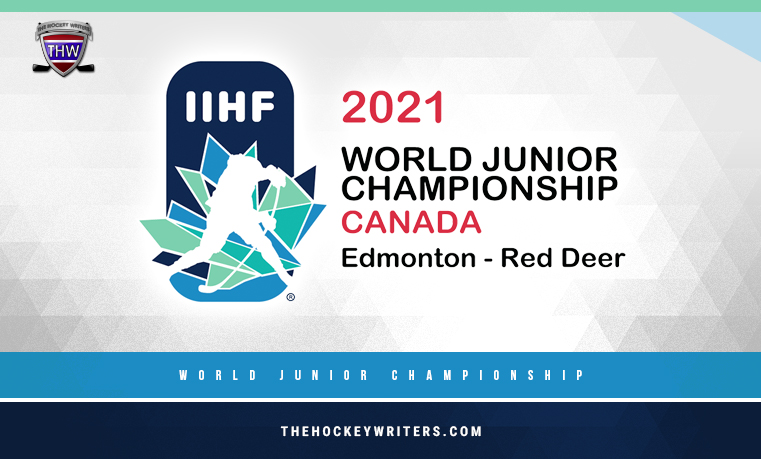 It's clear that Larionov loves Podkolzin's game, so don't be surprised if he plays the big Russian 20-25 minutes a night in all situations. He has all the tools to make a difference in a short tournament like this, especially if he's given a lot of ice time with talented players. We already saw what he could do away from his KHL team and head coach Valeri Bragin when he led Team Russia to a Karjala Cup in November, so it should be exciting to see what he can do for an encore.
Podkolzin Remains Muzzled in the KHL
The man they call the Russian Bulldog has tragically been muzzled and tamed by the coaching staff of SKA St Petersburg. They not only limit Podkolzin to less than 15 minutes a night, but they also keep him off the power play as well, which is usually not a recipe for success.
Ever since the beginning of the 2020-21 season, Podkolzin has been an analytics darling, posting positive Corsi-for percentage (CF%) numbers in almost every game he's played. For any other coach, that would mean more ice time but for Bragin, the status quo doesn't change and he remains glued to the bench.
Podkolzin's point totals this season do not scream elite prospect and 2020 first-round pick, but there are other factors at play that are out of his control. If his head coach does not give him the ice time and offensive opportunities, there's no way he can increase his point totals and gain confidence as a result of it. That's why the 2021 WJC is so important for his development as he inches closer to his NHL debut with the Canucks, possibly as soon as March or April of 2021.
Podkolzin Will Look to Build Upon 2020 WJC Success
As Larionov said, Podkolzin is entering his third WJC tournament this year and should be well-equipped to lead his team to victory. During the 2020 WJC, he had five points in seven games and was noticeable every time he was on the ice, so if he can build upon that, we should be in for a treat.
Podkolzin could have had even more points during the tournament if it wasn't for some brilliant saves. Now that he's a year older and has the "C" on his chest, look for him to bear down a little more to finish those opportunities. Something tells me that his competitive nature and elite work ethic won't allow him to do anything else.
Who Will Podkolzin Play With?
As of right now, it appears Podkolzin will be playing with Toronto Maple Leafs' first-round pick Rodion Amirov and Minnesota Wild second-round pick Marat Khusnutdinov.
Related: Team Russia: 3 Players to Watch at 2021 WJC
Amirov's biggest strengths are his skating and puck handling, so he should fit right in with Podkolzin's game. He is also a great play driver and elite goal scorer, which plays into his wheelhouse too.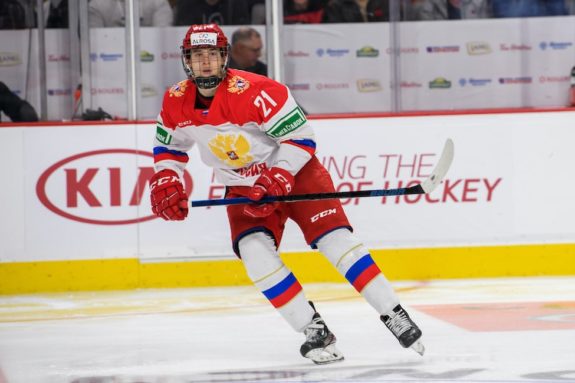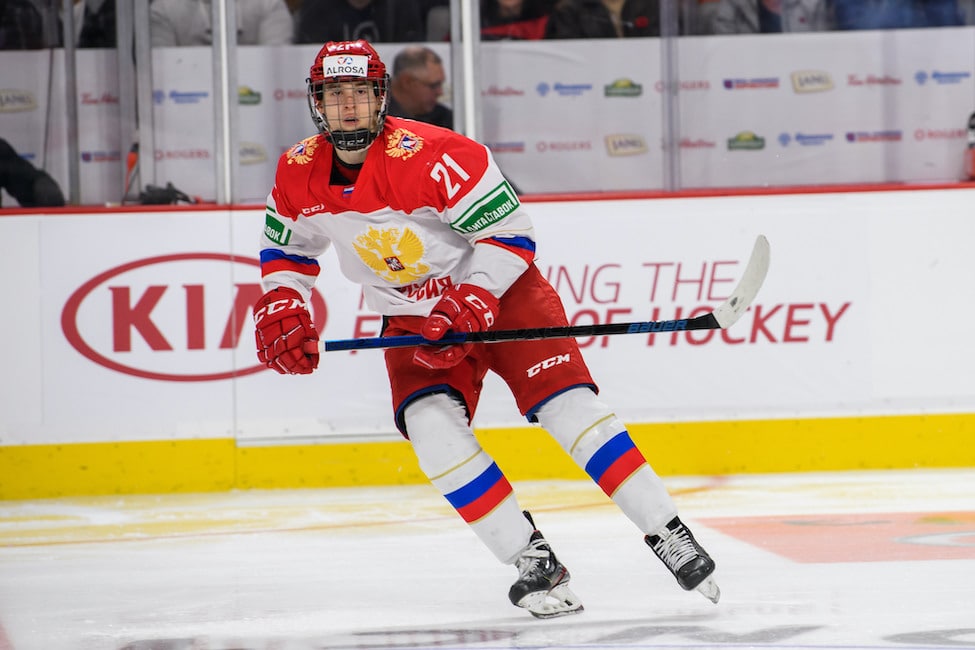 As for who will be rounding out the trio, Khusnutdinov is a strong two-way center with elite playmaking abilities and a motor that never quits. Here is what former THW draft guru Josh Bell had to say about him in his draft profile back in May,
There is a ton to love about the Russian forward, but his biggest takeaway might just be his compete level. The kid never takes his foot off the gas. If he has the puck, he's aggressive, forcing his way to the net or to an open spot. Without the puck, he's on a mission to get it back. He plays hard at both ends, blocking pucks, and his forechecking might be among the best in this class.
If you didn't know any better, you would think that Bell was describing Podkolzin. So if both of them play to their strengths, Team Russia will have quite the dynamic duo to throw out against the opposition this year. In fact, the entire trio will be hard to shut down if they are all playing at the top of their game.
Podkolzin Will Dominate the 2021 WJC
Given the players Podkolzin will be lining up with and the potential for boatloads of ice time, he should dominate the 2021 WJC. He has got two elite forwards with a high compete level in Amirov and Khusnutdinov, and a coach that will not hesitate to let them run wild in the offensive zone.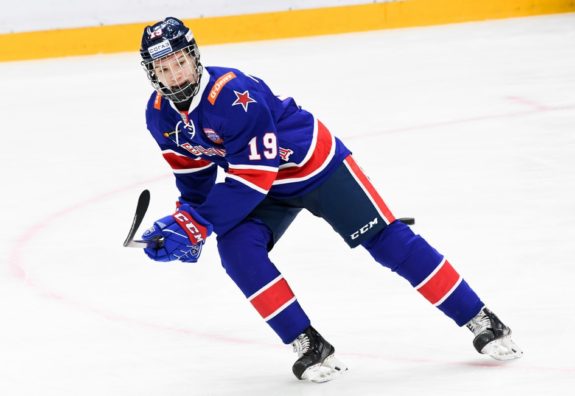 Podkolzin has shown in the past that the big stage is where he belongs. His ability to lead by example is probably his biggest strength, as his work ethic and motor usually dictate how a game will go. Throw in his power, speed, and puck skills, and the Canucks could have another top prospect stealing the headlines in the WJC, just like his future teammate Nils Hoglander did only one year ago.
---
---