The 2020 NHL Draft has a lot of talent in the first two rounds, and the Vancouver Canucks do not have a selection to take advantage of it. To recap, they traded their first-round pick to the Tampa Bay Lightning for J.T. Miller then gave up their second-round choice to the Los Angeles Kings for pending unrestricted free agent (UFA) Tyler Toffoli. They now have to wait until the third-round to join the fun.
Related: Vancouver Canucks 2020 NHL Draft Preview
Unless general manager Jim Benning makes a trade to get back into one of those rounds. He said in his Zoom call on Monday that he felt they could potentially move back into the second round, but that the first round would be a little tricky.
With all that said, let's take a look at what teams Benning could target to obtain a coveted first or second-round pick, and what players he might include in a deal to get them.
Could Virtanen Get the Canucks Back Into the 1st Round?
It seems like Jake Virtanen's time in Vancouver has come to an end. After a less-then stellar postseason where he put up only two goals and three points in 16 games, Benning appears to have had enough of his inconsistent play and lack of work ethic. He is also a restricted free agent (RFA) with arbitration rights and in line for a substantial raise on his $1.25 million contract. With all the cap issues the Canucks are having right now, they could choose to redeem his value in the trade market and potentially acquire a late first-round pick from a team that has a few of them.
The New Jersey Devils currently hold the Canucks' first-round pick after acquiring it from the Lightning in the Blake Coleman deal. After the Canucks' surprising run in the playoffs, it is only a late-first rounder instead of a top-15 pick. As a result, they might be more inclined to return it back to its original owner. They already have the 7th and 18th overall picks, so the 20th pick most likely will be moved for something that could help them right now.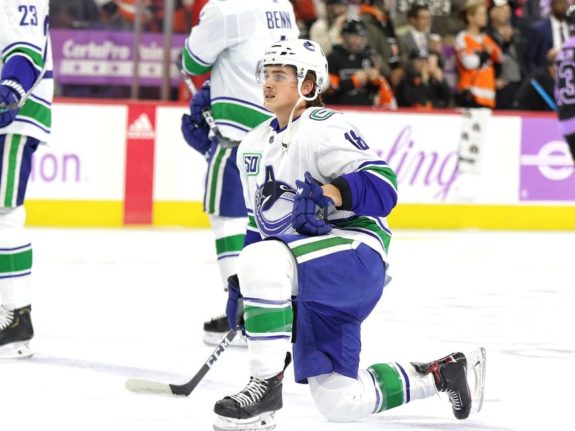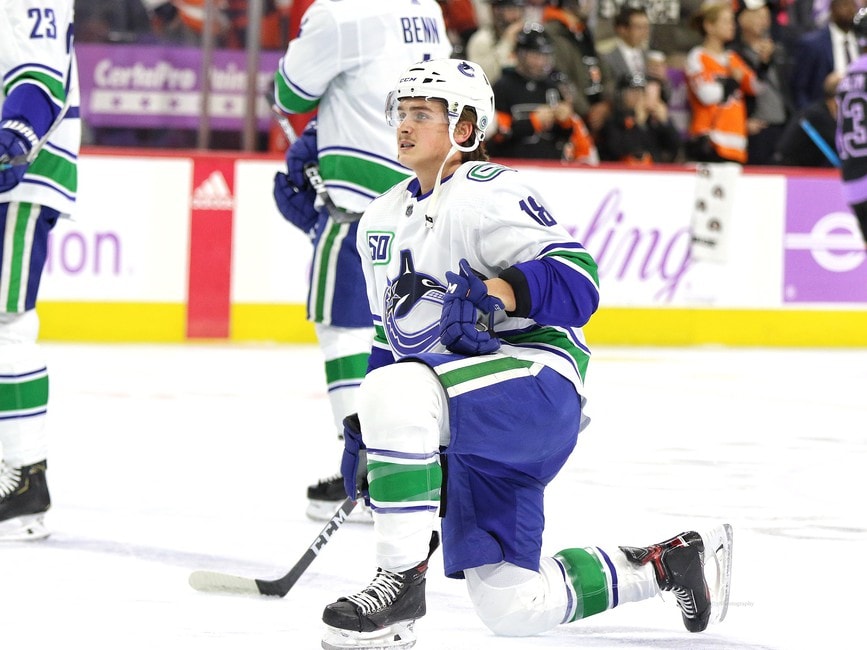 The Devils need more scoring depth on their wings after trading the aforementioned Coleman. Virtanen could thrive there with less scrutiny and press coverage, as he's struggled to avoid it in the media hotbed that is Vancouver. He still has immense potential with his speed and skill, and could actually be a great fit alongside Nico Hischier or Jack Hughes.
The Canucks might have to add a little more to get this deal done, such as a prospect or extra draft pick, but if the reward is returning to the deep first-round, then the cost is definitely worth it.
Canucks Could Deal With the Canadiens Too
The Montreal Canadiens will be looking to bolster their bottom-six after trading away Nate Thompson and Nick Cousins in separate trade deadline deals to the Philadelphia Flyers and Vegas Golden Knights respectively. Virtanen could fill that role, and play with a skilled center like Phillip Danault or Jesperi Kotkaniemi. We all know from his time with the Canucks that he plays better with skilled players than grinders so he could end up finding a fit on a line with one of them.
If not Virtanen, the Canucks could offer Tanner Pearson as an alternative. He just finished a season with a career-high 45 points and scored over 20 goals for the first time since the 2016-17 season. He also played a regular shift as a top-six forward beside second-line center Bo Horvat and saw time on both the power play and penalty-killing units. As such, he would be a huge asset on a team like the Canadiens, who need more scoring depth.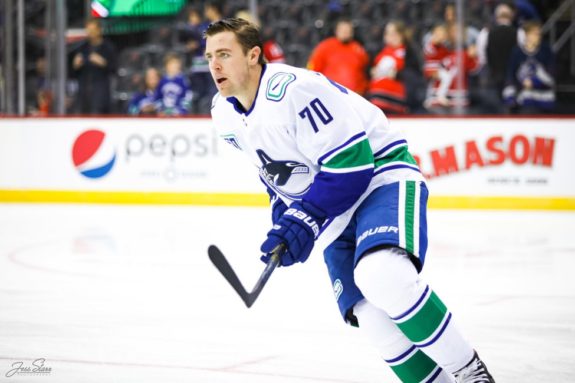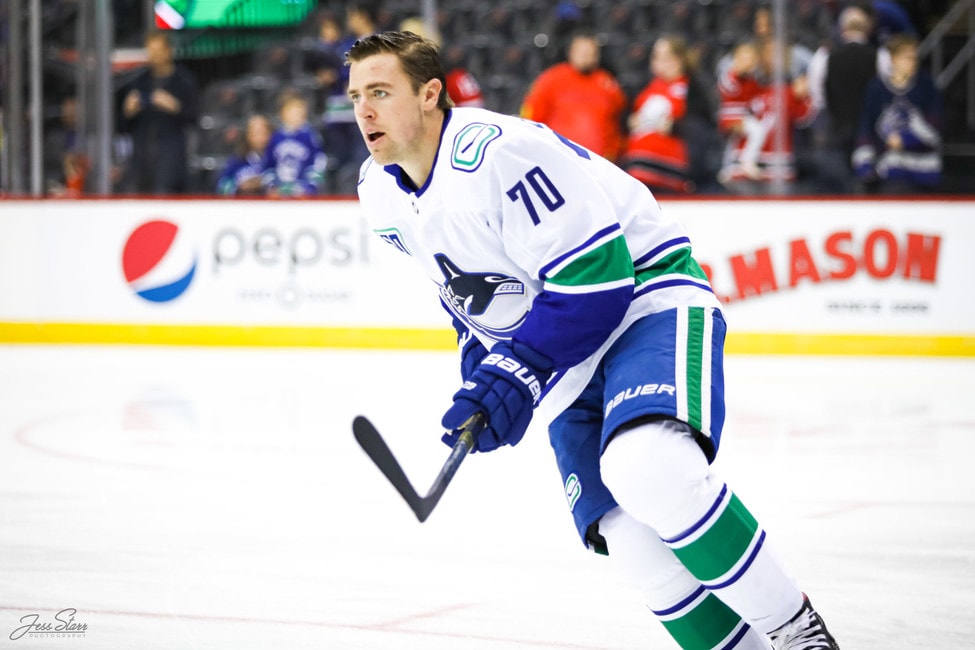 Virtanen or Pearson on their own probably won't be enough to acquire the Canadiens' 16th overall pick, but adding a prospect to the proposal might get a deal done. If not, they could look at one of their three second-round picks instead. Whatever the case may be, the Habs might be the best team to deal with before the draft gets underway on Tuesday.
Re-visiting a Stecher Trade
Troy Stecher will be in line for a raise on his next contract, and the Canucks might not want to pay it. Maybe this time they can actually gain an asset for a pending RFA rather than letting him walk? Last season, they were faced with a similar conundrum when they were dealing with Ben Hutton. Instead of attempting to trade him, they allowed him to leave without a qualifying offer. He became a UFA and signed with the Los Angeles Kings as a result.
If the Canucks don't intend to re-sign Stecher, they have to look at trading him. He should have more value than Hutton too, especially after the inspiring playoffs he had. He is a good puck mover and solid bottom-pairing defenceman that can step into the top-four as well. I'm sure the Canucks can find a team that is in need of a blueliner like that.
Stecher was in the trade rumours as recently as the trade deadline, so clearly the Canucks have thought of moving him before. There are teams that are deficient on the blueline like the Detroit Red Wings, Ottawa Senators, and Los Angeles Kings who all have multiple second-round picks in their arsenal. They also have the cap space to accommodate the increase in his salary.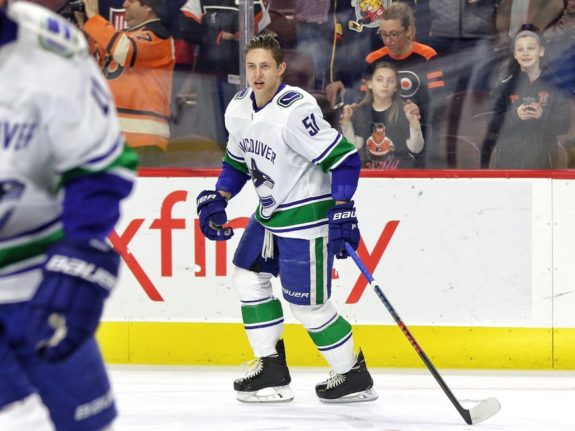 The Canucks have replacements for Stecher on their depth chart including Brogan Rafferty, Jack Rathbone, and Olli Juolevi. Not to mention they could also go out into free agency and sign a more budget-friendly alternative. Don't get me wrong, I think Stecher is a great character player to have in the dressing room, but at the salary he will be commanding, I don't think they are going to be able to afford it with the tight budget they are currently under.
Canucks Should Not Let This Draft Pass Them By
With how much talent there is in the first two rounds of the draft, the Canucks should make every effort to be part of the festivities. In a perfect world, they would trade for the Canadiens' first-round pick and draft a player like Connor Zary or Jake Sanderson.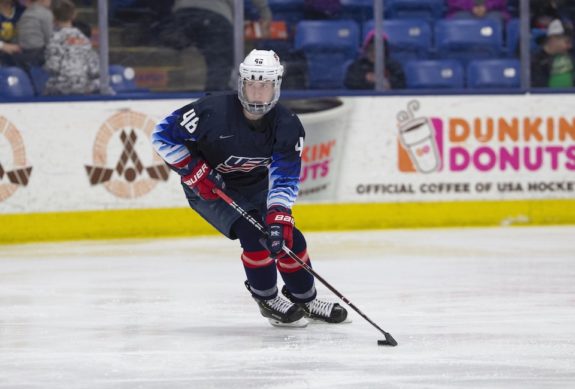 Related: THW 2020 NHL Draft Guide
In that same world, the Devils' pick might get them Mavrik Bourque or the smooth-skating Emil Andrae. These may all be dream scenarios, but if Benning plays his cards right, he could walk away from this draft with yet another potential impact player added to his prospect pool.
---
---