It's that time of the year when the cream of the crop prospects from around the world assemble to discover their new team through the NHL Entry Draft. The Winnipeg Jets head into the draft with an important selection at 10th overall, and have a number of roster needs that they'll try to prioritize with their first-round pick. With trade rumors swirling about Patrik Laine, the second-line center position still unfilled, and a defensive core that is still hurting from the losses of Jacob Trouba and Dustin Byfuglien, the Jets will need a stellar selection to remain competitive.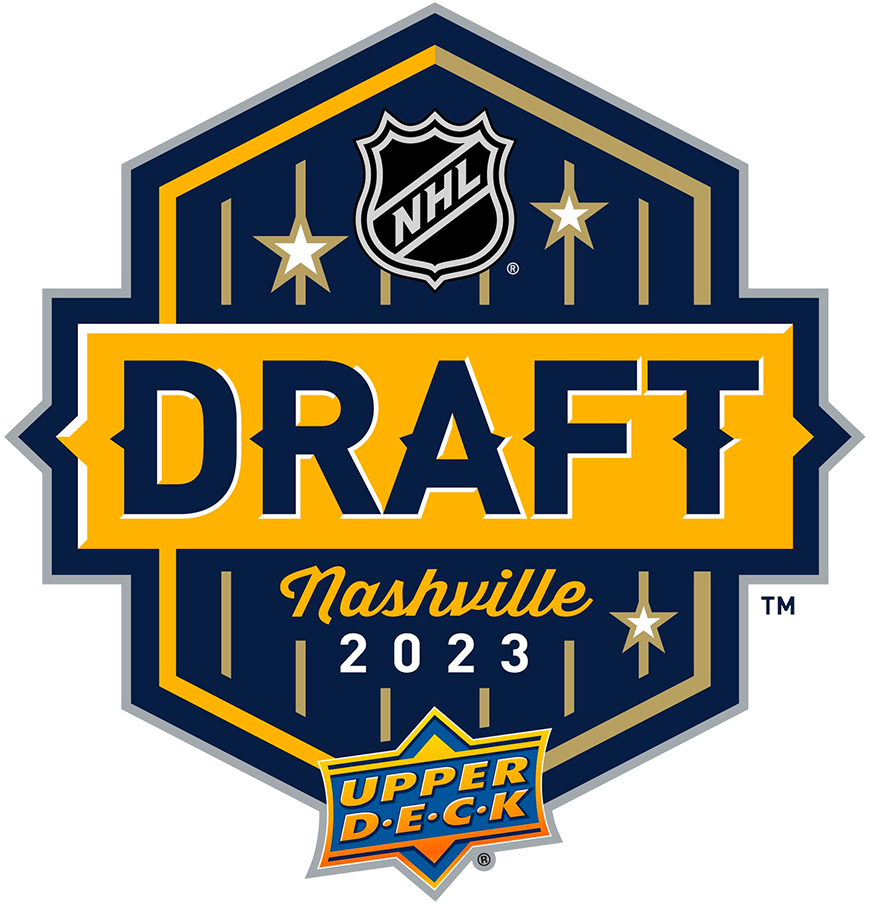 Below are the five names that every Jets fan should know heading into the 2020 NHL Entry Draft tonight.
Seth Jarvis, RW, Portland Winterhawks (WHL)
Seth Jarvis was an absolutely dominant force for the Portland Winterhawks this season in the WHL, providing outstanding offensive production. The young Manitoban right-winger is widely regarded to be among the top offensive talent likely available when the Jets select, and it would be wise for Winnipeg to use their pick on a hometown player. Jarvis is already an elite player but would benefit from another season or two with the Winterhawks before he's ready to move up to the NHL.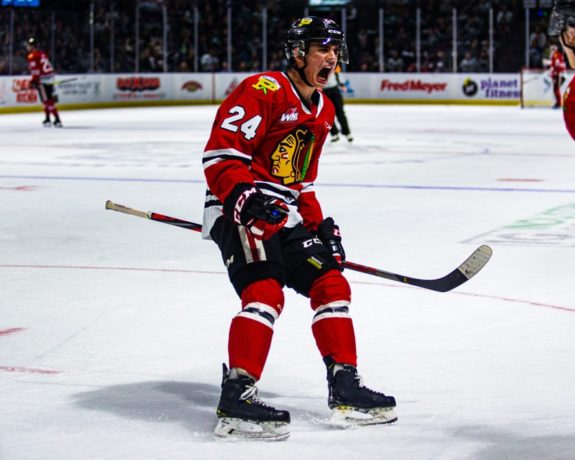 2019-20 – Portland Winterhawks (WHL) Regular Season Statistics
GP: 58 || G: 42 || A: 56 || Pts: 98 || PIM: 24 || +/-: +53
Related: Seth Jarvis – 2020 NHL Draft Prospect Profile
Jarvis would add some much-needed depth to the Jets' top-six forward group down the line, slotting in as a possible solution if they lose Laine, or to fill in for Blake Wheeler as he ages and regresses. While Jarvis is known to dish the puck to his teammates, he also has a scoring upside and could be a massive offensive contributor.
Kaiden Guhle, D, Prince Albert Raiders (WHL)
One of the best defensemen in his draft class alongside talented players like Jamie Drysdale and Jake Sanderson, the Jets should have their eye on Kaiden Guhle at 10th overall. While he's generally considered the third best of the three, Guhle is a refined talent who could be selected early by the right team. Drysdale is all but guaranteed to go to the Ottawa Senators at 5th overall, which leaves Winnipeg to pick between Guhle and Sanderson.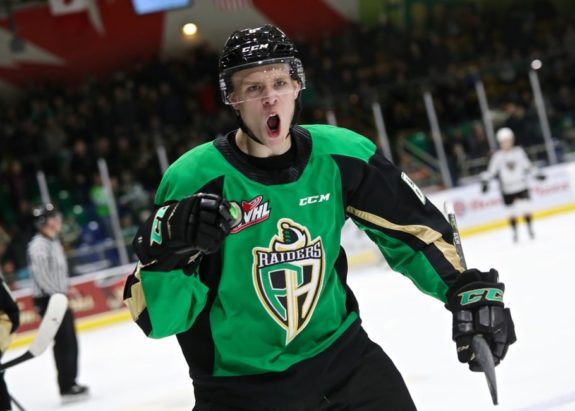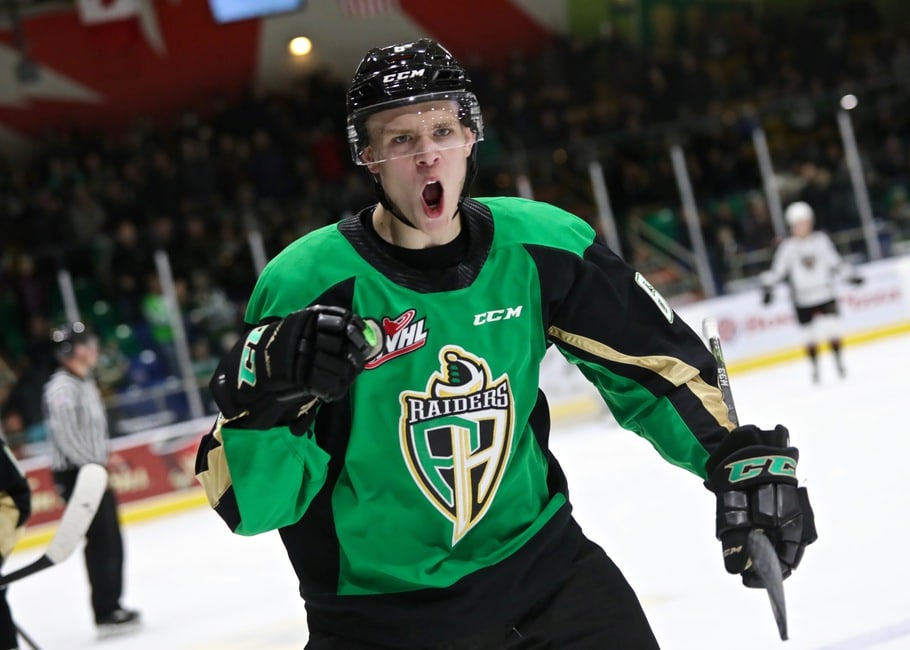 2019-20 – Prince Albert Raiders (WHL) Regular Season Statistics
GP: 64 || G: 11 || A: 29 || Pts: 40 || PIM: 56 || +/-: +23
Related: Kaiden Guhle – 2020 NHL Draft Prospect Profile
Guhle played out the 2019-20 campaign with the Prince Albert Raiders of the WHL and was a huge piece of their defense. He is a talented two-way player with massive size and great physical play along with a fantastic skating ability. Having a strong rough-and-tumble defenseman to play a similar role to the departed Byfuglien could reignite the Jets' defense. Guhle isn't quite NHL ready, but given another season or two with the Raiders, he could be ushered into the NHL around his twentieth birthday.
Jack Quinn, RW, Ottawa 67's (OHL)
It's hard to make an argument to pass on Jack Quinn if he's still available at 10th overall. He was ranked seventh in Craig Button's Final Prospect Ranking from TSN.ca and is arguably the top goal scorer in this draft. While the Jets already have a host of talented scorers, sometimes it makes more sense to pick the best player available. Developing their depth on the wing will be important for the Jets to remain competitive, and Quinn would be the perfect answer.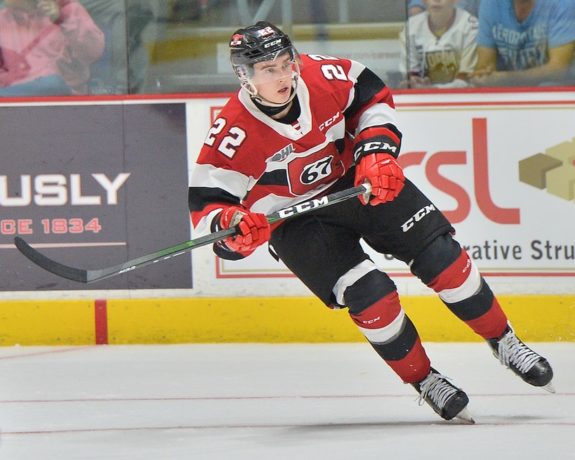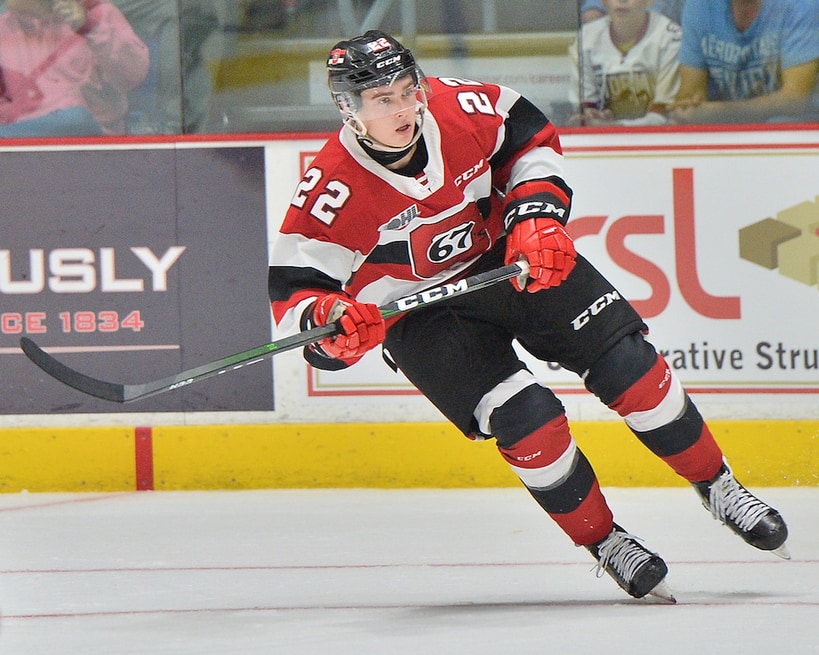 2019-20 – Ottawa 67's (OHL) Regular Season Statistics
GP: 62 || G: 52 || A: 37 || Pts: 89 || PIM: 32 || +/-: +48
Related: Jack Quinn – 2020 NHL Draft Prospect Profile
Quinn scored over 50 goals in 62 games for the Ottawa 67's of the OHL this season, and he is considered a nifty goal scorer with finesse but without sacrificing the more tactical parts of his game. He's a smart offensive player who generates opportunities not only for himself but for his teammates. He's also the closest the Jets would get to an NHL-ready player at 10th overall. Quinn could nearly make the jump up as an 18-year-old, although the Jets would likely opt to send him down for another season of development.
Jake Sanderson, D, US NTDP (NCAA)
Jake Sanderson is considered the number two defenseman in the draft behind Jamie Drysdale and will have the Jets' attention if he stays available until 10th overall. A product of the US National Team Development Program and a freshman with the University of North Dakota, he is a strong two-way player with a huge ceiling. He has developed offensively but is known to struggle with man-on-man defense in his own end. His commitment to North Dakota may mean it will be a few years before the team that drafts him sees him in their colors.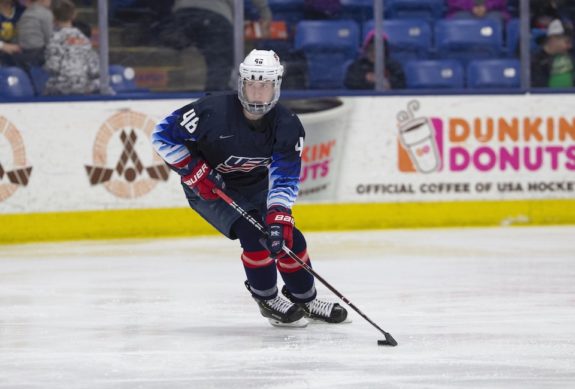 2019-20 – US (NTDP) Regular Season Statistics
GP: 47 || G: 7 || A: 22 || Pts: 29 || PIM: 12 || +/-: +0
Related: Jake Sanderson – 2020 NHL Draft Prospect Profile
Sanderson is similar to Jacob Trouba and could grow into a talented top-four defenseman, maybe even seeing time on the top pairing alongside Josh Morrissey someday. There was speculation that the New Jersey Devils might target him at 7th, but it has died down according to Pucks and Pitchforks. Playing against better, stronger players in the next few years in North Dakota will allow him to really grow into his game and prep him for the NHL in a few years.
Anton Lundell, C, HIFK (Finland)
The Jets have a good history of drafting Finnish players, and selecting Anton Lundell at 10th overall would strengthen that fact. Lundell is a multi-talented center who played this season in Finland's top pro league with HIFK, where he made a solid offensive contribution as a fresh-faced teenager. He has slid down the draft rankings a bit due to his lack of experience on North American ice and a 2001 birth date, but he could be an important addition none the less.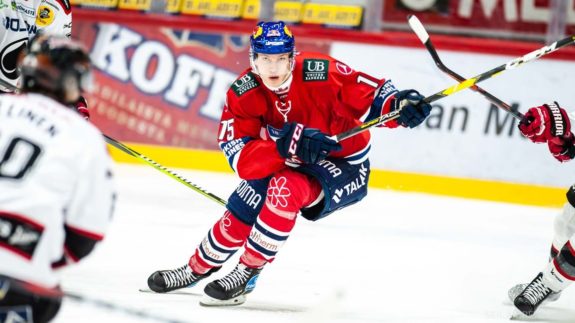 2019-20 – HIFK (Finland) Regular Season Statistics
GP: 44 || G: 10 || A: 18 || Pts: 28 || PIM: 18 || +/-: +11
Related: Anton Lundell – 2020 NHL Draft Prospect Profile
Lundell could be a fantastic top-six forward someday, and make the jump to the NHL without too much seasoning thanks to his extra year of experience compared to his fellow draftees. While he doesn't quite have the offensive touch of Quinn or Jarvis, Lundell is a safe bet for a great two-way player.
The 2020 NHL Entry Draft will be conducted via video conference call, with the first round of selections scheduled for Oct. 6 at 7 pm ET from Secaucus, New Jersey on NBCSN. The remaining six rounds will be conducted on Oct. 7 from 11:30 am ET on NHL Network.
---
---