Surprise, surprise, the Vancouver Canucks are playing exceptional hockey in March amidst another lost season where they won't make the playoffs. Instead of finishing in the bottom five, they likely will finish in the bottom 10 or 15 and miss out on a chance to draft Connor Bedard, Adam Fantilli, or Leo Carlsson. But as head coach Rick Tocchet said recently, "We can't afford to wait until next year, these are important games for us. We're trying to build stuff around here."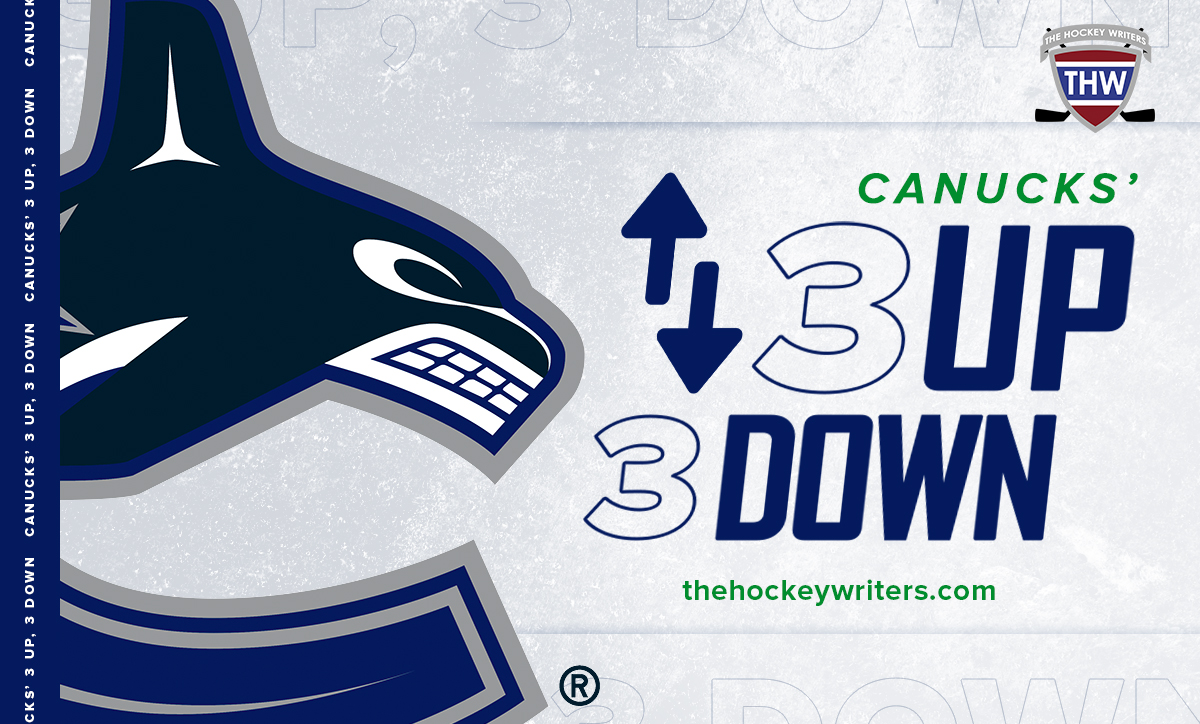 Since Tocchet took over, the Canucks are 13-8-2 and have fixed a lot of the defensive issues they had under Bruce Boudreau and Travis Green. They are winning low-scoring one-goal games, playing more disciplined in their own zone, and overall have become a much harder team to play against. Even though the Canucks are poised to miss the playoffs for a third-straight season (eighth-straight if you don't count the 2020 Bubble Playoffs), there's a lot of positivity flying around right now. With that, let's dive into the latest 3 Up, 3 Down.
Plus One: Pettersson Continues March to 100 Points
What can you say about Elias Pettersson that hasn't been said already? He just hit a career-high 33 goals against the Anaheim Ducks on Sunday (March 19) with his second-straight power play snipe, notched his 88th point in his 67th game, and is on pace to record his first 100-point season in the NHL. He only needs 12 more in the Canucks' final 13 games, and unless he falls into a massive point drought, he will join the likes of Markus Naslund (2002-03), Henrik (2009-10), and Daniel Sedin (2010-11), Pavel Bure (1992-93, 1993-94), and Alex Mogilny (1995-96) in the 100-point club.
Pettersson has been nothing short of amazing this season. In addition to his 88 points, he has four shorthanded goals, 76 blocked shots (leads all forwards in that category, and second only to Tyler Myers overall), and five game-winning goals. The most impressive of all is that 60 of his 88 points have come at even strength – which ranks him sixth in the NHL, nine points behind the league leader Connor McDavid. He's also been the Canucks' top two-way forward, playing on both the first-unit power play and penalty kill, and is usually one of the first players on the ice with the game on the line. Finalist for the Hart Trophy? It would be a crime if he wasn't at least considered.
Minus One: Kravtsov Has Struggled Since Joining Canucks
Vitali Kravtsov has been largely invisible since joining the Canucks in February from the New York Rangers. Save for a great pass on March 2 against the Minnesota Wild, you would have a difficult time putting together a highlight reel of memorable moments. Granted he's only played nine games in a Canucks uniform, but for a guy that has been touted as an offensive dynamo, he should stand out a little more. Especially considering seemingly less-skilled guys like Nils Aman, Dakota Joshua, and Sheldon Dries are out there making more of an impact.
Related: Canucks 2022-23 Trade Wins & Losses
---
Latest News & Highlights
---
In those nine games, Kravtsov has only 10 shots on goal and has averaged a career-low 10:57 in ice time. He's already been a healthy scratch and has only two shots in his last four games. He's not even contributing in the intangibles department, as the last time he was credited with a hit was four games ago when he threw one against the Ducks on March 8. All in all, he's been pretty disappointing so far. And with Aidan McDonough itching to get into the lineup, he is running out of chances to convince Tocchet not to leave him in the pressbox for the foreseeable future.
Plus Two: Hughes In Rare Company Among NHL Greats
The two major pillars of the Canucks' "retool" have been just that this season as Pettersson has anchored the forward unit and Quinn Hughes has headed up the defence. While he has yet to establish a new career high for points, he is only one point away from smashing his best for assists. In fact, his second-straight 60-assist campaign puts him in rare company with only Ray Bourque (five straight from 1989-90 – 1993-94) and Paul Coffey (two straight from 1992-93 – 1993-94). Not a small feat considering the plethora of offensive defencemen like Cale Makar, Roman Josi, Victor Hedman, and Erik Karlsson that have dotted the NHL landscape in recent years.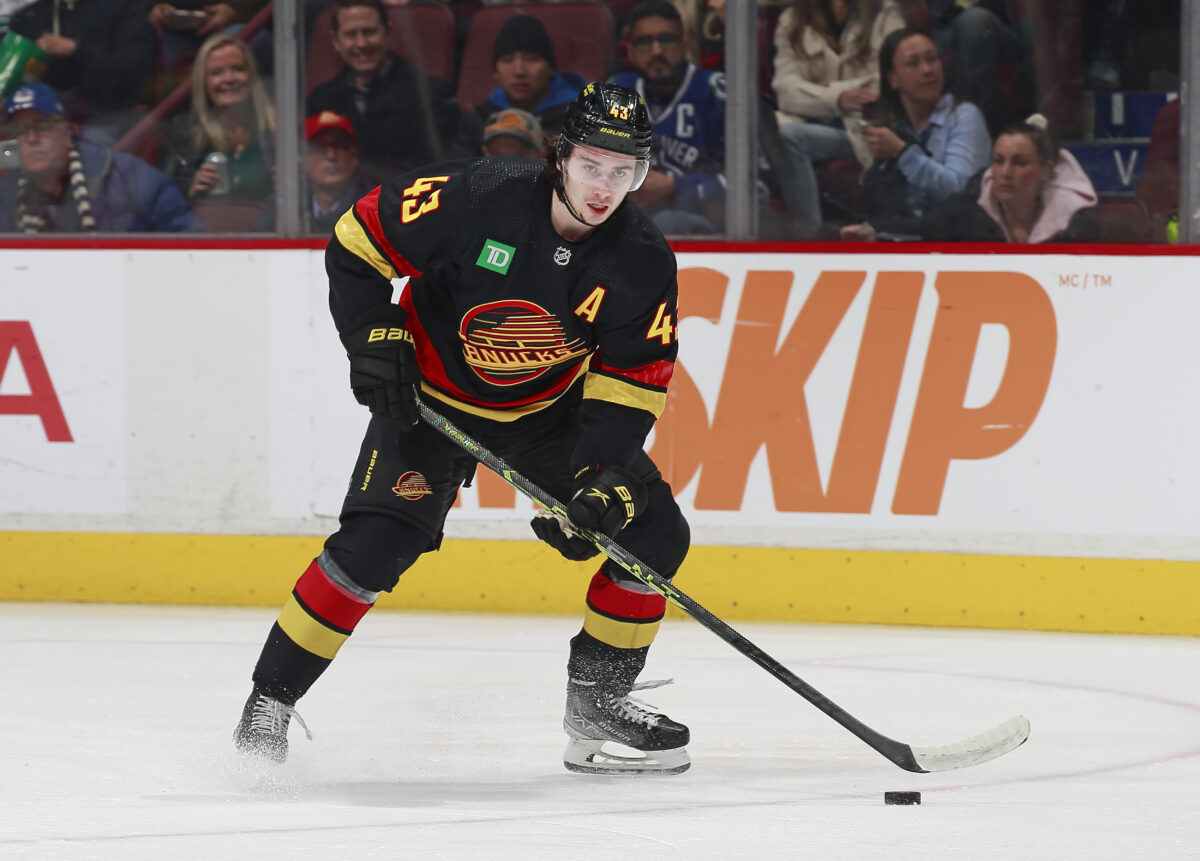 Hughes also became only the second Canuck in franchise history to hit the 60-assist mark in consecutive seasons joining former captain Henrik Sedin who did it in six straight from 2006-07 – 2011-12. Again, not something that has been done a whole lot over the years. He has also garnered praise from his new head coach for being a leader on and off the ice and even drew comparisons to Coffey and Scott Niedermayer for his breakout skills and skating ability.
Minus Two: Filip Hronek Still Injured
The Canucks' surprising new addition at the trade deadline still hasn't suited up for a game with his new team. Filip Hronek remains out with an upper-body injury and there is no indication of a return date. In fact, he has yet to be seen practicing with the team and there has been no official word on his status.
Related: 3 Canucks in the 2022-23 Rumour Mill That Shouldn't Be Traded
Hronek was having a career year before his latest injury with nine goals and 38 points in 60 games. There has already been talk about his future contract being upwards of $7 million, which would be a problem for the Canucks considering they will have Pettersson, Vasily Podkolzin, Nils Aman, and Jack Studnicka as restricted free agents (RFA), and Anthony Beauvillier as an unrestricted free agent (UFA) when he enters RFA status in 2024-25. But that's a future problem for the front office to deal with. I think all the coaching staff wants to see right now is how he will fit into the current system and lineup.
Plus Three: Kuzmenko Ties Bure With 34 Goals in First NHL Season
Andrei Kuzmenko has quickly endeared himself to Canucks fans and media with his bubbly personality, quirky demeanor, and exciting goal celebrations. He's now done the latter 34 times and tied the great "Russian Rocket" Pavel Bure for the most in a rookie season. The difference: he's 27 years old and Bure was 20. That shouldn't take away from his amazing first campaign in the NHL, but the comparisons between the two should stop there. Kuzmenko may don a number that Bure used to wear, but they are totally different players.
Kuzmenko is nowhere near the skater Bure was and the majority of his goals come within a few feet from the crease while Bure's were scored at breakneck speed – and mostly off the rush. But again, that shouldn't discount what he has done in only 68 NHL games. Before traveling overseas from the Kontinental Hockey League, Kuzmenko's career-high for goals and points was 20 and 53 respectively. He's surpassed both in the most difficult league in the world and is on pace for 41 goals and 73 points, which would shatter any rookie total the franchise has ever seen.
Minus Three: Canucks Drop to Six Percent Odds in Draft Lottery
The NHL announced that the annual draft lottery would take place on May 8 this year. Unfortunately, this event has become all too familiar to Canucks fans as they've had a reason to watch it almost every season. Luck hasn't been on the Canucks' side, but some might argue that they actually won both draws in 2017 and 2018 when they selected Pettersson and Hughes fifth and seventh respectively.
---
---
After another disappointing first half of the season, there was a time when the possibility of selecting Bedard was very real. Now, not so much. With the Canucks on an 8-2 run over their last 10 and sporting a very solid record since Tocchet took over, their odds have dwindled to six percent (as of March 20). Yes, there's still a chance, but considering they have one of the easiest schedules remaining (according to Tankathon), it's likely those odds will continue to drop.
That does it for another Canucks' 3 Up, 3 Down. Stay tuned for the next one as the 2022-23 season winds down and we start getting ready for the 2023 NHL Draft. Hopefully this time next year we'll be talking about preparing for the playoffs instead of another draft lottery.