In this edition of the Vancouver Canucks Prospects Report it's signing season as Aidan McDonough and Kirill Kudryavtsev both put pen to paper on their entry-level contracts (ELC) this past week. Josh Bloom also joined the organization before the 2023 Trade Deadline and is continuing his impressive career season in the Ontario Hockey League (OHL) with the North Bay Battalion.
McDonough Inks Entry-Level Contract After Impressive Season in NCAA
After some uncertainty around whether McDonough would sign with the Canucks after his senior year with Northeastern, he put those concerns to rest by signing his entry-level contract on Monday (March 13). Arguably the organization's second-best forward prospect after Jonathan Lekkerimaki, he comes to Vancouver after an impressive 45 goals and 77 points in the past two seasons in the NCAA. Named captain of the Huskies before the 2022-23 season, he led the team with 20 goals and 38 points (one off his career-high set in 2021-22) and was lethal on the power play where he could be seen blasting one-timers from the right circle.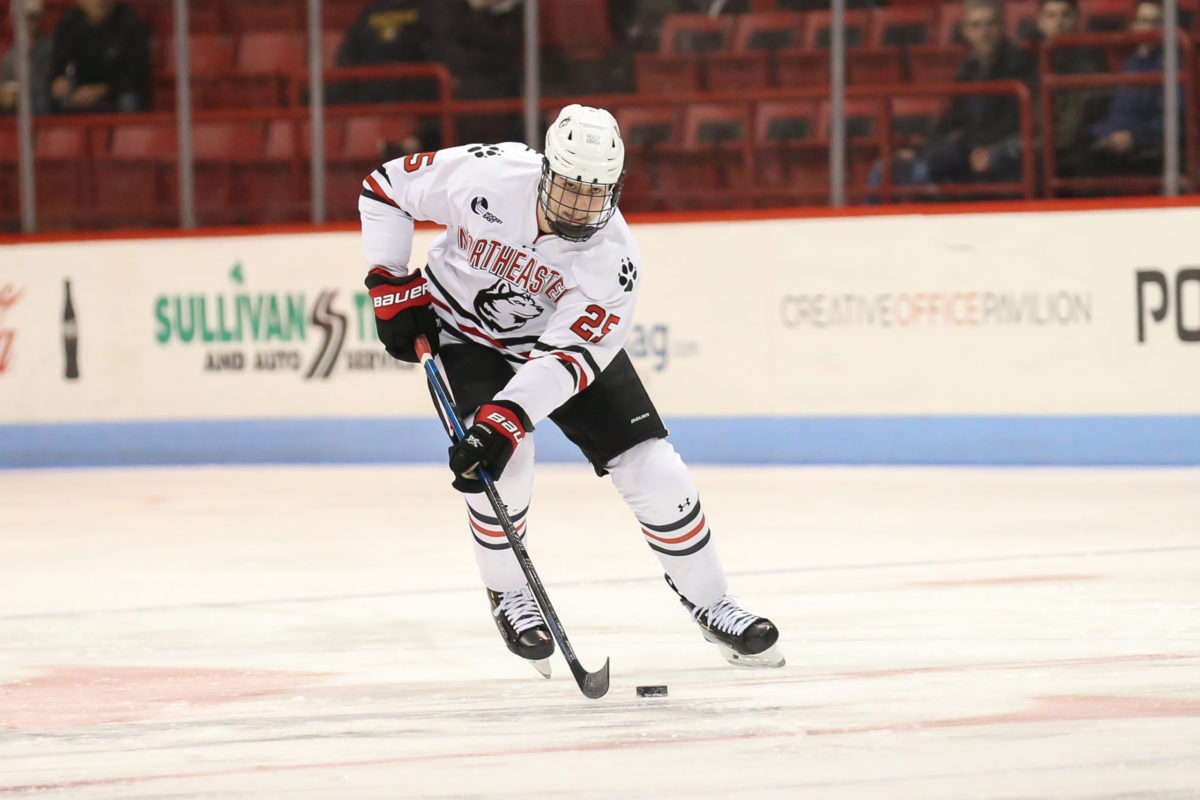 While McDonough is probably excited to be signing his first NHL contract, he likely wanted it to happen a little later in the season. Returning to Northeastern with hopes of a national championship in 2023, his team fell short of that goal on the weekend when his Huskies lost 2-1 in the Quarterfinals to the Providence Friars. McDonough had three shots in the loss, but was held pointless for only the 11th time this season.
Despite the disappointment, McDonough will now try and impress the new Canucks brass who weren't involved in drafting him back in 2019. Fortunately, it looks like he already has a fan in his corner in general manager Patrik Allvin.
"Aidan has continued to improve his game each year since being drafted and we are very pleased to have agreed to terms with him today…He has steadily grown into a leadership role with Northeastern throughout his time there and our development team is looking forward to working with him as he starts his pro hockey career."
Related: NHL Rebuild Rankings: Which Teams Are Closest to Contending?
---
Latest News & Highlights
---
As mentioned, McDonough's biggest strength is his wrist shot and lethal one-timer on the power play. He also has great character and leadership abilities as referenced by Allvin and reiterated by his now-former head coach Jerry Keefe:
He was a tremendous captain for us. He showed up every single day and wanted to make himself better and make the team better…I have so much respect for the way he approached every day and I know a lot of our younger guys learned a lot from him. He's one of those guys that drives the culture here and I'm just really proud of him.
Canucks fans will likely see McDonough in the Orca (or Flying Skate) in Vancouver instead of the Johnny Canuck in Abbotsford as it's expected he will join the NHL roster and make his debut very soon. It will be interesting to see if his tremendous success at the NCAA level (especially on the power play) will translate when the competition gets tougher and he doesn't have as much time to unleash his shot. He will have to improve on his skating to fully maximize his potential, but that's something that can be worked on in time. With his work ethic and commitment to improving his game, he should become a solid middle-six forward with a knack for scoring on the man advantage.
Kudryavtsev Could Be Another Late-Round Steal
Another Canucks prospect that signed his ELC recently was Kudryavtsev. Drafted in the seventh round in 2022, he has been on fire in the OHL with the Soo Greyhounds posting a career-high six goals and 45 points in 62 games. This after a 39-point season in 2021-22 where he recorded 39 points in 68 games in his first go-around in North America. Touted as a good puck mover with a sharp hockey IQ, he is the type of defender the Canucks need more of in their system.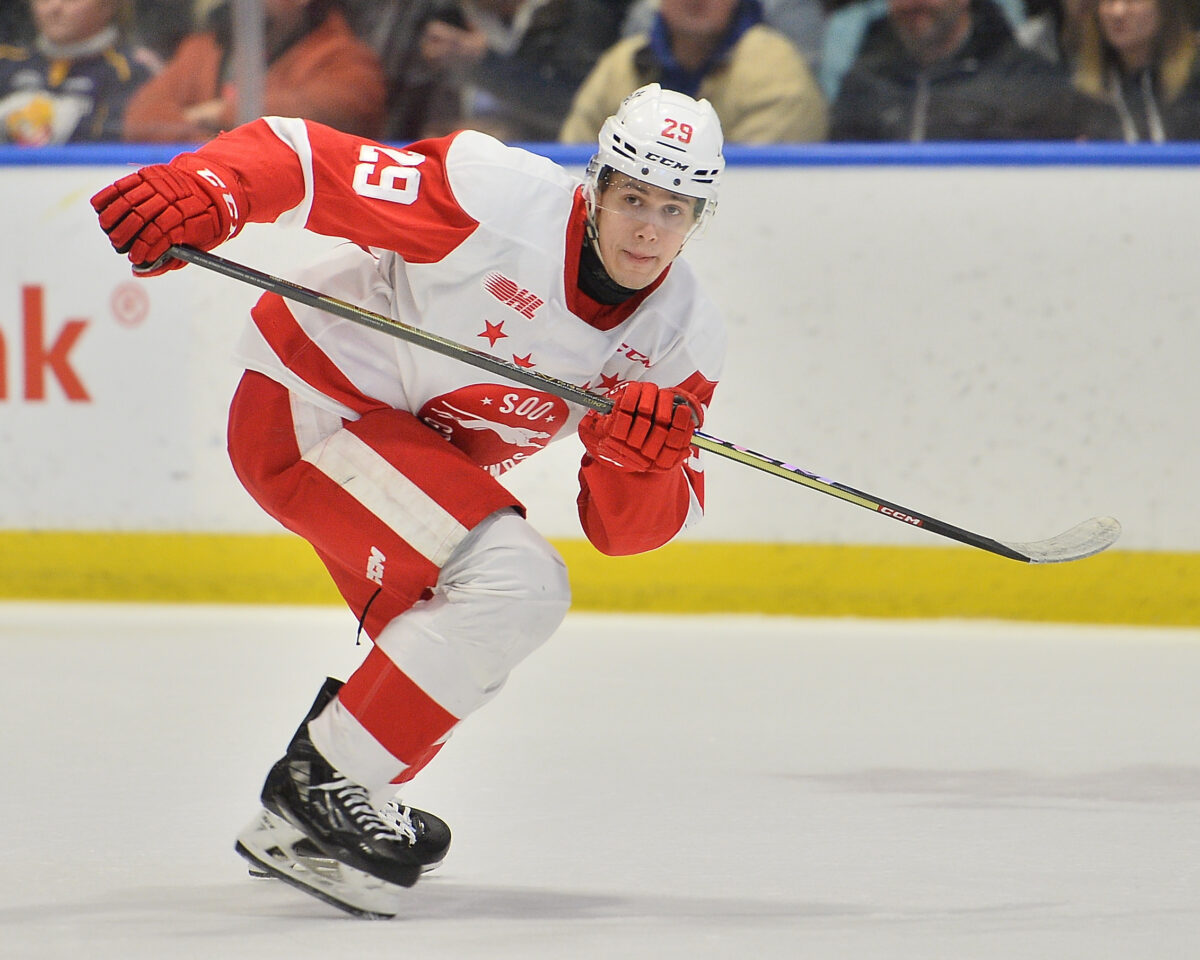 If all goes well in his development, Kudryavtsev will join a pretty large Russian contingent in Vancouver that now includes Ilya Mikheyev, Andrei Kuzmenko, Vitali Kravtsov, Vasili Podkolzin, and assistant coach Sergei Gonchar. With his ability to move the puck and quarterback a power play, he has a good chance of becoming an underrated part of the defence corps in the future. Turning 20 in February 2024, he could join the Abbotsford Canucks as soon as the end of 2023-24.
Trade For Bloom Could Be an Underrated One in a Few Years
Bloom for Riley Stillman doesn't sound like an earth-shattering trade. That's because it isn't. At least not right now. But it could be in a few years, especially if Bloom becomes a player like Tyler Motte (as my colleague at The Hockey Writers, Adam Kierszenblat, stated after the trade was made). Known as a tenacious penalty killer at the OHL level with the Battalion, he has a lot of the same traits as the former Canucks fan favorite. Daniel Gee, who does a great job of breaking down video of prospects at Daily Hive, said this about Bloom's penalty-killing abilities:
"When down a man, Bloom is a downright menace when pushing pressure on puck carriers. He ups his pace, forcing subpar passes, and is like a mosquito trapped in your tent — he will not stop annoying you until he can force you into a fit."
Bloom is also described as a dangerous shooter and playmaker (at least at the junior level). Don't forget, Motte was also an offensive producer in the NCAA with the Michigan Wolverines, but translated his two-way energy game to the NHL in a bottom-six, penalty-killing role. Bloom could do the same thing and make this trade a very interesting one to look back on in a few years.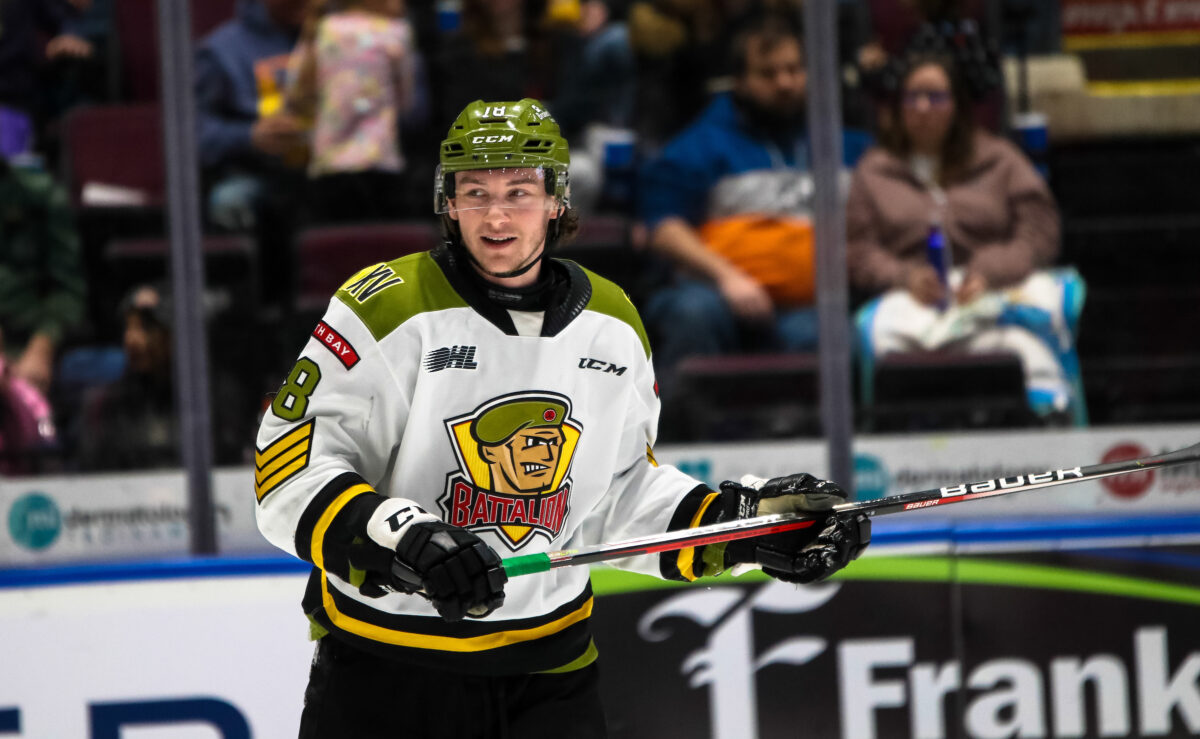 Drafted in the third round by the Buffalo Sabres in 2021, Bloom could actually be more effective in his role than Motte just due to the fact that he is four inches taller than him. He is listed as 11 pounds lighter (according to Elite Prospects), but the 19-year-old has a lot of time to fill out his frame before his prime years.
After a 30-goal season with the Saginaw Spirit in 2021-22, Bloom was traded to the Battalion at the beginning of the 2022-23 season and is now over a point a game with his new team. Between the Spirit and the Battalion, he has 28 goals and 63 points in 64 games. Unlike McDonough and Kudryavtsev, he will be competing in the playoffs as his Battalion have clinched a spot and currently are second in the Eastern Conference behind the Ottawa 67's.
That does it for another Canucks Prospects Report! Stay tuned next week for another one as teams continue their playoff push in North America and overseas.
---
---