On Feb 26, 2018, the Vancouver Canucks made a very unpopular move when they traded Thomas Vanek to the Columbus Blue Jackets for Tyler Motte and Jussi Jokinen. Many thought they did not get enough for the 34-year-old veteran who just potted 17 goals and 41 points in 61 games. Motte wasn't a high-end prospect and Jokinen was an aging veteran nearing retirement. General manager Jim Benning was fishing for draft picks at the time, and a lot of pundits really believed he dropped the ball when he didn't get at least a second-round selection for the Austrian sniper.
Related: Canucks' Top-20 Goal Scorers All-Time
Fast forward three seasons and Motte is an integral part of the Canucks young core and is arguably the heart and soul of the team. Some might say he's the new Alex Burrows, who ascended from the bowels of the bottom-six to the summit of the top-line alongside superstars Henrik and Daniel Sedin. He probably won't become a four-time 20-goal scorer and ultimately finish his career with 409 points in 913 games, but I wouldn't put it past him either. Remember, Burrows did not start his meteoric rise until he was 27-years-old, and Motte is only closing in on 26 right now.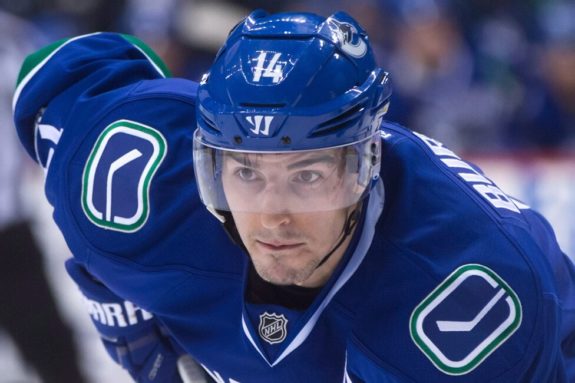 Like Burrows, Motte is not just another run-of-the-mill fourth-liner. He's got speed, skill, grit, determination, and most of all, a relentless work ethic. It's no wonder that he's the Canucks' most important penalty killer, and if that wasn't enough already, it appears that he's added offence to his repertoire as well. Before Brock Boeser scored twice against the Ottawa Senators on Thursday, he was tied for the team lead in goals with five. He also leads all players in hits with 41, and it's not even close, as JT Miller is a full 17 hits behind him. I think it's safe to say that his performance in the 2020 playoffs wasn't a fluke, as he's just continued where he left off.
Motte's journey deserves to be explored a little further, as he's not just touched our hearts and minds as a hockey player, but as a person as well. So without further ado, let's take a walk down memory lane and find out a little more about the man they call Motter.
Motte's Beginnings With the US National Development Team
Motte's hockey journey began with the United States National Development Team. He played two seasons there where he brushed shoulders with some future NHL stars in Seth Jones, Jacob Trouba, Brady Skjei, Will Butcher, Jack Eichel, Dylan Larkin, and Alex Tuch. Motte wasn't a scoring machine, but he did put up 26 goals and 45 points in 62 games, which got the attention of the Chicago Blackhawks, who selected him 121st overall in the 2013 NHL Draft.
After that, Motte committed himself to the University of Michigan, which is where his story really began.
Motte's Time With the Michigan Wolverines
The University of Michigan is a factory for NHL players. Over the course of their recorded history, they have graduated 99 players to the NHL, which include current Canucks Tyler Motte and Quinn Hughes. They also stand to increase that number substantially in the coming seasons as they currently have eight draft picks and three 2021 draft hopefuls on their roster just waiting to make their debuts in the NHL.
Related: Wolverines Set To Dominate 2021 NHL Draft
Motte spent three seasons with the Wolverines where he accumulated 50 goals and 105 points in 107 games. He also was a Hobey Baker Award finalist during the 2015-16 season when he finished with a staggering 32 goals and 56 points in 38 games. Jimmy Vesey, who currently plays for the Toronto Maple Leafs, ultimately won it but just being nominated for the award is a tremendous achievement. Just look at the eligibility requirements if you're not convinced,
Candidates must:
    •     Exhibit strength and character, both on and off the ice
    •     Contribute to the integrity of the team
    •     Display outstanding skills in all phases of the game
    •     Show scholastic achievement and sportsmanship
If that doesn't describe Motte right now, I don't know what to tell you. He was one of the Wolverines' best players throughout his time in the NCAA and helped form one of the league's most potent top lines with Kyle Connor and JT Compher. Together, they racked up 190 points and were all finalists for the Hobey Baker Award, which is just unheard of. Although he has never described himself as a skill guy, he sure showed everyone that he knew how to put the puck in the net with those 32 goals he scored that season.
Motte Debuts in the NHL with the Blackhawks
After three successful seasons with the Wolverines, Motte signed with the Blackhawks and made his NHL debut on Oct 12, 2016 against the St. Louis Blues. He promptly got his first NHL point in that game on a Ryan Hartman tally scored in the second period. Just three games later, he potted his first NHL goal against the Columbus Blue Jackets' Sergei Bobrovsky and ended up finishing his rookie season with four goals and seven points.
Blockbuster Trade Brings Motte to the Blue Jackets
Motte's time in the Windy City was short-lived, as he was dealt in the offseason to the Blue Jackets in a blockbuster involving star forward Artemi Panarin, who had just finished back-to-back seasons with 30 goals and 70-plus points. While it appeared that he was just a throw-in alongside an elite goal scorer, Blue Jackets' general manager Jarmo Kekäläinen set the record straight after the trade when he said that Motte was someone they had heavily targeted.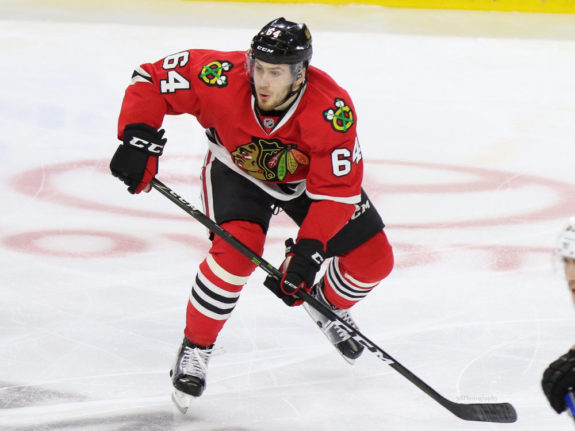 We needed a significant piece back, and Tyler Motte is a player that we've seen a lot…We're very familiar with his ability and potential. We kind of got lucky to see him a lot because Zach Werenski played on the same team at Michigan, and watching Zach Werenski every game, we got to see Tyler Motte a lot.
Motte only ended up playing 31 games with the Blue Jackets, but he must have done enough to catch Canucks GM Jim Benning's eye, as he was on his way to Vancouver at the trade deadline in a deal for Vanek.
Motte Breaks Through With the Canucks
Motte didn't take long to endear himself to Canucks head coach Travis Green. Upon his arrival to the team, Green didn't ease him into the lineup with sheltered minutes. He used him heavily on the penalty kill to the tune of 1:41 of shorthanded time and only ever dropped him below nine minutes once. He was basically Green's type of player, gritty, physical, and tenacious on the forecheck. Not to mention a bulldog on the penalty kill. By the end of the season, he was a regular in the lineup and was quickly making everyone forget the name Vanek.
All that work did not guarantee Motte's place on the roster for the 2018-19 season though, as he had to fight his way on to the team during training camp. No one, including me, thought he had a chance of making the opening night roster, especially with the number of veterans on the team that season. Though given his work ethic, we probably shouldn't have been surprised when he forced the Canucks to place Sam Gagner on waivers to make room for him.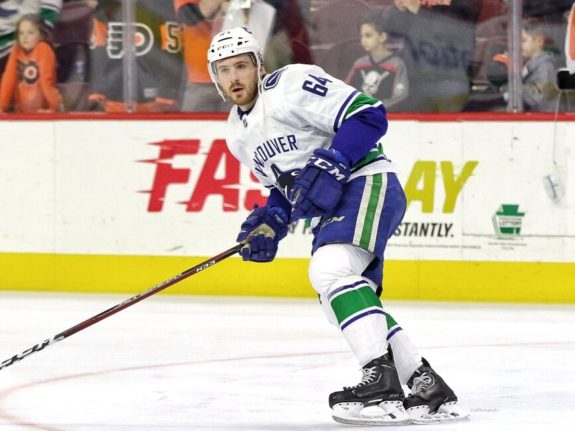 It turned out to be the right decision as Motte established himself as a key part of the Canucks' fourth line and one of their most trusted penalty killers. He also scored a career-high 9 goals and 16 points in 74 games and racked up 200 hits and 52 shot blocks.
Motte Opens Up About His Battle with Depression
The Canucks are very familiar with the dangers of anxiety and depression after forward Rick Rypien took his own life in the summer of 2011. Since then, the organization has been heavily involved in the Hockey Talks initiative and Mind Check (now Foundry) in an effort to inform and help people battling the terror of this all-too-common condition. Former Canucks defenceman Kevin Bieksa and former Canucks media relations guru TC Carling helped spearhead both movements and now 18 NHL teams host Hockey Talks games every season.
That relationship with Hockey Talks must have touched Motte because just before the Canucks hosted their eighth annual game last January, he opened up about his own battle with anxiety and depression.
For me, just accepting and saying out loud that I was diagnosed with depression and had a mental health issue, that was the first weight off my shoulders…The hardest part for me was coming to accept it, because I didn't want to be treated differently or looked at differently. But at the same time, sometimes having those around you know and understand can help you push through.
Motte revealed that he had been dealing with the condition since his second year of professional hockey when he was in the American Hockey League with the Rockford IceHogs. Since then, he's worked with counselors and friends to manage it, and now that he's gone public, has become one of the Canucks' ambassadors for mental health awareness. He even appeared on the Broadscast podcast to help support their Motte Girl Summer t-shirt initiative which has all proceeds go to mental health organizations across British Columbia and the state of Michigan.
Motte Completed the Canucks in the Playoffs
Opening up about his battle with depression seemed to have lifted a weight off Motte's shoulders, because in the 2020 playoffs, he was a beast. His best came in two crucial games against the Blues when he scored four goals and helped will his team to a berth in the second round. He showed off all of his tools during that series, as he killed penalties with aplomb, used his speed and skill to score a couple of pretty goals, and most importantly, came to play when his team needed him the most.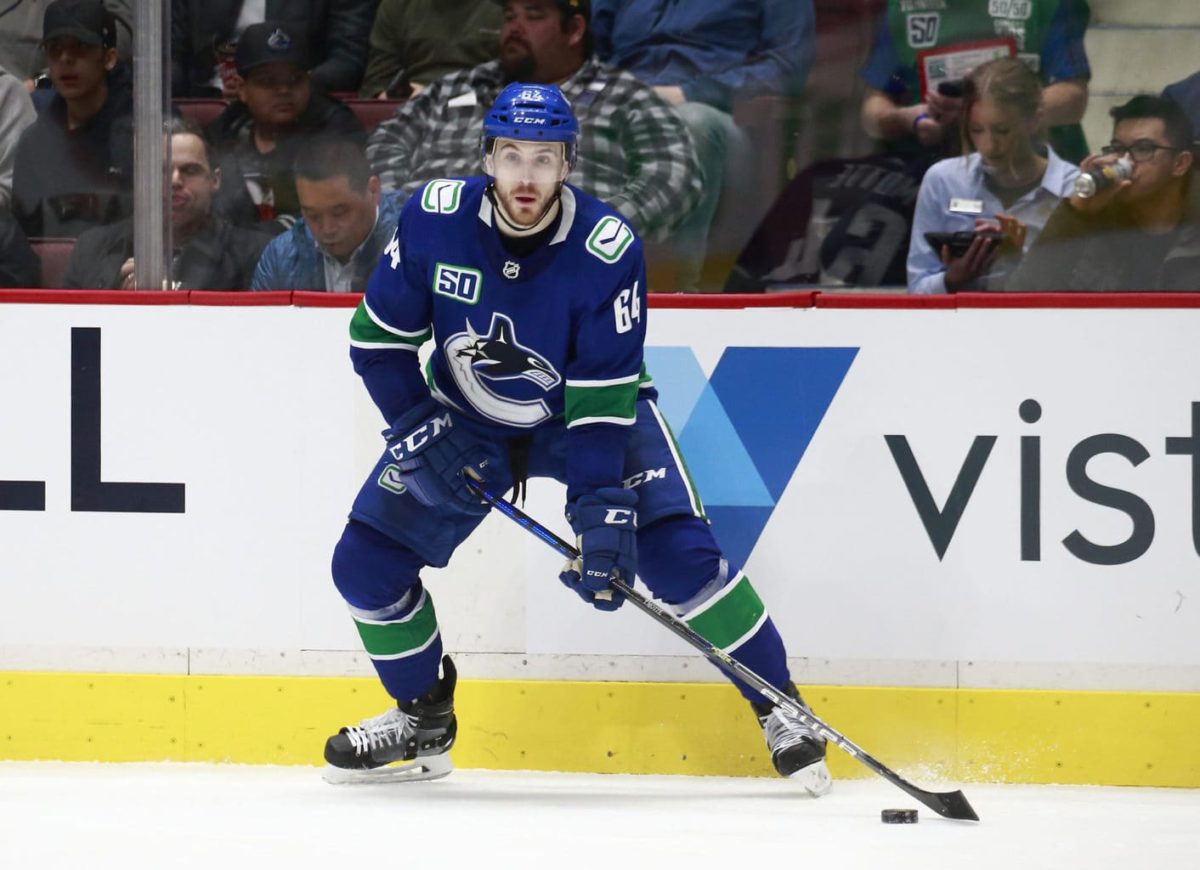 Those playoffs were Motte's coming out party, as he showed everyone that he was more than just a fourth-line grinder. Much like he was during his college career, speed and effort were his forte, and goals were usually the result of most of that hard work. Similar to Burrows, the playoffs brought the best out of him and eventually secured his future in Vancouver as a two-way threat in the bottom-six.
Motte Continues His Emergence in 2020-21
As mentioned before, Motte has started the 2020-21 season on fire with five goals in his first ten games. His eight minutes of penalties notwithstanding, he has been the Canucks most consistent player so far and has made the fourth line look the best it has in years. Teaming up with Jay Beagle and Antoine Roussel, the line has not been scored on yet and has scored three goals (all by Motte). They also have a respectable 41.10 Corsi-for percentage (CF%).
If Motte continues this pace, he could see time on the third line with Adam Gaudette and Brandon Sutter. Then, when Vasili Podkolzin eventually makes his way over from the KHL, a unit of Motte, Gaudette and Podkolzin could make the Canucks' top-nine a force to be reckoned with.
Motte has become one of the most valuable fourth-liners in the NHL, and could even be more if he continues his upward trajectory. His character, leadership, and overall skill have conjured up thoughts of Burrows and Jannik Hansen, who are now legends in Canucks lore. Even if he doesn't rise to their heights, his place will still be cemented in the hearts and minds of Canucks fans everywhere. Not bad for a guy everyone thought wasn't valuable enough to acquire in a trade three seasons ago.
---
---