The St. Louis Blues continued their season last week with two home games and two road games. They got Jakub Vrana in their lineup after making the trade deadline day move with the Detroit Red Wings. The Blues are getting a clearer picture of what their forward group will look like next season.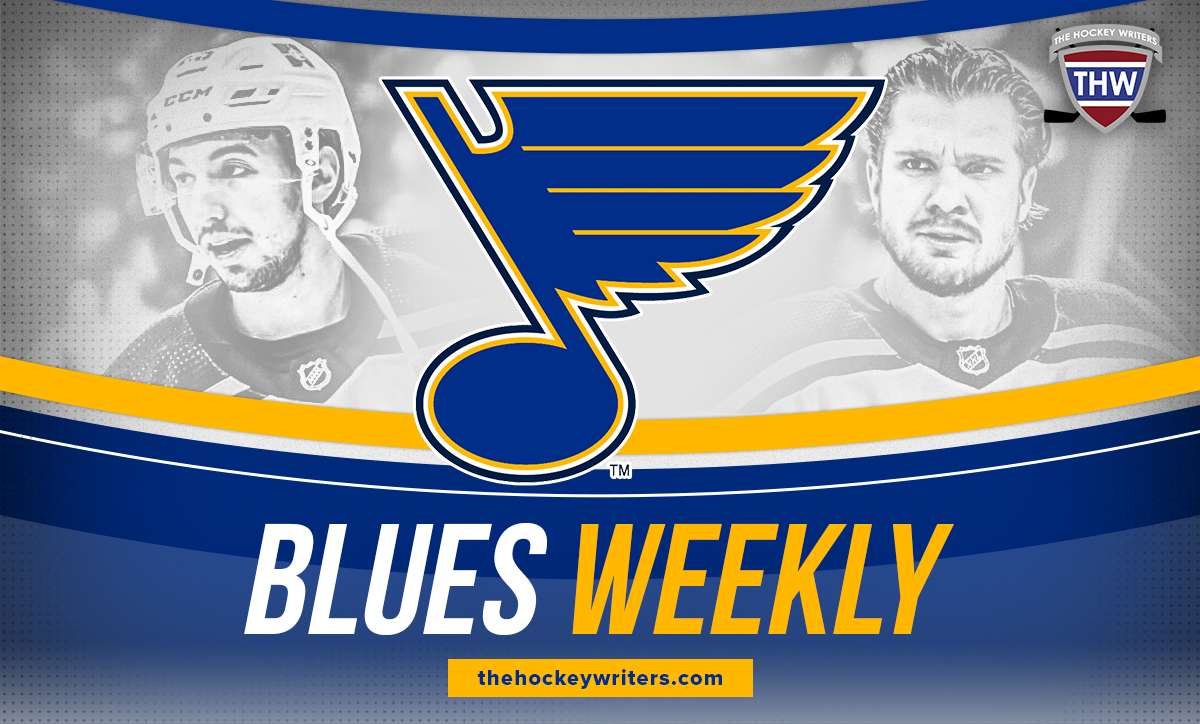 They began last week with a 6-2 loss to the Arizona Coyotes. Coyotes forwards Nick Schmaltz and Clayton Keller continued their run of dominance against the Blues. Schmaltz had a goal and an assist in this game. St. Louis native Keller had a goal and two assists. Schmaltz has 29 points in 29 career games against the Blues, while Keller has 24 points in 24 games. The season series between the Blues and Coyotes finishes with the Coyotes winning two of three. The Blues surrendered 16 goals in three games, and their only win over the Coyotes was in overtime.
Related: St. Louis Blues Trade Deadline History
The Blues got their second win over the San Jose Sharks in two weeks. They won 4-2 with two big goals in the third period. Vrana scored his first goal as a Blue in this game. Jordan Binnington saved 32 of 34 shots in the victory. They split the remaining games of the week with the Columbus Blue Jackets and Vegas Golden Knights in a back-to-back. Sammy Blais had three points in the win over the Blue Jackets. Jordan Kyrou had a huge week with four goals and three assists in four games. It was an interesting week of games for the Blues, but none of the results were surprising. They're now 29-32-5 for 63 points on the season.
New Blues Forwards Fitting in Well
The Blues added three forwards to their team before the trade deadline. They added Blais in the Vladimir Tarasenko trade. They claimed Kasperi Kapanen off of waivers and traded for Vrana from the Red Wings. After extending Blais with a one-year contract, all three of these forwards will be in the lineup next season. With the Blues being in the midst of a retool, adding forwards that need a change of scenery is smart. Versatility is a key attribute for all three of these players.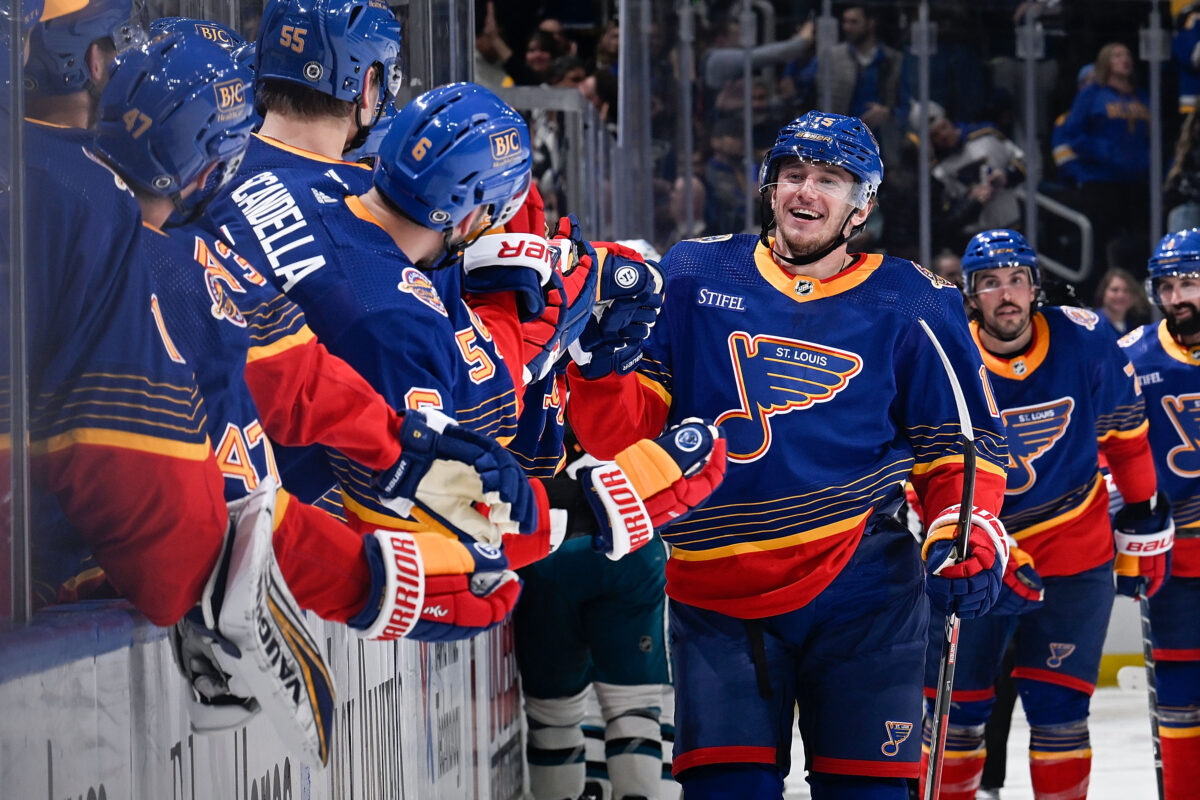 Blais can play on any of the bottom two lines. Vrana and Kapanen can both play on any of the top three lines. Those two bring an element of speed that the Blues haven't had with anybody other than Kyrou over the past few seasons. The numbers speak for themselves as well. Beginning with Blais, he struggled mightily in parts of two seasons with the New York Rangers. He scored zero goals in 54 games in New York. In 15 games with the Blues this season, he has four goals and three assists for seven points. Head coach Craig Berube has always been able to get the most out of a big winger like Blais.
As for Vrana, he's one of the most talented offensive players on the Blues roster right now. A change of scenery is great for him. He has two goals in four games, and it could easily be four goals in four games. He seems to get a breakaway in every game. His speed is incredible, and his offensive skill matches that. Kapanen has looked solid as well. He has two goals and an assist in seven games. The current line of Vrana, Kapanen, and Pavel Buchnevich has the potential to be great. Berube should keep that line together for the rest of the season, as the Blues have nothing to lose with the playoffs out of sight.
What The Blues Could Do This Summer
I don't think this offseason will be as loud as some think for the Blues. General manager Doug Armstrong has said as much with this free agent market, "I don't see us being active in this year's free agent market. It doesn't seem to be the class that would generate our interest, and also the timing isn't correct. That's why we brought in Kapanen and Vrana, two players that are very hungry on one-year deals. They're going to want to maximize their summer and their next season, and we can be the benefactors of that." It's the right approach as well, as this free agency market is weak.
---
Latest News & Highlights
---
The Blues will definitely make trades this summer. I don't think they'll make all three of their draft selections in the first round. I also think that Armstrong will be looking to trade a defenseman like Marco Scandella or Torey Krug. The Blues are projected to have $5 million in salary cap space this summer. That's the fourth least amount of space in the NHL. I think the 2023-24 season for the Blues will be another retooling season without the playoffs. The target to become playoff contenders again should be in 2024-25, but crazier things have happened. The biggest takeaway is that the Blues are unlikely to be active in free agency, but the trade market will be a different story. Armstrong has done well to begin this retool, and that should continue into this summer.
Blues' Week Ahead
Wednesday: vs. Minnesota Wild (38-21-8, 84 points) (TNT), 8:30 PM
Friday: at Washington Capitals (32-28-7, 71 points), 6 PM
Sunday: vs. Winnipeg Jets (38-26-3, 79 points), 6 PM
The Blues play two divisional opponents that they have struggled against this season. They're 1-1-0 against the Minnesota Wild, but they're 0-3-0 against the Winnipeg Jets. They'll head east to play the Washington Capitals on Friday, they beat the Capitals in a shootout back in November. It's a week of difficult opponents after an easier road last week.
---
---