The trade deadline has come and gone, and the future for the St. Louis Blues is starting to come into clearer focus. For months, at least since the trade of Vladimir Tarasenko to the New York Rangers, it has been clear that the Blues planned on executing some kind of "retool" process — though general manager Doug Armstrong has seemed to want to avoid publicly committing to a name for it. Perhaps because of his comments, or perhaps due to wishful thinking, many Blues fans believed that the retooling process would be a "quick fix" and seemed to think that the major overhaul would be finished before the deadline, or at least before next season.
But as the deadline approached, Blues fans watched as hoped-for targets dropped off the trade market, with Timo Meier moving to the New Jersey Devils and Jakob Chychrun finally being traded to the Ottawa Senators. Then, after Mattias Ekholm moved to the Edmonton Oilers, and it became clear that Colton Parayko (and his contract) would likely be staying put, fans started to realize that the quick turnaround they had hoped for might not be on the horizon.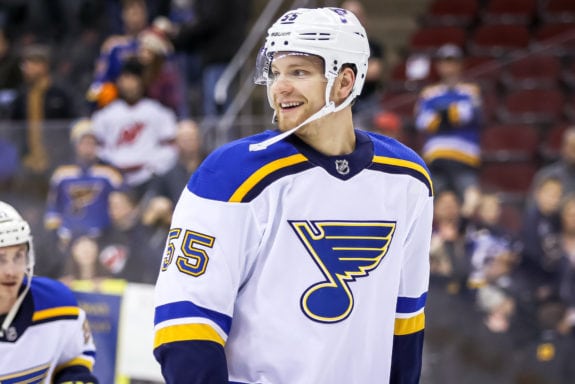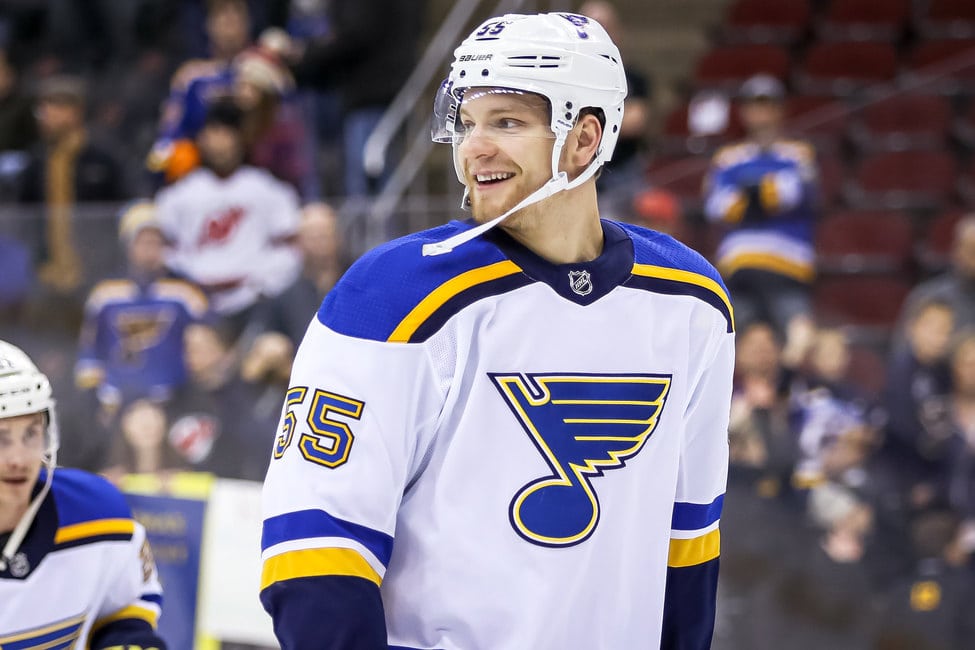 But while fans were longing for marquee moves, Armstrong was quietly building his roster for next season. He made three moves for forwards that will be in St. Louis through the 2023-24 season. And his choice of additions — plus the comments he made after the deadline had passed — prove that while fans and Armstrong alike might hope that the rebuilding process moves quickly, the team's focus is still on the long-term future.
Armstrong's Unconventional Additions
First, let's look closely at what Armstrong has said about his acquisitions before we look at each new face in turn. To do that, we need to go back before the deadline, to the comments he made after trading his team's former captain Ryan O'Reilly to the Toronto Maple Leafs. At the time, he made some comments that caught the eyes of many fans, saying: " We need to retrench with players in their… [aged] 25, 26 and under [seasons] that have term on their contracts so they can grow with that next core of players that we have."
With three first-round picks available at the time, many Blues fans immediately thought of top trade targets like Meier and Chychrun, both of whom met the age and term requirements Armstrong alluded to. But after his further deadline moves and the comments he made during Friday's post-deadline interview with Andy Strickland, it seems he had something else in mind entirely.
Armstrong didn't mince words with talking about where he thought the team was in its rebuilding process:
Well, I think we're a year earlier than I'd hoped to be in this process… We want to build our team back up. It's not going to be in a year. I don't see us being active in this year's free agent market. That's why we brought in [Kasperi] Kapanen and [Jakub] Vrána. We brought in two players that are very hungry and on one-year deals. They're going to want to maximize their summer and their next season, and we could be the benefactors of that…

Armstrong explains why he brought in Kapanen and Vrána
It's going to be a process, we understand that. We're not looking to be an 8-10 year process like some other teams have gone through, but to think it's going to happen next year… I think we're going to be competitive next year. When you add in Kapanen and Vrána, we probably have seven legitimate top-nine forwards that have been top-nine forwards the last five years. We're hoping Jake Neighbours can be the eighth, then we've gotta go find the ninth. So I think we're gonna be competitive, as we wait for the [Zachary] Bolducs and [Jimmy] Snuggeruds to mature and get into the NHL.

Armstrong discusses the timeline of his team's "rebuild"
With those comments, Armstrong clearly explained his thinking: the team is not ready to compete at a high level and will not be in 2023-24. So the additions he made at the deadline were designed to be "lottery tickets," players with a potentially high ceiling that could have a long-term future with the team if everything falls into place, or could leave quickly with no regrets for the franchise if things didn't work out. With that in mind, let's look at who those three deadline additions are.
Sammy Blais
The player in this trio that Blues fans will need the least introduction to is Sammy Blais, who was drafted and developed by the Blues, helped them win a Stanley Cup, and only departed a season and a half ago. Though he wasn't one of the players specifically mentioned in Armstrong's comments above, it is clear that he fits into the same mold as Kapanen and Vrána: he is 26 years old, coming off a season full of struggles, and (as of earlier this week) is on a one-year "prove it" contract with the Blues next season.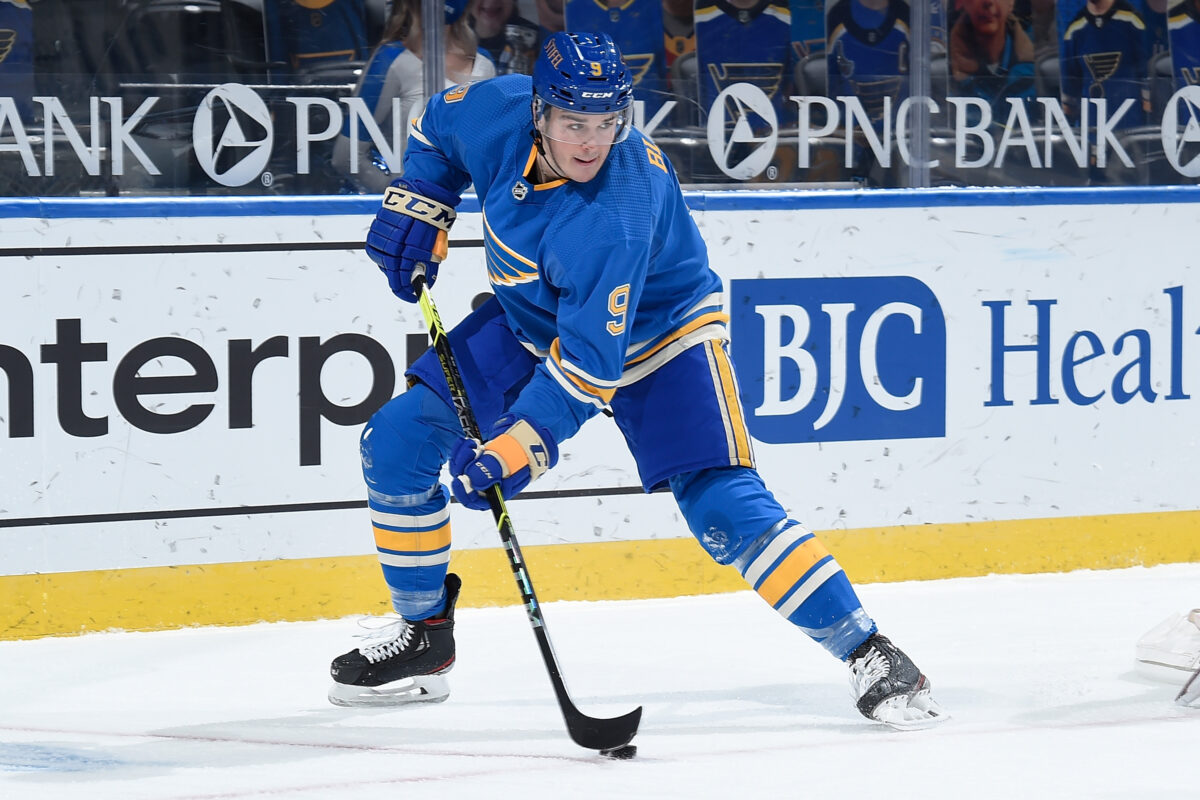 Armstrong drafted Blais with the 176th pick in the 2014 NHL Draft. An undersized QMJHL player, he quickly sprouted and developed into the menacing 6-foot-2, 206-pound forward he is today. That growth spurt helped him climb the ranks of Blues prospects, and he eventually made an impact on the team. Head coach Craig Berube turned to him for a much-needed physical presence in a critical game against the Dallas Stars on the team's road to the Stanley Cup, and he never looked back, playing in 15 games that postseason with a goal, two assists, and a whopping 70 hits.
Valued for that grit, the Rangers chose him as a key part of the return when the Blues dealt for Pavel Buchnevich last summer. But Blais never got much of a chance to catch on in New York, largely owing to an injury he suffered at the hands of P.K. Subban. The resulting torn ACL kept him out for the season, and he struggled to find his footing after he returned. In fact, he did not score a single goal in 54 total games with the Rangers — but scored one immediately upon his return to the Blues.
Related: New York Rangers Need to Bid Farewell to Sammy Blais
---
Latest News & Highlights
---
Blais certainly does not have the highest ceiling of these three players, but he might have the highest floor, and unlike Kapanen and Vrána, Blues fans and the coaching staff are already well familiar with what he can contribute. In his first 10 games back with St. Louis he has already looked much more like the player he was between 2019 and 2021, allowing the Blues to take a chance on a no-risk one-year contract for next season. He'll be a fixture on the fourth line and look to fight for a long-term home in the NHL.
Kasperi Kapanen
On a sleepy Saturday afternoon about a week before the deadline, Armstrong made a surprise move when he claimed Kapenen off waivers from the Pittsburgh Penguins. The waiver claim meant taking on all of Kapanen's $3.2 million salary cap hit for the remainder of this season and next, which currently makes him the fourth-highest-paid forward on the team. But Armstrong obviously values the high-end potential of Kapanen, a forward with a ton of skill and speed but who has been inconsistent and is mostly a perimeter player (which does not obviously fit Berube's system). Kapanen broke out in his first full season with the Toronto Maple Leafs, scoring 20 goals in 78 games, and played another strong season there before becoming the victim of cap limitations which forced the Maple Leafs to trade him to the Pittsburgh Penguins.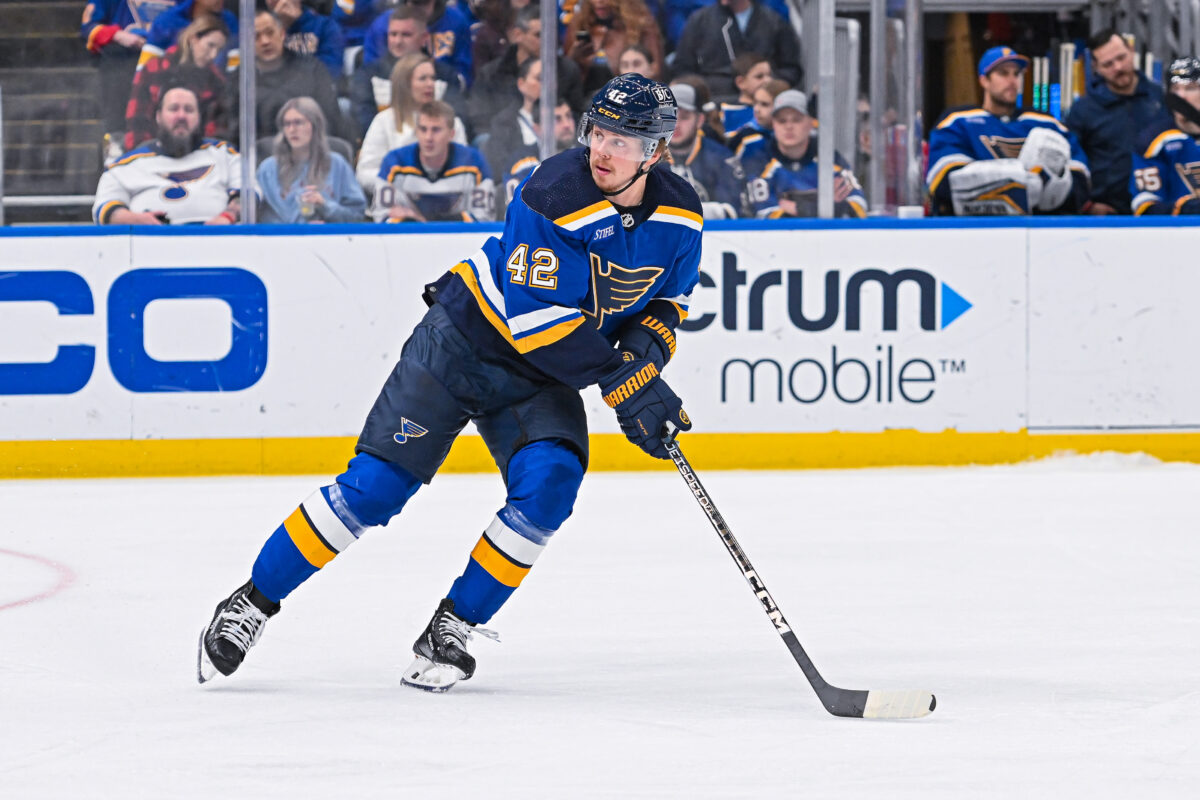 Kapanen never quite gelled in Pittsburgh. Though he still had flashes of brilliance and managed 30 points in his first 40 games with the team, he seemed to lose favor with head coach Mike Sullivan and was once again a cap casualty, as the team waived him to bury his salary cap hit in the minors. The Blues seized the opportunity to add another lottery ticket for free, and that's what they have. If Kapanen can either play up to his potential or add the versatility and physicality to his game that will make him a valuable part of a Berube-coached forward core, he'll excel next season and have a good chance at staying around long-term. If he continues to struggle, it is very much an "easy come, easy go" situation for Armstrong.
Jakub Vrána
After one of the most explosive NHL trade deadlines in recent memory, actual deadline day was extremely quiet, except for the early shocker that saw the Blues add Vrána from the Detroit Red Wings for American Hockey League (AHL) forward Dylan McLaughlin and a 2025 seventh-round pick. The Red Wings also retained half of his total $5.25 million salary cap hit. It was time for Vrána to leave Detroit, a city he'd come to with so much promise. After scoring 11 points in his first 11 games there and signing an extension, he missed much of the 2021-22 season with a shoulder injury, then entered the NHL's Player Assistance Program for two months early this season.
While the reasons for a player to enter a program are kept quiet (for obvious reasons), Red Wings general manager Steve Yzerman spoke on the situation on Saturday, saying "I don't think I can really go into details on a lot of the things that have gone on. … I wish Jakub the best of luck in his hockey career, on and off the ice. … Was time for both parties to move on." Clearly, the situation between Detroit and Vrána had become untenable, and the Blues moved to add a young player with a very high ceiling on an extreme discount.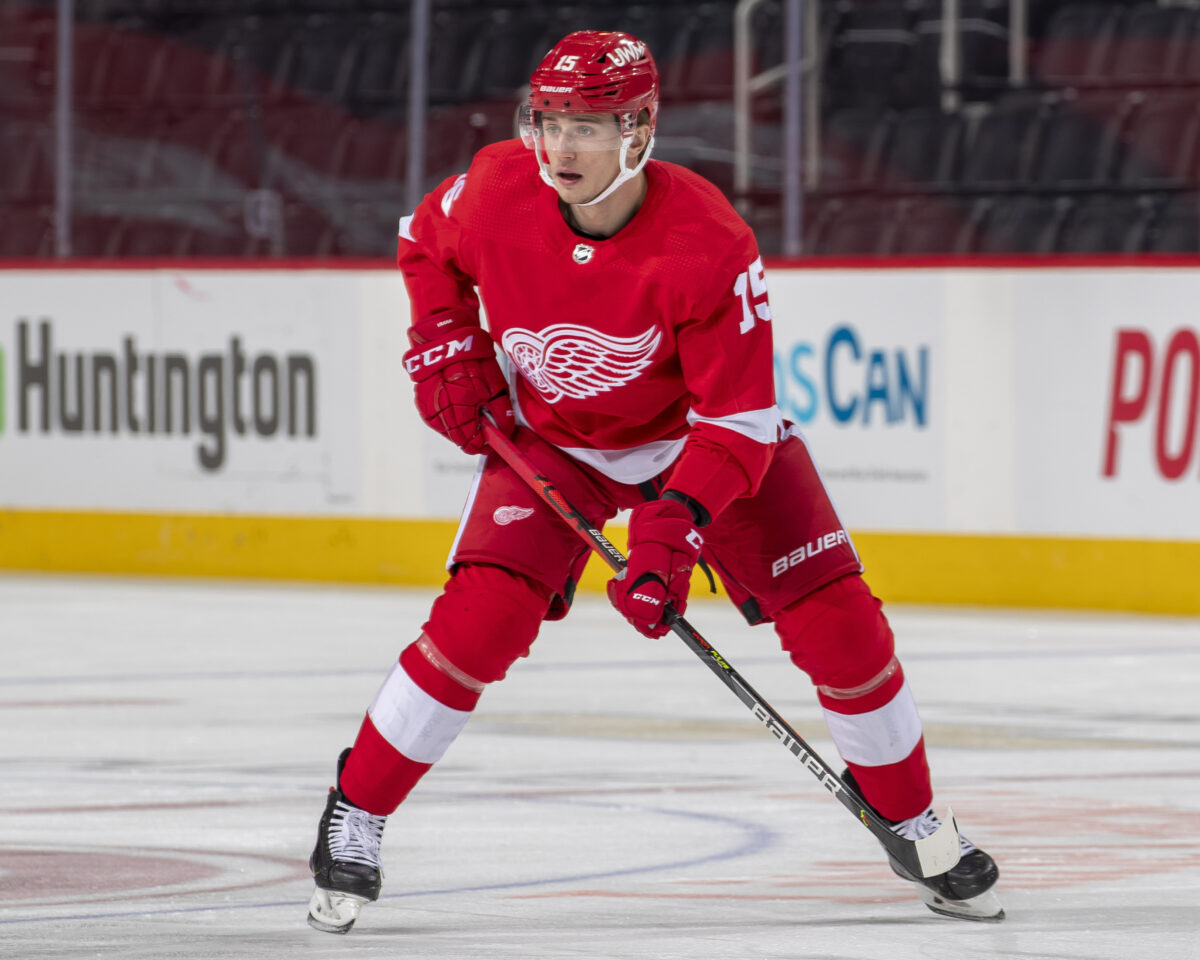 Vrána was once the next big star for the Washington Capitals, scoring 24 and 25 goals in back-to-back seasons in 2018-19 and 2019-20. He also played 23 games en route to the team's Stanley Cup victory in 2018. Many were shocked when the Capitals dealt him to Detroit as a key piece of the return for Anthony Mantha. But his future looked very bright in Detroit before injuries and the nonspecified off-ice issues got in the way. Now, the Blues have yet another "project" player who could easily become a long-term fixture if he returns to his former quality and re-signs with the team.
Armstrong, for his part, minimized the risk of taking in a player fresh out of the Player Assistance Program, telling the media: "We did our research and you understand the risks, but there's probably a lot of players that have those risks we don't even know have them… I'm a big believer in second chances, or second opportunities. I'm not perfect. We don't want to make the same [mistakes] twice, but we're here to help these guys get along."
Armstrong Plays the Odds
In Blais, Kapanen, and Vrána, Armstrong has added three players who are desperate to prove they should have a future in the NHL. In so doing, he announced (whether intentionally or not) that his team's "rebuilding" process will not be completed in a manner of weeks or months. But he also gave himself a great opportunity to look like a genius a few months down the line. While it's unlikely that all three players will return to form and have bright, memorable futures with the Blues, the odds suggest that one or more might. And if Kapanen or Vrána especially begin to resemble their younger selves in a few months with the Blues, Armstrong will look like a shrewd tactician for adding them on the cheap when he did.