The 2023 NHL Trade Deadline was an interesting one, with big-name players coming off the board left and right in the early stages. Despite that fascinating movement of star players well before deadline day, the final day (a Friday this year) was a strange one without a real blockbuster deal to be found. Nonetheless, the Eastern Conference absolutely loaded up, and the Metropolitan Division in particular got much better. With new faces such as Timo Meier going to the New Jersey Devils, Bo Horvat (a while ago at this point) leaving his Vancouver Canucks to join the New York Islanders, and the New York Rangers doubling up with Patrick Kane and Vladimir Tarasenko make the division look like an absolute juggernaut.
---
Latest News & Highlights
---
One team interestingly missing from that group of big buyers is the Metro leader, the Carolina Hurricanes. Many pundits kept waiting for a headline-grabbing move that never came, as many analysts suggest that the team could have used one more piece – ideally a finisher – in their top nine. The move to long-term injured reserve for their big offseason acquisition, Max Pacioretty, seemed to open up the ability to make such a move, with around $10 million with which to play at the deadline. However, despite reportedly being in on a multitude of pieces, including Meier and Horvat from the list above, the team never pulled the trigger on a big get.
However, the Hurricanes did make two moves, and two moves that do make them better. That's what the deadline is all about, identifying shortcomings, figuring out what assets you can part with, and finding ways to improve your team. Despite the lack of flash, that is what they did with their two relatively moderate trades. If they once again bow out early in the postseason, prognosticators will assuredly have their day to tear down the lack of an impact move, but that's a topic for many weeks from now. Today, we'll talk about what newcomers Jesse Puljujärvi and Shayne Gostisbehere bring to the team.
You know, outside of necessitating spell checks for those who cover them.
Puljujärvi A Low-Risk, Long-Term Gamble, But What About this Year?
The first of the two moves came in the form of a reclamation project, as the Hurricanes acquired 6-foot-4, 205-pound winger Puljujärvi from the Edmonton Oilers. Carolina sent 2019 third-round pick Patrik Puistola the other way, a 22-year-old Finn with sweet mitts and solid finishing ability. He's having a nice year in the Liiga with 16 goals and 40 points in 56 games, but his skating ability and frustrating inconsistency cast a cloud of uncertainty over his NHL future.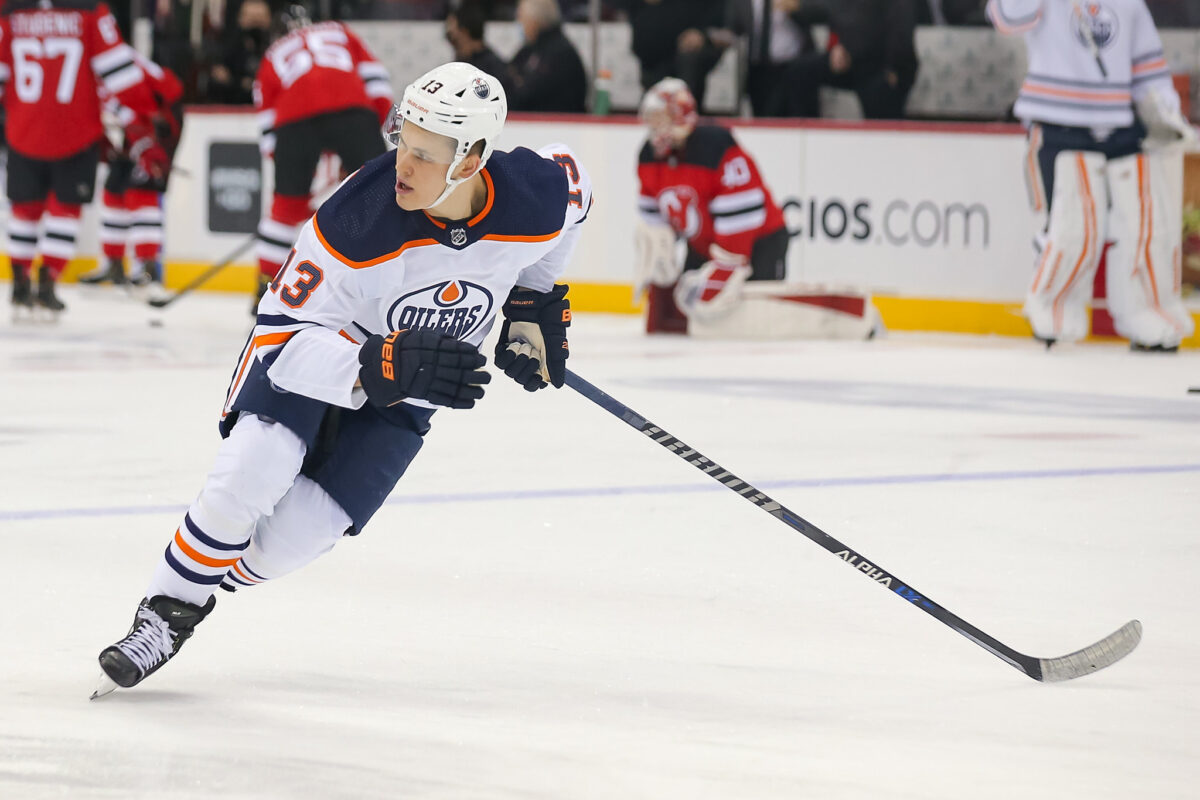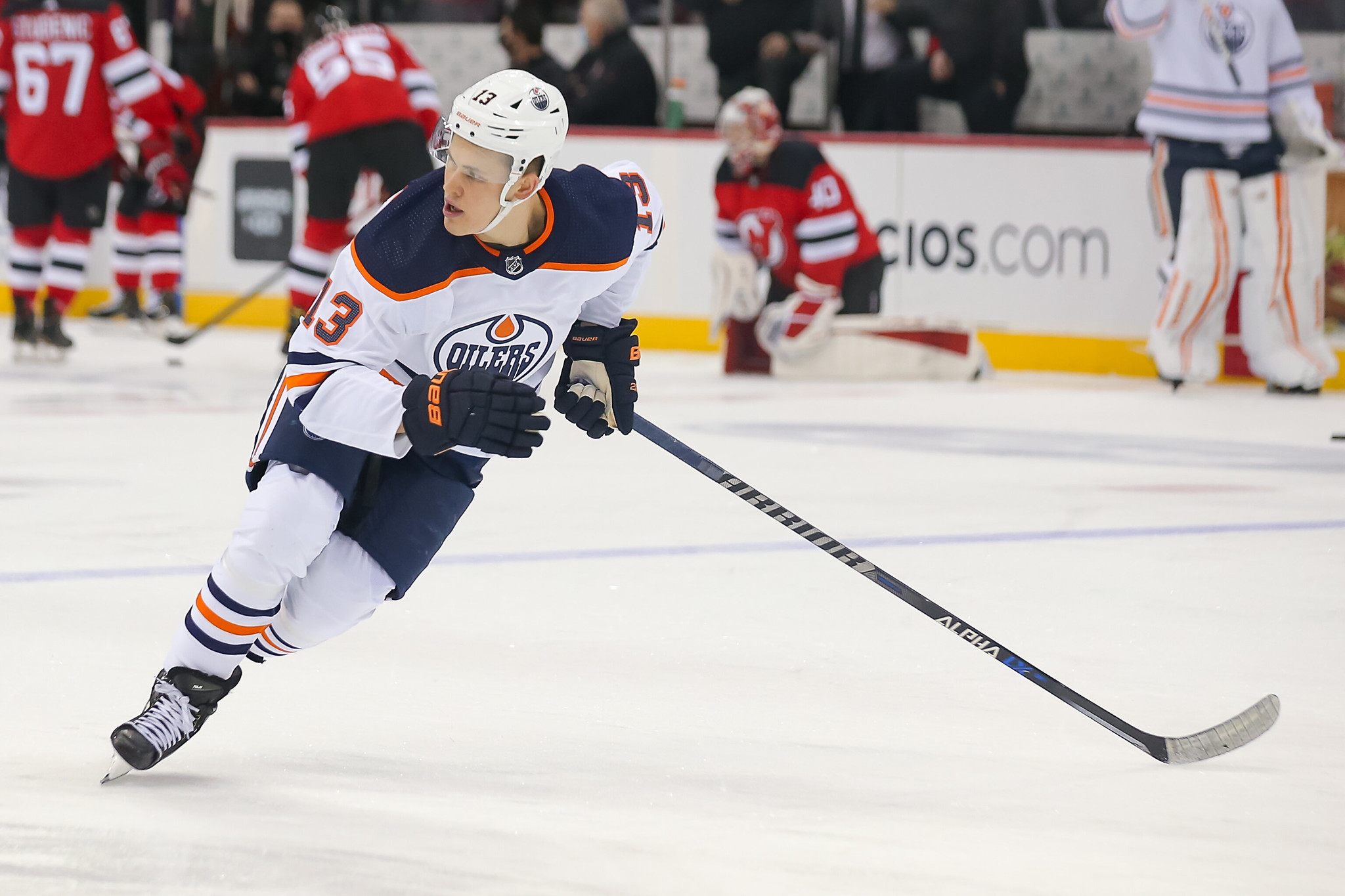 There are many reasons to like this move, especially at the cost. Puljujärvi was drafted fourth overall for a reason, even if his NHL performance has largely been disappointing to this point. I mentioned his size above, and he also skates well for a big man. He's physical, an element the Hurricanes needed, and has shown an ability to use his frame to get in the interior of the ice to bang in rebounds or get deflections. Furthermore, he has a history with Hurricanes superstar Sebastian Aho, with the two teaming with Patrik Laine to form one of the most dominant World Junior Championship lines in recent memory for Finland in 2016. The odds the two play together aren't high, at least in the short-term, but going to a team with so many Finns in the locker room should be a welcome development for the 24-year-old.
Because of his playing style, there's reason to believe Puljujärvi can fit well in a heavy, forechecking style like the Hurricanes play. As a young winger that played in the spotlight of a Canadian market to start his career, a change of scenery plus a little less pressure – not to mention playing under Rod Brind'Amour, who has shown the ability to get his players to buy in while putting them in position to succeed – could allow his raw skill to shine through a little more frequently.
Related: Grading the Hurricanes' Trade for Jesse Puljujärvi
The biggest question is, how much do you really expect from him as a deadline acquisition in the middle of a race for first in the division? There are a multitude of similarities to this deal and the acquisition of Jesperi Kotkaniemi, who took basically an entire season to put it together, only this year turning into an absolute defensive force that also has provided a solid amount of secondary scoring. It seems like a move that pays off more moving forward, and potentially next season as he looks like an ideal replacement for unrestricted-free-agent-to-be Jesper Fast. His defensive metrics speak to his ability to fill that role, but with more offensive upside. Puljujärvi did score 14 times with 36 points in 65 games just last season, but it'll likely be his defensive play and physicality that provides the most value initially.
For now, at the very least, he likely pushes Derek Stepan to the press box. Stepan is a solid veteran presence who has provided some big moments for the Hurricanes the last two seasons, but he seems to have lost a step this season. Despite having just five goals and 14 points in 58 games this season, Puljujärvi will upgrade that bottom-six winger spot over the 32-year-old Stepan (five goals, nine points in 2022-23). A restricted free agent (RFA) after the season, if he can acclimate to the system quickly alongside Paul Stastny and Stefan Noesen, he could potentially even upgrade them in the short-term, and give the team four really tough lines to match up against. The Hurricanes' depth improved with this move, and it'll be interesting to see what Brind'Amour can do with his newest piece.
Gostisbehere Fills a Big Need – and Immediately Makes an Impact
Despite having one of the best blue lines in the NHL, the Hurricanes' third pairing has had some issues at times in the last two seasons. Importantly, that comes despite one of its members, Jalen Chatfield, being pretty much universally lauded as one of the team's unsung heroes of the 2022-23 season. Now, I'm not trying to put blame on Calvin de Haan, or even say he doesn't still have a role to play down the stretch and potentially in the postseason for this team. Still, it was a position that clearly could have used an upgrade and a different style of player (say, for example, someone who could produce a little more offensively), and the Hurricanes did just that in adding Gostisbehere, sending the Arizona Coyotes a 2026 third-round pick in return.
The left-shooting, 29-year-old defenseman has pretty much always been known as an offense first, offense second, maybe defense third piece. That makes him a somewhat interesting fit under a coach like Brind'Amour, who will not play someone who jeopardizes the team's ability to suppress offense. On the other hand, players of his ilk have come along and seen their defensive play improve, including offseason acquisition Brent Burns, who struggled mightily in recent years in that end of the ice. Even Tony DeAngelo, who has been an absolute trainwreck this year in his own end, was at least relatively usable (although certainly not very good) last season with the Hurricanes. Gostisbehere certainly has the skating ability and hockey sense to make this a non-issue, even if his size as a defender is cause for concern.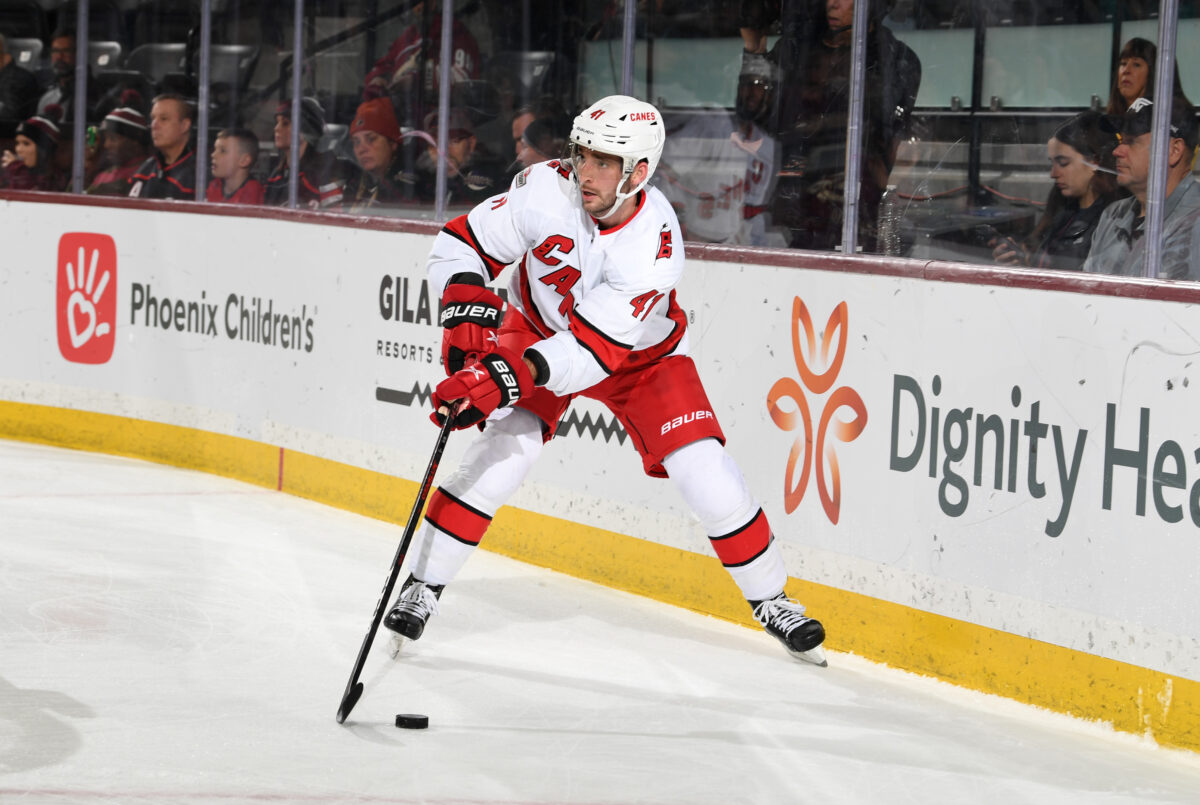 Regardless, this isn't a move that's about the defensive game. Gostisbehere will pair up with another highly-mobile blueliner in Chatfield, and the two will be able to move the puck out of their own end and join the rush as well as any third pairing in the league. This is a player who scored 17 goals and 46 points as a rookie defenseman, and also has a 13-goal, 65-point, and 14-goal, 51-point season under his belt – the latter coming just last season on a low-scoring Coyotes team. For a smaller player, he has a wicked shot, which was on display in his debut with the Hurricanes; he scored a beautiful bar-and-in power play goal, and also hit the post on two other shots. In a somewhat-sheltered, bottom-pairing role, this kind of acquisition gives the Hurricanes a more dynamic element from the back end.
The much-maligned Hurricanes' power play went 3-for-4 in its first game featuring Gostisbehere, which actually lifted the team from 19.3% (23rd in the league) to 20.5% (20th) in one game. Now, it is important to note that it came against the Coyotes, a downtrodden team that not only traded Gostisbehere to Carolina, but also sent franchise defenseman Jakob Chychrun to the Ottawa Senators. They have a barren roster and the seventh-worst penalty kill in the league, but it was still refreshing to see more crisp puck movement from the Hurricanes and another weapon that could drive offense from the blue line beyond Burns.
There will likely be matchups where the team still chooses to play de Haan, opting for a veteran, NHL-quality shutdown defender to potentially combat some of the more offensively-dynamic opponents the Hurricanes will face in the coming weeks. Offense from the back end beyond Burns has been somewhat inconsistent this year. Jaccob Slavin only recently began producing, after posting a career-high 42 points last season. Meanwhile, Brady Skjei has just a goal and three points since Feb. 1, after scoring eight goals and 16 points in December and January.
Gostisbehere's arrival allows Skjei to focus on what he does best, forming a really good shutdown second pairing alongside Brett Pesce. Brind'Amour has shown an aversion to using guys like Slavin and Skjei on the power play because of how many minutes they eat killing penalties and at five-on-five, so the ripple effect here could be really valuable down the stretch. The Hurricanes have a more balanced element on their blue line now, with two big-time offensive producers alongside their known commodity of elite two-way guys. If Gostisbehere can continue making an often-lifeless power play competent, this is a massive win for the team.
Was Not Being More Aggressive a Mistake?
As alluded to in the beginning, there were some questions around the team that many thought the team would try to answer. For instance, as well as Kotkaniemi has played the last couple months, is he really ready to be a top-six center on a contending team? Do the Hurricanes have enough offensive play drivers around Aho, Martin Necas, and Andrei Svechnikov? What about the underwhelming finishing ability? With rumors swirling, some of the reported names such as Tyler Toffoli or even former Hurricane Elias Lindholm – who would have taken a huge offer to entice the Calgary Flames, to be fair – seemed like fascinating fits that could have really lifted the Hurricanes up alongside the Boston Bruins and the other top-tier contenders of the East.
While not acquiring a blockbuster-type piece doesn't preclude a 40-12-9 team from still being in that category of contenders, this regime has shown a tendency in the past to make the big roster shuffles in the offseason, not in-season or at the trade deadline. Their big offensive pickup this year didn't pan out due to injury, and in a suddenly-loaded Eastern Conference, perhaps Don Waddell and his team felt it better to stand mostly pat and look toward next year as the one to really push in their chips.
This is still a team with a deep farm system, albeit relatively shallow at the top in terms of star power. They were never going to trade a roster player like Seth Jarvis, and potential star Russian defender Alexander Nikishin was reportedly off-limits (from "2023 NHL trade deadline burning questions: Dark horse trade targets, stealth buyers, more", The Athletic, Feb. 23, 2023). That left the Hurricanes unwilling to play with their two most attractive trade assets that selling teams looking for young talent would have likely keyed in on.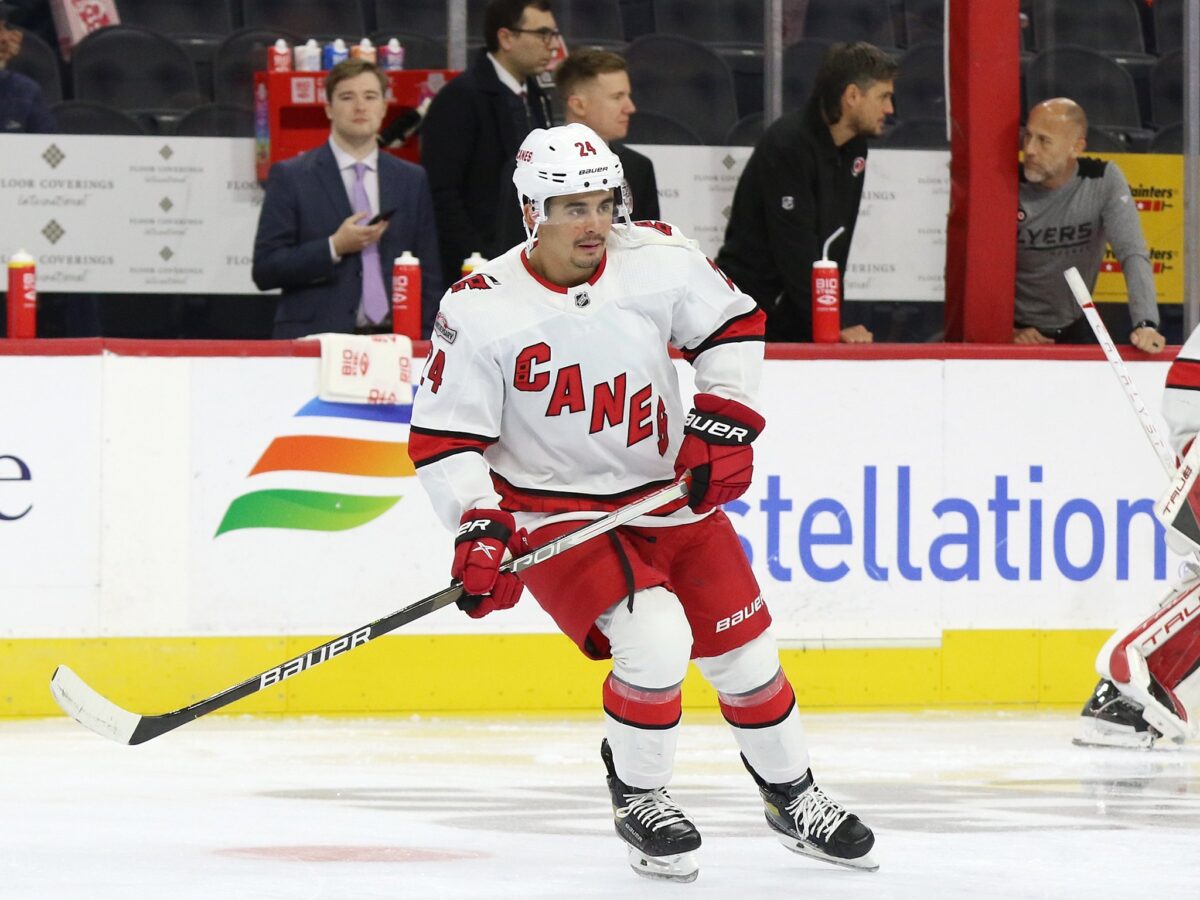 Still, the idea of a contending window can oftentimes be fool's gold in the game of hockey. It's a heavy sport with a lot of wear and tear. Guys get hurt, or they regress (the Hurricanes have had some of that this year in their forward ranks, without naming names). This is still a talented team with a young core, and in theory, they should be towards the top of the NHL in the coming years. However, with so many contracts coming up the next two summers – another source of uncertainty, especially if they keep falling short in the playoffs – they're not running with a limitless amount of time to make that "big splash", chips-in type of deal.
There's something to be said for being stingy with your assets that should bubble to the NHL level moving forward and supplement the lineup, but with the ratio of prospects that don't pan out, at some point you're doing yourself a disservice in letting them sit around and depreciate with time. This is especially true when the exact issues that have gotten the team eliminated in the postseason look to be the problems facing the current group; namely, scoring goals and the power play.
There are reasons for optimism with this group nonetheless. Necas is a different player this season, and Burns, Chatfield, and Gostisbehere make this blue line significantly deeper than they were during the 2022 run. The playoffs are all about who gets hot at the right time, but it feels like a lot of things will have to break right for them to come out of the East. Svechnikov needs to get hot. Necas needs to prove he can carry his play into the playoffs, unlike last year. Teuvo Teravainen needs to find another gear. The power play has to make opponents pay. Frederik Andersen, historically inconsistent, has to be on the upswing.
Maybe a big deadline acquisition could have moved the needle here, and maybe it would have made no difference. But to many prognosticators, at the very least, a more aggressive deadline would have provided a margin for error.
We ought to find out about this group quickly, with a hellacious gauntlet running through the month of March that the team must bear. This stretch will feature two games against the Rangers, two against the Tampa Bay Lightning, two against the Toronto Maple Leafs, Vegas Golden Knights (for the second time this month, having already lost to them on March 1), Bruins, Devils, and Winnipeg Jets. If they can rack up a string of wins against that sort of schedule, the team should have a lot of confidence heading into the second season; it's almost a cliche, but playoff hockey is starting early in Raleigh. It'll give us a glimpse as to who this Hurricanes team is, and if they're ready to break through and make that elusive deep run with their current core.