The St. Louis Blues made an early deadline-day acquisition, trading American Hockey League (AHL) forward Dylan McLaughlin and a 2025 seventh-round pick to the Detroit Red Wings for forward Jakub Vrana. The Red Wings also retained 50 percent of Vrana's salary. This is the ultimate low-risk, high-reward deal, and the second addition in the past week to the forward group – Kasperi Kapanen was claimed off waivers.
Related: 2023 NHL Trade Deadline Tracker – Live Updates
---
Latest News & Highlights
---
It's no surprise seeing Red Wings general manager Steve Yzerman and Blues general manager Doug Armstrong working together. This is their fourth trade since 2020 and their fifth dating back to Yzerman's time with the Tampa Bay Lightning.
Vrana's Time With the Red Wings
Vrana has had a tough stretch recently. He entered the NHL/NHLPA player assistance program in October 2022 and returned to the team in December. The Red Wings had their hands tied in this situation. Vrana needed a change of scenery, and the Blues stepped in.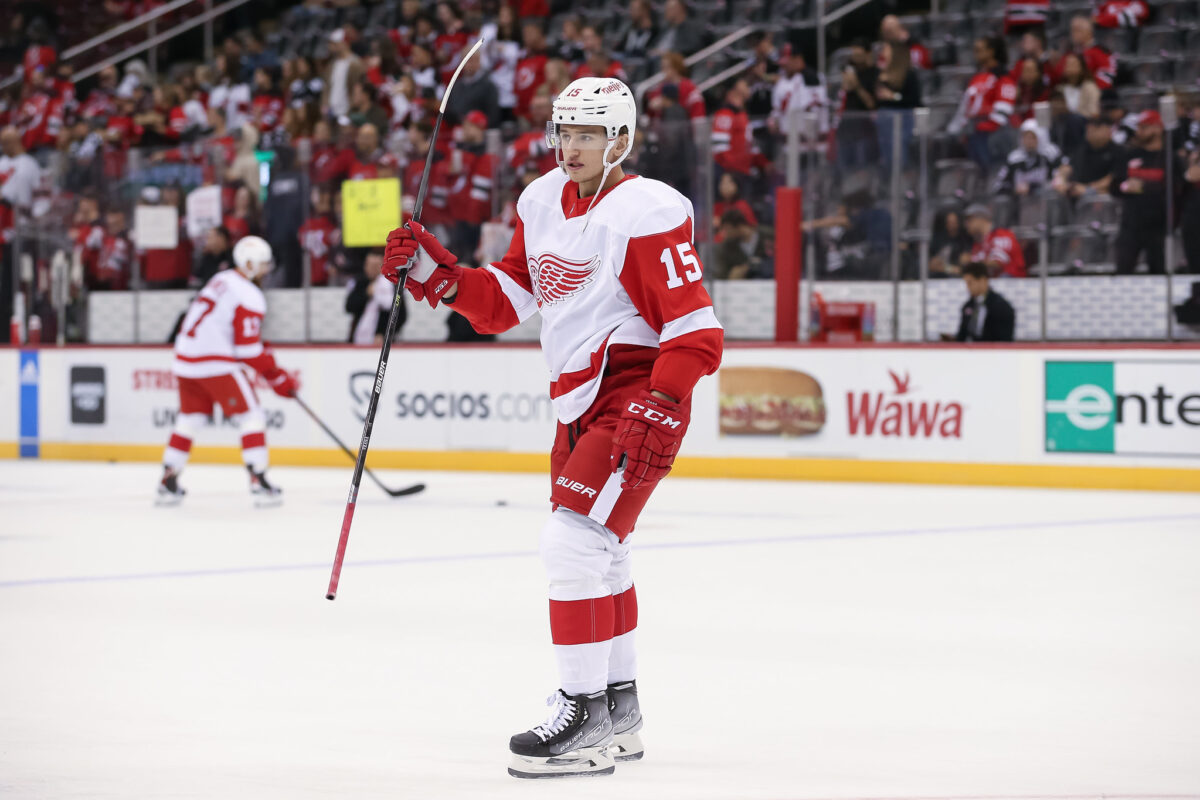 Vrana was acquired by Detroit in April 2021 as part of the deal that sent forward Anthony Mantha to the Washington Capitals. He spent four and a half seasons in Washington, winning the Stanley Cup in 2018. With the Red Wings, Vrana played 42 games across three seasons and scored 22 goals. He's known as a terrific producer at 5-on-5, but he'll likely get more power-play opportunities with the Blues. Although it didn't work out with Vrana, the Red Wings have other pieces from the Mantha trade to hang their hats on.
How Vrana Fits With the Blues
On the Blues, Vrana will become one of their top seven forwards and slot in on any of their top three lines alongside any of their top six, including Kapanen, Robert Thomas, Jordan Kyrou, Pavel Buchnevich, Brandon Saad, and Brayden Schenn. All seven, including Vrana, are under contract for the 2023-24 season. Kapanen and Vrana should be a good stopgap until prospects like Zachary Bolduc and Jimmy Snuggerud are ready, perhaps for the 2024-25 season.
Even if Vrana logs time on the third line, he'll likely have ample opportunity to score on the power play. Although he struggled to produce with the man advantage in Detroit, it's easy to forget how good he was with the Capitals, scoring 24 goals in 2018-19 and 25 goals in 2019-20. If he can find any of that magic again, this trade will be a success. I think head coach Craig Berube would be wise to pair Vrana, a strong finisher, with Thomas, who is an elite passer with 159 assists in 299 NHL games.
Grading the Trade
Blues Grade: A+
Red Wings Grade: C
The Blues risked almost nothing with this trade. Vrana is only 27 years old and has 30-goal potential. If head coach Craig Berube can put him in the right spot, he should succeed. It's also hard to criticize the Red Wings for this deal since Vrana will likely benefit from a change of scenery. However, retaining 50 percent of his $5.25 million cap hit for next season is tough. The Blues now have less than $1 million in available cap space, so that is the biggest problem with this trade.
The Red Wings have more moves to make for next season, but clearing half of Vrana's cap hit should be seen as a positive. Props to Armstrong for making smart additions to the Blues' forward group as they begin a rebuild.
---
---